Market Overview
SPX traded in a less than 50-point range last week, continuing what appears to be the formation of an intermediate distribution top which could bring a sizeable correction when complete. IWM, which has done a good job of acting as a barometer for SPX still provides the same reading of relative weakness, thereby advising caution to those who have bullish inclinations. Last week has brought us one week closer to resolving this stalemate which is now 12 weeks old, but a little more patience is still required, and a slightly higher high cannot be discounted.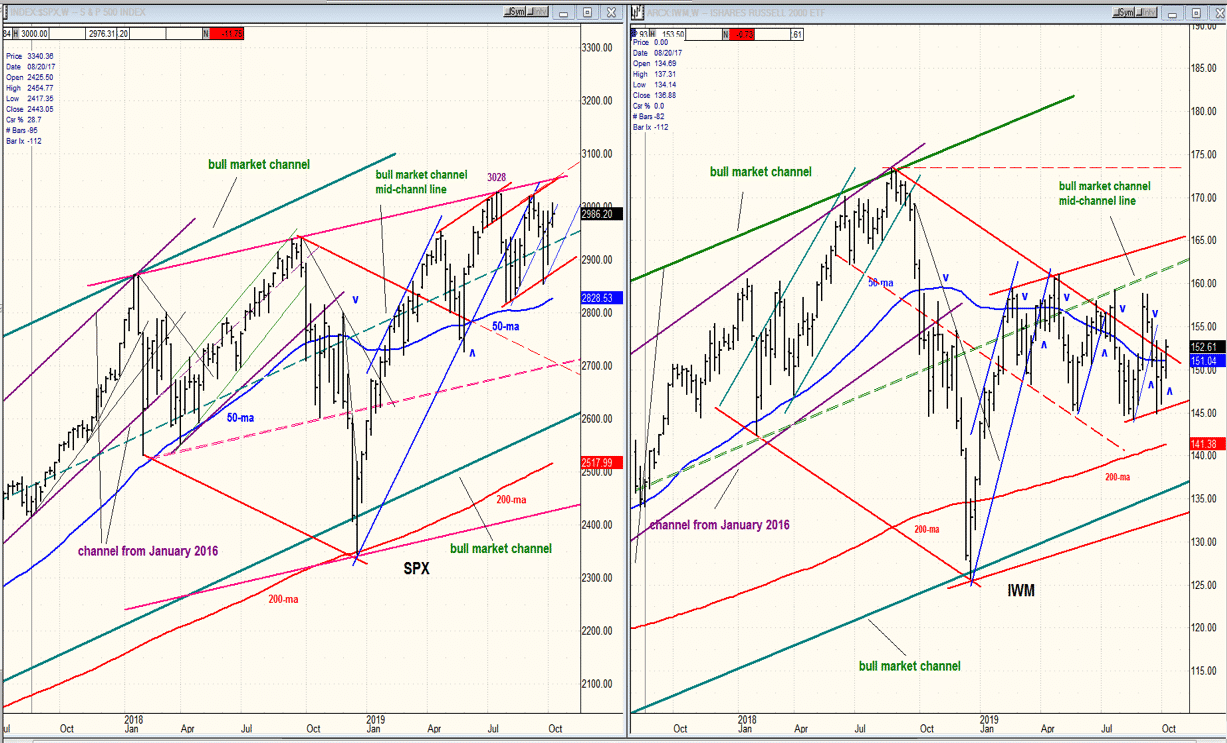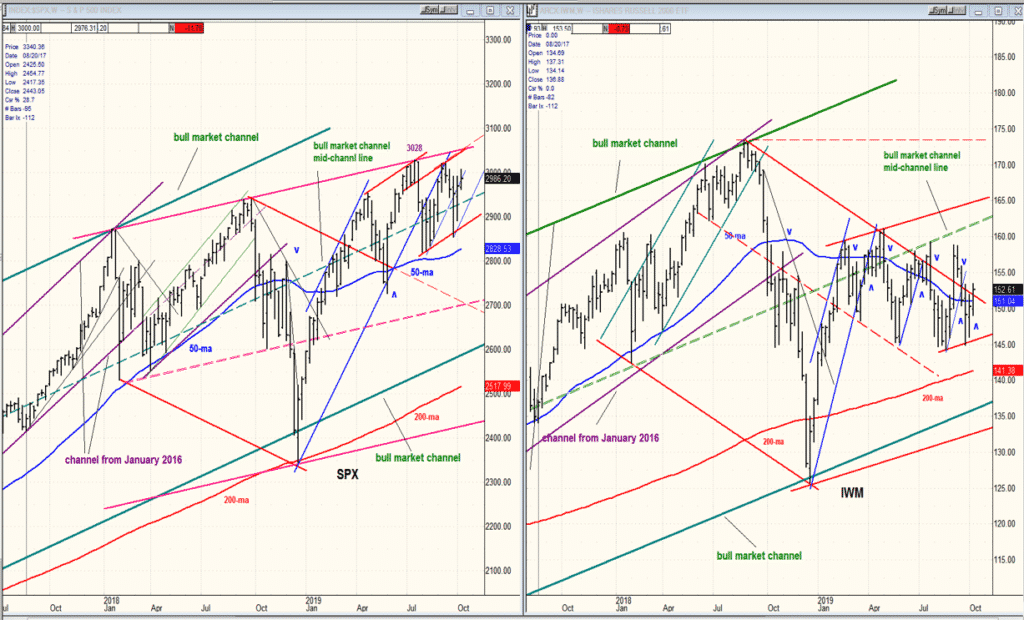 Market Analysis (All charts are courtesy of QChart)
SPX daily chart
My analysis suggests that the resolution will be to the downside.  Beyond the relative weakness of IWM, the weekly SPX chart above shows a clear loss of upside momentum.  The top of its long-term bull channel was last touched in January 2018.  After a pull-back, a new high was made in September 2018 which fell short of the channel top by about 75 points.  This was followed by a sharp correction and another new high in July 2019 which, this time, failed to reach the top of the channel by almost 200 points.  And here we are, in October, and that last high of 3028 remains intact. 
Another point! The intermediate trend line from 1810 (January 2016) was broken by the correction of late 2018. I have extended the trend line on the chart and, as you can see, the index has remained below it. It also remains below the red trend line which connects the last three intermediate highs. I believe that the only rational way to interpret the market action of the past year or so, is by seeing that structure as a large rounding top which, sooner rather than later, will result in a correction that could be even more substantial than the 623-point decline which occurred late last year — although it could take longer to complete.
The market can avoid this intermediate-term correction (also implied by other analytic points not discussed here) by starting to engage in decisive bullish behavior, beginning with IWM leading on the upside! If, instead it declines below 2820, and then 2720, the odds are pretty good that the correction will not be over until we see the likes of 2200! After that SPX can rise to a new high!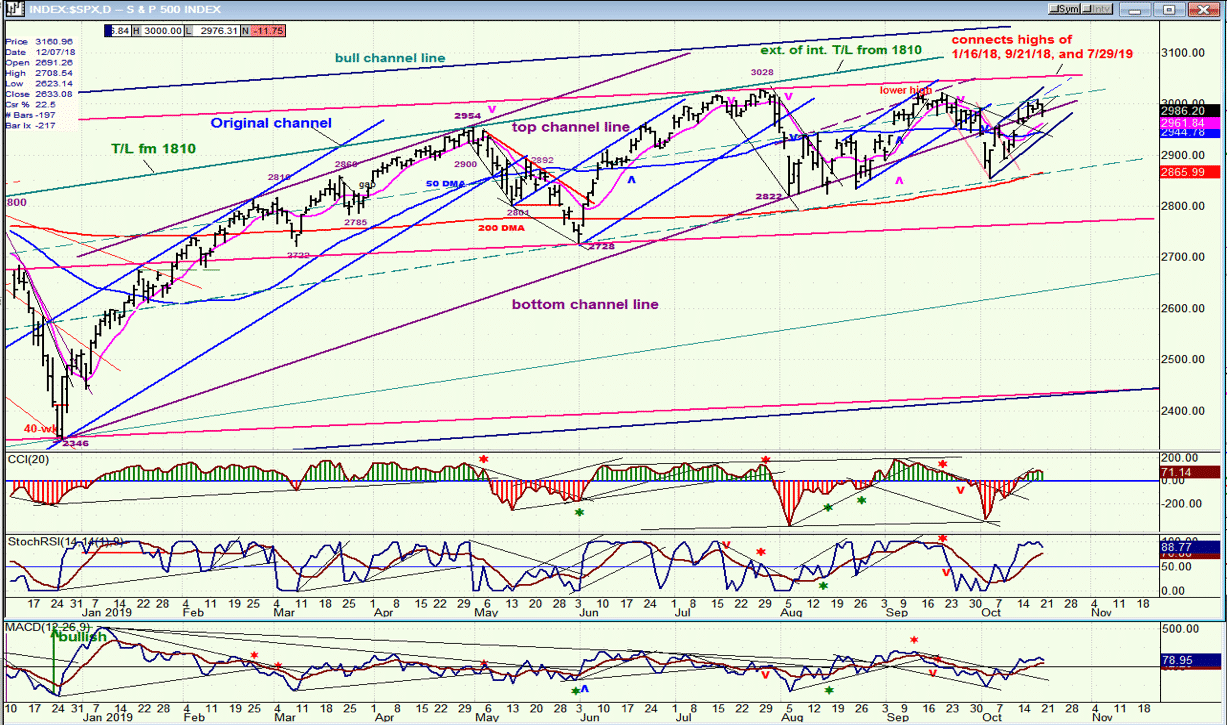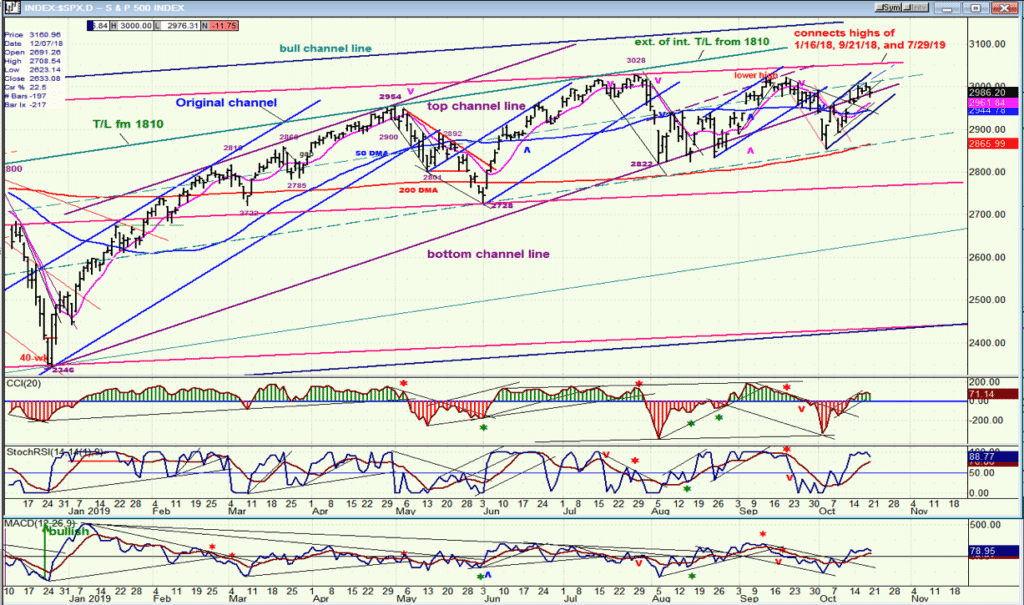 SPX hourly chart
On 7/26, SPX made a new all-time high of 3028. After a correction, it went up again, but could only reach 3022 before correcting again. Last week, the index looked like it was beginning to struggle just above 3000. On Friday, after showing some negative divergence, CCI gave a sell signal along with the other two short-term oscillators which was not voided by a subsequent rally.
The daily channel line was first breached in early September, and more decisively broken after the rally to 3022. Still, there were enough buyers at 2860 to rally the index inside the channel one more time, last week. But by Friday, all it could do was hold on the line at the close while all the oscillators remained in a sell mode. It will take some good news over the week-end to keep SPX in a short-term uptrend!
This is not a good looking pattern, short-term. It looks as if the index has already made a top and wants to reverse. But it will take a break below 2860 (minimum) to get the daily and weekly oscillators in a solid downtrend.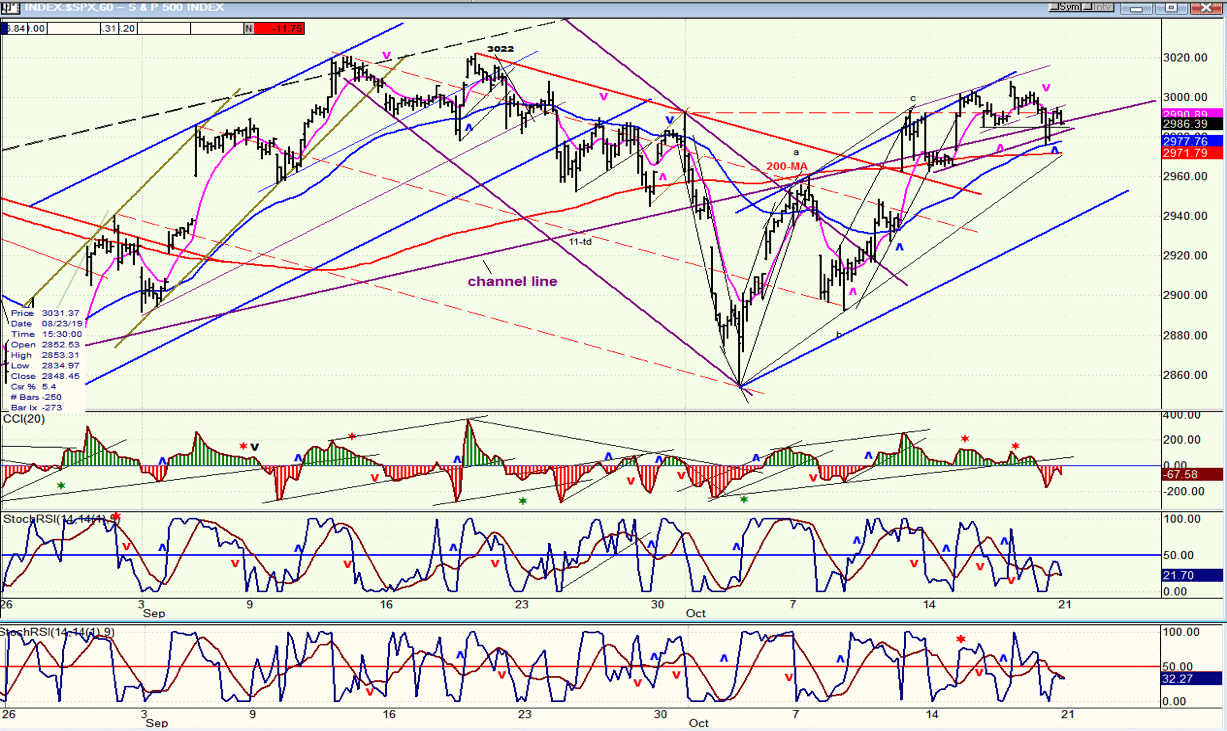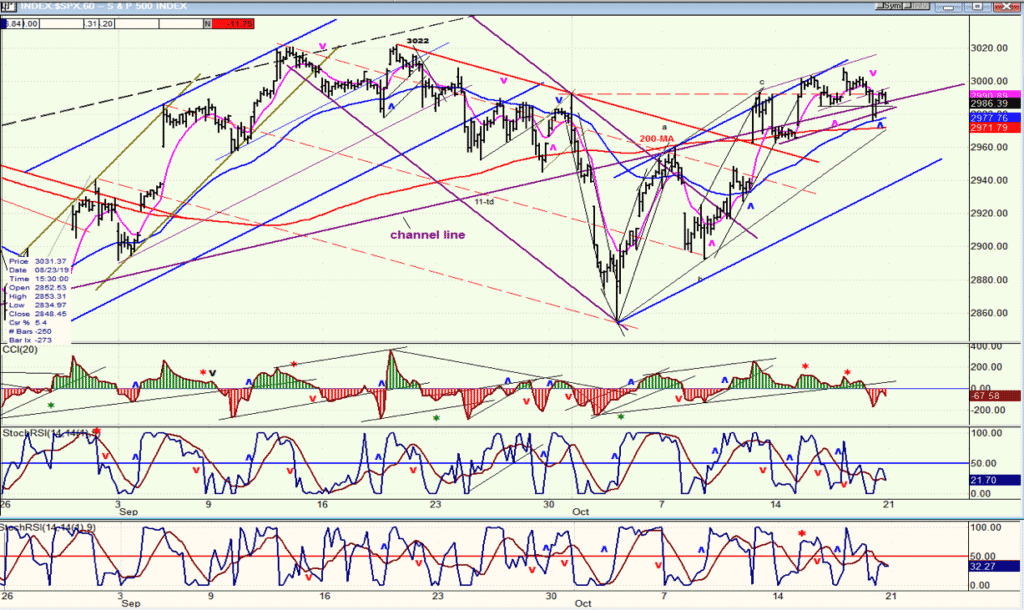 UUP (dollar ETF) daily
UUP has started to correct, and nearly reached the bottom of the blue daily channel. This is partly due to the rally in the British pound and may not be long-lasting. In any case, it would take a break outside of the blue channel to suggest that the dollar has made a substantial trend reversal.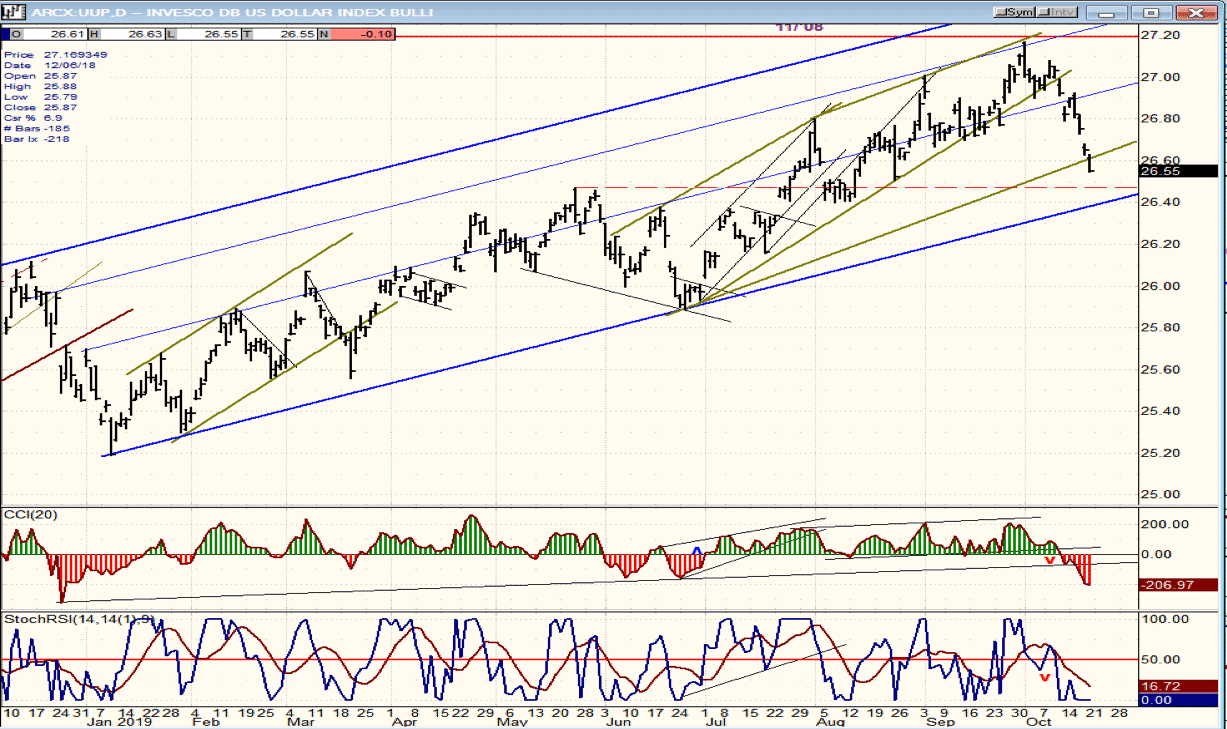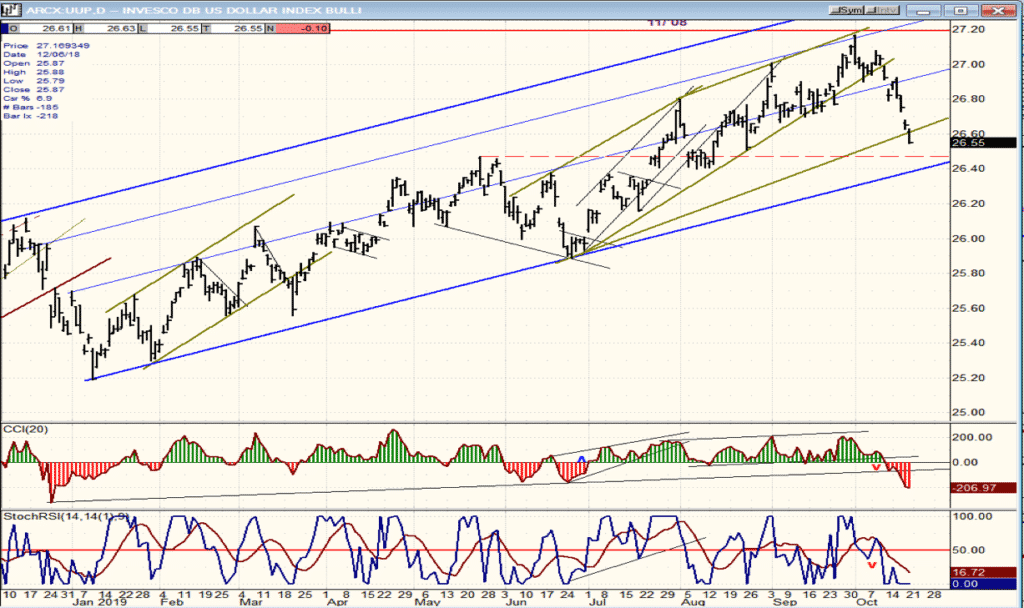 GDX (Gold miners ETF) weekly
After making a new low, GDX has bounced to the mid-point of its current corrective channel. This could be all we get for now, especially if the dollar rallies. The pattern as well as the oscillators suggest that more work (and perhaps reaching 25.50-26.00) is needed before a reversal capable of leading to a new high takes place.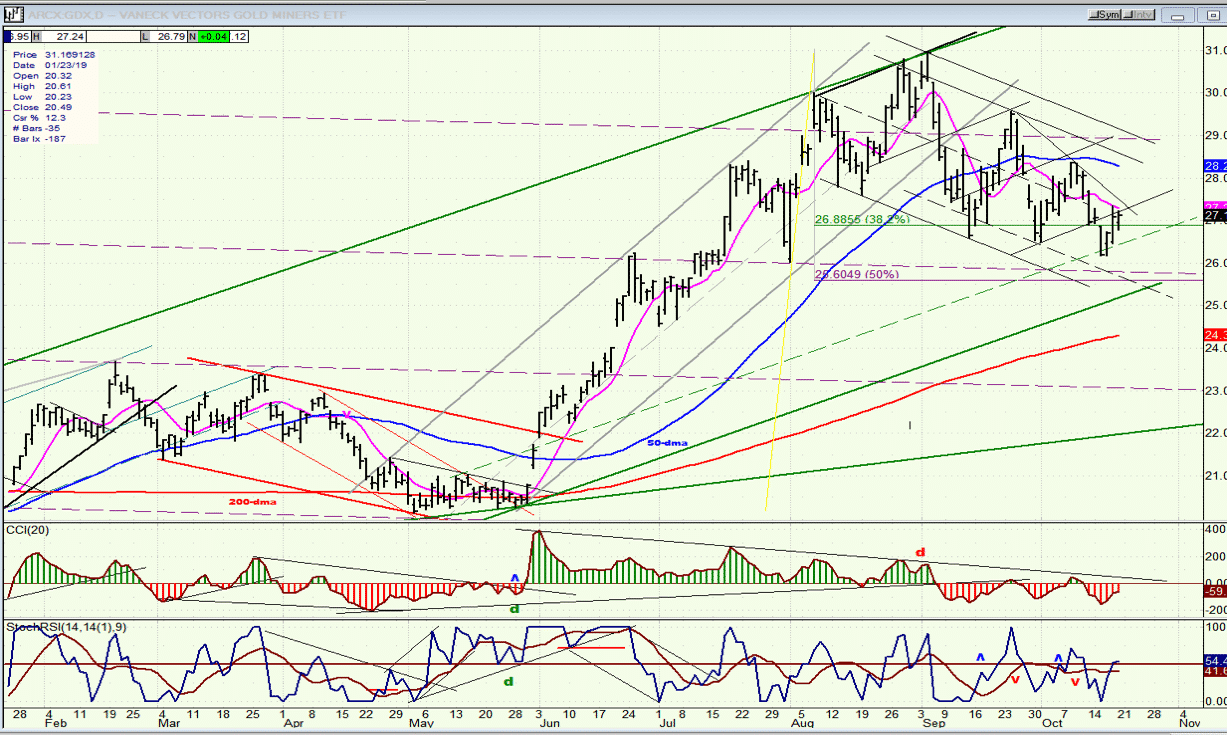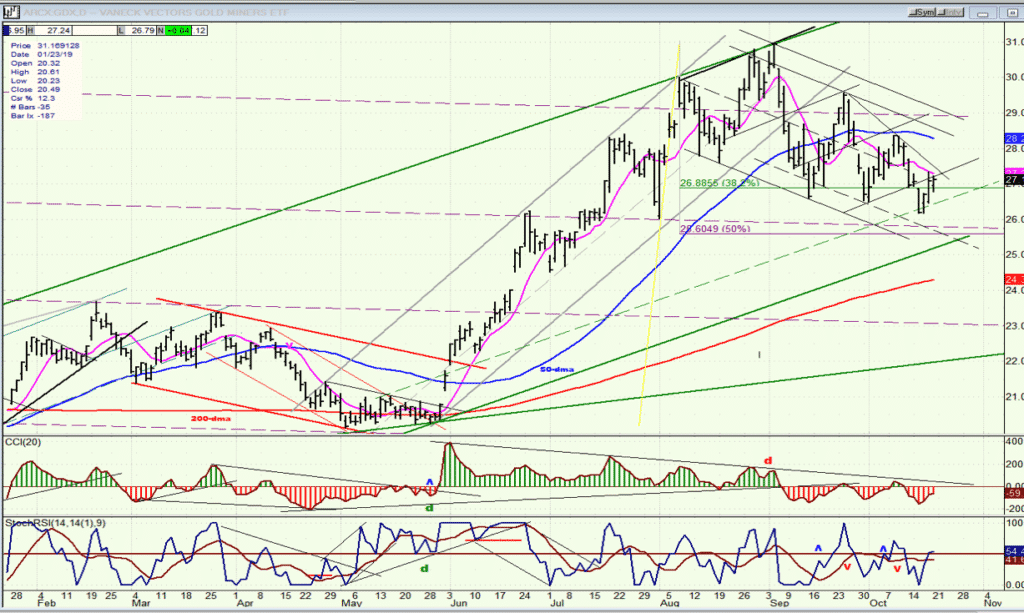 CCG (canopy growth) daily
The faintest signs of deceleration are appearing in CGC. A quick glance at the P&F chart suggests that the downside correction may have been met. Even if it has, it is unlikely that CGC would do much more than a quick rebound followed by a base-building pattern.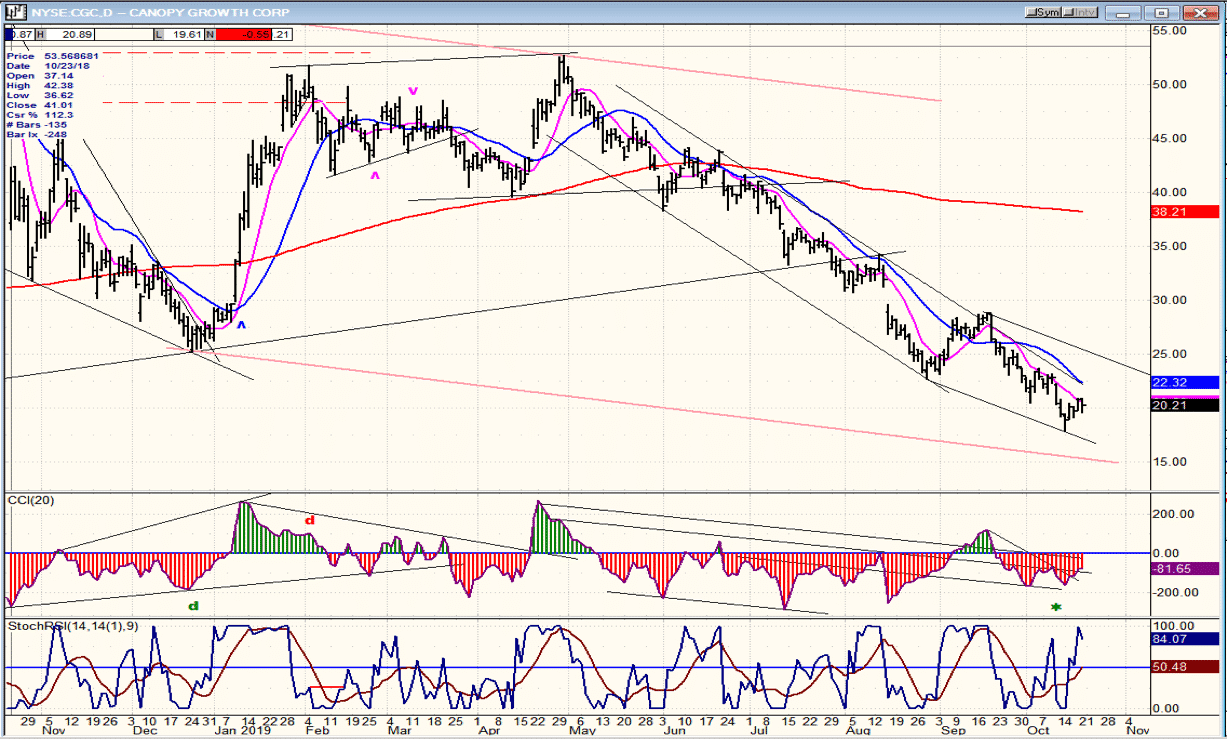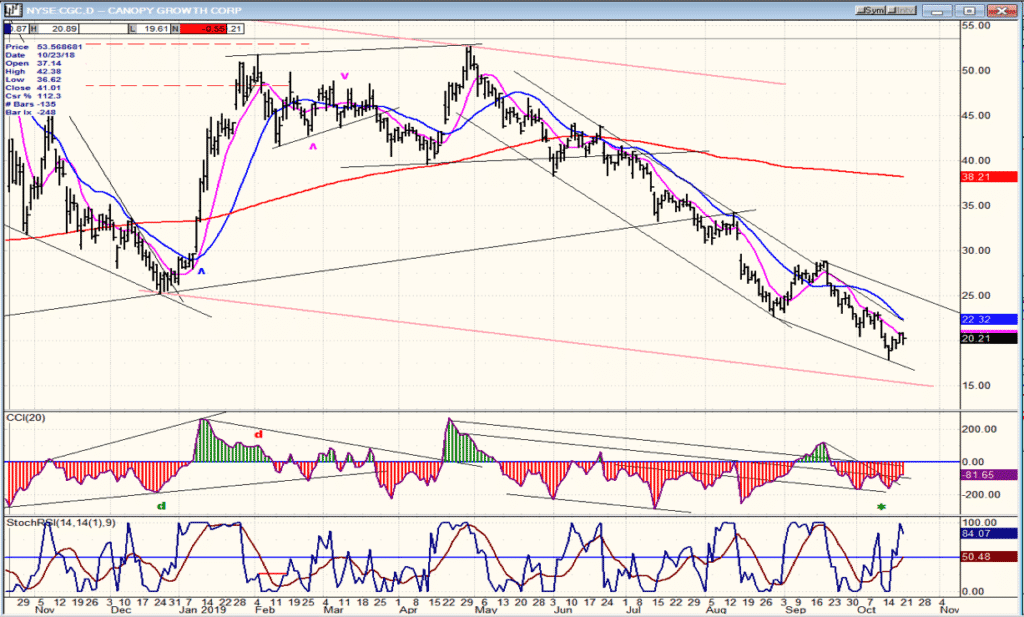 BNO (U.S. Brent oil fund) daily
BNO looks vulnerable to additional decline from this level.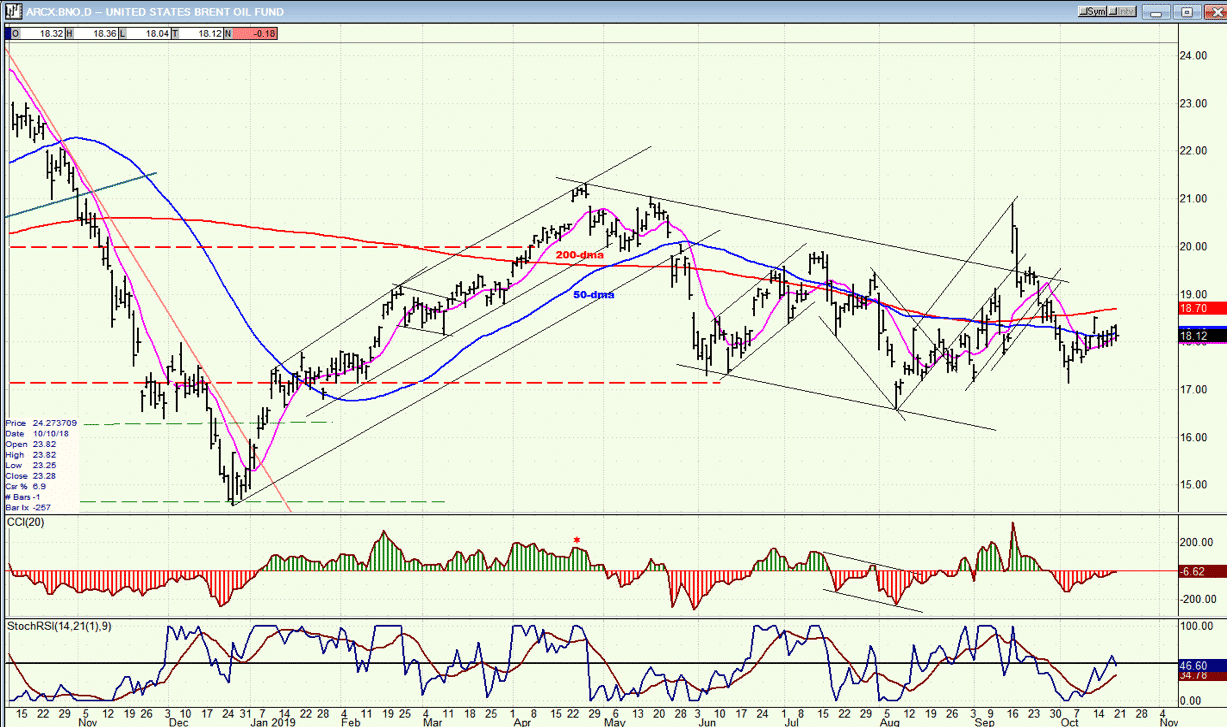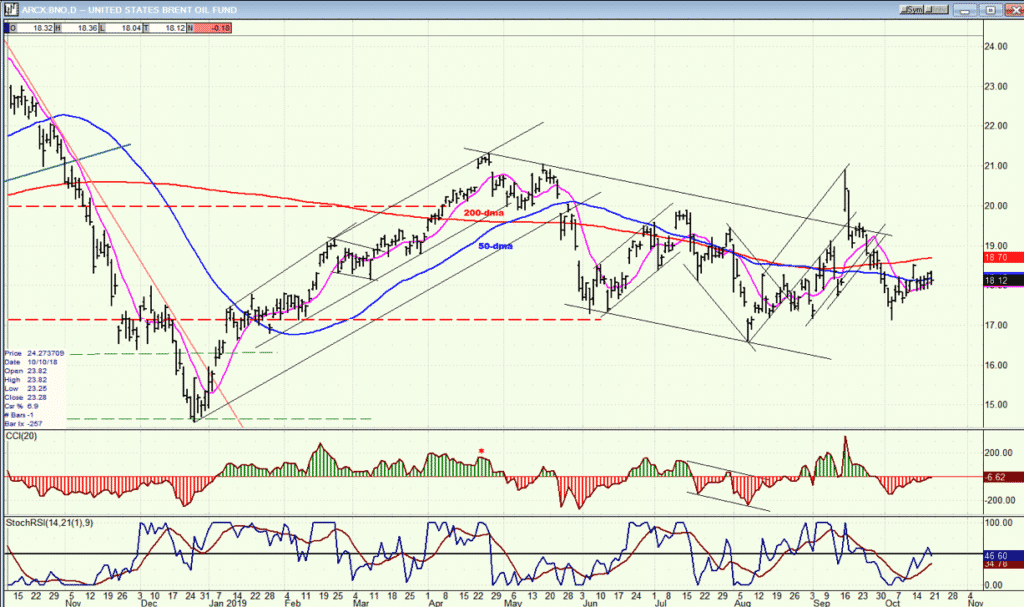 Summary
SPX may not be very far from starting a correction which could rival if not surpass the one which occurred at the end of last year. Only an immediate and obvious resurgence of buying could alter this perception.