SPX-IWM weekly charts
Another weekly high for both indexes and another all-time high for SPX which reached the 3240 P&F projection. It now has a fair chance of ushering in an intermediate high which, based on cycles, could give us a price correction into July 2020, but a valid top will have to be confirmed by the indicators. Since we do not even have an hourly sell signal, we cannot yet be certain that 3240 will be a high point. Based on the long-term P&F chart, 3270-3300 are the next potential price targets if 3240 does not bring a reversal.
If 3240 does bring about a temporary price reversal, we could correct down to the 3025 support level, but we'll discuss the extent of the correction once we have a confirmed top.
IWM only displayed minor relative weakness at this top.  XBD was a little more assertive, but the TRAN has been telling us to expect a correction for some time.  All these indexes have often preceded a reversal in the market.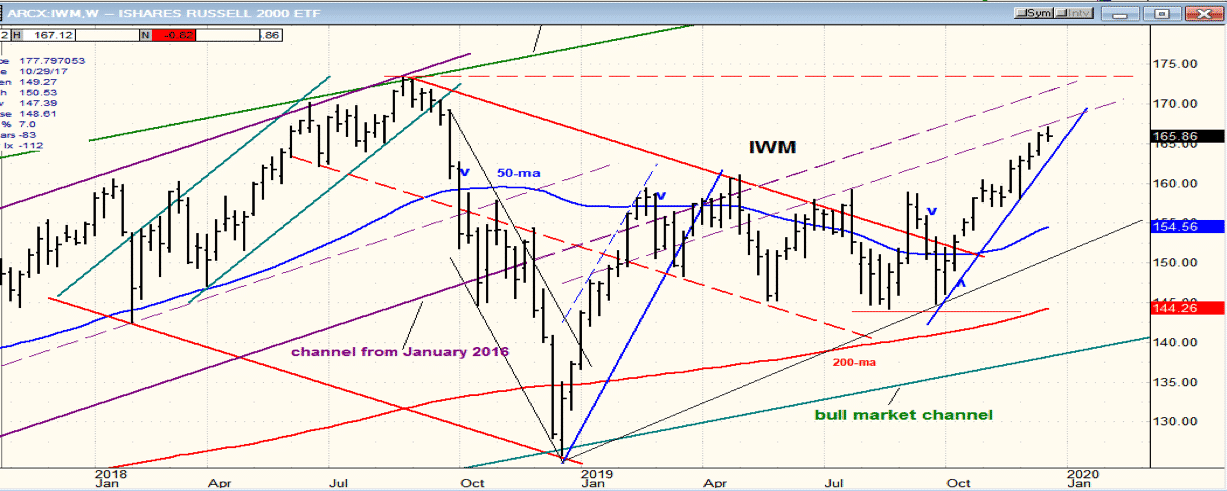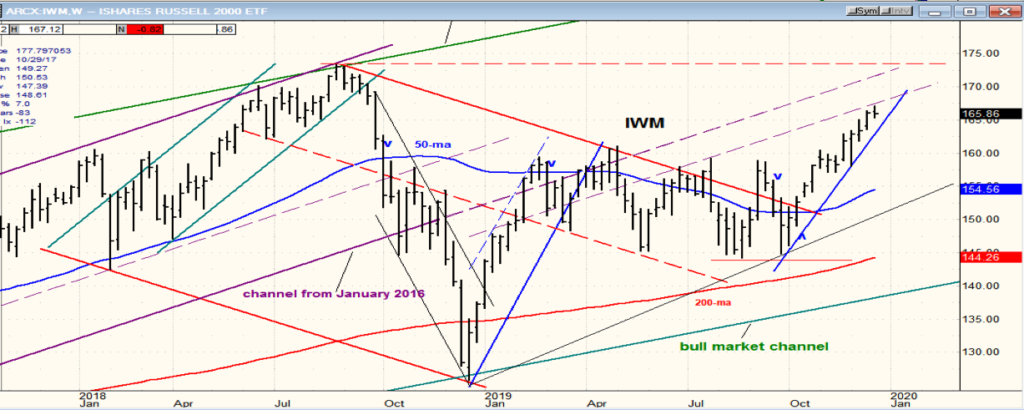 SPX daily chart
Continued strength in the index has taken it within 50 points of its bull market channel top . The low of the channel currently runs at about 2680 — a reminder that, in spite of its ten-plus years longevity, this bull is still very much alive.
With a high of 3248 on Friday, SPX has slightly exceeded the 3240 P&F projection which is deemed worthy of ending the uptrend from 2856 (ushered in by the 40-wk cycle) and bringing about an intermediate correction. Early signs of a top are appearing in the oscillators in the form of negative divergence, but until we get something more substantial, we cannot be certain that this level will not be exceeded. We do not even see distinct price deceleration in the daily chart.
Friday's price action does suggest that some decent profit-taking occurred at the day's high. From 3248, the index corrected 13 points before rebounding into the close while A-Ds ended the day negative. We can best notice the signs of a topping action on the hourly chart (next).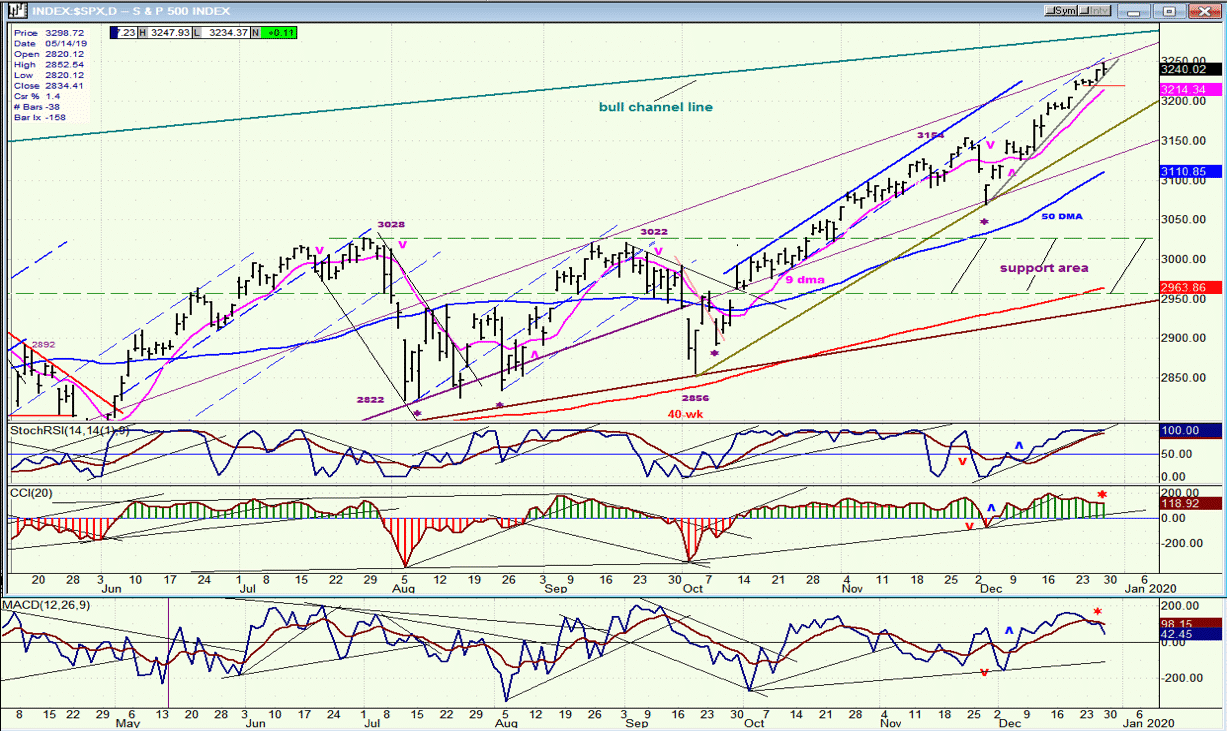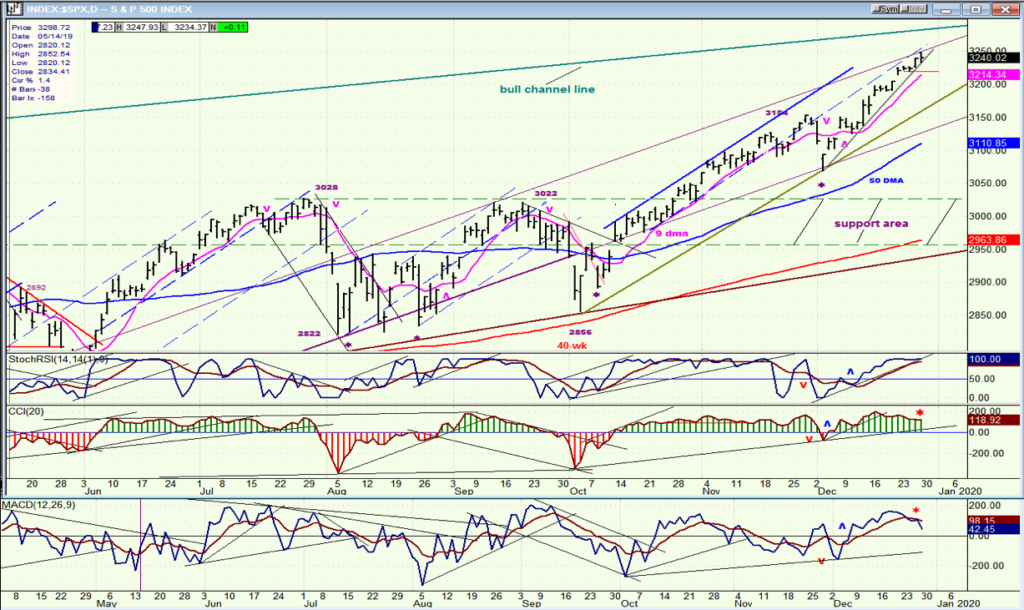 SPX hourly chart
If we are about to reverse the trend from 2856, topping behavior should show far more clearly in the hourly chart, and this is indeed the case.
Here we do see some deceleration and, on Friday, the trend line from 3070 was breached and only saved from being broken by a rally in the last 10 minutes of trading. But most of the evidence is concentrated in the oscillators. Two of them have already given a sell signal while the CCI, which is riddled with negative divergence appears anxious to make it three. However, in order to get a confirmed sell signal which would appear on the daily chart, we would need to close below 3215. That would take SPX below short-term support and give us a pretty good start toward confirming that a correction is taking hold.
A retest of Friday's high would add to the congestion pattern which has already started on the P&F chart.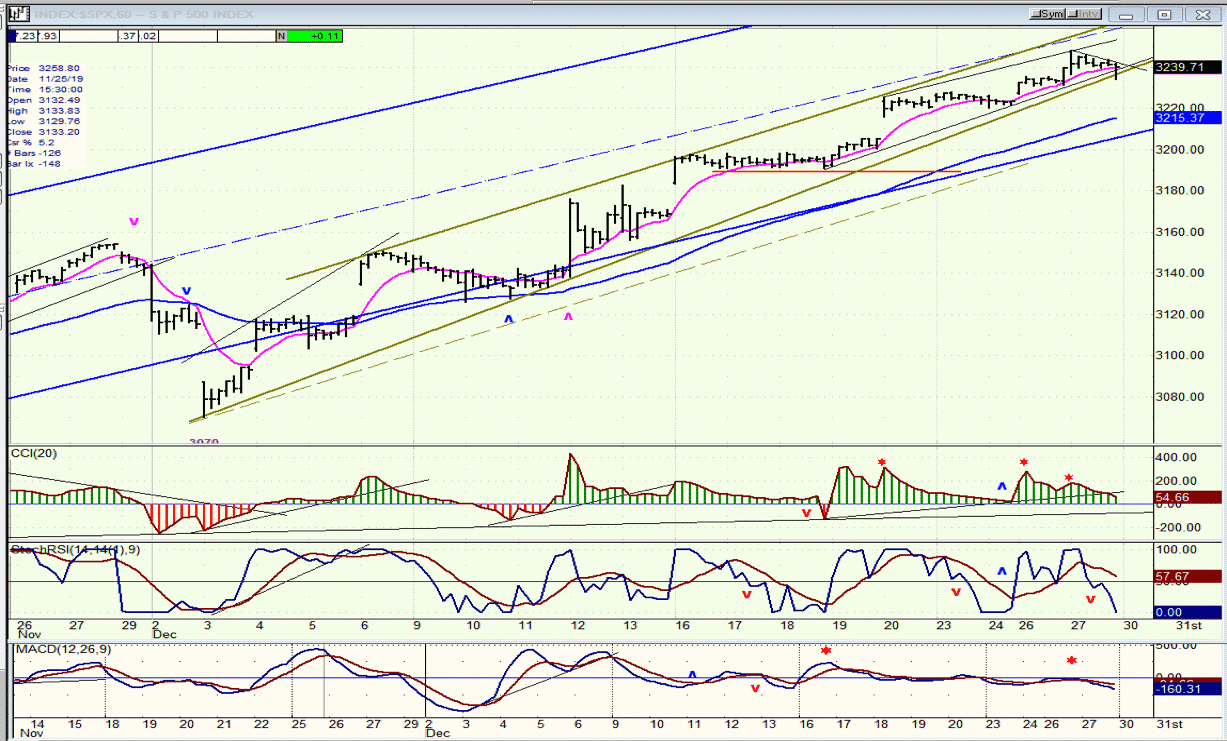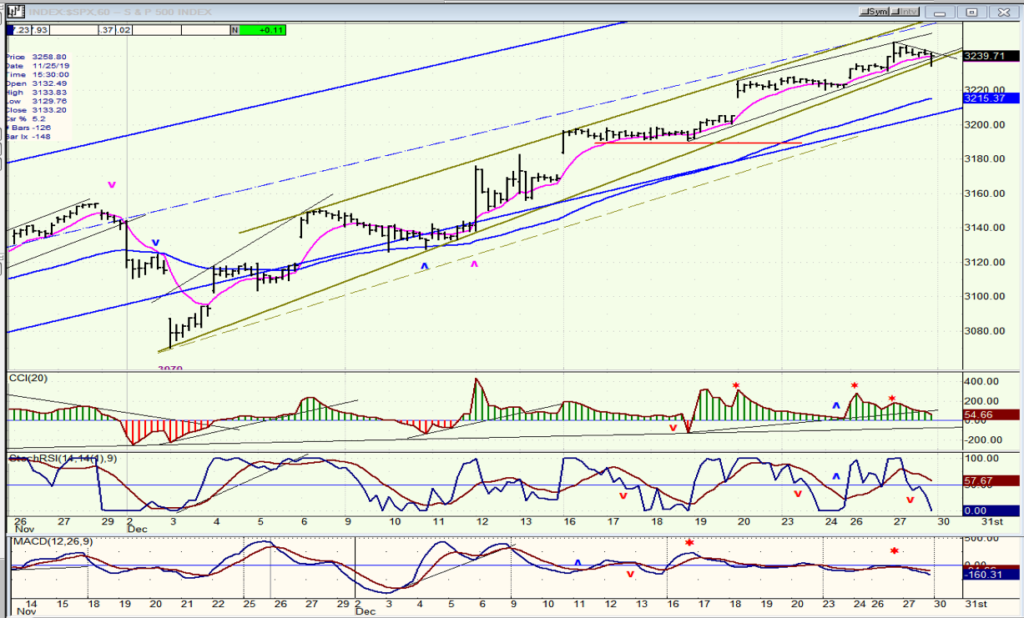 $USD daily (courtesy StockCharts)
The USD has begun to roll over and does not look ready to reverse (right away) the downtrend which it has started.  Until we see evidence of a low forming in the indicators and in the price action, USD should keep heading lower over the near-term.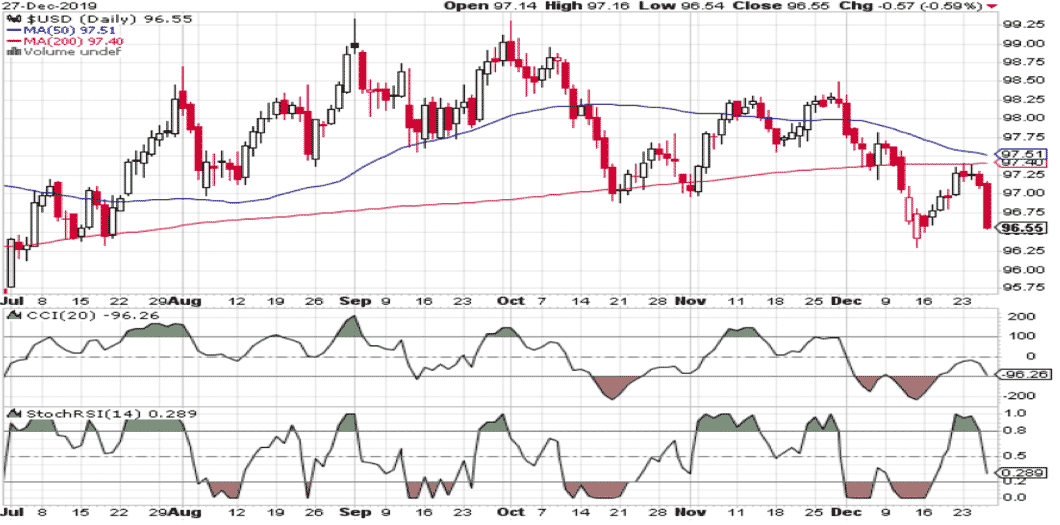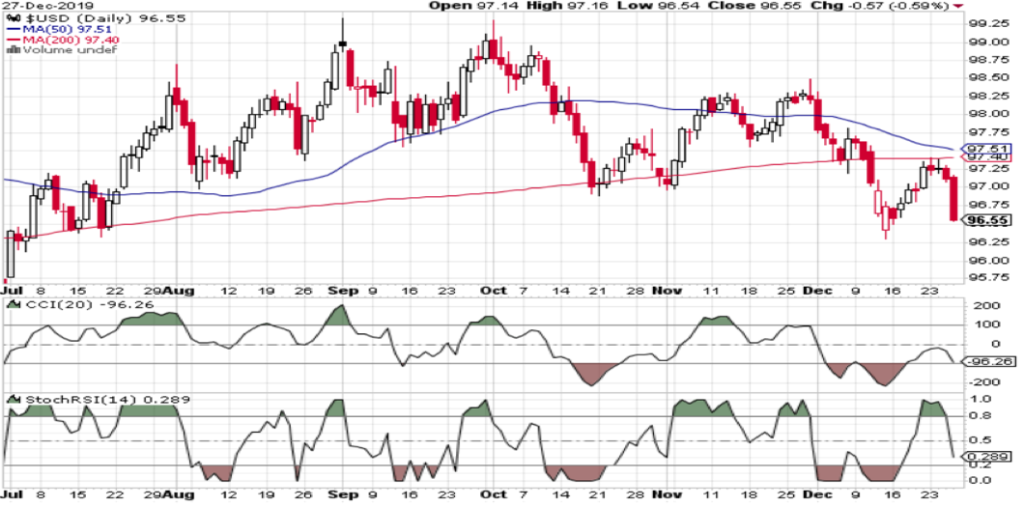 GDX (Gold miners ETF) weekly
GDX has now broken out and should be ready to move higher after a minor correction. Unless serious weakness begins to appear, we can expect the next move to be to ~31.00.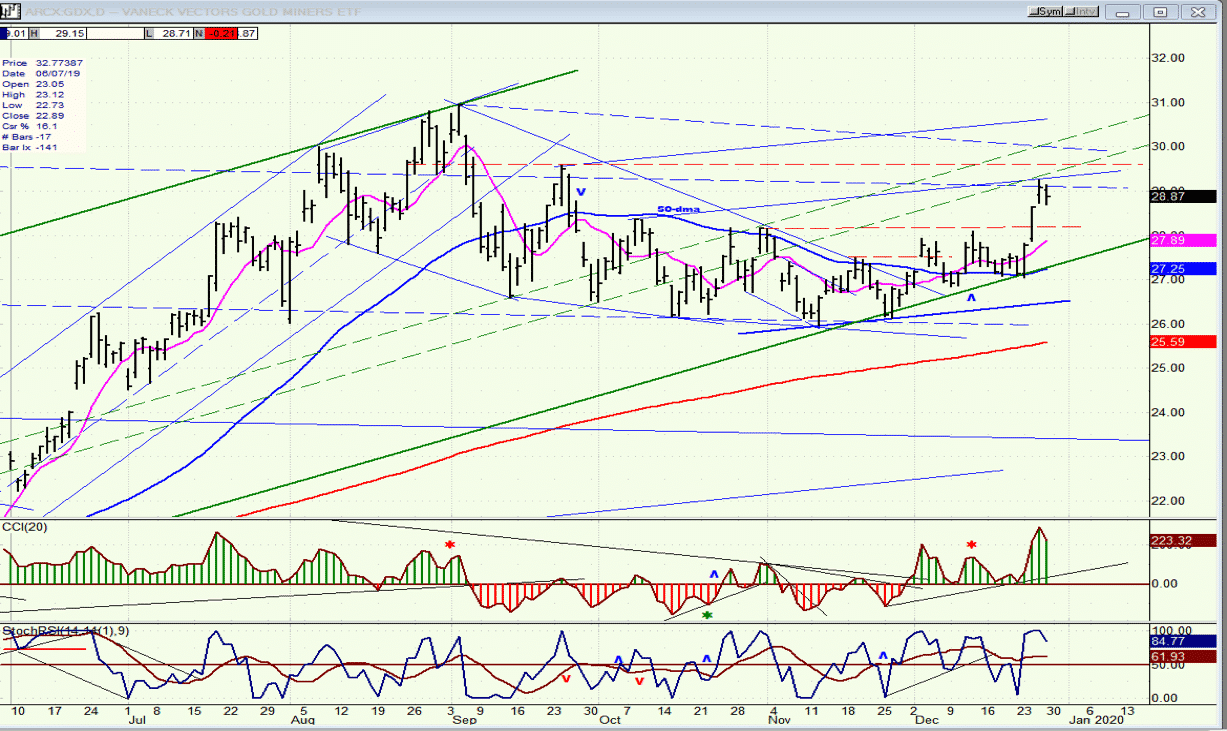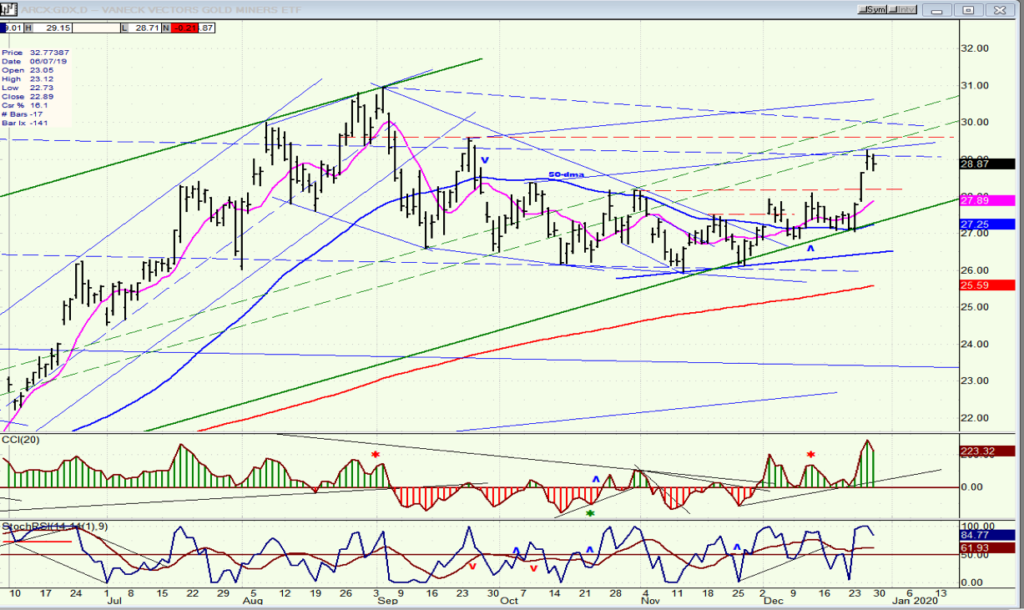 BNO (U.S. Brent oil fund) daily
The short-term trend shows the potential for a move to 22.00 before reversing.  Despite negative divergence in the CCI, the oscillators have yet to turn down.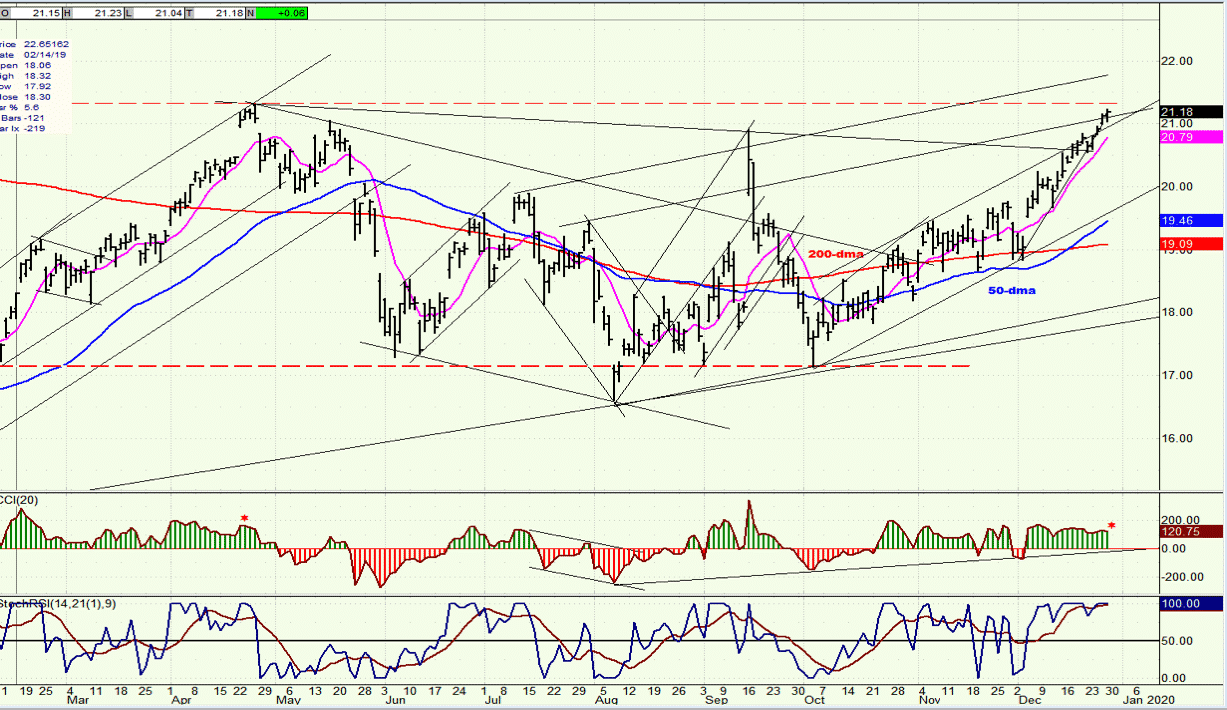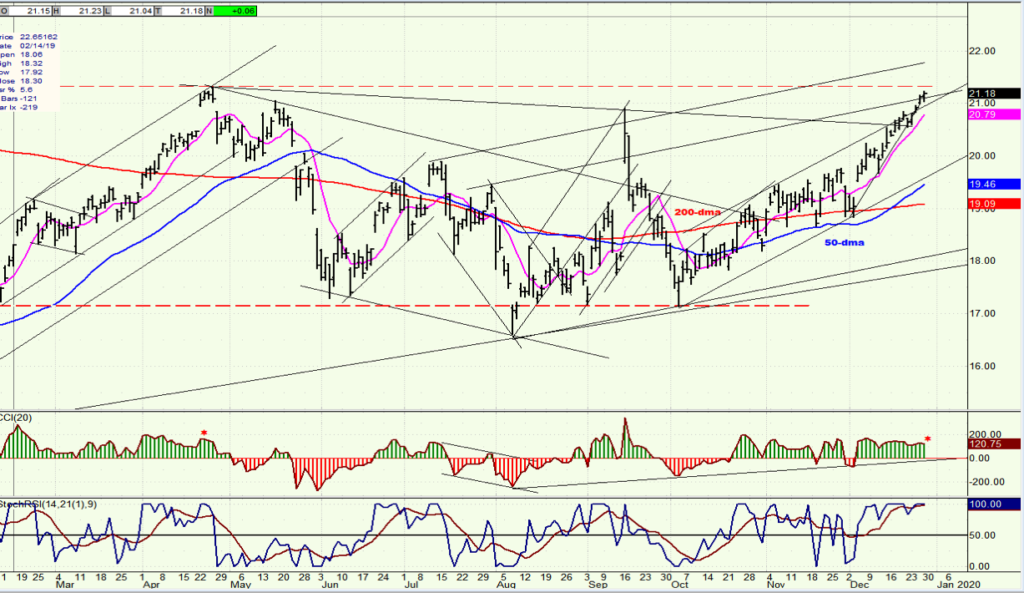 Summary After by-passing the 3180 mark, SPX has now reached 3240 which is a better bet for at least a pause in the uptrend from 2856; even if we do not get an intermediate reversal right away.