The US Dollar stays strong from last week, after the stronger than projected US Employment report from Friday (July 5th), with fading optimism for an aggressively dovish Federal Reserve.
This leaves EURUSD vulnerable to further losses, as we highlighted in our EURUSD Forex article here last week.
Key today are be the numerous Speakers from the FOMC, which include Chair Jerome Powell.
Furthermore, the Federal Reserve Chairman is also testifying in front of Congress on Wednesday and Thursday this week, as we highlight here in the FX Explained MacroWatch.
EURUSD threat still to key 1.1180 support
A low-level consolidation and a prod lower Monday of Friday's plunge lower through 1.1233 support, to reinforce negative forces from the very aggressive selloff through various supports at the start of July, to keep risks lower for Tuesday.
We see an intermediate-term bull trend since the push above 1.1348
For Today:
We see a downside bias for 1.1206/05; break here aims for key 1.1180, possibly even towards 1.1152.
But above 1.1264 opens risk up to 1.1295.
Intermediate-term Outlook – Upside Risks: We see an upside risk for 1.1448.
Higher targets would be 1.1509 and 1.1570.
What Changes This? Below 1.1180 shifts the intermediate-term outlook back to neutral; through 1.1106is needed for an intermediate-term bear theme.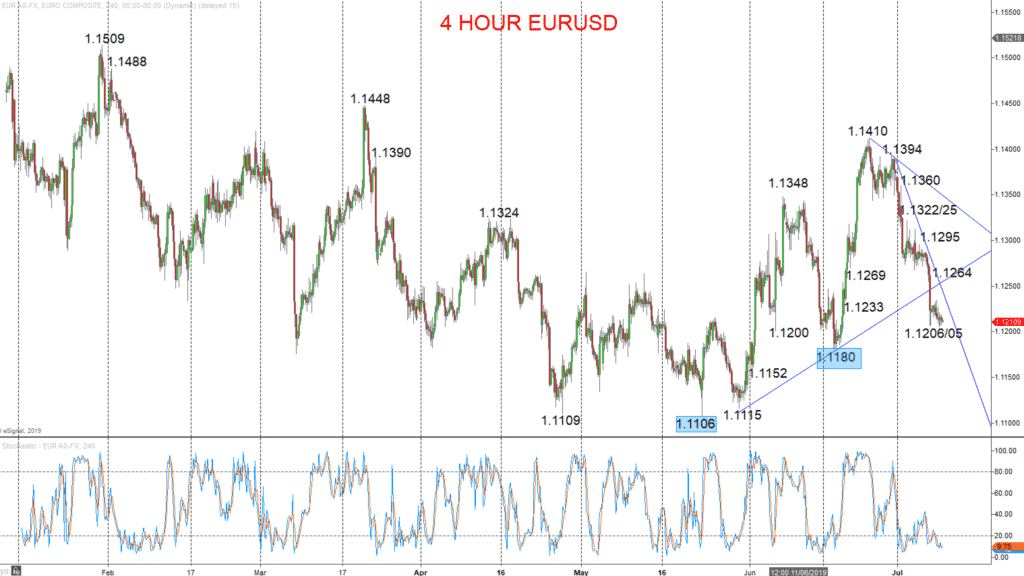 4 Hour EURUSD Chart