USDA reports may reveal wheat planting is somewhat low this season
A recovery in prices looks likely given positive technicals
The quality of Russian product is declining
Look for the bullish sentiment to prevail and will take prices higher
If the whispers on the street are to be believed, when the U.S. Department of Agriculture (USDA), releases its January 11th report it will be revealed that the weather impact that slowed the corn and soybean harvest also delayed winter wheat seeding.
There is a long historical correlation between the seeding rates of wheat and the amount of acres U.S. farmers can claim. The USDA November report indicated that only 95% of winter wheat fields were planted in USDA's final Crop Progress report for 2018. This suggests that the acreage could be 2 million lower than initial expectations.
The market appears set to rally as the response is that the spot price moved above the 50-day moving average. Friday closes: Spot 531.75 (-16.75 or +3.25%), 50 Day Moving Average was 509.83.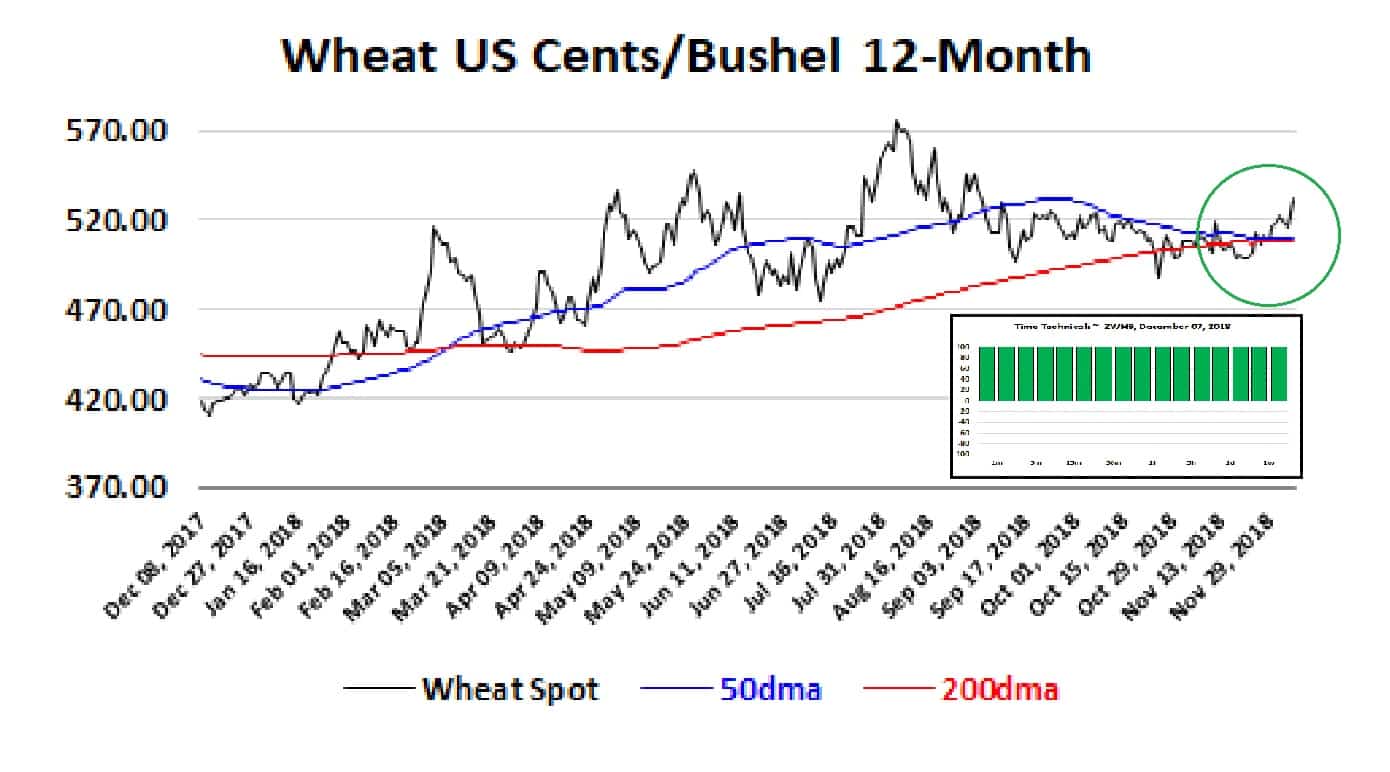 Source: www.tradingeconomics.com , Spotlight Ideas
The inset chart above shows that the technical aspect for wheat (March 2019 contract ZWH9) is highly bullish across the board. Certainly, the positive mood should stand the test of time if the USDA confirms that trend with its first survey of acreage in January.
This trend is reinforced as spot is clearly breaking away from both the 50 and more significant 200 Day Moving Averages.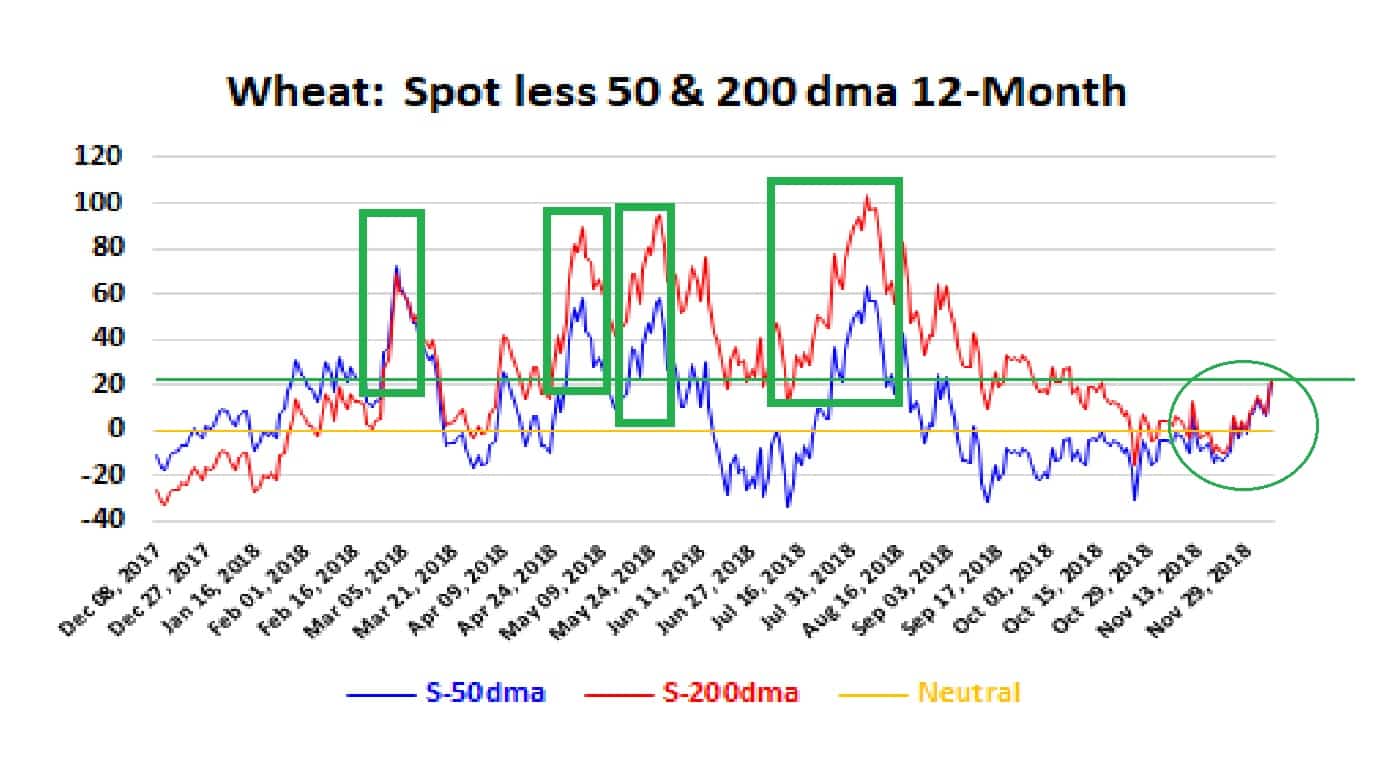 Source: www.tradingeconomics.com , Spotlight Ideas
The chart featured above shows that if spot can deviate further above the moving averages then as seen in the times market by the green rectangles the scope for upside is most encouraging.
The only real obstacle to the potential upside move in price is the amount of moisture in the soil after the recent episodes of rain and snow in the growing regions. This is important as just 10% of winter wheat fields and 24% of spring wheat fields entered winter in drought. Nearly half those areas were in drought at some point during the winter of 2017-2018.
On this note one should not forget to consider the El Nino cycle. The warming of the equatorial Pacific is expected to be over by summer which could harm spring wheat yields.
We live in interesting times and a possible impact of wheat; indeed, all grain prices could be developments overseas. U.S. exports experienced a slow start in the first half of the marketing year.
The USDA has observed that Russian sales will slow even though for the time being the weak Ruble is helping Russia wheat hold a strong role in global sales. The message is though the impact of Russia will fade so improving U.S. prospects in the second half of the season. If they don't, more wheat could be left over ahead of the summer harvest. That would fetter future rallies.
Egypt has started buying U.S. soft red winter wheat and this will surely rise as what is soon to be left of Russia's supplies whilst adequate is of declining quality. One must accept that a buyer such as Egypt is highly price elastic and do not forget Egypt's buying agency is currently lagging on its payments. However, other buyers such as Brazil, who whilst favouring Argentine wheat are a steady buyer of U.S. production. The same is true of Mexico although Japan remains a strong customer for American wheat production.
I hate to be gloomy as wheat does have a strong price appreciation aspect, however, slowing world economic growth could well demand from rising. Certainly, a major drag will be any ongoing standoff between the U.S. and China. Agricultural exports to China do tend to be hit hard as a casualty of such trade tensions.
That said, from a pure market perspective history teaches us that December can be a turning point for new crop wheat contacts and we need to see ZWH9 hold the November lows. If so, look for gains of another 30 cents to U.S. Cents 561/Bushel with a stop loss set at U.S. Cents 506/Bushel.
Read more fundamental analysis