Gold as a safe haven
Gold is usually seen as the ultimate safe haven, an obvious beneficiary during a flight to quality, when the global economic or geopolitical outlook is seen as particularly negative.
Examples of a gold price surge during a flight to quality would be during the Global Financial Crisis (GFC) 2008-2009 and the popping of the dot-com bubble and the 9/11 attacks in 2001-2002.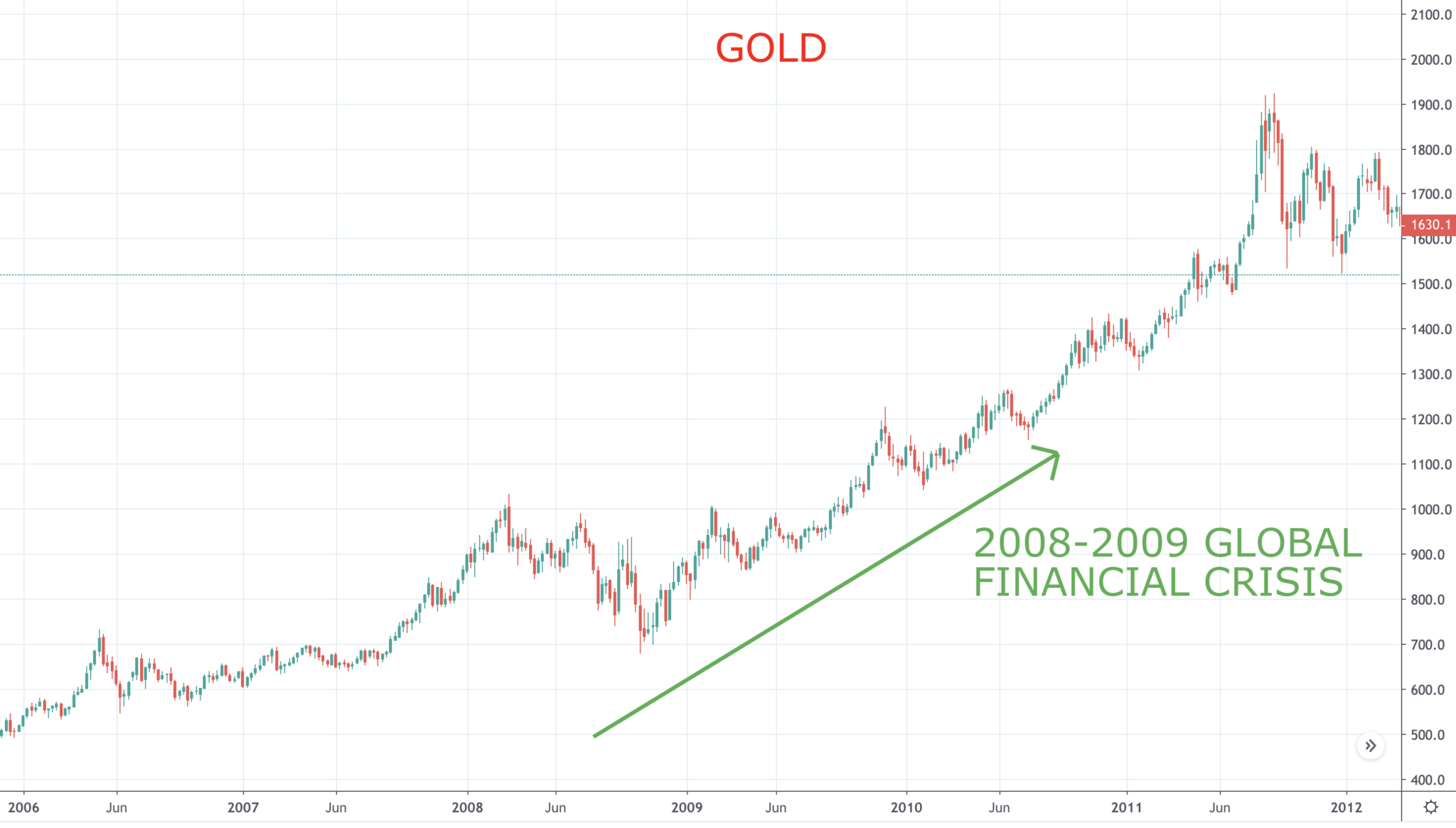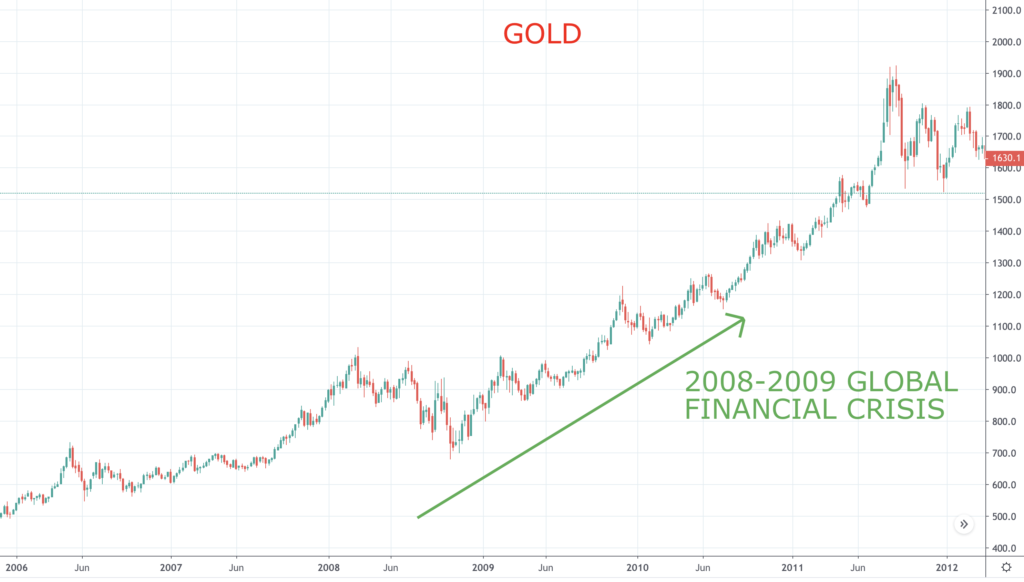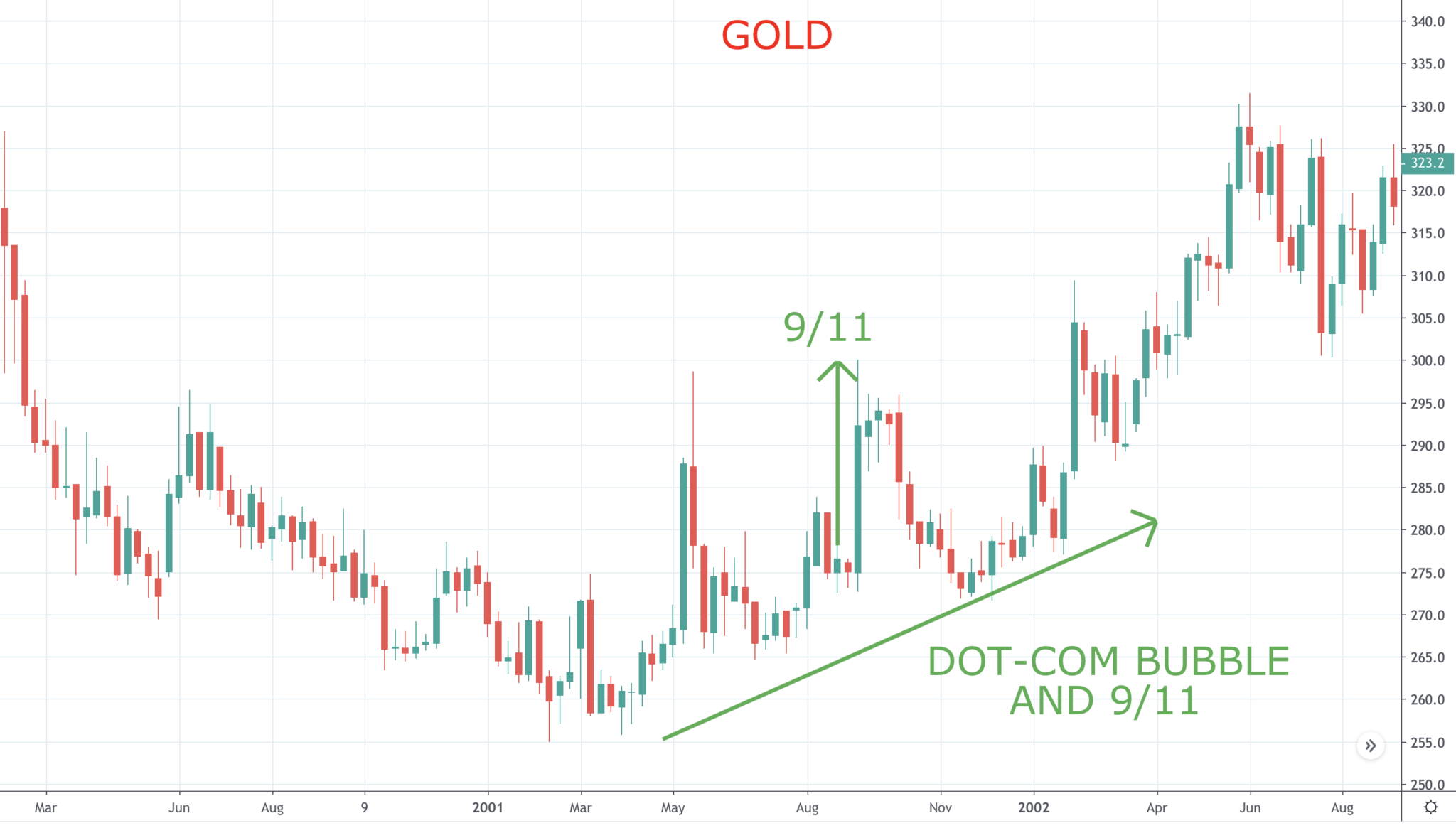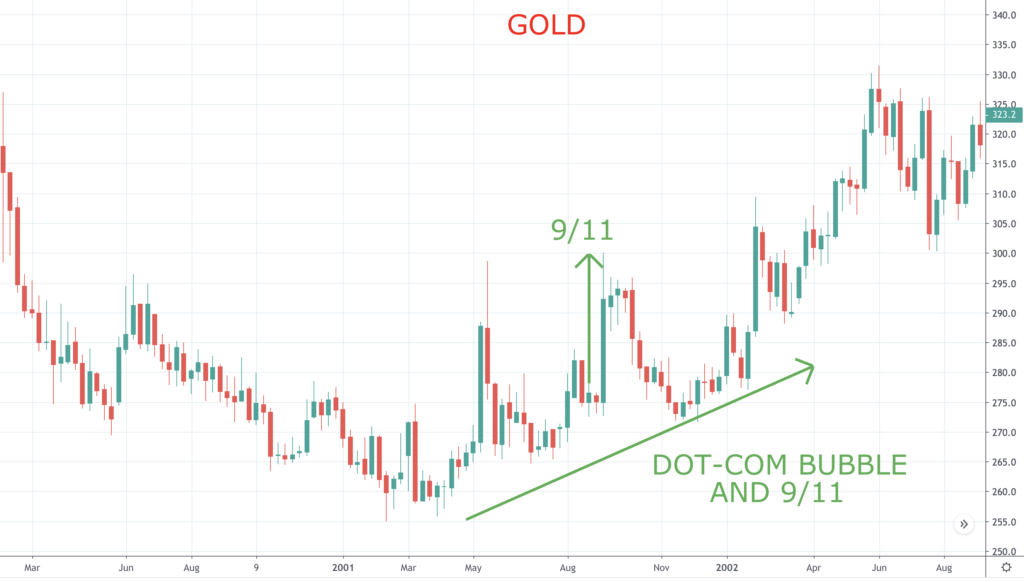 Gold weakness amid the coronavirus COVID-19 outbreak
However, during the coronavirus outbreak, Gold has been on a rollercoaster ride, alongside many other asset classes, but has not moved as one would normally expect.
What has been the gold reaction and why?
Initially, in February during the COVID-19 outbreak in China and Asia, Gold acted as we would expect, rallying higher to multi-year highs through $1565 up to $1700. But since early March, Gold has plunged lower, through various support levels as low as $1450 as of latter March 2020, 15% below the high.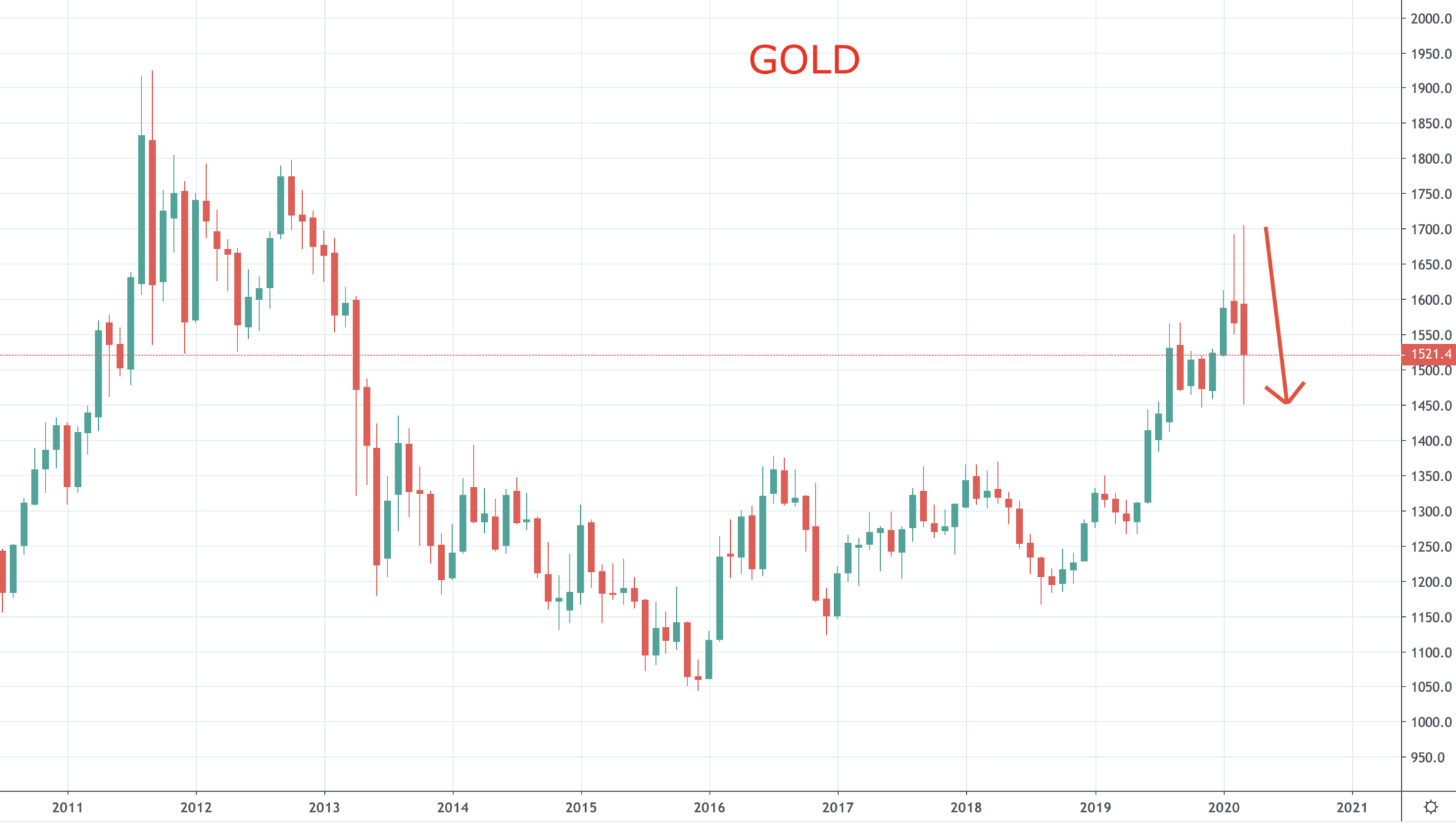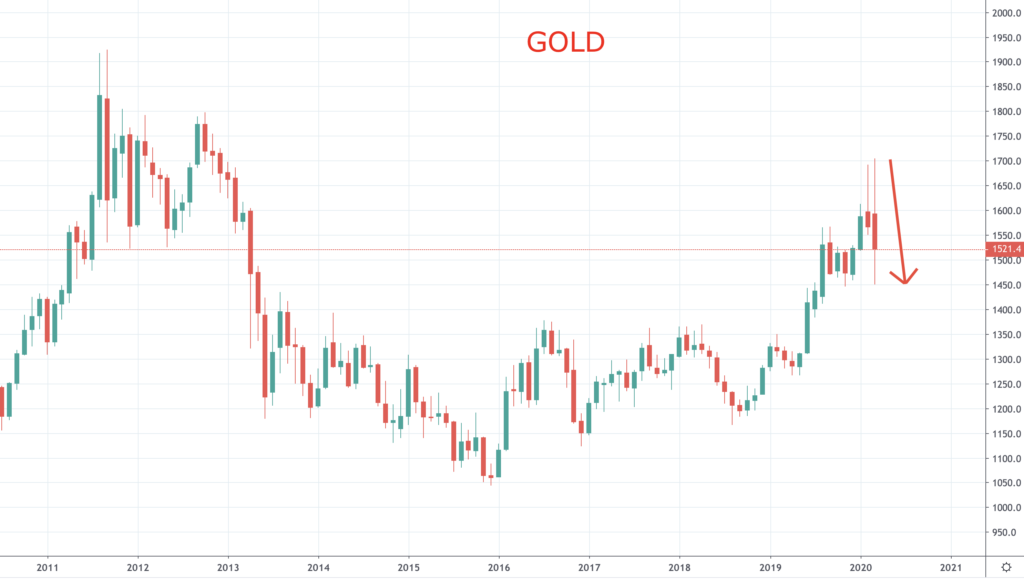 This selloff is seen for two reasons:
The turn lower in Gold has been correlated with the surge in the US Dollar. You can read our article here on why the US Dollar has been strengthening so aggressively in March. There is generally speaking a historical, inverse (negative) correlation between the US Dollar and the price of Gold. This is because of the historical relationship between the US Dollar and the price of Gold during the Gold Standard, when the value of the US Dollar was tied to an ounce of Gold.  As a rule, when the value of the US Dollar increases comparative to other currencies, the price of gold tends to fall in terms of US Dollar, as Gold becomes more expensive in other currencies. Equally, as the value of the US Dollar depreciates against other currencies, Gold tends to appreciate due to it becoming cheaper in other currencies.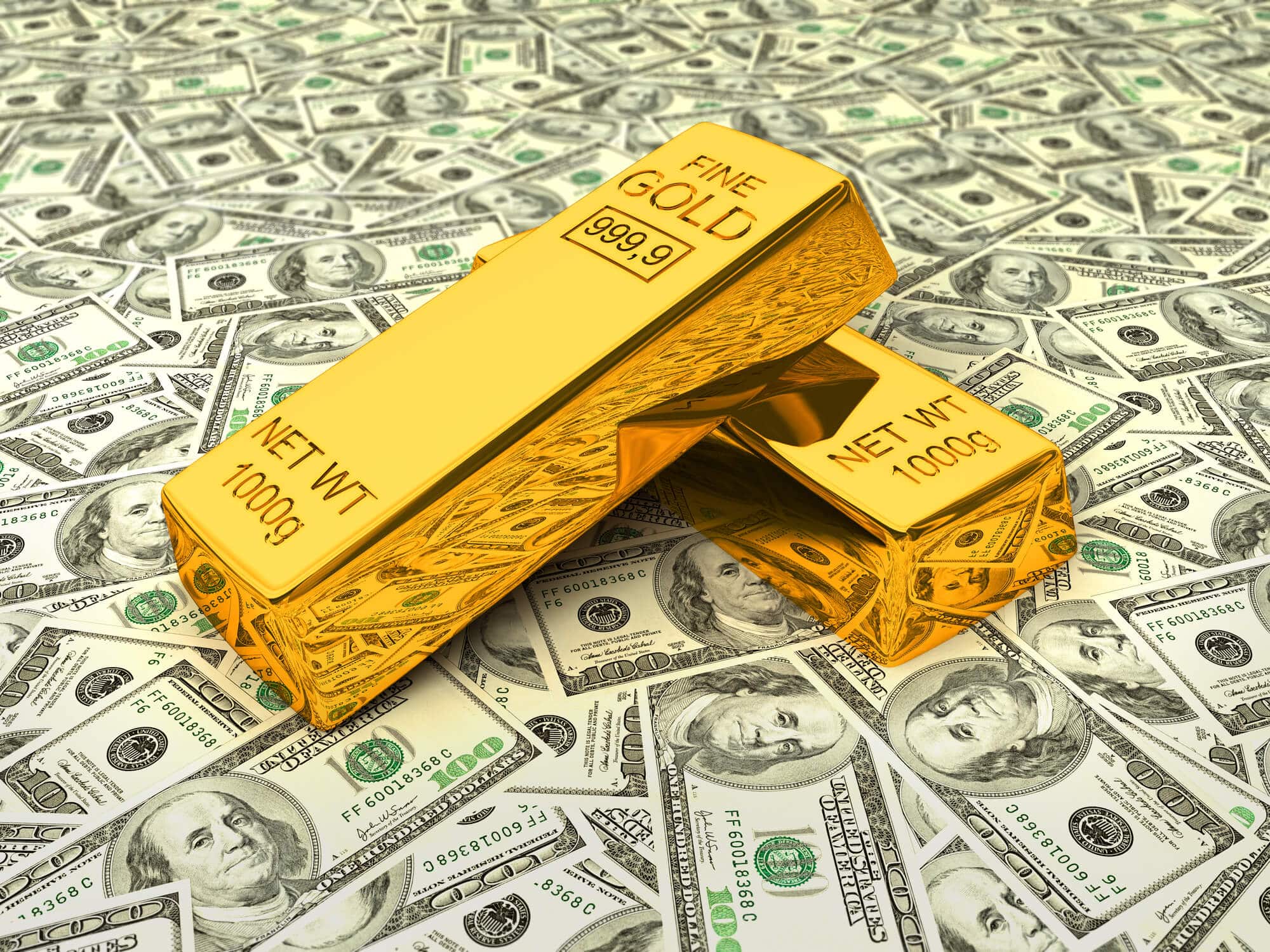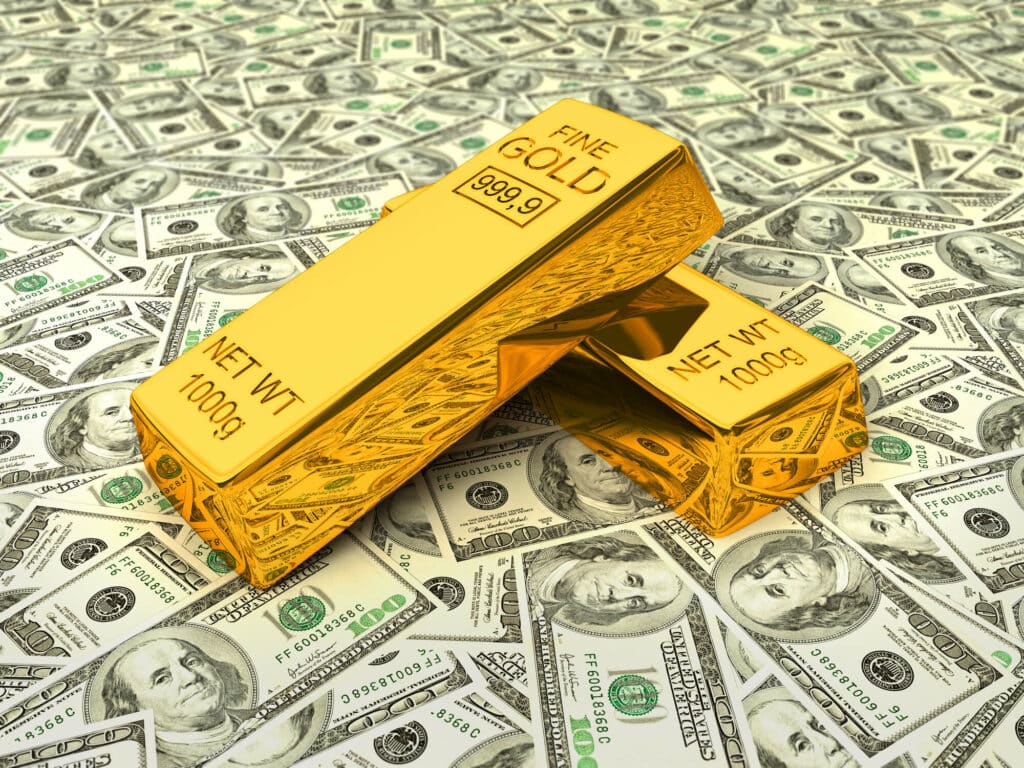 The second reason being given for the plunge in the Gold price in March has been the impact from "selling the good to pay for the bad". Given the aggressive plunge in global stock markets in February-March, many investors would have been looking to exit long positions in these markets, whilst many may have had to cover margin calls on more leveraged equity market exposure. In this scenario, investors may have been forced to sell and liquidate profitable positions in some markets, such as Gold (selling the good), to pay the margin calls on the unprofitable share market positions (to pay for the bad).
In conclusion, the prospects for Gold are mixed as we continue in these uncertain times. Ongoing risk aversion, which has the potential to increase still further, could be a reason for Gold to rebound and the price to strengthen again. But this will likely require a turn back lower in the US Dollar.
Be careful out there and have a GREAT Gold trading day!