Oil market is focused on weakening growth
Sellers are similarly concerned about the high level of production
A survey of oil analysts is not optimistic on an upside resurgence
Technical sentiment is broadly negative
The oil trading community is going to remain focused on global crude supplies and the outlook for energy demand in the week ahead. This follows weaker than expected manufacturing data from the U.S. and China that drove concerns over general economic activity and future oil demand growth.
The ISM Manufacturing Index slipped to 54.2 in February from 56.6 in January, the Institute for Supply Management said. Economists polled by Refinitiv expected the index to slip to 55.5 in February. A decline in new orders, production, employment and prices all contributed to the broader index's decline, ISM data showed.
Factory activity in China, the world's biggest oil importer, shrank for a third month in February as export orders fell at the fastest pace since the financial crisis a decade ago.
This is a concern as the U.S. and China are the world's two largest oil consuming nations and manufacturing numbers are used as reliable indicators for fuel demand growth.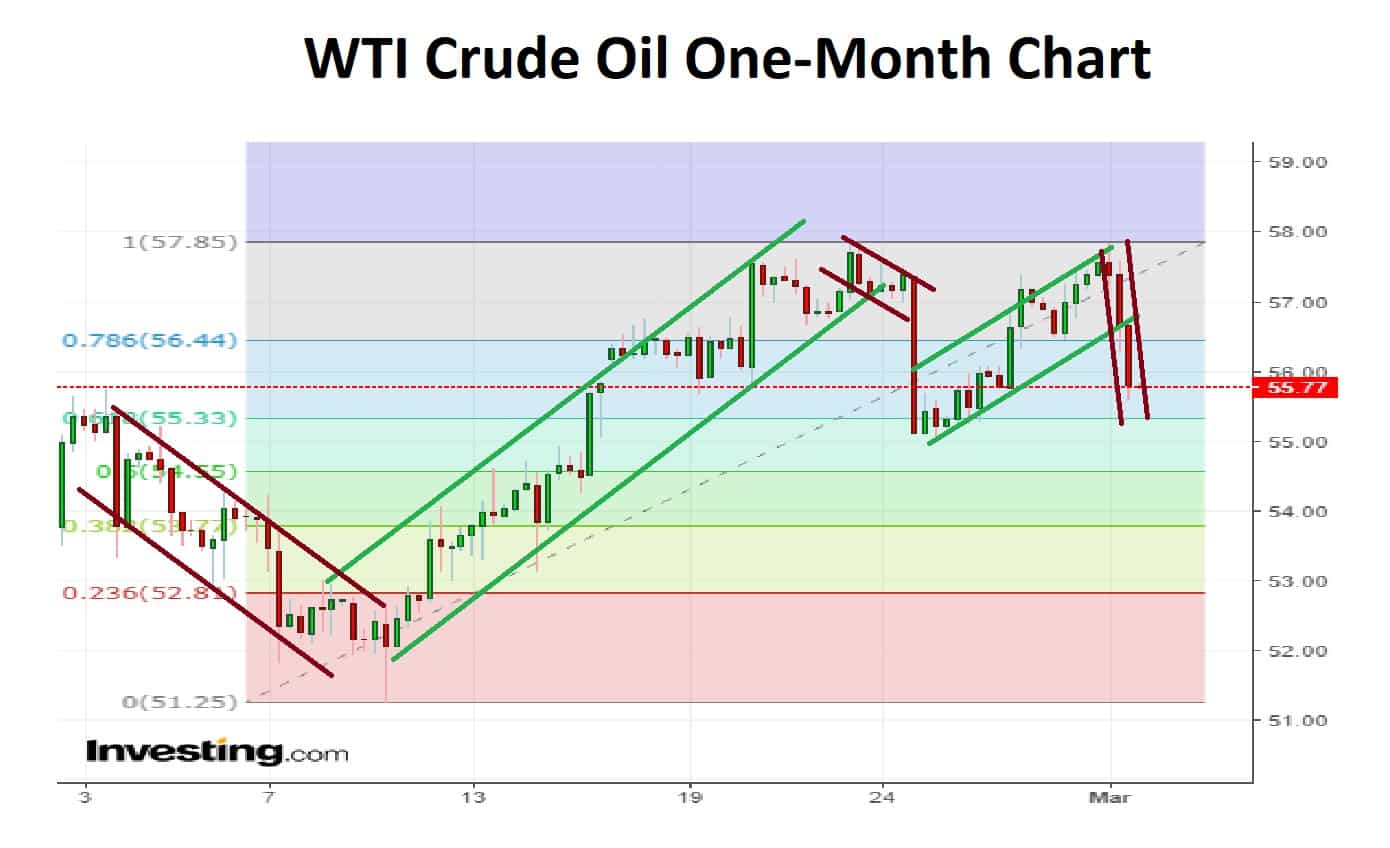 Source: www.tradingeconomics.com , Spotlight Ideas
One can see the scale of the latest price slide, i.e. -2.53% on Friday, the third largest one-day decline in the past month. U.S. West Texas Intermediate crude tumbled $1.42, to settle at $55.80 a barrel by close of trade.
Prices were also weighed down by a large gain in U.S. crude oil production, which has risen by more than 2 million barrels per day (bpd) over the last year, to an unprecedented level of 12.1 million bpd. Production in Texas rose by 35,000 bpd in December and in North Dakota by 18,000 bpd, monthly data showed on Thursday.
The technical sentiment is broadly negative and if WTI is to make any upside move to threaten $58/barrel it will require the assistance from a renewed bout of heavy lifting in the equities market and/or sustainable weakening in the U.S. Dollar.
A Reuters survey of 36 economists and analysts indicated growing pessimism about prospects for a significant price rally this year and I am with them in that view and look for further declines this week.
Summary:
Sell at opening, in the region of USD 55.77/barrel
Target 54.55   Target 2 53.77
Stop at 57.00