Macroeconomic/ geopolitical developments
President-elect Joe Biden announced his American Rescue Plan, a $1.9 trillion fiscal stimulus package on Thursday.
However, in some respects this fell short of the anticipation from the markets, with some of the details below the higher end of expectations.
The Democrats filed and passed a single article of impeachment through the House of Representatives. It charged Donald Trump with "incitement of insurrection" over the storming of the US Capitol.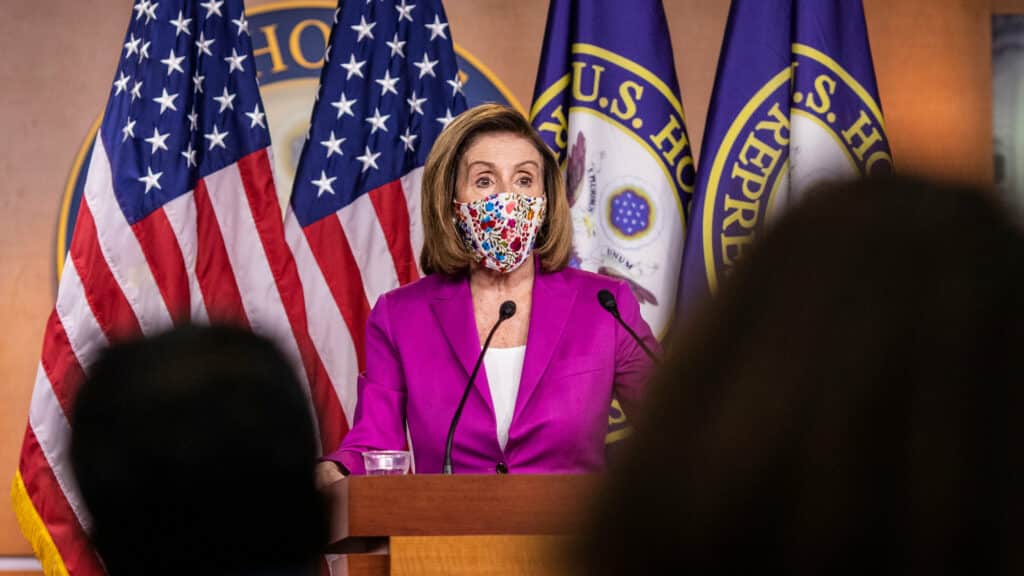 This makes President Trump the first President to be impeached twice.
It is still unclear when the House will send the articles of impeachment to the Senate and when the trial will begin.
Federal Open Market Committee (FOMC) members were vocal last week in allaying market concerns that they were even beginning to consider tapering the very easy monetary policy and stimulus currently in place.
Turning to Europe, political turmoil has been evident in both The Netherlands and Italy, which is clearly a negative for the wider economic area.
Lockdown measures in much of Europe are becoming more stronger, as COVID-19 cases, hospitalisations and deaths continue to rise.
Furthermore, European vaccine programs are not being rolled out at a particularly significant pace.
In the UK, the vaccine program is seeing success, with further measures being implemented to ensure a rapid vaccination of the more at-risk population.
Prime Minister Boris Johnson is under internal pressure from the Conservative party to provide details of a path out of the current lockdown.
Bank of England (BoE) Governor Bailey indicated a less dovish tone than markets had been anticipating, moving away from a move to negative interest rates
Data was on the light side last week, having negligible impact on markets.
Global financial market developments
The major global equity indices marked time just below record or cycle highs for much of last week.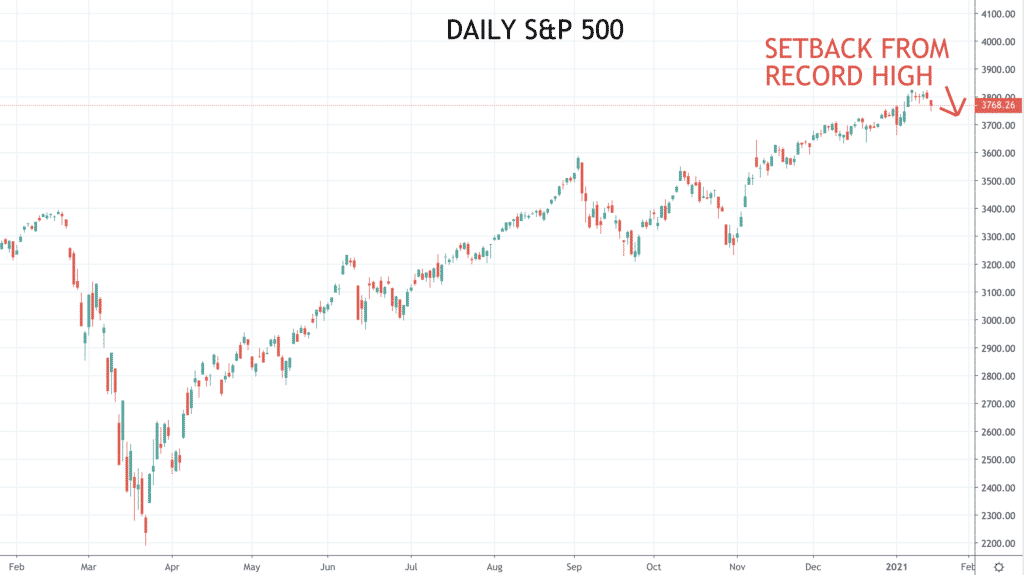 However, a late week sell off was seen Friday, with a "buy the rumor, sell the fact" type move after President-elect Joe Biden announced on Thursday his American Rescue Plan.
Technically, many of the main, world stock averages have posted short-term topping patterns, pointing to further correction or consolidation activity this week
The dismissal of taper talk by the FOMC speakers the past week has seen US and global yields retrace some of the significant higher yield moves seen the prior week in the wake of expectation of reflationary fiscal spending from the Democrats after the "blue sweep". 
The US Dollar has extended its rebound from its 2020 weak position, driven by wider yield differentials and the shift towards a "risk off" theme.
The US currency has strengthened against most of the major currencies, notably versus the Euro and Japanese Yen, but also against the "risk currencies" the Australian, New Zealand and Canadian Dollars.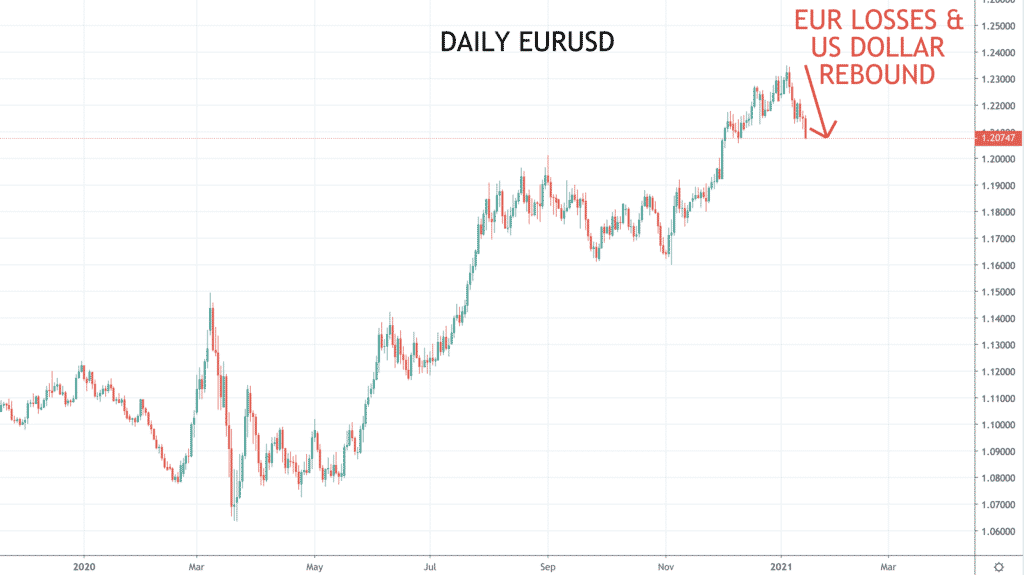 The Pound, however, posted a strong rebound with GBPUSD moving to a new multi-year high after the aforementioned comments from BoE Governor Bailey on negative interest rates.
In the commodity space, Oil saw a setback on Friday with stocks from a multi-month peak, Copper has been in a negative consolidation theme since early January strength, whilst Gold remains vulnerable, unable to rebound since the earlier January plunge lower (with the stronger US Dollar).
Key this week
Geopolitics:

US Martin Luther King holiday on Monday 18th January, all US markets closed.

Political events will be closely monitored in the US with the inauguration of President-elect, Joe Biden on Wednesday 20th January.
Euro Group, EcoFin meetings and the EU leaders summit are on Monday, Tuesday and Thursday respectively.
Watching for new lockdown measures, particularly in Europe.
New COVID-19 cases, hospitalisations and deaths stay in focus in Europe and the US.

Markets will monitor further vaccine delivery announcements and approvals.

Central Bank Watch: Wednesday brings both the People's Bank of China (PBoC) and Bank of Canada (BoC) interest rate decisions and statements and then Thursday we get both the Bank of Japan (BoJ) and European Central Bank (ECB) interest rate decisions and statements.
Macroeconomic data: An average data week, the standouts being the plethora of Chinese data on Monday, German ZEW and CPI Tuesday, UK inflation data Wednesday, Australian employment and Retail Sales on Thursday and Friday, and Friday also sees UK Retail Sales and global Markit Flash PMI released.
Microeconomic data: US earnings season fully kicks in, with standouts this week being; Bank of America, Netflix, Goldman Sachs, Procter & Gamble, United Healthcare, Intel, Morgan Stanley and IBM.
| | |
| --- | --- |
| Date | Key Macroeconomic Events |
| 18/01/21 | China Industrial Production, Unemployment, Retail Sales and GDP; Euro Group Meetings; US Martin Luther King holiday, all US markets closed |
| 19/01/21 | EcoFin Meetings; European and German ZEW Economic Sentiment; German CPI |
| 20/01/21 | PBoC interest rate decision and statement; UK inflation data (including CPI); Inauguration of US President-elect Joe Biden; BoC interest rate decision and statement |
| 21/01/21 | EU leaders summit; Australian employment report; BoJ interest rate decision and statement; US weekly Jobless Claims; ECB interest rate decision and statement |
| 22/01/21 | Australian Retail Sales; UK Retail Sales; global Markit Flash PMI |