The Federal Reserve met last Wednesday and as markets had priced in, a third 2019 rate cut for 2019 was delivered by the Federal Open Market Committee (FOMC). The FOMC also indicated a pause, that the "mid-cycle adjustment" was complete (for now). US equities and stock averages pushed higher (as did global share markets), whilst the US Dollar sold off against major currencies as US Bonds rallied to lower yield levels.
The US Employment report Friday was strong, with the Non-Farm Payroll (NFP) data much better than the consensus numbers. Data for October saw 128K jobs added (with consensus for 89K), whilst the September numbers were adjusted higher from 136K up to 180K. Prior to this data on Friday Chinese factory activity in October grew at its fastest rate for over two years (according to the Markit China Manufacturing Purchasing Manager Index, PMI).
The combination of the Fed rate cut and better US and Chinese data saw both the US benchmark average, the S&P 500 and the tech-heavy Nasdaq 100 achieve new record highs.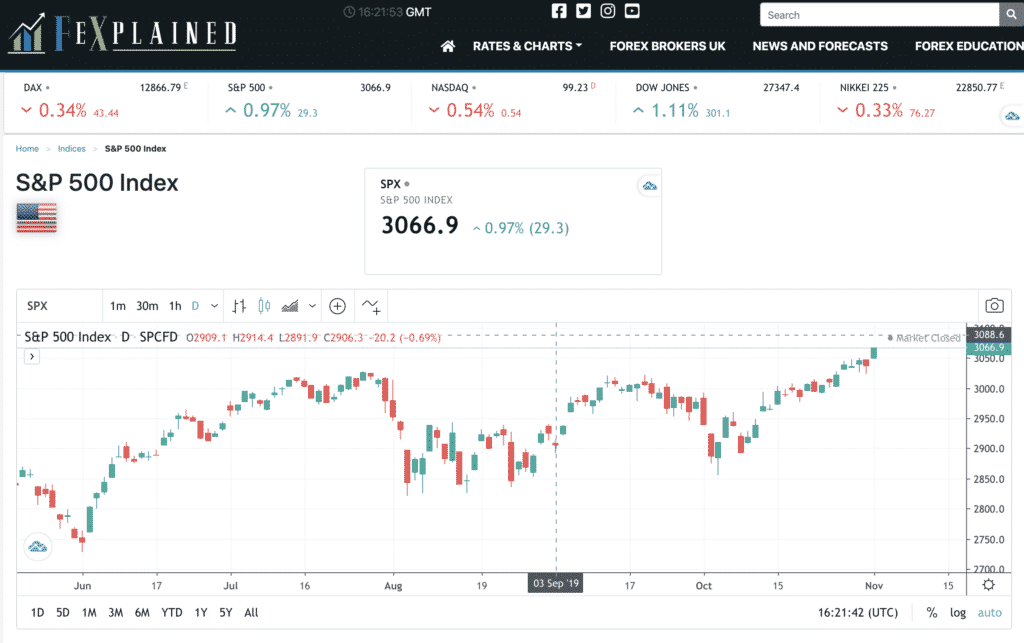 The UK focus has now moved away from the Brexit saga after the 31st October 2019 deadline has been extended to the 31st January 2020. The attention is now on the snap general election, as on 12th December the UK now goes to the general election polls. This brings fresh ambiguity and indecision, as the major political parties hit the campaign trail in November, with countless opinion polls punctuating the trading environment. You can see a longer term History of the Pound here and an article we have recently published here on CNBC on the risk for the Pound and GBPUSD into the general election.
Ongoing reports and rumours from the US-China trade talks have hit the newswires this past week with Bloomberg citing unnamed Chinese officials on Thursday, indicating a long-term US-China trade deal was going to be difficult. Then the Chinese state-media News Agency (Xinhua) said Friday that China and the US have "reached consensus on principles".
The impeachment enquiry of President Trump rolls on in the US with subpoenas issued and further testimony likely this coming week.
Key this week
From the Central Banks, the Reserve Bank of Australia (RBA) meet to decide interest rates on Tuesday with the Bank of England (BoE) meeting on Thursday. Neither Central Bank is expected to change interest rates.
On the macro data side, we get European Manufacturing PMI data Monday, Tuesday sees the release of US ISM Non-Manufacturing PMI, whilst European Services and Composite PMI data are published Wednesday. Then Thursday brings German Industrial Production and the Chinese trade data and the Canadian Employment report hit the wires Friday.
On the geopolitical front, UK election developments and opinion polls will be in focus, together with US-China trade talk progress (or setbacks).
| | |
| --- | --- |
| Date | Key Macroeconomic Events |
| 04/11/19 | European Manufacturing PMI; US Factory Orders |
| 05/11/19 | RBA interest rate decision; US ISM Non-Manufacturing PMI |
| 06/11/19 | New Zealand Employment report; European Services and Composite PMI |
| 07/11/19 | German Industrial Production; BoE interest rate decision |
| 08/11/19 | Chinese trade data; Canadian Employment report; US Michigan Consumer Sentiment Index |