Macroeconomic/ geopolitical developments
A week of wavering equity markets, with rebounds falling short of making more positive signals, whilst Friday's losses highlighted ongoing vulnerability, as has been seen through September.
On Wednesday we got the Federal Open Market Committee (FOMC) interest rate decision and statement, which highlighted the "lower for longer" theme as the market had expected, with interest rates likely on hold until 2023.
There was potentially some minor disappointment from the market that asset purchases were not increased, though economic projections were slightly more favourable than before.
The UK Parliamentary debate on the internal market bill came and went, but the growing rebellion from Conservative backbenchers has seen the government take a slightly more conciliatory tone.
The Bank of England (BoE) once more highlighted the potential for negative interest rates on Thursday, which saw an initial dip for the Pound.
There has been some modest improvement in the EU-UK trade talks, with minor progress made, which has helped the Pound try to bounce.
On the geopolitical front, market attention has shifted significantly back towards the number of COVID-19 cases, with European and UK new case rates surging, and lockdown measures being reintroduced.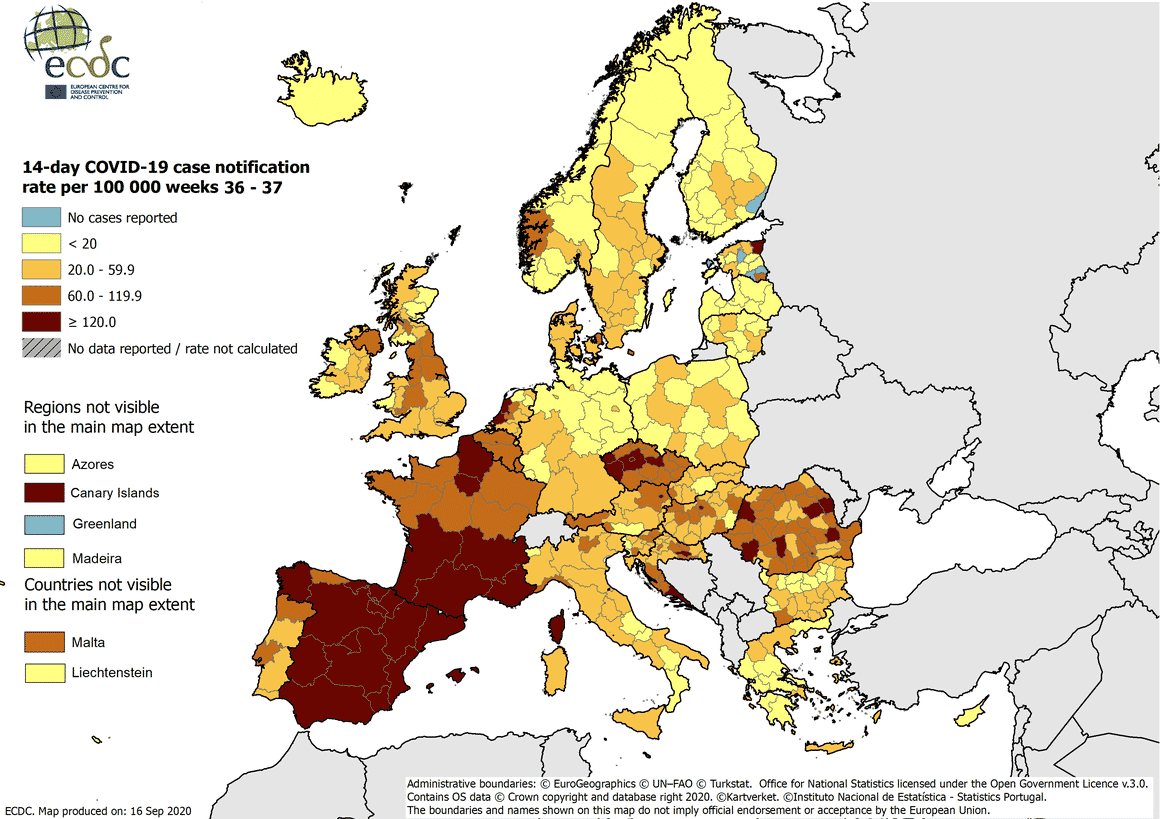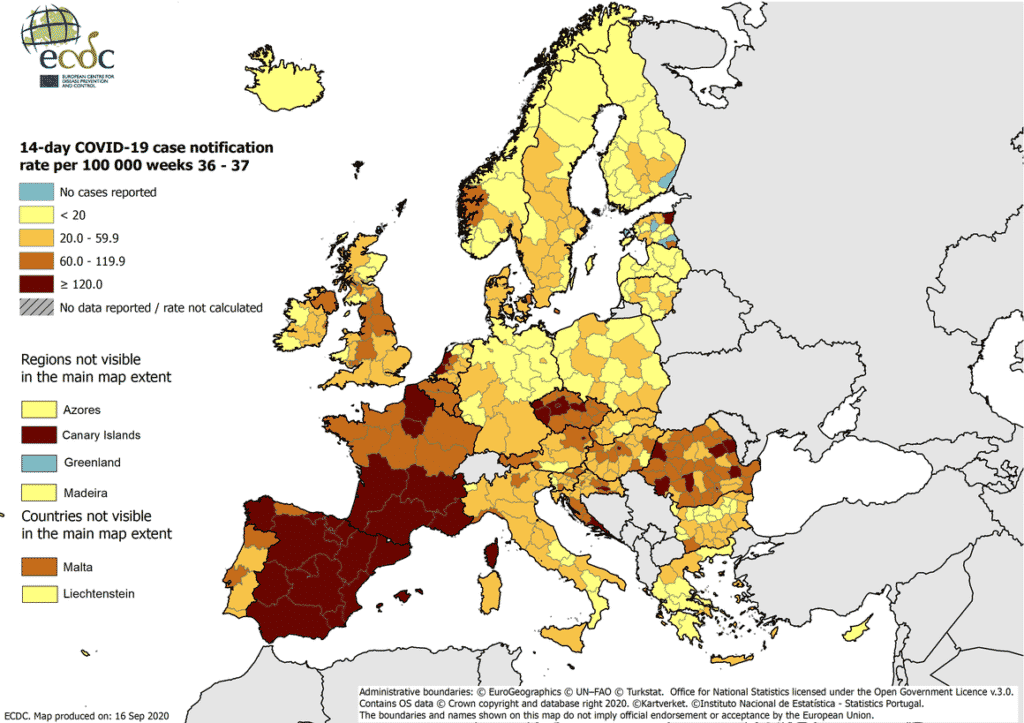 Global financial market developments
Global stock markets were once more erratic last week with tech stocks in the US again lurching lower still, after the earlier September selloffs.
The Nasdaq 100 correction is now 14% and is vulnerable to still further losses through month-end.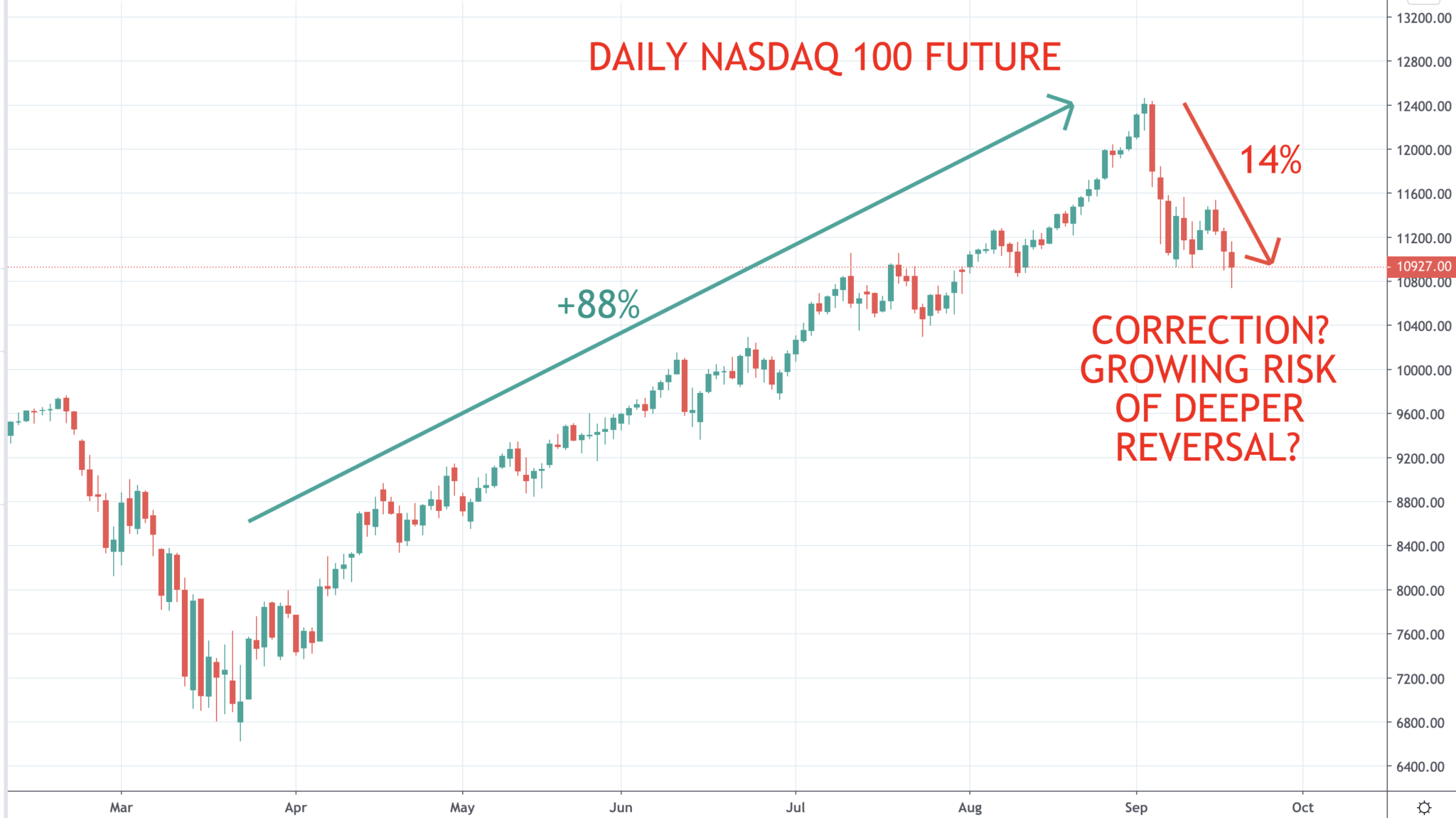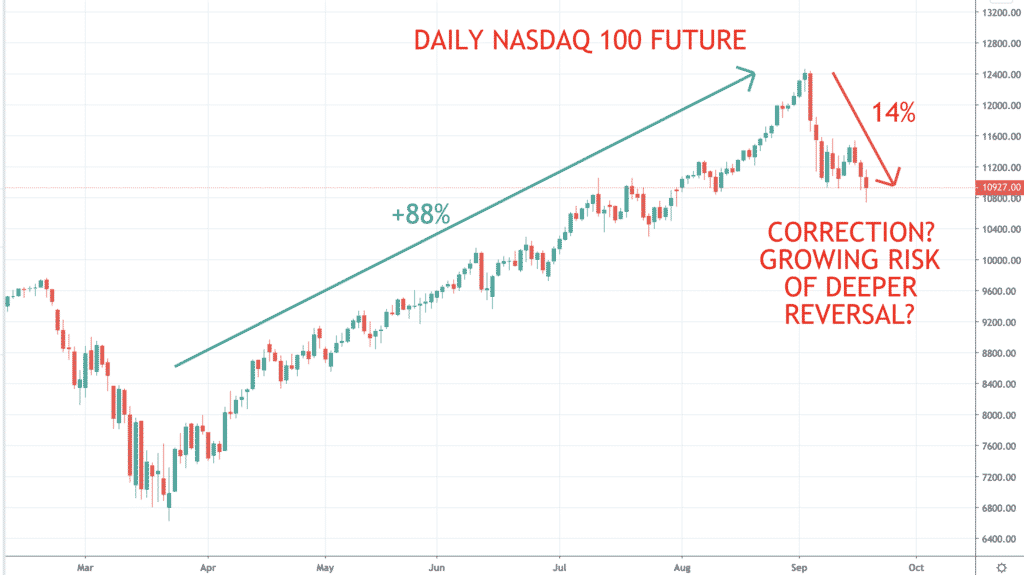 European equity indices have stayed sideways, but Friday's losses have highlighted a renewed exposure to the downside.
In the Forex space, however, the theme stays slightly more "risk on" with most major currencies, particularly the "risk currencies", the Australian and New Zealand Dollars, enjoying notable gains versus the greenback (US Dollar).
In addition, the US Dollar saw notable losses versus both the Chinese Yuan and the Japanese Yen (USDCNH and USDJPY both notably lower)
The Pound has tried to rebound after the significant September losses versus both the US Dollar and against the Euro, but GBP remains vulnerable to further losses.
EURUSD has again dipped and rebounded, rejecting a more negative tone and leaving a positive bias.
In the commodity space, Oil has rebounded, whilst the Copper price stays strong.
Key this week
Monday and Tuesday are holidays in Japan, Respect-for-the-Aged Day holiday and Autumnal Equinox, markets are closed.
Central Bank Watch: Wednesday brings the Reserve Bank of New Zealnd (RBNZ) interest rate decision and statement, with the Bank of Japan (BoJ) Monetary Policy Meeting Minutes on Thursday.
There is a wealth of central bank speaking engagements all week, with the standout being FOMC Chair Jerome Powell testifying to Congress on Wednesday and Thursday.
Macroeconomic data: Data releases this week are light, detailed below.
| | |
| --- | --- |
| Date | Key Macroeconomic Events |
| 21/09/20 | Japan Respect-for-the-Aged Day holiday, markets closed; FOMC Chair Jerome Powell and FOMC Members Brainard and Williams speak |
| 22/09/20 | Japan Autumnal Equinox holiday, markets closed; RBA Assistant Governor Debelle and BoE Governor Baily speak |
| 23/09/20 | RBNZ interest rate decision and statement; global Markit Flash Manufacturing and Services PMI; FOMC Chair Jerome Powell testifies to Congress; FOMC Members Mester and Quarles speak |
| 24/09/20 | BoJ Monetary Policy Meeting Minutes; German IFO Business Climate; FOMC Chair Jerome Powell testifies to Congress; US Jobless Claims; BoE Governor Baily speaks; FOMC Member Williams speak |
| 25/09/20 | US Durable Goods Orders; FOMC Member Williams speak |