Macroeconomic/ geopolitical developments
Last week began with a perceived "risk on" development with President Trump announcing the fast tracking of COVID-19 plasma treatment and also fast tracking the Astra Zeneca/ Oxford University vaccine trials.
Also, early in the week it was announced that a call had taken place between U.S. Treasury Secretary Steven Mnuchin/ US Trade Representative Robert Lighthizer with Chinese Vice Premier Liu He.
The reportedly positive outcome from this call alleviated market fears of potential for renewed trade hostilities (also helping the broader "risk on" theme).
UK/ EU trade talks continue to be underlined by disappointment and lack of progress.
However, this has not had a negative impact on the Pound, which stays strong against the US Dollar and positive against the Euro.
Although stock indices stayed strong throughout the first half of the week, other asset classes (Forex, bond markets) were waiting for the much-hyped speech from Federal Reserve Chairman, Jerome Powell, at the Jackson Hole Economic Symposium.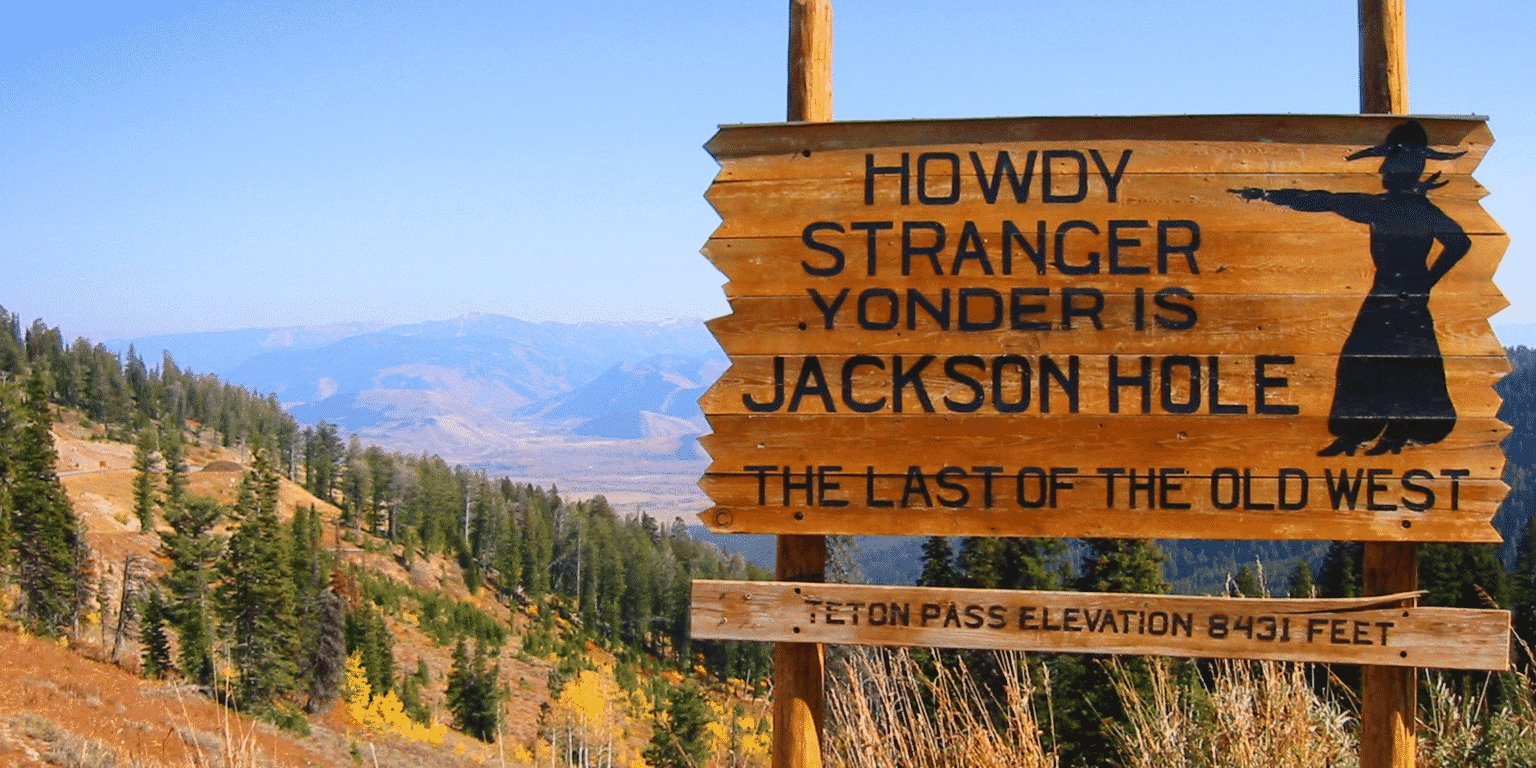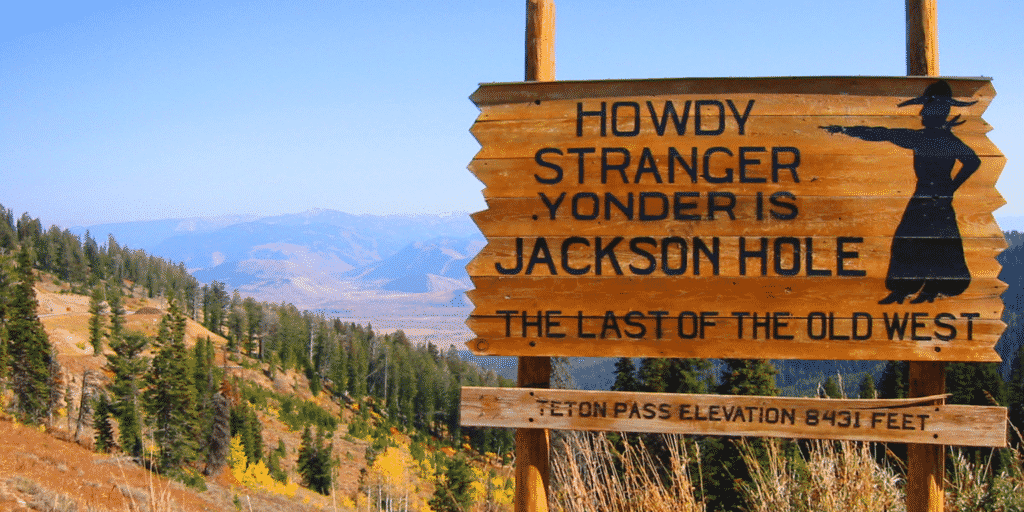 As somewhat expected, Powell announced the Federal Reserve would shift to Average Inflation Targeting (AIT).
This means that the Fed will not have a specific target for inflation, but an average target and could allow for the inflation rate to run higher, if inflation rates had been notably lower previously.
The interpretation is that this would mean the Fed would still target employment and growth even as inflation pushed higher, allowing interest rates to be left "lower for longer".
The market impacts into the end of the week were for stock markets to rally further and for the US Dollar to weaken.
Friday saw Shinzo Abe, the Japanese Prime Minister, announce that he would resign due to ill health.
This more notably impacted local markets, with the Japanese stock benchmark, the Nikkei 225, selling off and the Japanese Yen rallying, in a repatriation "risk off" move.
Global financial market developments
Global stock markets were once again led higher by US equity indices as the "risk on" theme extended into the end August
The Dow Jones Industrial Average (DJIA) has now erased 2020 losses (though is still below its record peak from February 2020), whilst both the cash and futures on the S&P 500 surged to new record levels.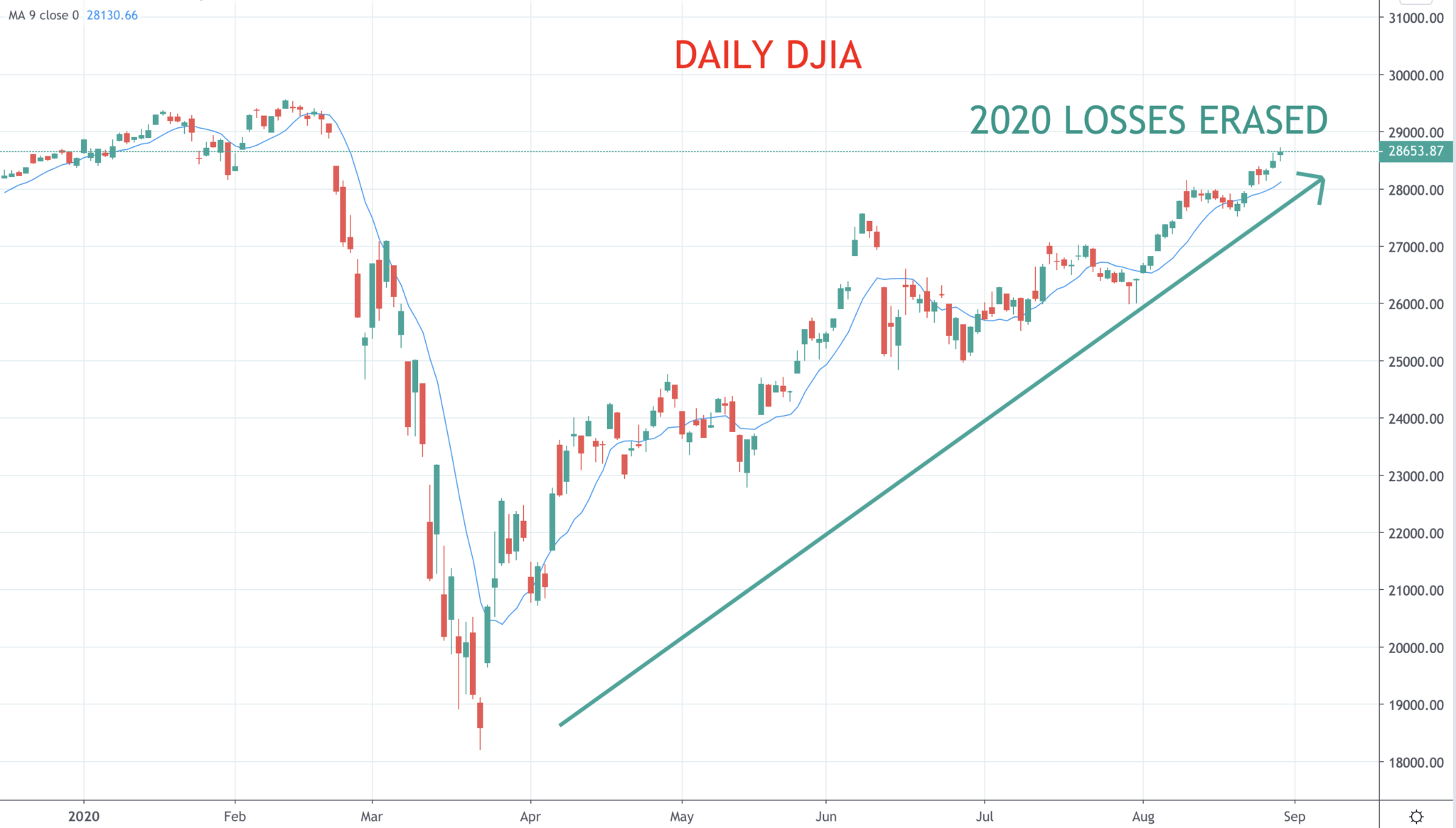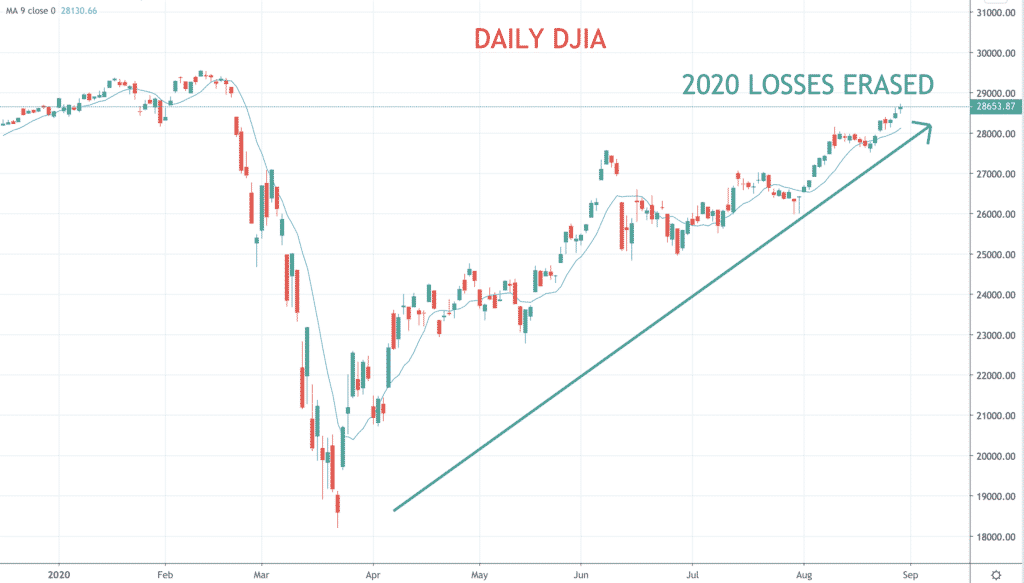 European stock averages (e.g. the German DAX) under preformed again but are trying to push back to the upside.
The US Dollar weakened again after the Fed's shift to AIT.
US Treasury Bonds yields (and global bond market yields) pushed higher, likely reflecting inflationary concerns after the Fed's AIT announcement.
In the commodity space, Copper pushed back close to its multi-month high, Gold remains erratic but is trying to rebound and Oil stays sideways, but resilient.
Key this week
Central Bank Watch: The Reserve Bank of Australia (RBA) are in action Tuesday with their interest rate decision and statement.
Macroeconomic data: There are numerous and significant data releases this week. We get global Markit Manufacturing, Services and Composite PMI data, plus the US Institute of Supply Management (ISM) Manufacturing, Services and Composite PMI. These are released on Tuesday and Thursday. Friday sees the release of the US and Canadian Employment reports
| | |
| --- | --- |
| Date | Key Macroeconomic Events |
| 31/08/20 | UK Bank Holiday observed; Chinese PMI; Germany Consumer Price Index |
| 01/09/20 | RBA interest rate decision and statement; global Markit and US ISM Manufacturing PMI data; Eurozone CPI |
| 02/09/20 | Australian Gross Domestic Product (GDP); German Retail Sales; US ADP Employment change |
| 03/09/20 | Global Markit and US ISM Services and Composite PMI data; Eurozone CPI; US Jobless Claims |
| 04/09/20 | Australian Retail Sales; US and Canadian Employment reports |