Copper inventories are rising on a global basis
Rise in copper prices since 2016 cannot offset transportation costs
Chinese activity slowed as "New Year" approached
Trump's infrastructure plan has not catalysed prices
Market is at a resistance; longer-term sentiment looks for a gain of 6%
What's going on in the world of copper?
There are record level stocks of copper in land-locked Arizona and Utah which are taken as a sign of the rapidly rising transportation costs in the United States. Similarly, copper stocks held at the London Metal Exchange (LME) are also on the rise, see chart below.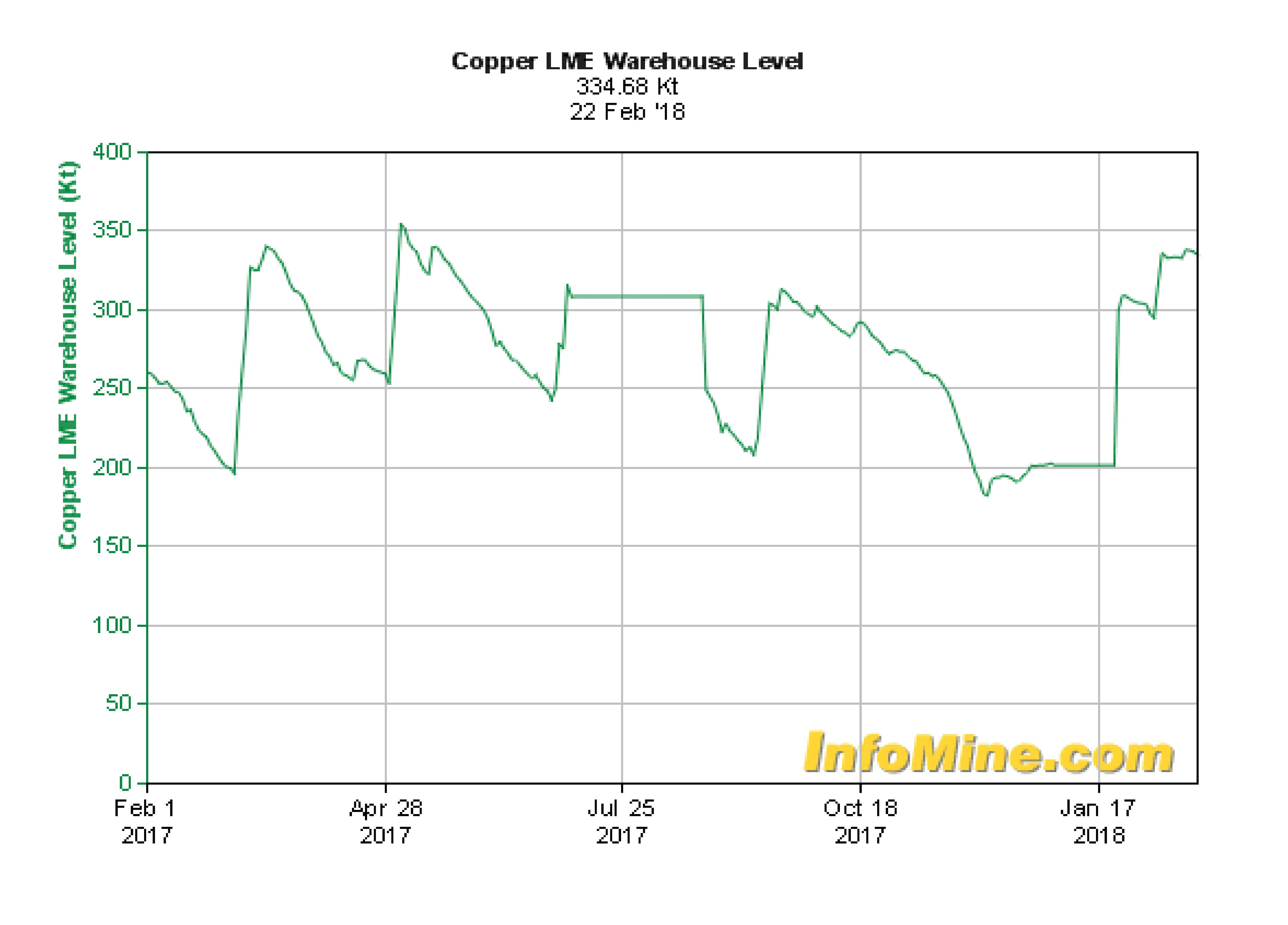 Source: InfoMine.com
Move across to Asia and one can see a similar trend as Shanghai Futures Exchange inventories rose after the Chinese New Year holiday with deliverables ring by 10.5% in the past week from 197,759 Tonnes to 218,532 Tonnes.
Copper traders have suggested that global stocks are likely to keep rising until prices are high enough to offset costs of transporting the copper. Although import restrictions into China of recycled copper has also been a significant factor in inventory accumulation inside the world's leading copper consumer.
An interesting observation to make is that copper prices edged down after US President Donald Trump called on Congress to pass a $1.5 Trillion infrastructure bill in his first State of the Union speech on Tuesday, January 30th.
Copper inventories held in warehouses registered with COMEX in the U.S. stand at 228,428 Tonnes, up from below 90,000 tonnes at the start of 2017. Stock levels in COMEX warehouses in Utah have climbed to 131,774 Tonnes from around 30,000 Tonnes (+339%) in January last year, while those in Arizona are up at 74,427 Tonnes from below 50,000 (+48%).
In the US the cost of shipping copper has risen so leading to a lack of attraction in the premia across all months of the copper contracts in the physical market. Therefore, the metal is being held in warehouses rather than being moved. Physical market transactions are based on a premium that is currently about $130 a Tonne in the United States over a price set on futures exchanges such as COMEX and the LME.
Premia in the U.S. are up more than 10% since November, but they are still not high enough to cover the costs of transporting the copper to the country's industrial heartland in the Midwest or to consumers in Asia. This because the cost of taking copper from a warehouse, loading it into a container, then lorry, driving it to a seaport, unloading the container and loading onto a vessel could cost between $120 and $150 a Tonne. This is twice the rate at the end of 2016 and before the surcharges of $40/Tonne for a U.S. shipment to a consumer in China.
Therefore, copper investors are starting to question whether Trump's infrastructure plan will impact the market significantly in the next few months. Unless we know this spending is going to happen, the copper market will still depend much on what is going on in China.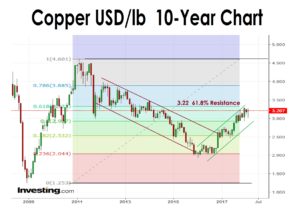 Source:  www.investing.com and Spotlight Ideas
From the 10-Year chart one can see that copper has been in a impulsive channel since 2016. However, is finding life at the 61.8% retracement level at $3.22/lb quite a tricky level to move past.
The near-term technical levels look for selling pressure to develop on the market although this gives way to renewed buying with a target of $3.43/lb.