U.S. Dollar Index has made great upward strides
The World Gold Council said gold demand has slumped
The metal may be down, but it is not out.
Prices are set to advance over the summer into Q3
On April 2nd I said in the note titled "Gold Still In Focus":
"…Rising interest rates will put enormous pressure on the risk asset markets.  … If more borrowing is the solution, then I expect gold prices will suddenly become a most desirable asset. … There may be a lag until Q3, however, I fully expect prices to shoot higher. …"
In the past month gold has been rather disappointing as it has lost 1.71% of its value from April 9th through to May 7th (as odd 12:09 BST).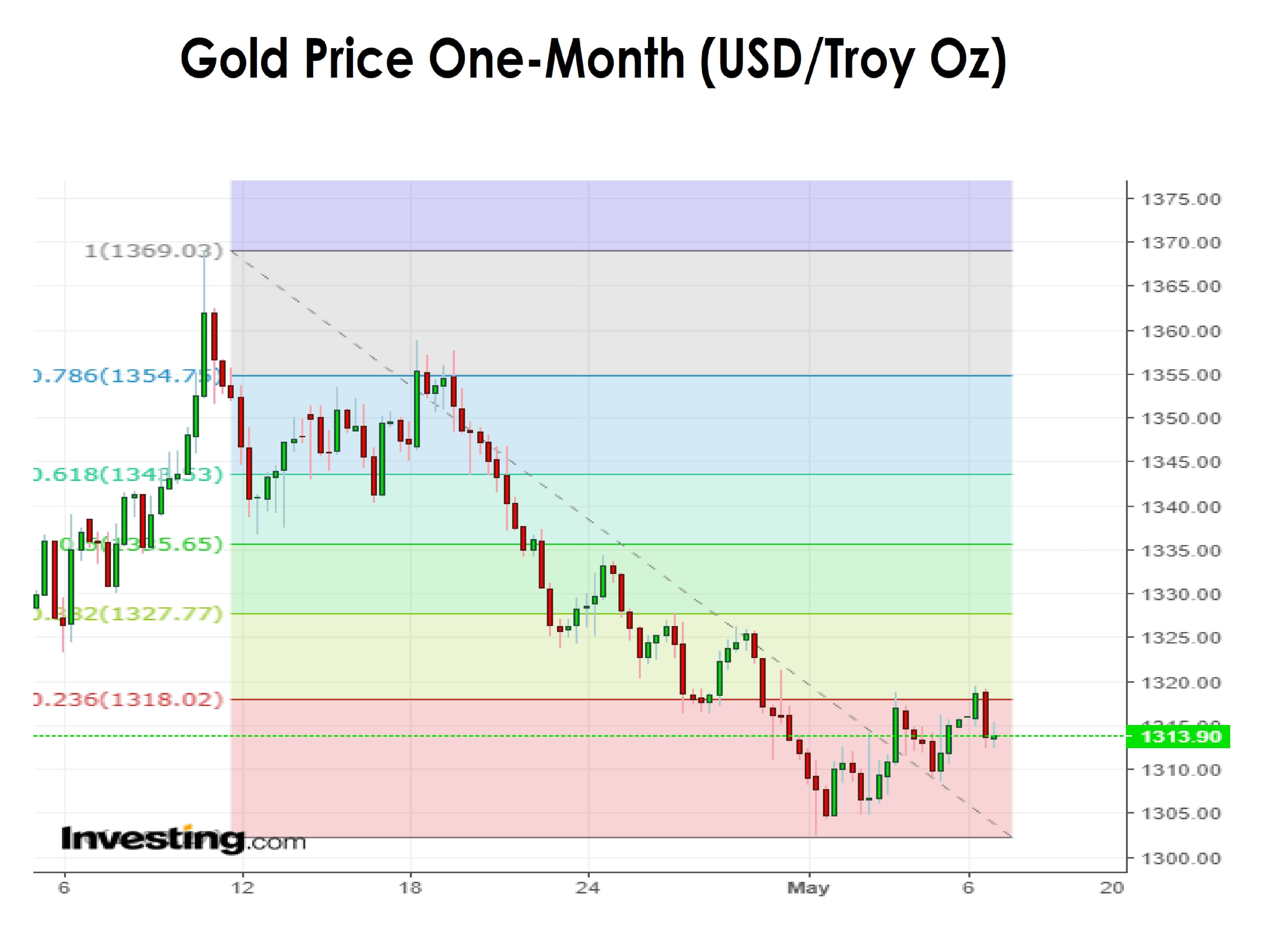 Source: www.investing.com, Spotlight Ideas
One can see from the monthly chart above the from April 18th gold has entered a corrective channel that appeared to base out at around $1302/Troy Oz at the start of May.
Driving the decline in gold prices has been the U.S. Dollar where the Dollar Index has in the past three weeks pushed higher from 88.945 to now sit at 92.69.  This represents the biggest upswing in the same time period since year-end post-election posturing back in December 2016.
Additionally, there was a report from the World Gold Council that said the global demand for gold bars and exchange-traded funds backed by gold had declined to a decade low. Therefore, there was just one direction for gold to travel in …that was lower.
Technical tests
What will be alarming stubborn gold bugs is that the spot price has rapidly zeroed in on the 300-day moving average, see below, all at a time when the economic data from the U.S. is muddled.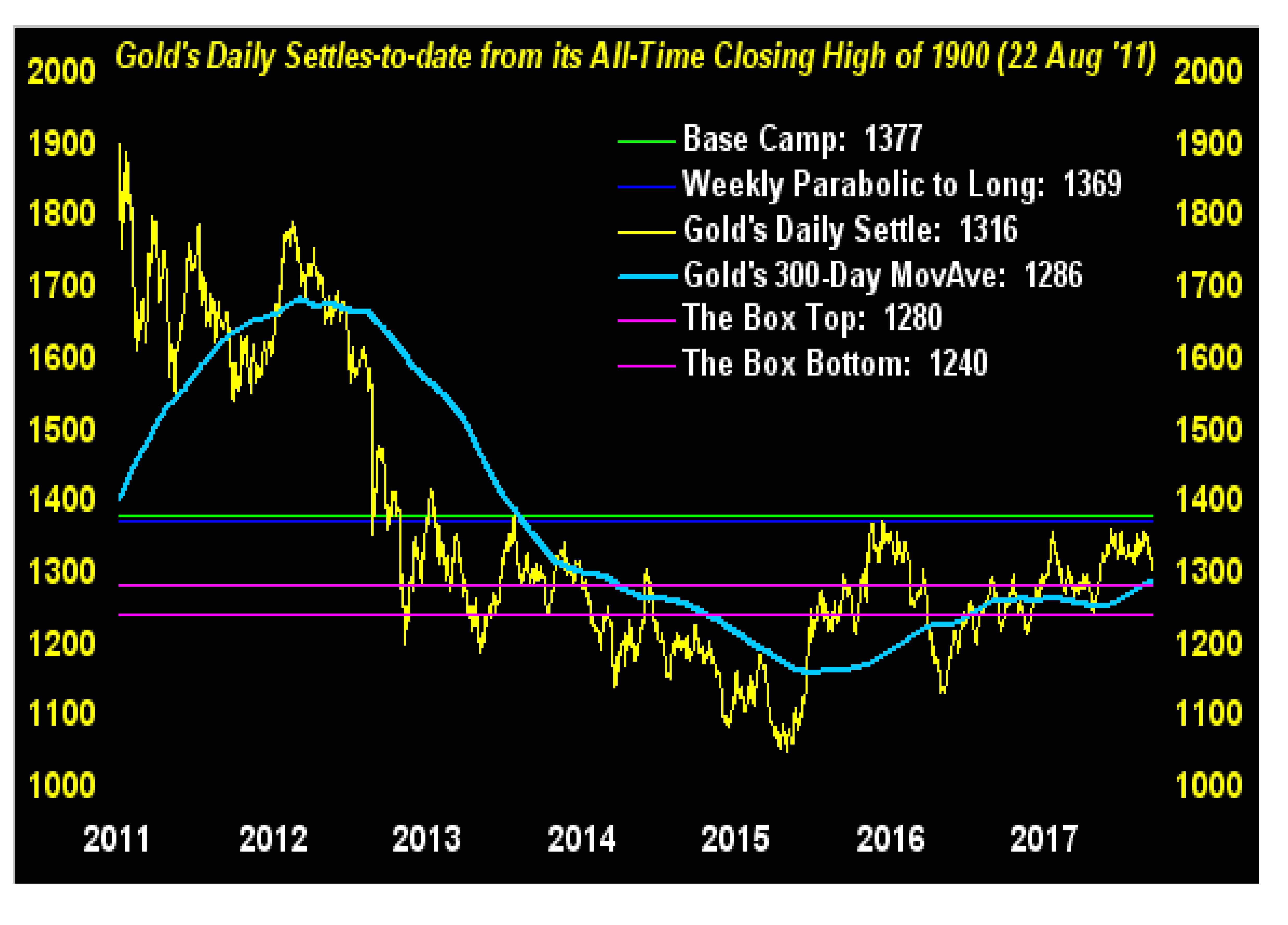 Source: Gold Daily Chart
According to the Department of Labor Statistics, April jobs growth increased; however, according to Automatic Data Processing, it decreased. The rate of Unemployment declined, but growth in Hourly Earnings slowed.
The pace of Personal Spending in March increased; the pace of Personal Income decreased. Q1 Productivity increased; but so did Q1 Unit Labor Costs. March Factory Orders rose, but Construction Spending fell.
The trade deficit was reduced in March and the Chicago Purchasing Managers' Index increased in April; yet March's Pending Home Sales significantly slowed, along with slippage in both the Institute for Supply Management's April Manufacturing and Services Indices as well as in Vehicle Sales.
The Personal Consumption Expenditures Price Index is edging closer to the Federal Open Market Committee's preferred YoY of 2%.
In the round, the Fed is sensing that the economy is at full employment and they are close to effective inflation. It would be easy to understand why one may wish to capitulate on gold right now as it certainly feels like the Fed will keep their foot on the rate hike pedal which should prove Dollar supportive.
Certainly, the dollar resurgence has created havoc among emerging market assets as is mots exemplified in Argentina. However, gold is not the debt of fragile developing economies. The technical picture is full of sell signals until one hits the one-month measure…this will gather momentum over the summer and I said a month ago, Q3 is when we judge the success or otherwise of this trade.
Over the summer I see buying appearing and a price of $1434/Troy Oz is most certainly realistic.