It has been a decade since the UK last saw interest rates rise
The economic data points offer a mixed picture
Consumer debt is clearly a mounting problem
High uncertainty of the economic outlook suggests no change is required
The Bank of England (BoE) voted by seven to two to keep the Base Rate at a record low of 0.25% on September 14th, 2017.
This was widely expected given estimates of private final demand were softer than anticipated and underlying pay growth has shown only limited signs of recovery. In addition, the Monetary Policy Committee (MPC) voted unanimously to keep the scale of UK government bond purchases (i.e. Gilts) at £435 Billion and the stock of Sterling non-financial investment-grade corporate bond purchases at £10 Billion.
Still, policymakers on the MPC signalled that if the economy continued to grow and underlying inflationary pressure rose further, a withdrawal of monetary stimulus is likely to be appropriate. This would be done gradually over the coming months to return inflation, on a sustainable basis, back to target.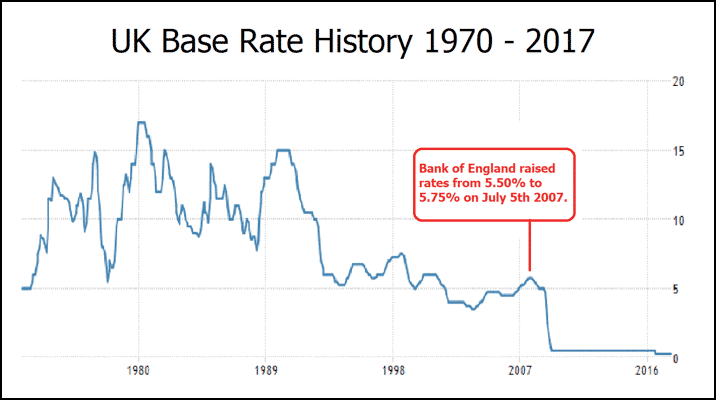 Source: Bank of England
Following that 25 bps increase the global economy started to tumble as the subprime mortgage crisis morphed in size, shape and scale forcing the world's central banks to implement a rapid series of interest rate cuts as they tried to help the global economy keep its nose ahead of the credit crunch.
The rate cuts from the BoE came as fast as anywhere else and in March 2009 they hit a then record low of 0.50%, before being cut again to 0.25% in August 2016 in the aftermath of the shock result of the "Brexit" referendum.
Should rate rise?
November 2nd, has been cited as the most likely time when the UK may have a new headline rate to absorb, especially as the Governor, Mark Carney appeared to deliver his biggest hint yet that rates would be increased soon. However, one can pity the Governor as the UK economic runes are proving rather hard to interpret.
The past week saw inflation at a five-year high, as it rose by 3.0% in the year to September 2017, as widely expected, following a 2.9% gain in the previous month. It was the highest inflation rate since April 2012, mainly due to rising prices of food, transport and leisure activities. The annual core inflation rate, which excludes prices of energy, food, alcohol and tobacco, stood at 2.7%, unchanged from the previous month's five-year high and was in line with market consensus.
In contrast Retail Soles in the UK increased by 1.2% YoY in September 2017, easing from a downwardly revised 2.3% increase in the previous month and missing market expectations of 2.1%. In Q3, retail sales growth slowed to a YoY rate of 1.5%, its lowest since Q2 of 2013.
On top of this, government borrowing figures on Friday showed that last month's deficit stood at £5.902 Billion down almost 11% compared with the same month last year, the Office for National Statistics (ONS) said. Many economists had forecast a deficit of £6.5 Billion and the deficit for August was also revised down by roughly £1 Billion to £4.716 Billion.
September's figures marked the third straight month in which UK public finances were better than analysts had forecast. The ONS said public sector net debt, excluding state-owned banks, had increased by £145.2bn since September last year to £1,785.3bn, equivalent to 87.2% of gross domestic product.
Add to this the weak productivity plus wage rises that lag inflation and eat into earning power and the fact that household debt is rising five times faster than earnings and is more than £200 Billion one can see what a tricky tightrope the MPC must walk.
A personal view
I am concerned about the level of credit, credit card debt, car and house loans etc and that alone might be a sufficient reason to tighten the cost of credit a degree to ease off on the debt expansion.
Of course, the BoE cannot control Brexit, however, it hangs over the economy like a foreboding cloud.  Inflation is higher because of temporary factors relating to the pound and Brexit. Wage rises are benign and growth is somewhat lacklustre and I worry that a rate rise at this juncture will make it even weaker.
I come down on the side of waiting for now as I cannot see the economic logic in raising rates at a time when growth is likely to weaken further. It would be much better to hang on and wait for the uncertainty surrounding Brexit to lift.
If anything, Brexit uncertainty has dampened demand by more than it has reduced supply. Therefore, the BoE should seek a policy route that continues to stimulate whilst not overheating the economy.
I do not believe there will be a great error in holding rates for now and seeing how the land lies after the end of the year. Surely, the better approach in removing monetary accommodation would to scale back the size and scope of bond purchases and shrink the BoE balance sheet. Only then should Base Rate be nudged higher.
Of course the BoE has to remain politically neutral, however, with a mixed economic picture, an uncertain Brexit the last thing the country's economic confidence needs a rate rise that increases the chance of an early general election and the risks such an event will bring.
Read more fundamental analysis