This week, the Chancellor has to revive the Conservative Party
He is so boxed in with limited money to spend and pressure all around
The young need help and he needs to address housing and public sector pay
He will be walking a tight line as he delivers his budget

One could argue that the most difficult job in both economics and politics over the next few days is that of being Chancellor of the Exchequer in the UK. Over the weekend, the Chancellor, Philip Hammond will have to find the way to put the ideology of the Conservative Party into action whilst working with limited money and an opposition that senses a government in distress and blood in the water.
Following the disastrous General Election result, (from a Conservative perspective) Mr Hammond has to the economy to provide the energy to steer it through the ongoing Brexit process.
He is fighting something of fight with three opponents:
His own party purists who do not want to deviate from hard fiscal responsibility
His own party "wets" who wish to see a degree of relief from austerity
The opposition Labour Party that sense they can win power at the next General Election
Re the first two points, Philip Hammond is not the most popular of MP's within the Conservative Party ranks and he knows that he is probably only still in post as the Prime Minister, Theresa May is in a weakened position. However, if he does not deliver a game changer for the Conservatives, his days as the resident of Number 11 Downing Street may well be limited.
So is walking along a fine line if he is to stave off the disgruntled within his own party ranks. Of course, one thing that is really proving a distraction…but is a fact of life is how can the Chancellor present a package that will prepare the nation for life outside the European Union.
Politically, the third point is the most challenging as at the election the Conservatives slipped from an initial lead over Labour of 21% to just 2.5% on polling day. Since then Labour have bounced ahead, although not by as much as one may have expected. One month after the election they held a lead of 8%, however, as voters have questioned how so much spending will be paid for the lead has tumbled to just 2% as of November 16.
What can the Chancellor do?
The red box will not be a magician's black Top Hat on Wednesday afternoon. So, it would be foolish to believe too much in the way of giveaways. The Chancellor is constrained as the charts below suggest.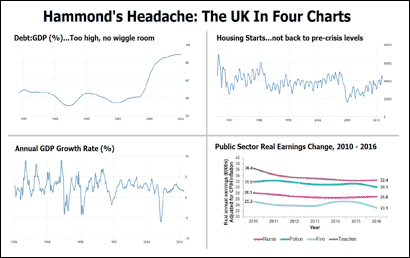 Source: Office for National Statistics, Department for Communities and Local Government, Labour Force Survey
The UK recorded a government debt equivalent to 89.3% of GDP in 2016 cf. the average of 50.26% from 1980 until 2016. So, one can see that he is rather boxed in by the general Conservative wish to keep debt at low levels.
The young
However, aware of the appeal of Labours message to the younger voter there is anticipation of help for students and first-time buyers.
Student loans carry an interest rate charge of up to 6.1%, clearly well above the Base Rate of 0.5%. With many graduates leaving university with loans of £50,000 or more, the UK student loan market is now measured at £100 Billion and it grows larger every year. As in the US, this has the potential to become an enormous black hole for the economy and could implode just as the sub-prime mortgage market did a decade ago.
To tackle this is far from easy i.e. one could raise the threshold where students must begin repaying the loans. This is currently set when earnings are above £21,000. So, the threshold could rise, although there appears to more support for reducing the interest rate.
The current rate structure is complicated:
If a student is still at university the rate is set as RPI plus 3% (currently putting it at 6.1%).
Once they have graduated the rate applied is more complicated… 3% if you earn less than £21,000, rising to 6.1% if your salary is above £41,000.
Surely the Chancellor will change this structure and propose a simpler, lower interest rate.
Staying with the young another plan is to help young people on a budget with a new Railcard for 26-30-year-olds. The "millennial card" is expected to offer benefits similar to the current 18-25 Railcard, giving a third off most rail and tube fares, at a purchase price of £30.
Property market…plenty of problems
Stamp duty when buying a home is zero for the first £125,000; it then rises steeply. Therefore, look for the Chancellor to cut this for first-time buyers…why, even a zero rate has been mooted. Of course, the fine print will be telling as we will have to see if such a change is temporary. One can forget wide ranging reductions as Stamp Duty accrued £11.8 Billion from the duty in FY2016-17.
Many young people must rent and so improvements in terms and conditions for renters should be expected. These should include restrictions if not a wholesale ban on letting agency fees and caps on rent deposits already announced.
However, the Chancellor can show a deft hand at supply-side policy by introducing tax incentives for landlords who guarantee tenancies of at least 12 months or longer. Landlords can also benefit from tax reliefs and giveaways for investing in buy to let. Hammond could slow the reduction in mortgage interest tax relief and reinstate "wear and tear" allowances.
Housing Starts in the United Kingdom decreased to 42,480 in Q2 2017 from 45,340 in Q1. To find a solution to this I expect Mr Hammond to unfreeze local housing allowance (LHA) that has been too low for people to afford private rents in most areas. This has trapped many families locked in temporary accommodation.
Look for "Help to Buy" to be extended, as in October, the government said it would pour another £10 Billion into the scheme to keep it going to 2021. This will attract plenty of criticism from Labour who will argue that it has simply pushed prices higher and boosted the profits of major home builders. One way to blunt Labour's attack is to tell home builders to make use of their land banks as against simply sitting on land in the hope of higher prices at future dates.
I dislike government meddling; however, the housing crisis is so acute that the property developers have to be cajoled into national not self-interest.
Taxes…where Conservatives and Labour divide
Conventional taxpayers will be told that they are in line for a £12,500 personal allowance up from £11,500…the question is when. This would be welcomed by the Conservative faithful and would help the lower income elements of society that have traditionally sided with Labour.
Hammond also promised, earlier this year to raise the higher-rate threshold where the 40% tax band is activated £50,000 by 2020. Of course, the question is when this can be introduced? I do not foresee any changes to the standard 20%/40%/45% tax rates. Here there can be clear blue water between the Conservatives and labour's aggressive tax raising plans.
National insurance (NI) for the self-employed proved to be a real sore point in the spring budget and the Chancellor had to stage a rapid U-Turn as quite rightly backbench MP's staged a revolt as the policy attacked the heart and soul of Conservative supporters. I know the purse strings are tight, but with no majority surely Mr Hammond will not revisit this issue again?
Value Added Tax (VAT) has been marked at 20% since 2011 and has been a fantastic source of income for any government; it brought in £125 Billion last year compared to £175 Billion from income tax.
Post-Brexit, Chancellors will enjoy wider flexibility to set reduced VAT rates, however, the tight fiscal constraint suggest nothing more than a cosmetic change is unlikely.
Fuel
New taxes on diesel are nailed on as the government can play a "green credential card". Whilst VAT on diesel or diesel cars will not be enforced other structures will be introduced, such as a flat £200 sales tax and a variation in vehicle tax or an increase in fuel excise duty on diesel.
Other duel duties may be altered as they have been frozen for seven years and whilst the majority view is for no change it would not be a surprise if the Chancellor could change the balance by raising the duty on diesel and cutting it on petrol.
Drink
George Osborne's March 2016 budget surprise was a new levy called the "Sugar Tax" that added 6p to a can of Fanta or Sprite and 8p to a can of Coca-Cola or Pepsi. However, this was not set to be introduced until April. Mr Hammond has said he will go ahead with the tax, but has come under pressure from the drinks lobby.
In the spring budget the chancellor announced that all alcohol duty rates will rise in line with RPI from 13 March 2017, which put prices up by 3.9%, adding 8p to a bottle of wine. The drinks industry says it is concerned that, with two budgets this year, the chancellor may "double dip" and once again apply the RPI rate so adding 9p on a bottle of prosecco just weeks before Christmas.
The old…pensions and retirement
Pension tax relief has been reduced by successive governments and this has limited the annual amount that qualifies (now £40,000) while the "lifetime allowance" has fallen to £1 Million from £1.8 Million in 2010.
One should never say never, however, further cuts are unlikely. What has remained sacrosanct is the amount of relief you receive for each contribution.
When lower-income workers' pay into a pension it costs 80p for every £1, as the money is applied "gross". When a higher-income worker pays in it only costs 60p for every £1. A measure to tackle this would be to have pension tax relief flattened, to say 25%. It is floated in Number 11 almost every year, but when one recalls the anger when Gordon Brown raided pensions, Hammond will be wise to steer clear, regardless of the revenue it could raise.
State pension guarantees should be retained to ensure the basic state pension will rise each year by a minimum of either 2.5%, the rate of inflation, or average earnings growth; whichever is largest.
The crucial measure here is September's CPI rate, which was 3%. That means the Chancellor will have to announce a 3% rise in the state pension, that would be the biggest since 2012. This suggests that the basic state pension will go up from £122.30 to £125.97 a week, while the new state pension (if one has a full NI contribution record) will rise from £159.55 to £164.34. Any move to a double-lock would come after 2020.
As for Winter fuel allowance this is £200, rising to £300 for the over-80s, paid to everyone in receipt of a state pension. However, will Hammond seek to extract himself from the Conservative manifesto pledge that it will be means-tested? That is a very tricky area as it would affect the wealthy elderly, another part of the Conservatives core vote.
Public services…focus on NHS
The Chancellor should be preparing to announce a cash boost for the National Health Service (NHS) as a crucial tool to blunt Labour's appeal. He has also faced demands for more cash for the NHS from within his own party.
Look for announcements on a boost in pay rise for nurses as the government seek to send a positive signal to the NHS to ward off the threat of winter strikes. Other public-sector workers will watch this and hope to see an improved deal themselves as in 2010, public sector pay was frozen for two years for all but the lowest paid workers, and from 2013 pay rises have been capped at 1%.
This means workers have had a real term pay cut. The firefighters, who are poorly paid already, have been badly affected. To return to the same level of earnings enjoyed in 2010, firefighters would need a considerable 9.2% pay rise. It is hard to see how the Chancellor afford major concessions to public sector workers.
Public sector pay is expensive as at £181 Billion a year it's approximately a quarter of all government spending. The Institute for Fiscal Studies estimates removing the pay cap will cost approximately £6 Billion a year. This is too expensive in the age of austerity. To meet the cost of lifting the cap, the government would need to raise taxes, cut spending or borrow more.
Philip Hammond really has the worst job in UK politics this week.
Read more fundamental and macroeconomic articles here.