There is a to be change at the top of the Federal Reserve
Jerome "Jay" Powell will succeed Janet Yellen in February 2018
He is not that different in his approach to monetary policy
He will be more business friendly, especially toward financial services
Last week President Trump announced that Jerome "Jay" Powell was his choice to become the new Chair of the Federal Reserve and so replace Janet Yellen.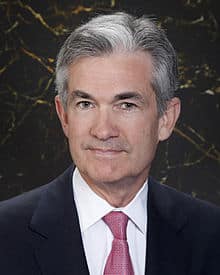 In announcing his choice, the President said:
"…He's strong, he's committed, he's smart,"
Powell was quick to praise his predecessors, Janet Yellen and before her Ben Bernanke and he thanked the President for the "…extraordinary opportunity…" and said he was
"…committed to making the best decisions based on the best available evidence in the longstanding tradition of monetary independence…".
Steady at the top
Powell will differ extremely little from Yellen, in his economic views., although it has not gone unnoticed that he is less qualified as he is the first Fed chairman in three decades without a PhD in economics.
Powell is a lawyer by training and before he was appointed to the Fed board, Powell made his wealth working as an investment banker for the Carlyle Group.
In contrast Yellen has a PhD in economics from Yale and taught at Harvard and the London School of Economics before serving as chair of President Clinton's council of economics. From there, she went on to lead the San Francisco Fed before President Obama appointed her as the first woman to head the central bank.
However, despite the difference in their backgrounds Powell and Yellen have been in broad agreement on economic policy. Both have consistently voted to keep the level of Federal Funds interest rate low and to raise them only. Powell has voted in favor of every Fed policy decision since his appointment in 2012.
Relief from red tape
Regulation may prove to be the single area where Powell will express a different approach to his predecessor. He is a keen supporter of the free market and has indicated that he would be keen to loosen the government's grip on the financial sector.
(Not too loose one hopes as we know what happened last time!)
As recently as June he told the Senate he was looking at streamlining the Volcker rule, i.e. the regulations brought in after the financial crisis to prevent making overly risky bets like the ones that caused the crisis.
"…I don't think what we're talking about here amounts to broad deregulation, …I think it amounts to making regulation more efficient, protecting the important gains we've made since the financial crisis. We're not really talking about some massive program here. …"
He has also suggested that the rules mandating more supervision by boards may also be too onerous and that the role of the board was:
"…one of oversight, not management…"
For quite some time it was felt that President Trump would keep Janet Yellen in post for as he has seen the stock market rise to a series of new highs he kept coming back to the idea of renominating the Fed Chair.
However, his Treasury Secretary, Steven Mnuchin weighed in by pushing the case of Powell. His argument won out over staying with Yellen or the case put forward by Vice President Mike Pence, who urged Trump to make a more dramatic change of direction at the Fed by nominating Stanford University economist John Taylor, a favourite of conservatives across Washington.
The decision to make a change is a decision that goes against precedent. Since the second world war, every Fed chair who completed a first term has been nominated for a second. If confirmed Powell will succeed Yellen in February, when her four-year term as Fed chief expires.
In the final analysis, the business instinct of Trump kicked in. He decided that Powell had the best judgment of the candidates considered for the role. He appears to be the choice that he is the person Trump is most comfortable with.
In making his choice known to the public the President said:
"…Jay will bring extensive private-sector experience and real-world perspective to our government. As a result, he understands what it takes for our economy to grow. And just as importantly, he understands what truly drives American success. …"