A rally and setback in the GB Pound this week have been a reaction to potential over optimism from the positive soundings from Michel Barnier and Brexit deal negotiators, sending GBP lower against many currencies over the past 24 hours.
Furthermore, hopes of a breakthrough regarding dairy product access at the NAFTA talks has sets up a firming of the Canadian Dollar (CAD).
On the technical front, this has seen risks surface for a resumption of a more negative GBPCAD tone into mid-September.
GBPCAD
Intermediate-term bear trend trying to resume
A selloff over the past 24 hours from below the down trend line from March sustains the intermediate-term bearish trend.
Furthermore, this very negative candlestick for Tuesday sets risk lower too for Wednesday.
For Today:
We see a downside bias for 1.6952; break here aims for 1.6850.
But above 1.7191 opens risk up towards 1.7317.
 Intermediate-term Bear Trend: The bear trend remains intact whilst below 1.7317.
Downside Risks: We see September risks back to the 1.6596 low.
Daily GBPCAD Chart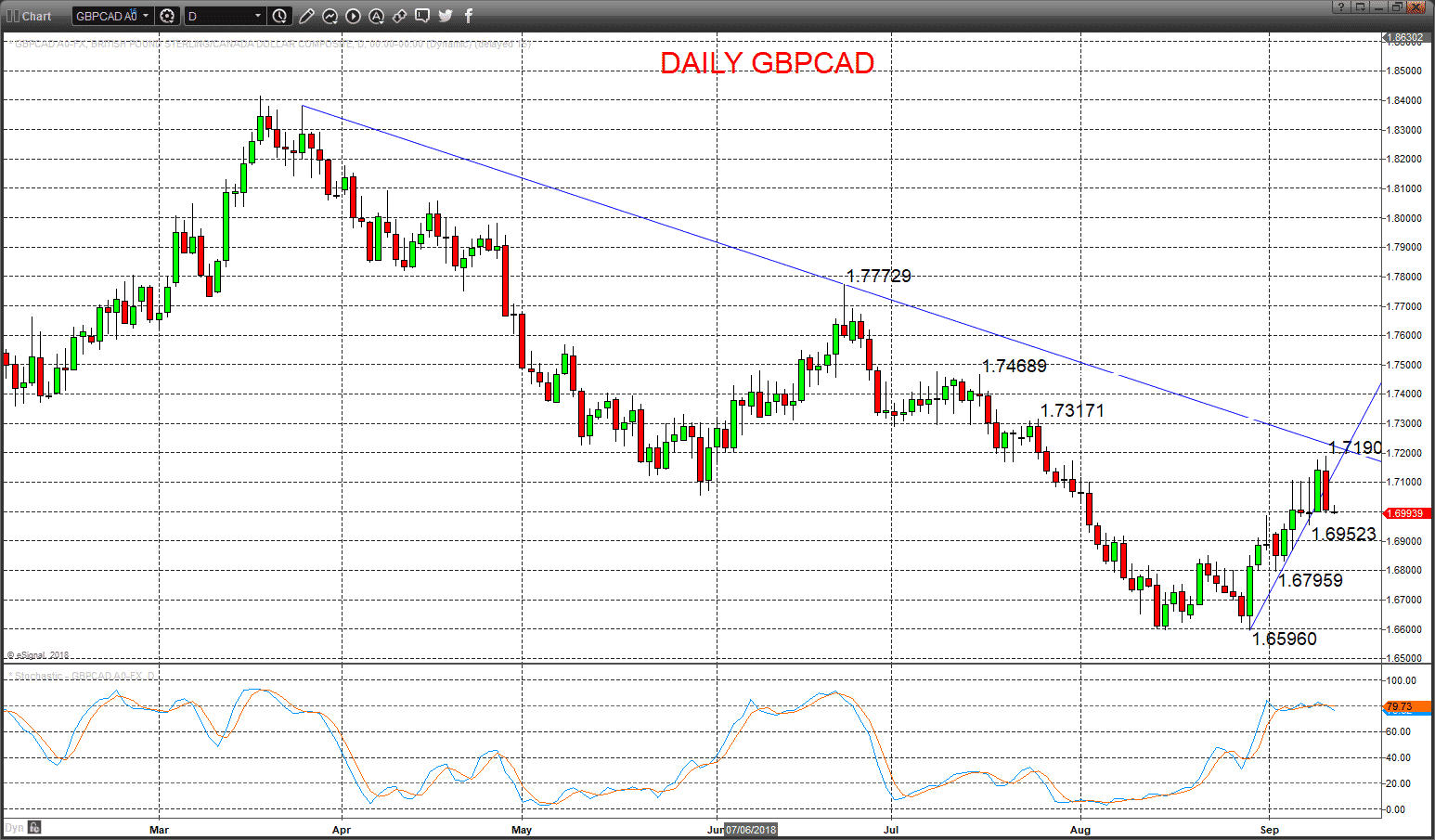 USDCAD
Negative tone
A selloff Tuesday through our 1.3106/05 support area, rejecting upside forces from last Friday's firm rebound from this zone, indicating a small topping pattern and to shift risks lower Wednesday.
For Today:
We see a downside bias for 1.3037; break here aims for 1.2961.
But above 1.3131 opens risk up to 1.3198.
Intermediate-term Outlook – Downside Risks: Whilst below 1.3290 we see a downside risk for 1.2814.
Lower targets would be 1.2725 and 1.2536
What Changes This? Above 1.3290 shifts the intermediate-term outlook straight bullish.
4 Hour USDCAD Chart