Daily Digest:
1 December: Global bonds and USTs backed up to higher yields Thursday, as US stock index futures were mixed, despite US PCE data showing inflationary pressures cooling. Friday's focus is on US and global PMI data, plus Powell speaks as the Fed go into its blackout period
>
>
Topstep Funded Program Review
Topstep Funded Program Review
Topstep is a proprietary trading firm that funds and trains traders to create mutually profitable, revenue-sharing-based partnerships.
Topstep is not a broker. It is a trading program that supports several trading platforms. It is flexible in this regard. It may be willing to accommodate traders who prefer to trade on platforms other than the ones it officially supports.
Topstep is a company based in Chicago, IL. Initially, there were two separate companies focusing on training traders for futures and FX trading. TopstepTrader and TopstepFX came together in 2020 to form the organization we now know as Topstep.
The CEO of the organization is Michael Patak, a former Dow futures contracts floor trader at the Chicago Board of Trade.
The company became an LLC in the summer of 2012.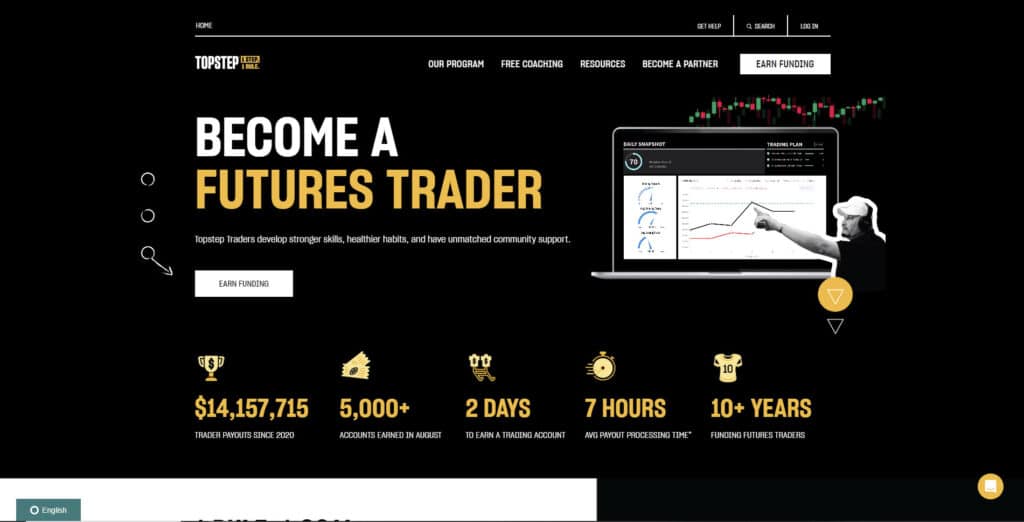 The name Topstep is a reference to the trading past of the founder. At the CBT, the best traders of trading pits stand on the top step, where they get the best view of the trading floor and the prices.
The organization has pocketed several industry awards. In 2016, it became a Chicago Innovation Awards finalist. That same year, it also picked up the Future Industry Association's Innovator award.
CEO Michael Patak was a finalist and semi-finalist for the Ernst and Young Entrepreneur of the Year award in 2016 and 2015, respectively.
Several high-profile publications like Forbes, CNBC, Bloomberg, and Fox Business ran articles on Topstep.
In addition to its legitimacy and unique approach to trading, what are some of Topstep's selling points?
Topstep has more than a decade's worth of experience under its belt.
It gives its traders a 20% discount on their first Trading Combine purchase without requiring a promotional code.
Traders get a two-week free trial to assess the setup Topstep offers them as well as their capabilities.
Topstep clients can unlock their funded accounts in one step. And it shouldn't take them longer than two days.
Traders can cash out every week if they so wish and have the profits to do so.
The first $10,000 traders make in profits is theirs. After that, they get to keep 90% of their profits as part of a revenue-sharing arrangement.
Topstep offers its traders different coaching options.
Topstep supports a simulation account, allowing its traders to gain a more accurate idea of what it means to be a Topstep trader.
Topstep's trader support is superb by all accounts. Their support staff is knowledgeable and eager to help out their traders. Support is available through email and phone. The support staff will help out traders through screen sharing if needed.
Topstep focuses exclusively on futures trading. If that's your area of expertise/interest, Topstep's Trading Combine will fit you like a glove.
Traders can share their Topstep funded Trader Certificates on their LinkedIn profiles.
Topstep's payout policy is simple, and it processes payouts every day.
The company gives its traders access to trader communities where they can discuss strategies and benefit from the experience of others to optimize their profitability. It is in Topstep's best interest to make its traders as profitable as possible.
Since 2020, Topstep has paid out more than $14 million to its traders.
Topstep Products
Topstep's area of expertise is futures trading, and it's sticking to its guns. At Topstep, you can only trade futures. And the company will ensure that you are, indeed, profitable, before it accepts you as a funded trader.
Since it's dealing with futures trading, commissions are involved. Topstep tries to align the commissions on its Trading Combine with the commissions on their funded accounts, to give their traders a real taste of what it's like to trade as part of their revenue-sharing deal.
The commissions, regulatory fees, and platform fees you will pay as a funded trader depend on the platform you use. You may also pay clearing fees and exchange fees. Ensure that you understand the fee structure before you venture into funded trading.
If you use the Tradovate or TradingView platforms, you will pay the following fees per round turn.
1.58 commissions
0.04 regulatory fees
0.30 clearing fees
If you use NinjaTrader, you won't pay a clearing fee, but you will pay a data fee.
1.06 commissions
0.04 regulatory fees
0.50 data fees.
Topstep lists its exact round-turn SIM fees for every supported asset in the Trading Combine.
Within the confines of futures trading, the selection of tradable assets is decent. Traders have access to equity futures, agricultural futures, FX futures, interest rates, NYMEX, CBOT, and COMEX. These are all CME (Chicago Mercantile Exchange) futures.
Rules
Topstep takes pride in the simplicity of the deal it offers. It says its traders must complete a single step and observe a single rule to qualify.
To accept traders for its funded program, Topstep must ensure they can trade profitably and consistently. Around 80% of retail traders lose money. Topstep doesn't want any of those traders in its program.
To put its would-be traders' skills to the test, Topstep's Trading Combine provides traders with a simulated trading account featuring realistic trading conditions and rules. In addition to allowing its traders to use the simulated accounts, Topstep also provides practical instruction and coaching to bring the best out of its would-be traders.
The Trading Combine instills values like discipline, healthy trading habits, and a laser-like focus on one's trading goals in those who take part in it.
The only rule of the Trading Combine is that traders can't exceed the Maximum Loss Limit. Topstep wants its traders to be disciplined and to manage risk well. What are the implications of this rule? And what is the Maximum Loss Limit?
The Maximum Loss Limit is the amount players can lose in a day without breaking the rule of the Trading Combine. This amount depends on the profits traders have accrued. The bottom line on the Maximum Loss is drawn at the end of the day.
If you fail to keep your daily losses under the limit, you fail the Combine and lose the opportunity to become a Topstep-funded trader.
Through the Maximum Loss Limit rule, Topstep encourages its would-be traders to focus on risk management and consistent profitability.
In addition to this rule, the Trading Combine also features a few objectives. Unlike the trading rule, these objectives are not compulsory. Those who fail them can still become Topstep-funded traders.
Your best trading day cannot account for more than 50% of your total profits in the challenge.
Traders should reach the $3,000 profit-wise target and maintain it.
Topstep will deactivate the accounts of traders who reach the daily loss limit, for that day only.
Topstep wants to get disciplined, profitable traders into the heat of real trading as quickly as possible. It has, therefore, made it possible for traders to prove their mettle in the Trading Combine over just two days.
This approach makes Topstep one of the fastest programs in the funded trading industry. It is also the fastest-paying program. Funded traders can pay themselves four times every month. All they have to do to earn the right for a payout is to log five profitable consecutive days exceeding $200 in profits every day.
Pricing Options
The Trading Combine features three account sizes. Traders can choose the one they prefer based on their trading goals, ambitions, and abilities.
The most popular of the three options is the $50k account. To qualify for this one, traders must pay a monthly fee of just $49. Once traders become funded, they no longer have to pay this subscription fee.
The profit target of this account type is the easiest to accomplish. To qualify for an Express Funded Account, traders must only accrue $3,000 in net profit.
Across all of their open trades, traders can't have more than five contracts. The Maximum Loss Limit for this account is $2,000.
The $100k account gives traders $100,000 to use for trading. The monthly fee for this account is $99. The maximum position size is ten contracts, and the Maximum Loss Limit is $3,000. The profit target on this one is $6,000.
The $150k account costs $149 per month. It gives traders larger trading balances and raises the Maximum Loss Limit to $4,500. The profit target is $9,000. Traders can trade 15 contracts.
Regardless of Trading Combine account type, all those who qualify for an Express Funded Account must pay a one-time fee of $149 to activate their accounts.
Credibility
Topstep's credibility is stellar. The organization is well-established and has been around for over a decade. It has consistently drawn high ratings and positive feedback on user review portals.
It has been showcased many times in financial media, and its focus on simplicity and practicality quickly wins over new users and potential traders.
Those with good trading skills get out of the Trading Combine with excellent trading skills. Here's what users like most about Topstep, based on actual feedback:
Many people love the Topstep support and single out support staff members for praise.
Many love the prices, trading conditions, and payouts.
Some traders love the simplicity of the rules.
Others appreciate the transparency and reputation of the operation.
Some feedback providers credit Topstep for turning them into traders.
Summary
Topstep is a solid, well-established proprietary trading company. It features clear rules, solid support, and straightforward tools to help traders be as profitable and consistent as they can be.
Topstep has a solid background in futures trading. And it doesn't stray from its area of expertise. Its no-nonsense approach to proprietary trading continues to earn accolades from traders on various feedback portals.
Please comment below