Daily Digest:
1 December: Global bonds and USTs backed up to higher yields Thursday, as US stock index futures were mixed, despite US PCE data showing inflationary pressures cooling. Friday's focus is on US and global PMI data, plus Powell speaks as the Fed go into its blackout period
FTMO Review
FTMO is a proprietary trading company offering funding to retail traders as part of a profit-sharing setup. Talented traders who do not have access to the capital they need to achieve the profits they deserve can resort to services like FTMO's to fulfill their trading potential.
The company behind FTMO.com is a corporate entity based in the Czech Republic, in the EU. Two other corporate entities are in the FTMO fold. FTMO Evaluation Global s.r.o. and FTMO Evaluation US s.r.o. Both of these companies are incorporated in the Czech Republic.
The address of FTMO s.r.o. is Purkynova 2121/3 Praha 1 – Nove Mesto, 110 00 Czech Republic. The company number of the organization is 09213651. The activity of the company includes verticals like management and business consultancy, retail trade, and non-specialized wholesale trade. A key company contact is Mr. Marek Vasicek.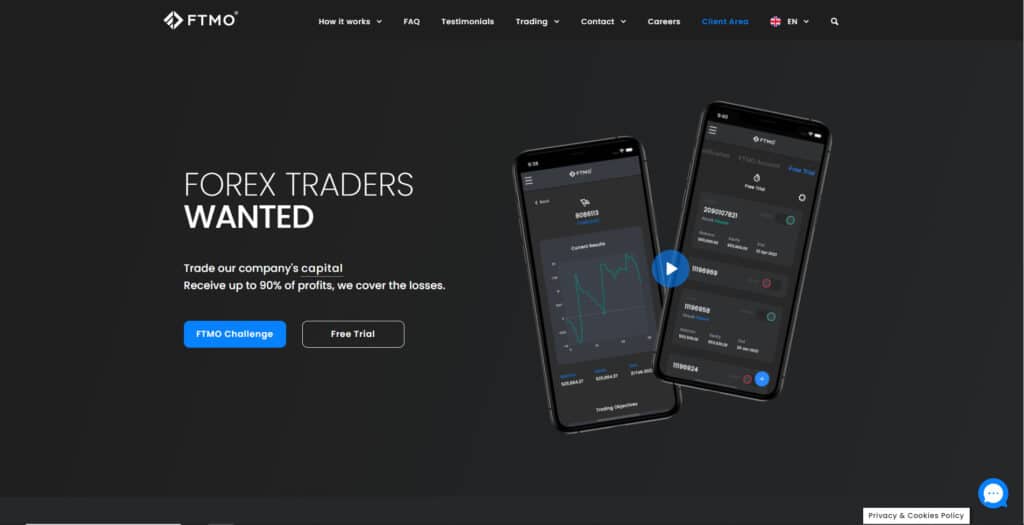 The idea that turned into FTMO.com was born in a small office in Prague, in 2014. Three day traders contributed their wits and expertise to create something that allowed talented traders with insufficient capital to reach their full potential.
Having secured the required funding, the three founders launched the international version of the FTMO project in 2017.
Since then, the company has paid out more than $130 million to its traders. Its services are available in 180 countries. On average, according to its site, FTMO processes a payout in about 8 hours. In the payouts section, the same site states, however, that it can take up to 14 days to process profit split payouts.
FTMO is not a broker. It does not offer the trading services a broker does. Consequently, it does not need a broker's license.
FTMO Products
FTMO traders trade financial derivatives. At no point are they required to gain physical ownership of the assets they trade. They trade the price swings of the underlying assets via CFDs.
Interestingly, FTMO's pricing structure includes spreads as well as commissions. The spreads are variable. Under this setup, they tend to be extremely low.
The overall price of trading a product is, therefore, the spread plus the commission. Traders should ensure they understand the fee structure before they commit to trading.
FTMO clients gain access to a usual selection of tradable assets. The platform does not care about what its members trade and what platform they choose as long as they observe the rules.
Forex trades feature a 3-point commission in addition to the variable spread. The spread on popular currency pairs like the EUR/USD can be as low as 0.00003 points. Even on less popular pairs like the AUD/JPY, the spread can be as low as 0.011.
Metals CFDs feature relatively low commissions and spreads. On a popular metal like the XAU/USD, the spread can be as low as 0.17 while the commission is 1.98.
Cash CFDs use various cash-based indices as underlying assets. The EU50 cash index doesn't feature a commission. Traders only pay the spread, which can be as low as 1.50.
Futures-based CFDs feature underlying assets like natural gas futures, US 10-year treasury notes, or the Dollar Index. The spreads on these assets are as low as 0.012 with no commission.
Crypto CFDs like the BTC/USD do not charge a commission either. Due to high volatility, the spread on these assets tends to be steeper. On the BTC/USD pair, it can go as high as 12 points.
Equities CFDs use company stock as underlying assets. Air France, Apple, Amazon, and Alibaba are some examples of supported stocks. Remember: these are financial derivatives. They do not require you to purchase actual stock. The spreads on stocks like Air France are as low as 0.04 points.
The tradable asset selection FTMO offers is great, and it covers the most popular global assets from every corner of the world economy. The rules of the platform concerning members' asset choices are lax.
FTMO Rules
Proprietary trading rules can be a handful, even for seasoned traders. FTMO have gone out of their way to simplify their rules as much as possible. If you want to be a FTMO trader, here's what you have to take on.
The first stage of the evaluation process is the FTMO Challenge. You have 30 days to complete this step and fulfill its requirements. You can extend your challenge period by 14 days if you trade for at least 10 days, do not lose more than $500 per day, and show a profit of at least 5%. Here's what the Challenge entails:
You must trade for at least 4 days.
You must not lose more than $500 per day and more than $1,000 per total.
Your profit target is $1,000. If you fulfill all Challenge requirements except for your profit target, you get to take the Challenge again, for free.
The cost of joining the Challenge is EUR 155, refundable.
Traders who up the stakes and opt for aggressive mode will have their daily loss limit raised to $1,000, their profit target hiked to $2,000, and their maximum loss raised to $2,000. It costs EUR 250 to jump into the Challenge in aggressive mode.
The second step is the Verification stage. Traders who make it this far don't have to pay anything to join the Verification stage. The rules of this stage are the following:
Traders have 60 days to fulfill its requirements.
You must trade for at least 10 days.
Your daily loss cannot exceed $500.
Your maximum loss cannot exceed $1,000.
The profit target is just $500.
Those who fulfill the requirements but fail to reach the profit target get to repeat the verification stage for free.
Opting for aggressive mode raises the stakes across the board.
Rules Once Funded
Traders who make it past Verification become funded traders. Funded traders don't have any time-wise requirements to fulfill. They can't lose more than $500 per day. And their maximum loss cannot exceed $1,000. These are the only limitations of an FTMO-funded account.
Consistently profitable FTMO-funded traders get to increase their FTMO account balances by 24% every four months.
The free trial account features a shortened challenge, allowing everyone to put FTMO's evaluation scheme to the test.
Trading happens in a live environment through MT4, MT5, or CTrader. As an FTMO trader, you trade actual market prices, not simulated ones.
The payout structure is a standard 80-20 setup (traders get to keep and withdraw 80% of their profits).
Those who qualify for account scaling will enjoy an outstanding 90-10 profit-sharing structure.
Traders can request a payout whenever they want. They should bear in mind, however, that it takes FTMO 14 days to process their requests. We aren't sure why it takes the platform this long to send traders their profits.
FTMO allows traders to choose a Profit Split Day, so they get their profits transferred automatically. They get to change this date up to three times.
Pricing Options
The only costs the FTMO Challenge entails are the costs traders incur through the spreads and commissions and the EUR 155 refundable challenge cost. Those who opt for the aggressive mode will have to pay EUR 250.
Trades who fail the evaluation and use up their free repeat opportunities have to pay the refundable fees again if they wish to re-take the evaluation.
Other Fees
FTMO does not charge any other fees.
Credibility
User feedback about FTMO is difficult to decipher. In one place, people grant the platform overwhelmingly positive scores and reviews. In another, they slam the service, calling it a fraud.
What do people like about FTMO?
Some call it the number one prop firm, with outstanding customer service.
Others like the generous profit split and the quick withdrawals.
Other traders appreciate FTMO's business model and its refund of the application fees.
Still others boast about the profit splits and payouts they have pocketed.
What do people not like about FTMO?
Some traders have complained about the steep commissions the platform has charged them.
Others have alleged poor response times from the FTMO support staff.
Still others allege that the platform hit their accounts with untraceable and inexplicable charges.
Summary
From what we have seen, FTMO is one of the top proprietary trading destinations these days. Based in the EU, the company features reasonable rules for its evaluation process and offers a generous profit split to its traders. Those who join the ranks of FTMO's prop traders can trade through a selection of platforms like MT4, MT5, and CTrader.
The starting fees for the evaluation process are reasonable. Since FTMO provides the funding for its traders, we don't understand the complaints that allege that the platform "stole" some of their traders' balances…