Any hint of good news re Brexit helps the Euro in the short-term
If Theresa May compromises with the EU there will be pressure on her at home
There is too much hostility to the leading array of contenders…she is safe for now
Beyond Brexit, it will be Italy that drags the Euro down
The Euro closed higher versus the U.S. Dollar at the end of last week as it recovered from an earlier bout of weakness. It was a much-needed recovery as the weakness looked as though it was gaining momentum that placed the October low (1.1432) under pressure.
The recovery was driven by a report from Bloomberg News that the UK Prime Minister, Theresa May was ready to drop a key Brexit demand to make a deal for Britain to leave the European Union (EU).
This is a short-term recovery that initially appears to overlook the hostility within Mrs May's Conservative Party to any further concessions as far as the EU is concerned. The hard-liners are becoming animated at the idea of extending the post-Brexit adjustment period.
Several weekend UK newspapers have suggested that this could be the week when the Prime Minister faces a motion of "No-Confidence".
The Conservative Brexiteers need 15% of the parliamentary party to sign a letter calling no confidence in the leader, i.e. 48 names. If they forced a vote but could not find another candidate to secure 50.1% of the MP's vote (156) then they could not challenge her for another year. There does appear to be a current lack of enthusiasm for Boris Johnson. He has to be seen the leading candidate at the current time.
I think that this is what the market has looked at and that Mrs May will be secure until we get to the day of Brexit, March 29th, 2019. Certainly, the Conservatives do not want to risk an early election that could help Jeremy Corbyn.
The chart below shows that the market closed hard on track to attack a technical resistance at 1.1523. There will be follow through support for the Euro which should not come under pressure until the mid-point of the week when the critical level of 1.1579 should be coming into sight.
I would not want to hold the Euro on a long-term basis as I sense a big cloud of trouble coming in the shape of Italy as their budget plans will create deep trouble in the Eurozone.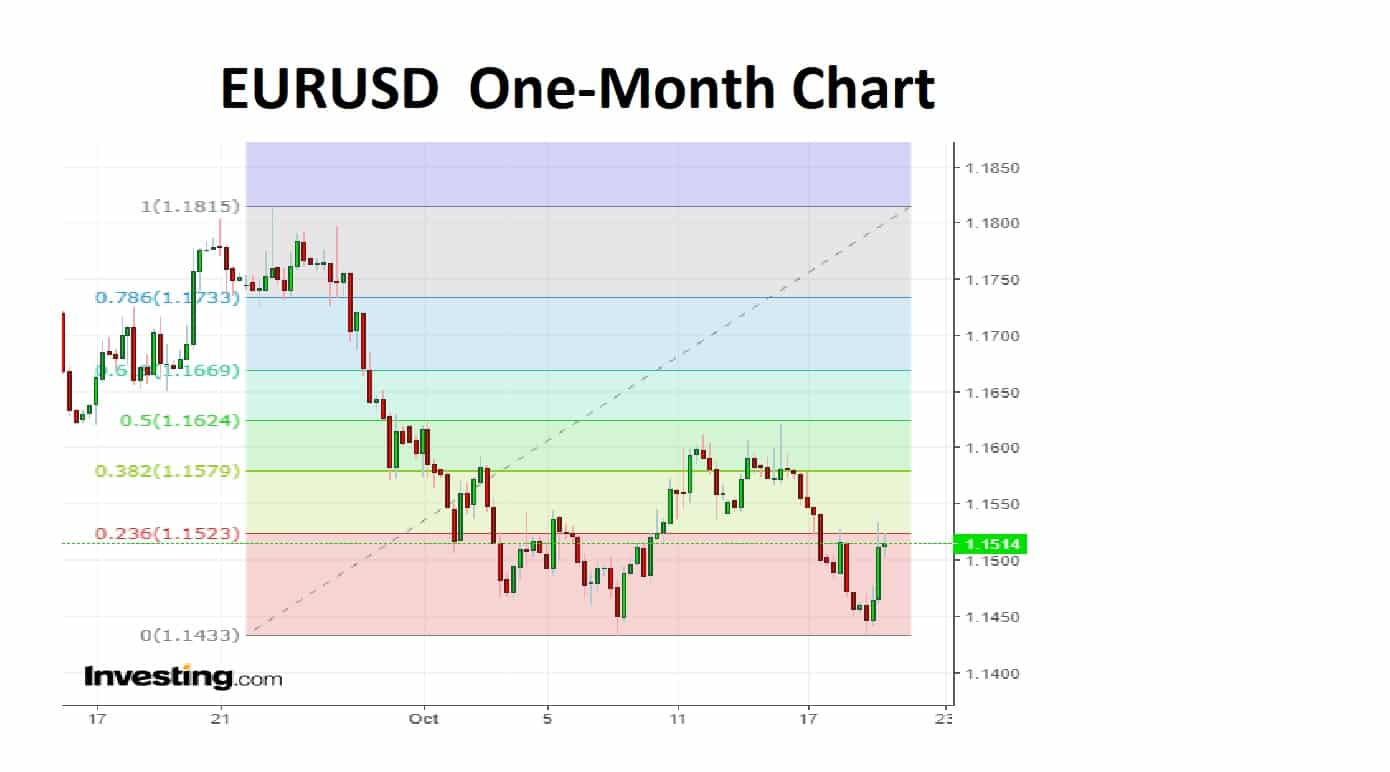 Source: www.tradingeconomics.com, Spotlight Ideas
Summary: Buy at 1.15141 Target 1.1579 (by 24th or 25th) Then Sell Stop Loss 1.1500