EUR USD

Latest EUR USD Analysis and Forecast
Updated January 27th, 2022
Aggressive bear extension, negative tone
Day trade update and view
An aggressive sell off on Thursday down through 1.1225/20 supports and the cycle low at 1.1185 to 1.1130xxxx, extending negative forces from the late January push down through key 1.1272/71 supports (for an intermediate-term bear shift), plus from the prior push down through 1.1313/11 supports, keeping risks lower for Friday.  
Day trade setup
We see a downside bias for 1.1130 and 1.1102/01; a break here possibly aims for 1.1056, even 1.1000.
But above 1.1191 opens risk up to 1.1243  and possibly 1.1311.  
Intermediate-term outlook
The late January push below key 1.1272/7 supports signalled an intermediate-term shift to a bear trend.
Downside risks: We see an intermediate-term bear trend to aim for 1.1185, 1.1000 and 1.0870.
What changes this? Above 1.1434 shifts the intermediate-term bear trend straight to an intermediate-term bull trend.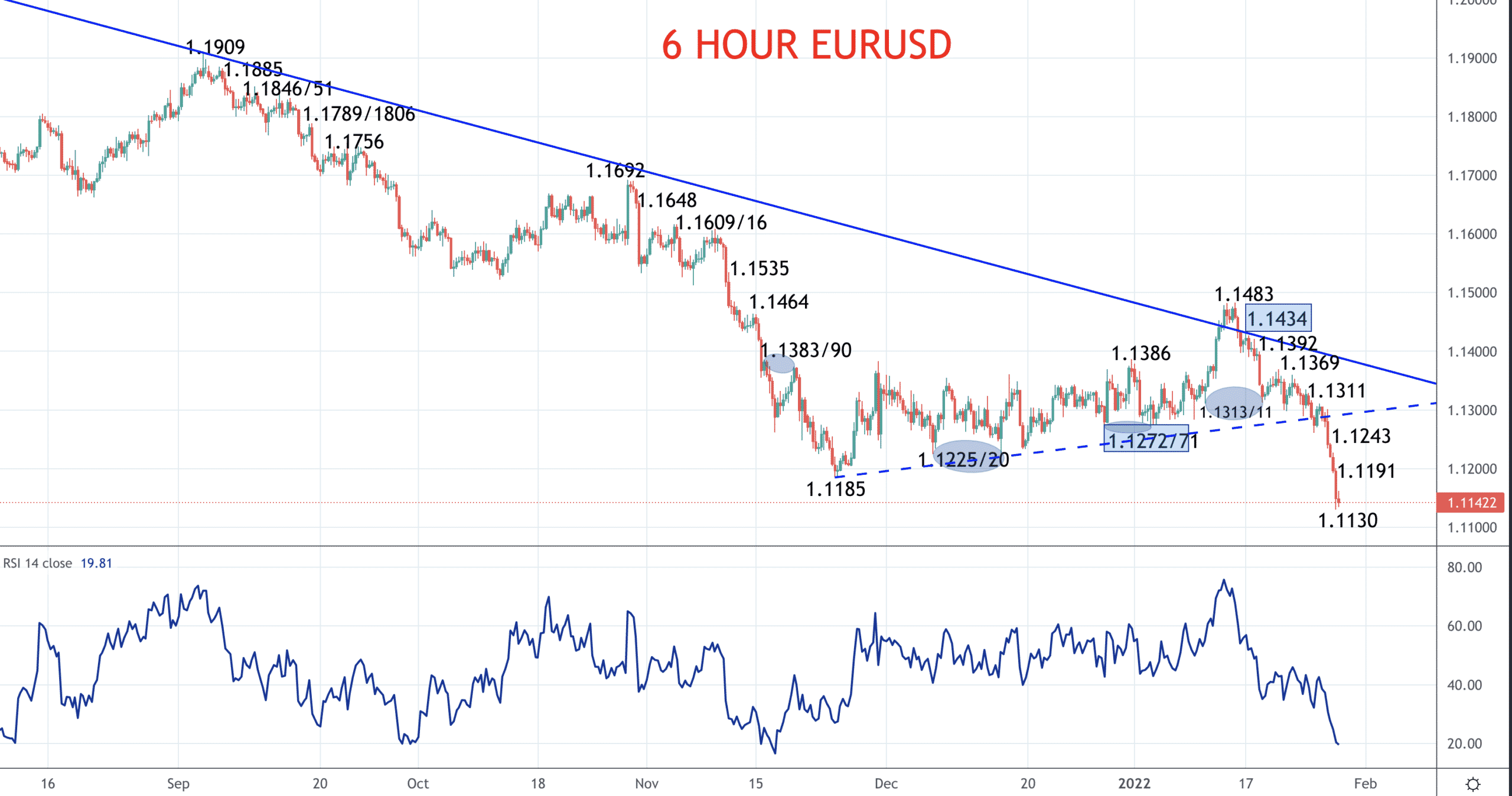 EUR USD Calendar
28/01/22 German GDP; US Personal Consumption Expenditure (PCE)
View Full Calendar
---
Please join the EUR USD discussion
EUR USD Currency Converter
Other major currency pairs
---
BUY - rate is expected to increase, i.e. the first currency gains value against the second currency.
SELL - rate is expected to go down, i.e. the first currency is expected to lose value against the second currency.