A more positive "risk on" theme in early September has seen both a modest weakening of the US Dollar, alongside a more resilient tone for the Euro, which has pushed EURUSD back to the upper end of a multi-week, broader range environment.
From a technical perspective, this leaves risks for an intermediate-term bullish shift for EURUSD, but from our viewpoint only triggered by a push up through 1.1791.
Mario Draghi, the ECB President is speaking this morning, which could provide the trigger for such a bullish statement for the EURUSD currency rate.
Furthermore, the pan-European equity benchmark average, the Euro STOXX 50 is attempting a basing pattern, which could also see upside potential in the short-term.
Read all financial market analyses
EURUSD
Upside risks
A strong rebound Monday from above 1.1607 support to reverse Friday's setback, sustains upside pressures from last Thursday's break above the 1.1659 peak and 1.1690 resistance, to keep the immediate risks higher for Tuesday.
The latter August push above 1.1628 neutralised the intermediate-term bear trend and set an intermediate-term range theme, seen as 1.1791 to 1.1300 (with risks skewed towards a bullish break above 1.1791).
For Today:
We see an upside bias for 1.1722 and 1.1733; break here aims for the 1.1746/51/60 peaks and then key 1.1791, maybe even towards 1.1851.
But below 1.1607 aims for 1.1564 and maybe opens risk down to 1.1525.
Intermediate-term Range Breakout Parameters: Range seen as 1.1791 to 1.1300.
Upside Risks: Above 1791 sets a bull trend to aim for 1.1996/2000 and 1.2476.
Downside Risks: Below 1300 sees a bear trend to target 1.1134, 1.1000 and 1.0839.
4 Hour EURUSD Chart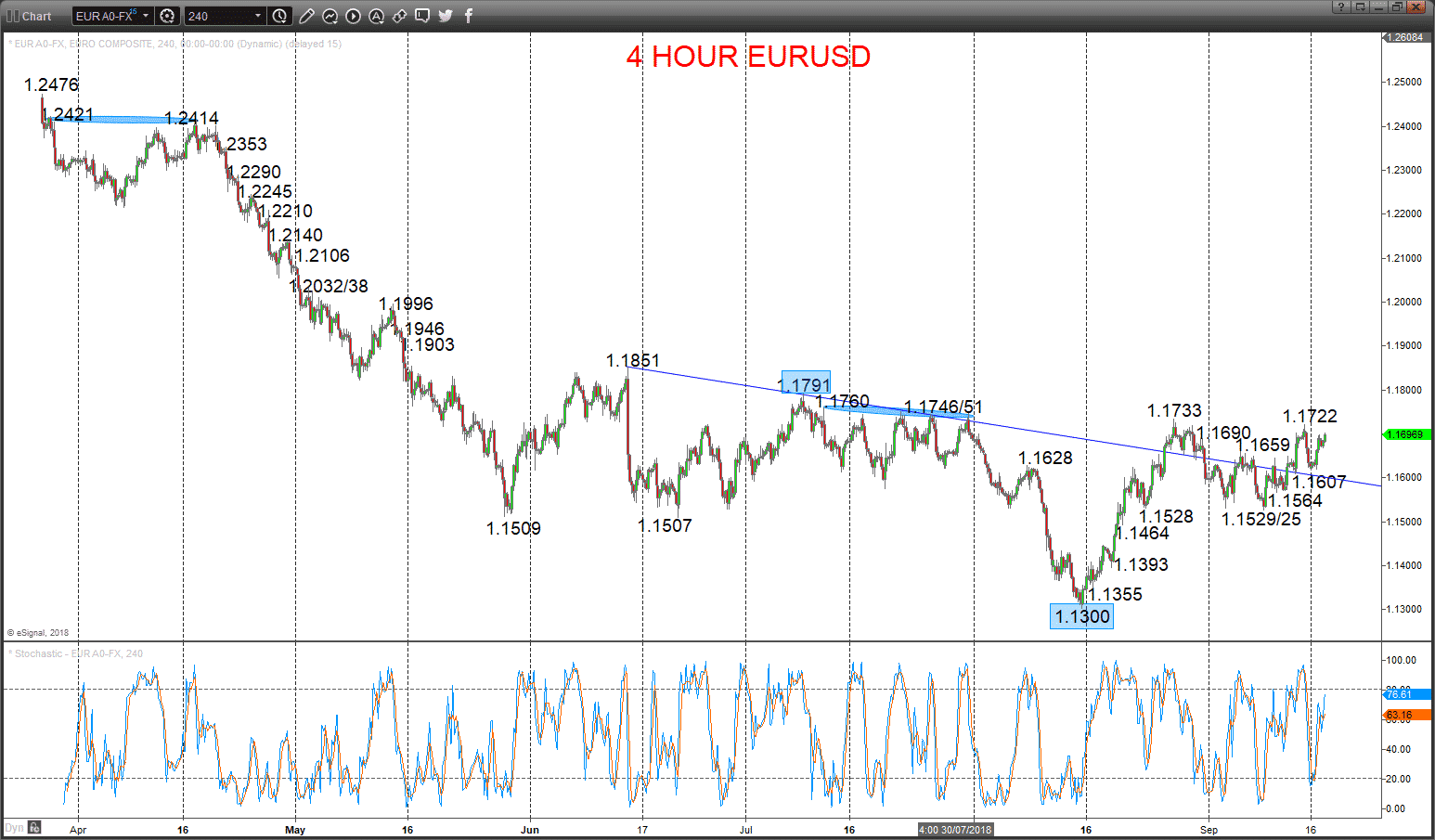 DJ Euro STOXX 50
Recovery bias
A dip and a bounce Monday for another high-level consolidation (as also seen on Friday), after Thursday's strong push up through resistances at 3329/30 and 3341, PLUS last week's dip and a rebound from 3285, to maintain a corrective upside bias Tuesday.
The early September break below 3336 set an intermediate-term bear theme.
For Today:
We see an upside bias for 3348 and 3352/54; break here aims for 3367, maybe towards 3407.
But below 3322 targets 3303 and maybe aims at 3285.
Intermediate-term Outlook – Downside Risks: We see a downside risk for 3288.
Lower targets would be 3205 and 3163
What Changes This? Above 3407 shifts the outlook back to neutral; above 3463 is needed for a bull theme.
4 Hour Chart