After a quiet week, do not think gold will sleep over the summer
U.S. / China and U.S./Iran are potential flash points
Fed policy now looks neutral to easier…a good plus for gold
The market for gold closed on Friday at $1284.30 (-1.10 or -0.09%); this was nearly $10 higher than at Monday's opening. Much of the week's activity was poured into Thursday ahead of the long U.S. weekend, although it has to be accepted that as May winds down it does appear many market participants have already set about squaring their books for a quiet summer.
That would be a risky assumption as on the global macro/geopolitical stage there are tensions between the U.S. and China over trade and the U.S. and Iran may be veering toward a military skirmish or two.
Therefore, taking too relaxed an attitude may be the wrong approach. Typically, the lower activity and the thinner liquidity we see every summer, creates opportunities for larger price dislocations when a major headline hits the wires. So, for a risk-off asset like gold, one should always keep an eye open during the seemingly sluggish summer.
After the busier trading of Thursday, Friday trade was calm apart from a little selling pressure during the European session. However, $1280 has shown itself to be a strong level of support as we close the week.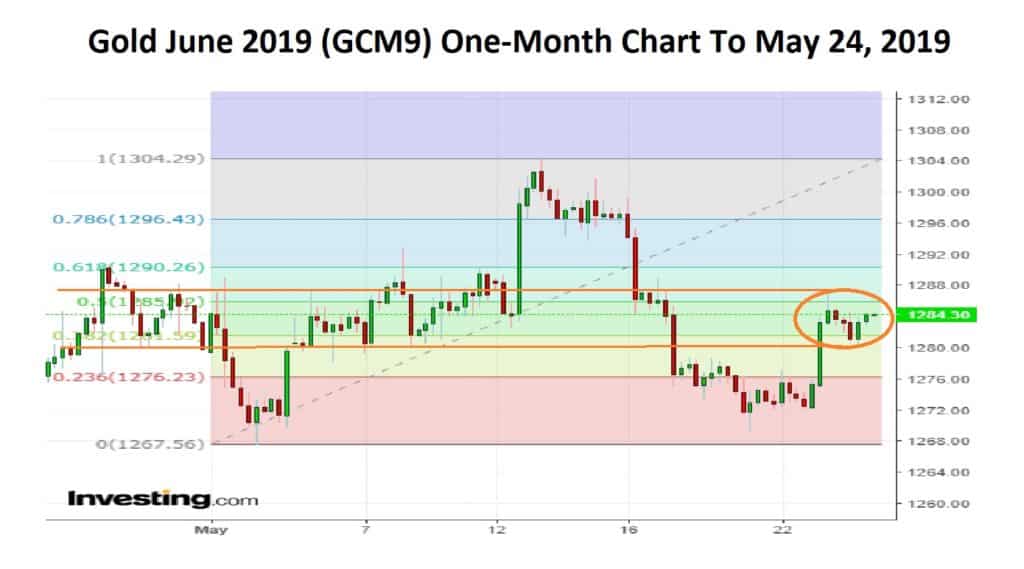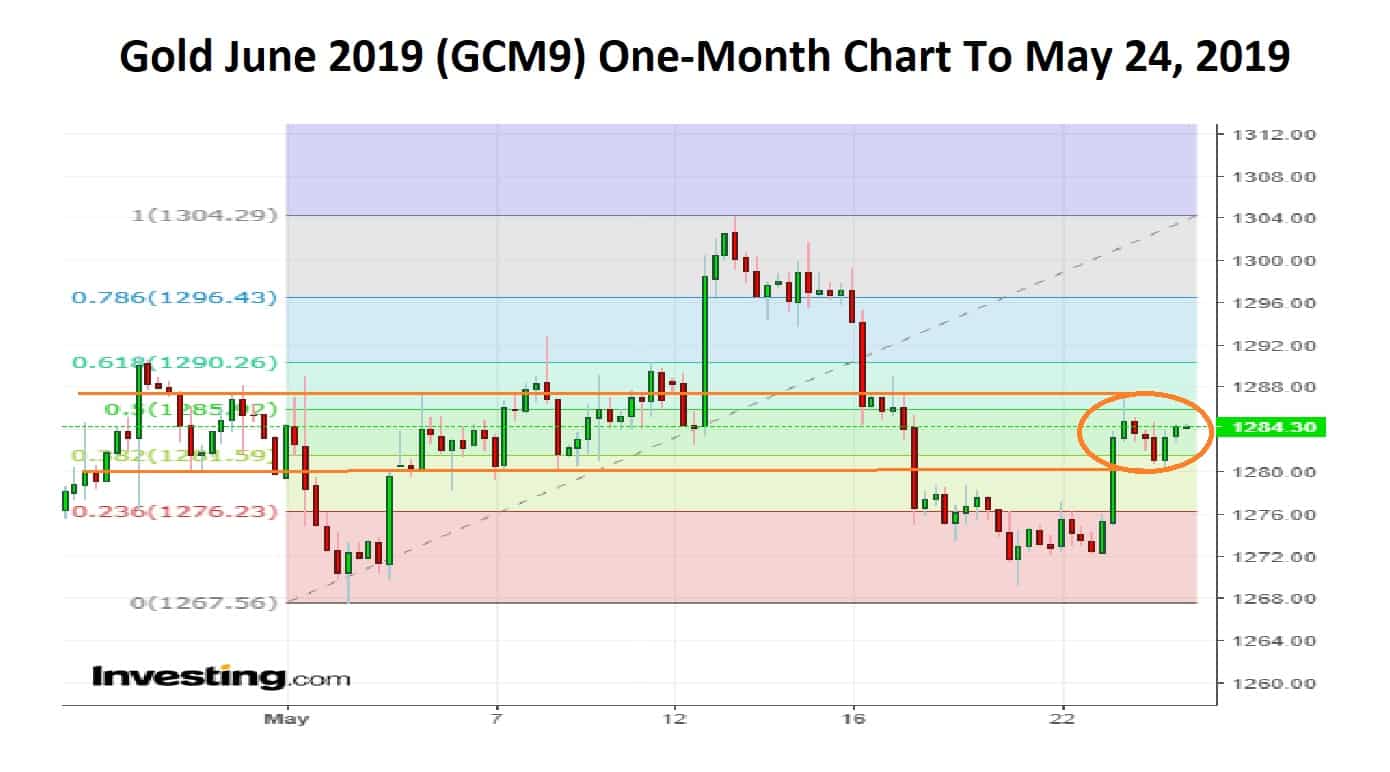 Source: www.investing.com , Spotlight Ideas
The chart shows that gold has settled at an area that was a resistance point up until May 12 with a short-lived break higher to $1304.
Right now, I can see several positive drivers for higher gold prices:
1) More equity market volatility
2) More rapidly-than-expected slippage in US growth as the trade dispute drags on
3) Earlier than expected Fed rate cuts
Also do not rule out a move by China to accelerate its diversification out of U.S. Treasuries into gold (as Russia has done in recent months. This may be accelerated as a direct result of the latest U.S. moves on increasing tariffs on Chinese goods and on specific moves to create obstacles for Huawei.
Are the tariffs that rump has imposed so critical? Afterall the gradual decline in the parity of the Yuan against the Dollar has partly mitigated the effects of the initial tariffs on the cost of Chinese goods in the U.S.
Meanwhile the latest minutes from the Fed allayed fears of any interest rate increase during the rest of this year. Indeed, the current odds suggest the higher prospect is for a possible rate cut later this year. That itself would be positive for gold.
Summary:
Buy now target 1304
Stop at 1250