U.S. sees first drawdown of natural gas as winter begins
Now time to focus on the weather patterns hitting North America
The technical sentiment for NGF9 is a soft opening; look to buy the opening
New bullish sentiment will ride on a snowy surge as a second storm front chills America
The U.S. Energy Information Administration (EIA) reported last Wednesday, November 21st that domestic supplies of natural gas declined by 134 billion cubic feet for the week ended November 16th.
The data was released a day earlier than usual ahead of the Thanksgiving Day Holiday and yet was the first weekly decline of the winter heating season.
The forecast had been for a smaller decline of just 110 billion cubic feet, however from the data we see that total stocks now stand at 3.113 trillion cubic feet, down 620 billion cubic feet from a year ago, and 710 billion below the rolling five-year average.
With the first major draw out of the way early this winter, Natural Gas traders are now looking for value and will be scouring the reputable weather forecasts over the next three weeks, especially the first two-weeks of December.
Natural gas futures finished higher last week but well off their highs after speculative buyers failed to react to a much higher weekly draw than expected. This is illustrated in the small corrective channel below.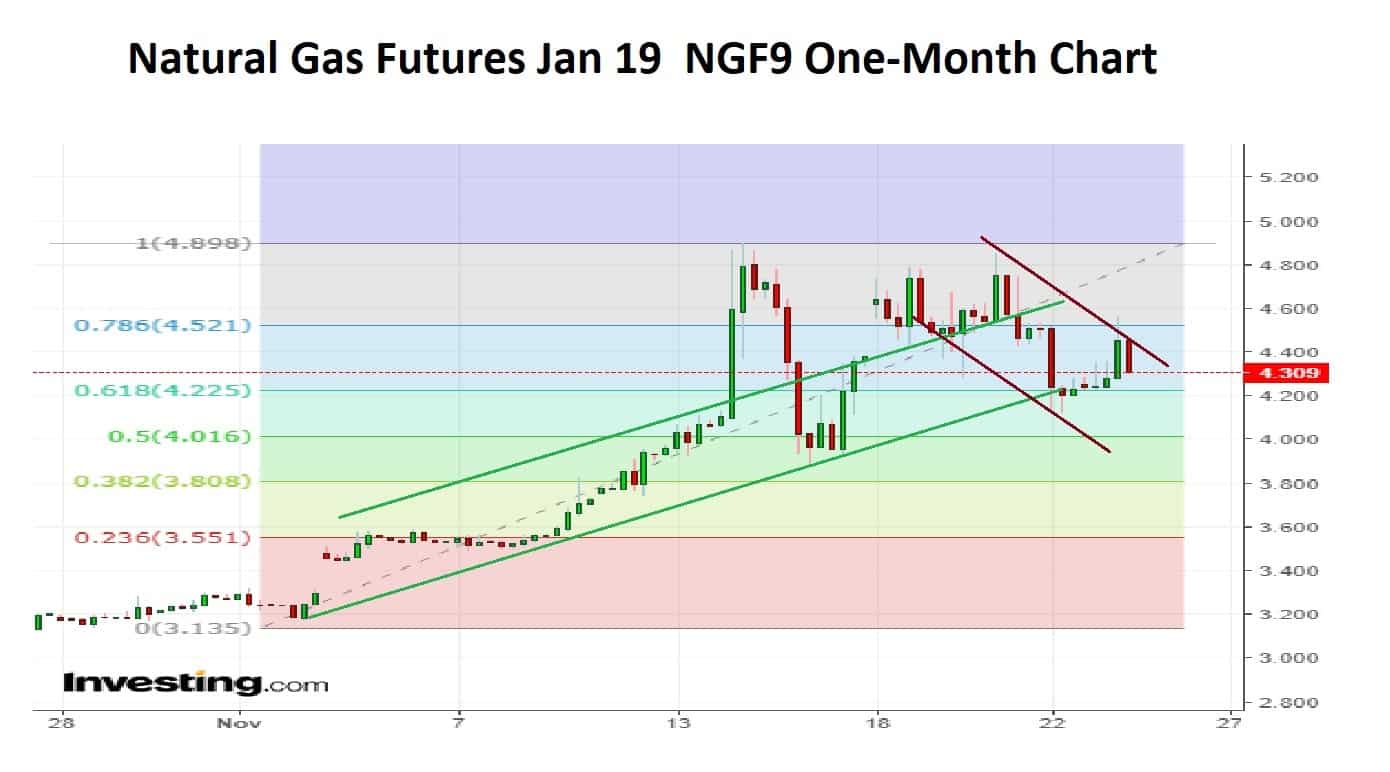 Source: www.tradingeconomics.com , Spotlight Ideas
Accuwather.com offers an interesting take on the weather outlook as the U.S. looks set to endure, longer and colder conditions than Canada.
Following a storm with rain and ice over the 24th and 25th, a second storm will arrive on Monday with mostly rain but may end as accumulating snow in part of the north-eastern U.S.
The moderating trend is forecast to unfold as one storm runs its course and before the second storm rolls in. Colder air is forecast to invade the second storm so that some areas may be snow showers as the storm moves away, while parts of upstate New York and New England may have to deal with a moderate to heavy snowfall.
The second storm is likely to begin as snow or a combination of snow, ice and rain, according to AccuWeather Senior Meteorologist Brett Anderson who expects the storm to strengthen along the New England coast during Monday night and Tuesday.
How quickly that strengthening process occurs will determine how much cold air is pulled southward, and hence how far south a change to snow occurs and how heavy that snow becomes.
There is the potential for several inches to a foot of snow from north-eastern upstate New York to central and northern New England. The storm may evolve into a nor'easter for New England with gusty winds and a brief period of above-normal tides from eastern Massachusetts to Maine.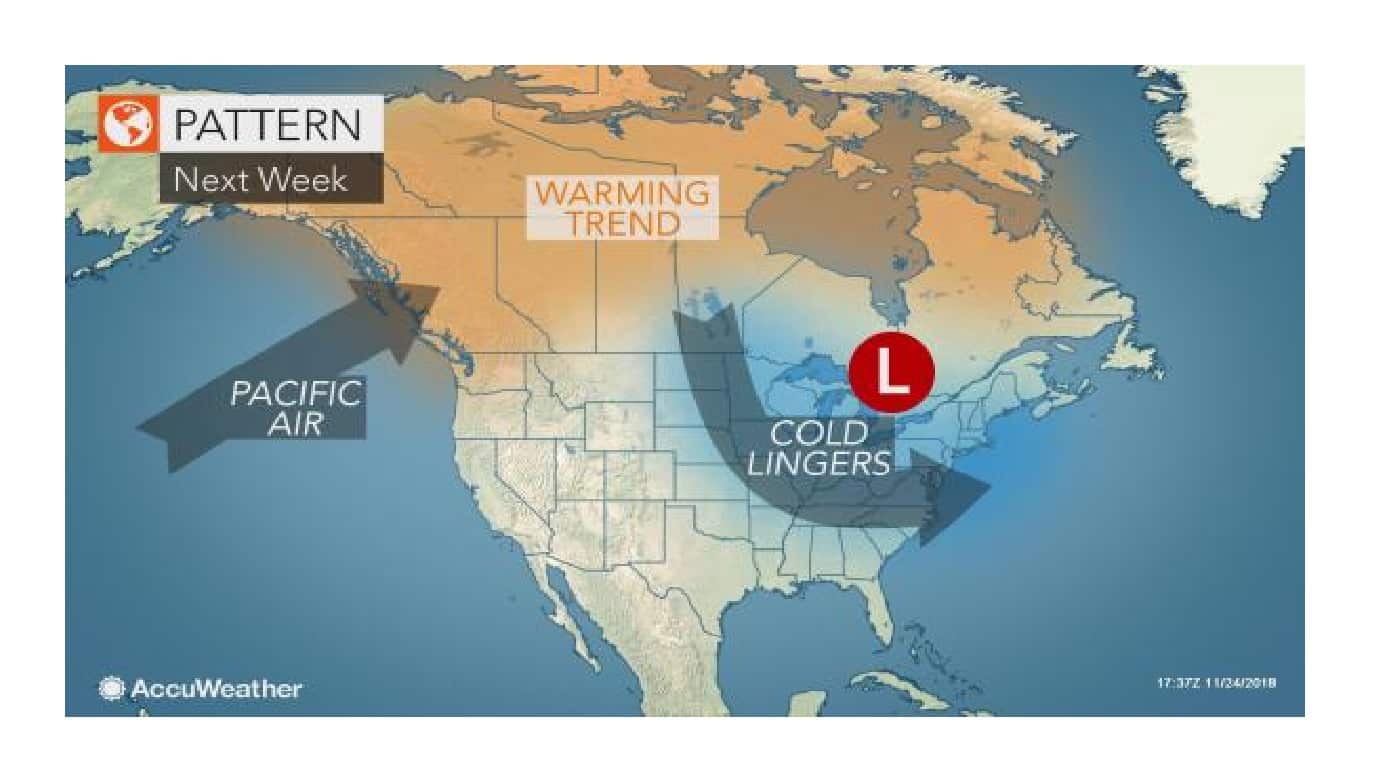 Source: www.tradingeconomics.com, Spotlight Ideas
The challenge will be whether to wait for a pullback into support or chase the market higher. Natural gas remains vulnerable to gap-higher openings on Mondays.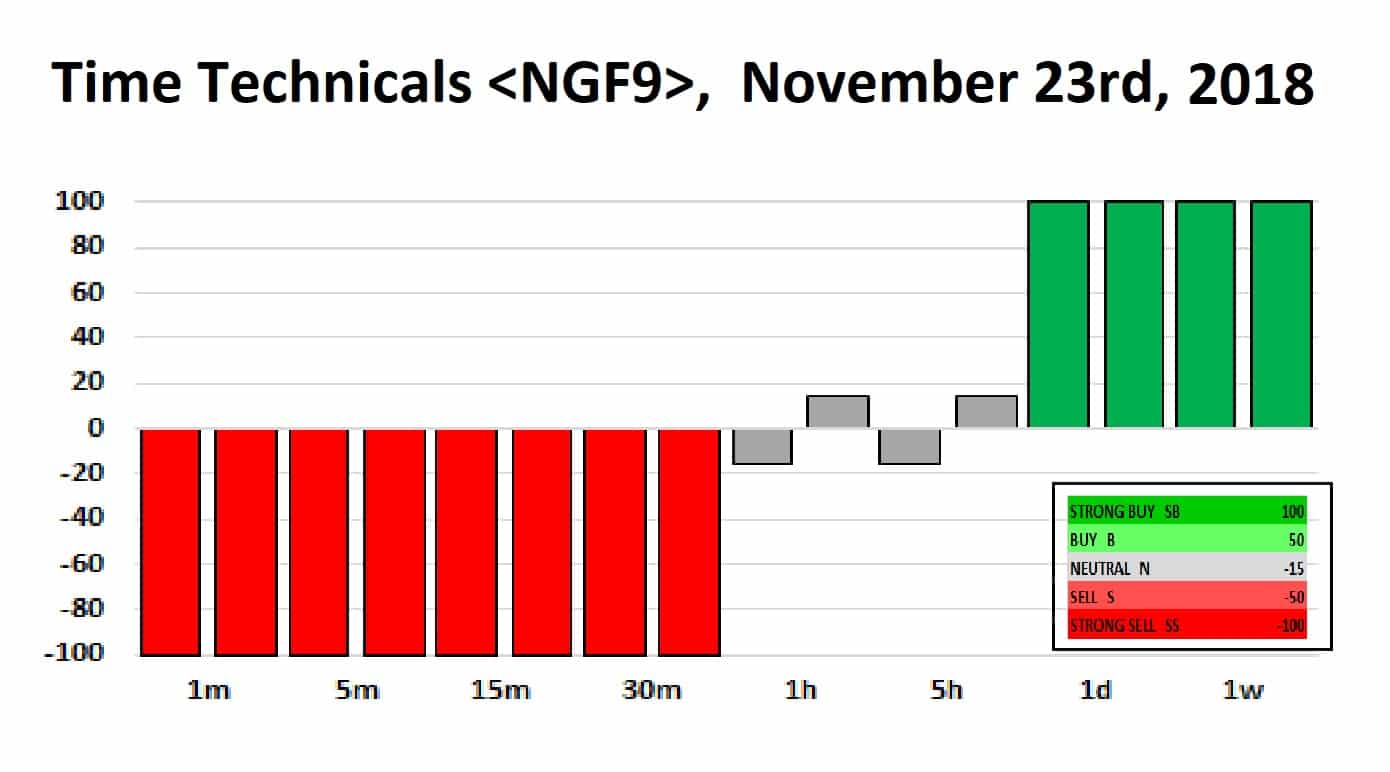 Source: www.tradingeconomics.com, Spotlight Ideas
I am inclined to buy at the opening as the market gets underway on Monday, for we have already rolled in the January contract (NGF9) and so there is a good length of time to ride any near-tern downside. I seek higher prices at the 4.90 level. As it is early winter, and a new contract is in play I will set a deep stop loss at 3.90.
Read more macroeconomic forecasts