The intensified friction between the US and China since the end of last week with respect to the trade war saw safe haven assets rally, then selloff at the star of this week.
For the Japanese Yen, the technical impact from the flight to quality rally at the end of last week and early Monday was more significant than the subsequent correction.
For USDJPY, the negativity from the plunge last week to a multi-month low was not fully eased by the subsequent rebound, which highlights an ongoing "risk off" theme and highlights trade war fears.
USDJPY erratic, but bias stays lower
A setback and minor bounce Tuesday after the Friday-Monday plunge to a new cycle low through 105.02 and notable support at 104.56, and despite an intraday rebound Monday, whilst below 106.41 we see risks still lower for Wednesday.
The plunge below 106.75 set an intermediate-term bear trend.
For Today:
We see a downside bias for 105.49 and 105.14; break here aims for 104.40
But above 106.41 opens risk up to 106.73 and 106.98/107.09, maybe towards 107.28.
Intermediate-term Outlook – Downside Risks: We see a downside risk for 104.40.
Lower targets would be 101.19, 100.00 and 99.00.
What Changes This? Above 107.09 shifts the intermediate-term outlook back to neutral; above 107.57 is needed for an intermediate-term bull theme.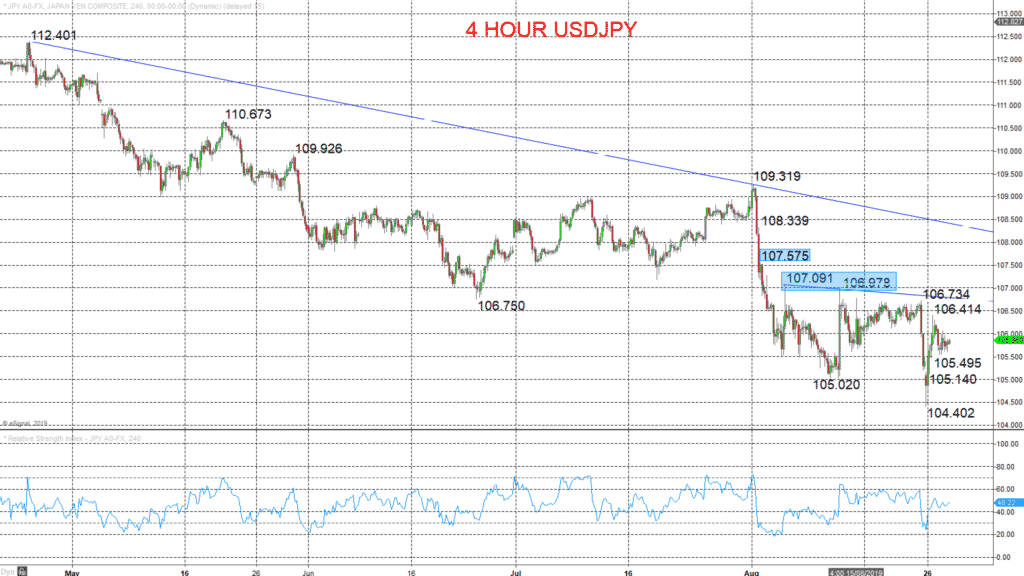 4 Hour USDJPY Chart