Natural gas collapsed on Friday
There is no weather-related buying
There is a large build of inventories
Target a summer decline to 2.379
Natural gas futures crashed lower last Friday (May 3) as traders who held onto longs acquired between April 23 and 26 succumbed to the clear absence of any weather-driven demand. There was also an overhang of gloom following Thursday's higher-than-expected U.S. Energy Information Administration's (EIA) weekly storage report.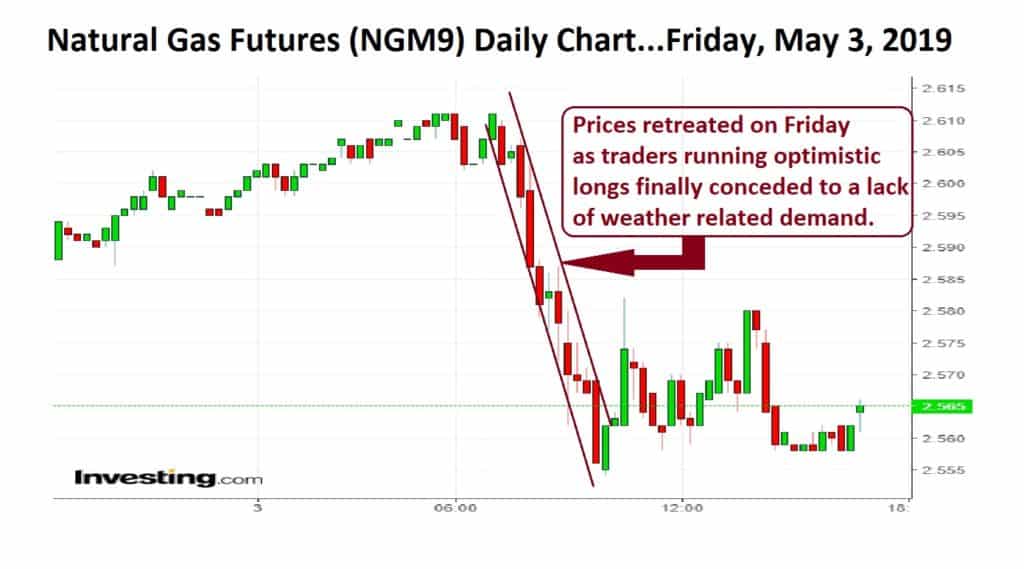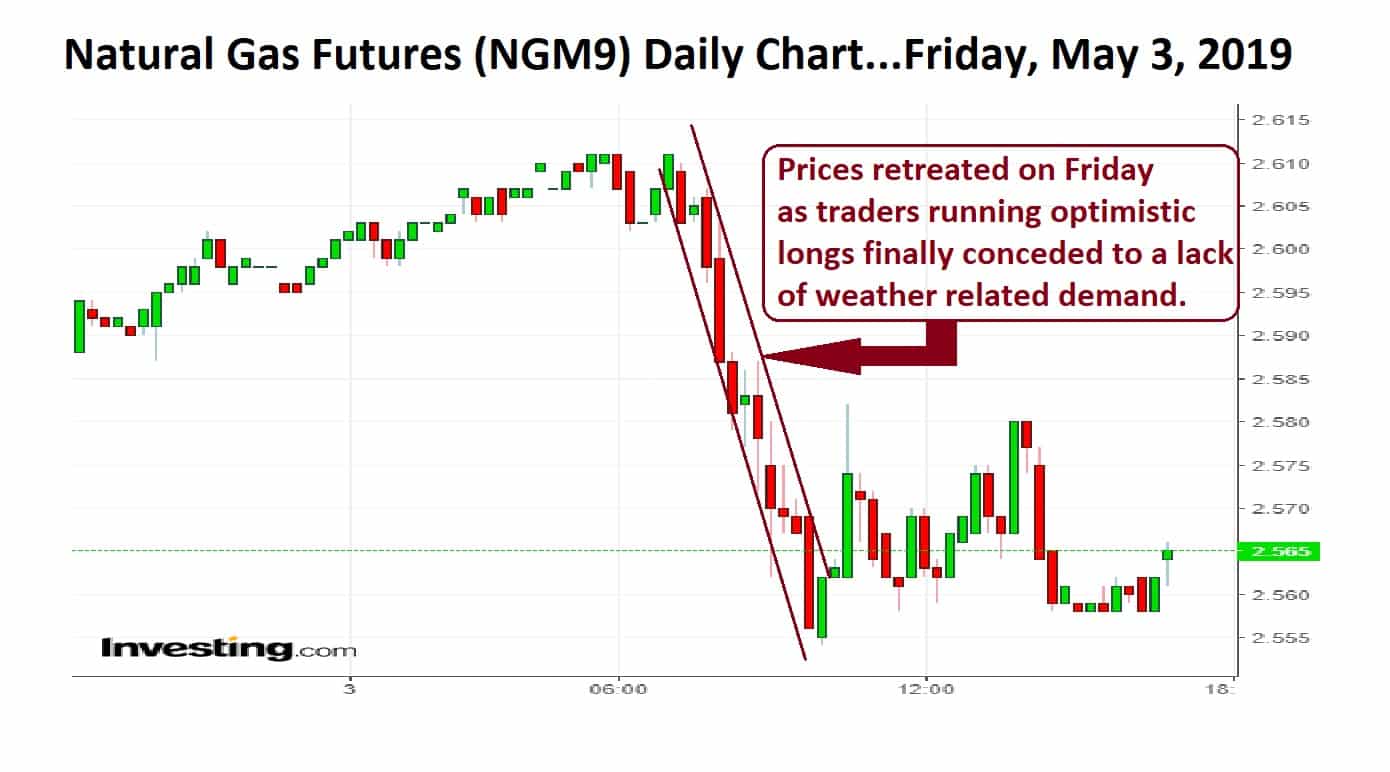 Source: www.tradingeconomics.com , Spotlight Ideas
NatGasWeather said,
"…Most of the weather data favors a very comfortable pattern across the northern U.S. May 12-18 with highs of 60s to 80s, while the southern U.S. will be warm to slightly hot with 70s to 90s. … Upcoming builds will continue to run larger than normal to further improve the supply picture. …" (U.S. Spelling)
On Friday, June natural gas settled at $2.567, down $0.022 or -0.85%.
The refill season started with strong builds at 5-year record input and has already filled 3 times the amount of the 5-year average for the last month. The market is sagging as this brings the stocks ahead of Summer's natural increase in demand. The market will therefore have to cope with the excess supply by enduring falling prices within range-bound rotations inside the $2.50 – $3.00 for the coming
months on smaller trading volumes. Any new agreement for U.S. Liquified Natural Gas (LNG) exports is facing very competitive pricing from current providers. For a tremendous example one need look no further than the talks taking place between the U.S. and Europe as it concerns the Russian gas supply.
The conclusion is that any increase in demand will have to be neutralised by competitive pricing as temporary equilibria are sought.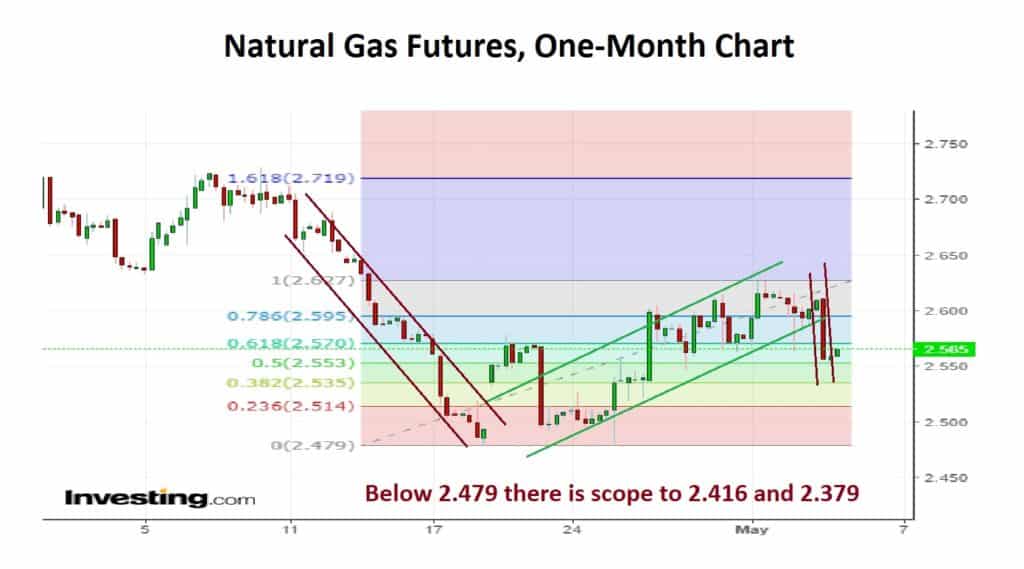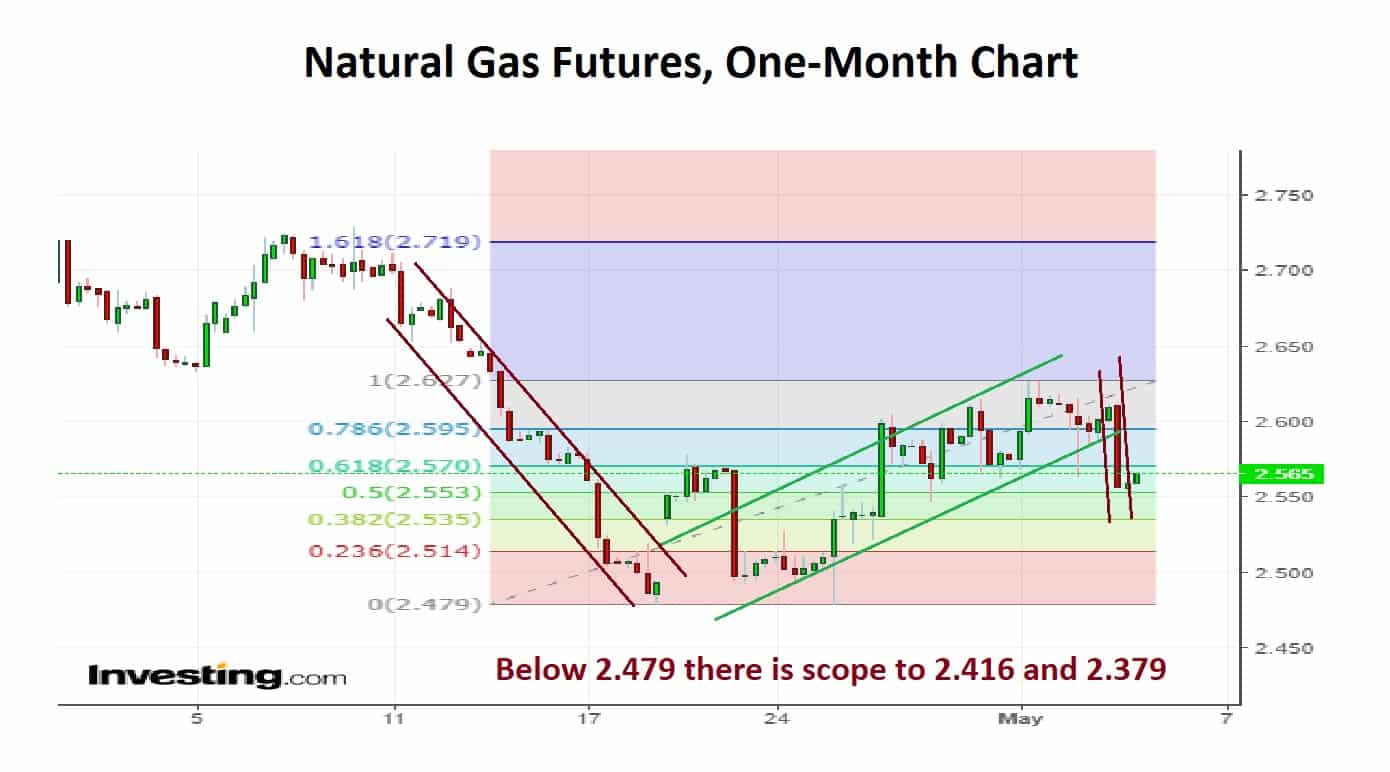 Source: www.tradingeconomics.com , Spotlight Ideas
The main trend is down; however, momentum may see a little short covering at the opening next week. This will not last long and I expect a move through the 2.477 level will signal a resumption of the downtrend.
Summary:
Sell on any opening push toward 2.59…2.61
Target 1 2.479 … Target 2 2.416 … Target 3 2.379
Stop at 2.67