Natural Gas looks oversold after a 33% decline since December 10th
Any recovery in prices should be capped at $3.16/Mm BTU
In the event of stronger short-covering place a stop
Bearish sentiment prevails and will take prices lower to $2.70 area
The market for the natural gas market on the Nymex endured moderate week and the first, albeit shortened week ended on Friday at $3.032 a gain of 3.84%.
This takes Natural Gas into an area that is burdened by an amount of psychological importance and the question is whether the gap above that can be filled?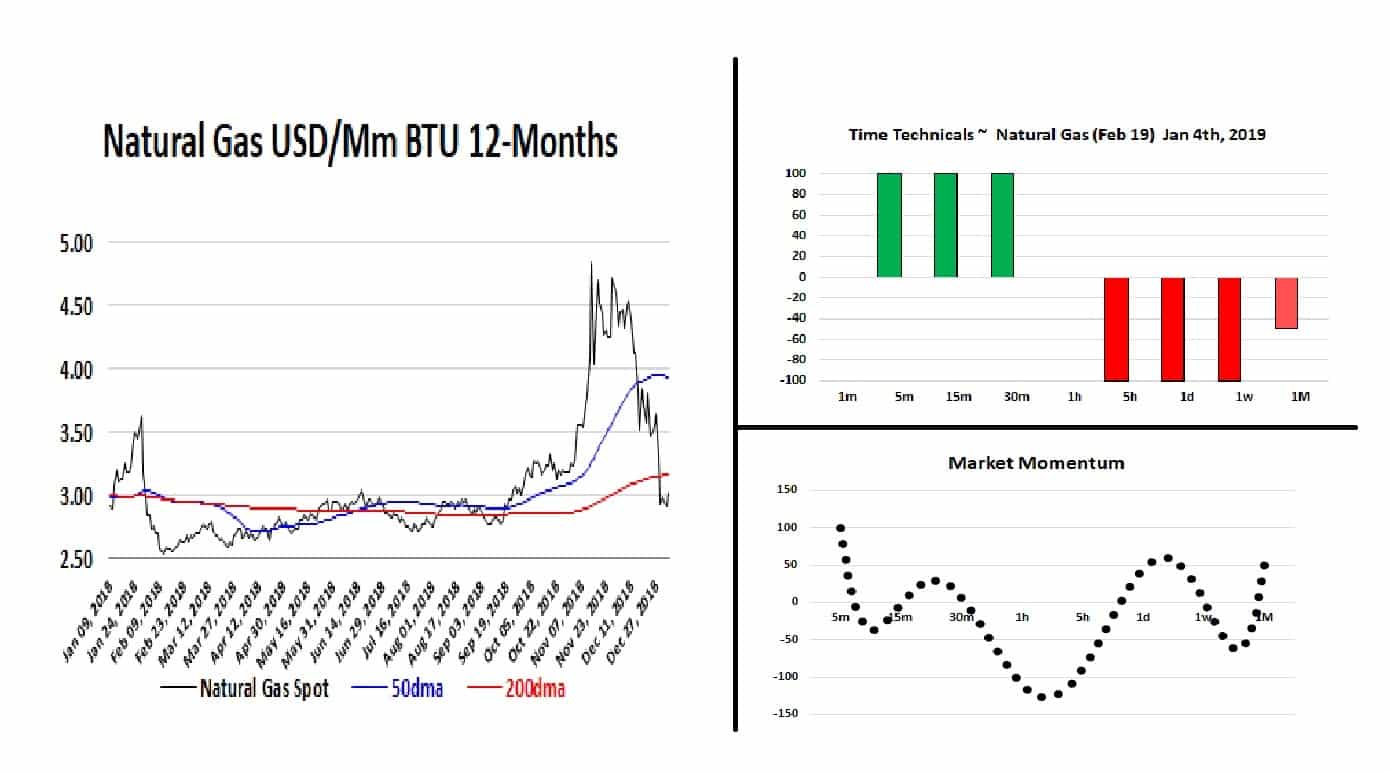 Source: www.tradingeconomics.com , Spotlight Ideas
Read more fundamental analysis
The left-hand panel in the chart above shows the past 12-months of the Natural Gas price, and one can see that since December 10th, 2018 the price has declined in dramatic fashion i.e. -33.41%. In the course of this decline the spot level has broken below both the critical 50 and 200-day moving averages.
The right-hand panel shows that the market may enjoy a brief recovery given we look oversold (on a short-term basis), as the new, and first full trading week begins, however, the momentum will soon collapse and from 5-hours onwards the positive sentiment fades away.
I believe that the 200-day moving average set at $3.16 will prove to be tough resistance. Therefore, if that gap is filled in the first part of trading in the week buying exhaustion will set in and yield to the downside.
Of course, back up plans are valuable and so if there is stronger momentum, fuelled by an exogenous factor I would be prepared to reverse a losing short position at $3.23 (cut 7 tics) as exuberance could see $3.50 be targeted. Now one may say that sounds rather "flaky". I disagree as I prefer the idea of selling rallies on exhaustion and we might have to wait to fill the gap around $3.50.
Source: www.tradingeconomics.com, Spotlight Ideas
This is not a market that lends itself to be bought on the long-term. There is certainly no reason to do so until spot crosses the moving averages from below.
Summary:
Sell at $3.16
Target 2.72
Stop at $3.23
Re-set short at $3.50