Global equity markets remain nervous after the very strong US Employment reports on Friday.
The worry is that the Federal Reserve (Fed) will shift away from a perceived more dovish tone, given the strong data and the resumption of the US-Sino trade talks
Furthermore, Fed Chairman Jerome Powell is testifying in front of Congress today and Thursday, as we highlighted here in the FX Explained MacroWatch, which should reinforce the concerns in the market and leaves the major US (and global) equity averages at risk to the downside in the short-term.
Here we spotlight the US broad, benchmark average, the S&P 500.
S&P 500 E-Mini bias still lower, despite bounce
A Tuesday selloff and rebound from above the small bull gap at 2955.5-55.25 (off of 2963.5), but sustaining negative pressures whilst below 2988.75 from the Monday selloff below Friday's spike low at 2971.25, to reinforce Friday's notable selloff (after the US Employment report) to probe the notable 2973.75 support level, switching the bias to the downside Wednesday.
The latter June surge above 2943.25 set an intermediate-term bull trend.
For Today:
We see a downside bias for 2963.5; break here quickly aims for the small bull gap at 2955.5-55.25, maybe 2946.5 and even 2935.0.
But above 2988.75 opens risk up to 2997/98, maybe the record high at 3006.0.
Intermediate-term Outlook – Upside Risks: We see an upside risk for 3033.75 and 3060.0.
What Changes This? Below 2871.5 shifts the intermediate-term outlook back to neutral; through 2808.0 is needed for an intermediate-term bear theme.
Resistance and Support:
| | | | | |
| --- | --- | --- | --- | --- |
| 2988.75 | 2997/98 | 3006.0 | 3011.5 | 3025.0 |
| 2963.5 | 2955.5-.25* | 2946.5 | 2935.0* | 2914.5*** |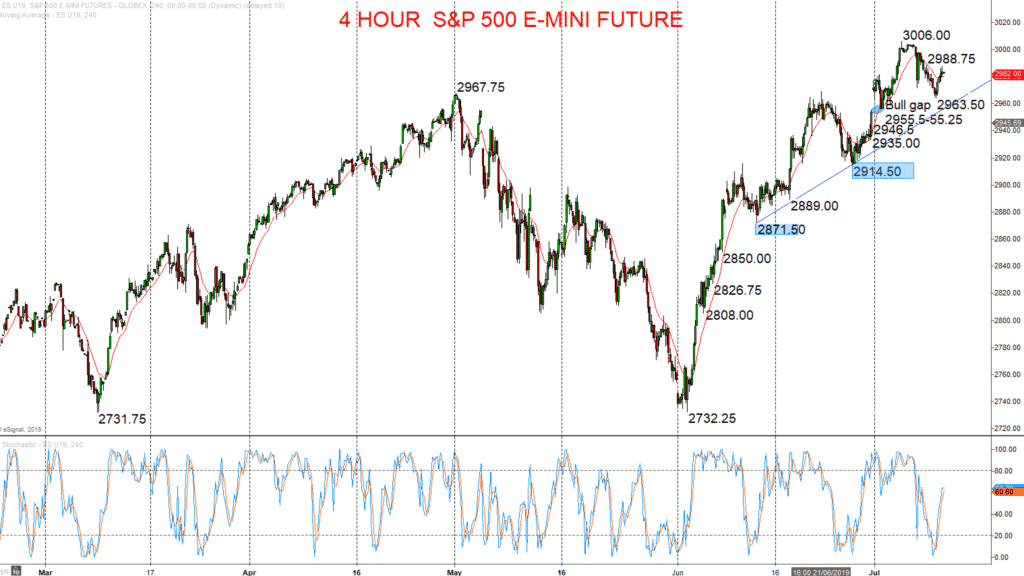 4 Hour S&P 500 E-Mini Future Chart