A great deal is going on in the macro department and this can make it difficult to understand where risk is flowing in broader market as well as the G-10 FX space. A constant back-and-forth between virus related risks and U.S.-China tensions is continuously squeezing equity rallies which has somewhat seeped into G-10 FX risk proxies, stalling rather buoyant rallies. We take a look at two relative ETF charts that are catching our attention and question possible resumptions in risk rallies.
SPY/GLD (S&P 500 vs. Gold)
Gold trades at its highest levels since October 2012, maintaining its well-established bid tone, even as the USD rallies off its lows.
Steepening Gold outperformance theme has caused the SPY/GLD relative to break through two bull fibo fans, which have acted as great relative sup/res lvls. This has opened the final 61.8% fib fan line.
A breakdown through the final line would suggest continued S&P underperformance, proposing a wider risk-off theme is potentially taking control of mkt.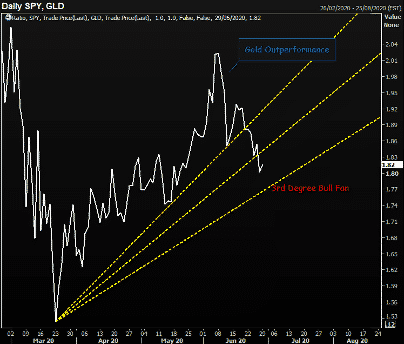 SPY/IEF (S&P 500 vs. 7-10year Treasury Bond ETF)
SPY/IEF provides insight into Stocks performance vs. tier 1 safe haven bond mkts.
Mkt is breaking lower, with a slip in equities causing a breakdown through relative mean-reversion.
SPY/IEF has pierced to new month lows, reinforcing our work in SPY/GLD which suggests a rotation in relative risk.
Continued losses would suggest a broader bid in Treasury's, potentially reinforcing a deeper risk-off tone in global markets.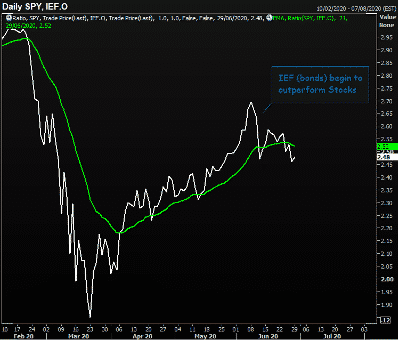 WHAT THIS MEANS FOR FX:
Spot Gold: managing to hold above the 1765 high breakout point, opening immediate upside risks to the 1795/96 zone. This is covered by the 61.8% fib ext. and Oct 2012 high. Above here would open 1825. Fundamentally, it may support a rise in virus fears, whether it be an increase in cases/deaths or a diminishing economic outlook due to virus.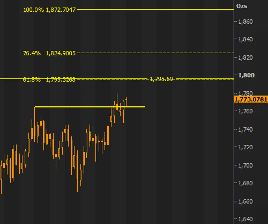 We'd expect to see a JPY bid pop through with JPY/XXX being affected, namely AUD/JPY, NZD/JPY and CAD/JPY.
This ties in with AUD and NZD being significantly affected by the risk-aversion. 

AUD/JPY is the focus chart. Breakdown below 72.49 SUP and subsequent selling through 200-EMA @ 72.25 could reinforce a risk-off dynamic has poured into G-10 FX pairs and we'd suggest being short risk.