The US Dollar has been weakening across major global currencies over the past 1-2 weeks, mainly driven by two factors.
A shift to a more "risk on" environment with global stocks rallying has seen the US$ decline, as it is not in as great a demand as a safe haven.
Furthermore, and more notable over the past 24 hours has been the anticipation of a more dovish Federal Reserve, ahead of the meeting on Wednesday.
The Fed delivered a far more dovish tone than even the market had expected on Wednesday, projecting no further rate hikes this year and ending the steady decline of its balance sheet in September.
This encouraged a far more aggressive selloff on the US Dollar and here we focus on the USDJPY and EURUSD Forex rates.
USDJPY bias stays lower
A post-FOMC selloff Wednesday through the firm 110.98 support level and then already Thursday to push through our 110.75/63 area, to reinforce Tuesday's roll lower through modest support, for a small topping pattern and now a more negative tone, to aim lower into Thursday.
The late February firm rally above key 111.41 switched the intermediate-term outlook to bullish, BUT risk is growing for an intermediate-term shift to neutral below 109.66.
For Today:
We see a downside bias for 110.32/23, then 109.93; break here aims for key 109.66, then 109.23.
But above 111.11 opens risk up to 111.70 and maybe 111.90.
---
Intermediate-term Outlook – Upside Risks: Whilst above 109.66 we see an upside risk for 113.71.
Higher targets would be 114.55 and 115.00
What Changes This? Below 109.66 shifts the outlook back to neutral; through 108.47 is needed for a bear theme.
4 Hour USD JPY Chart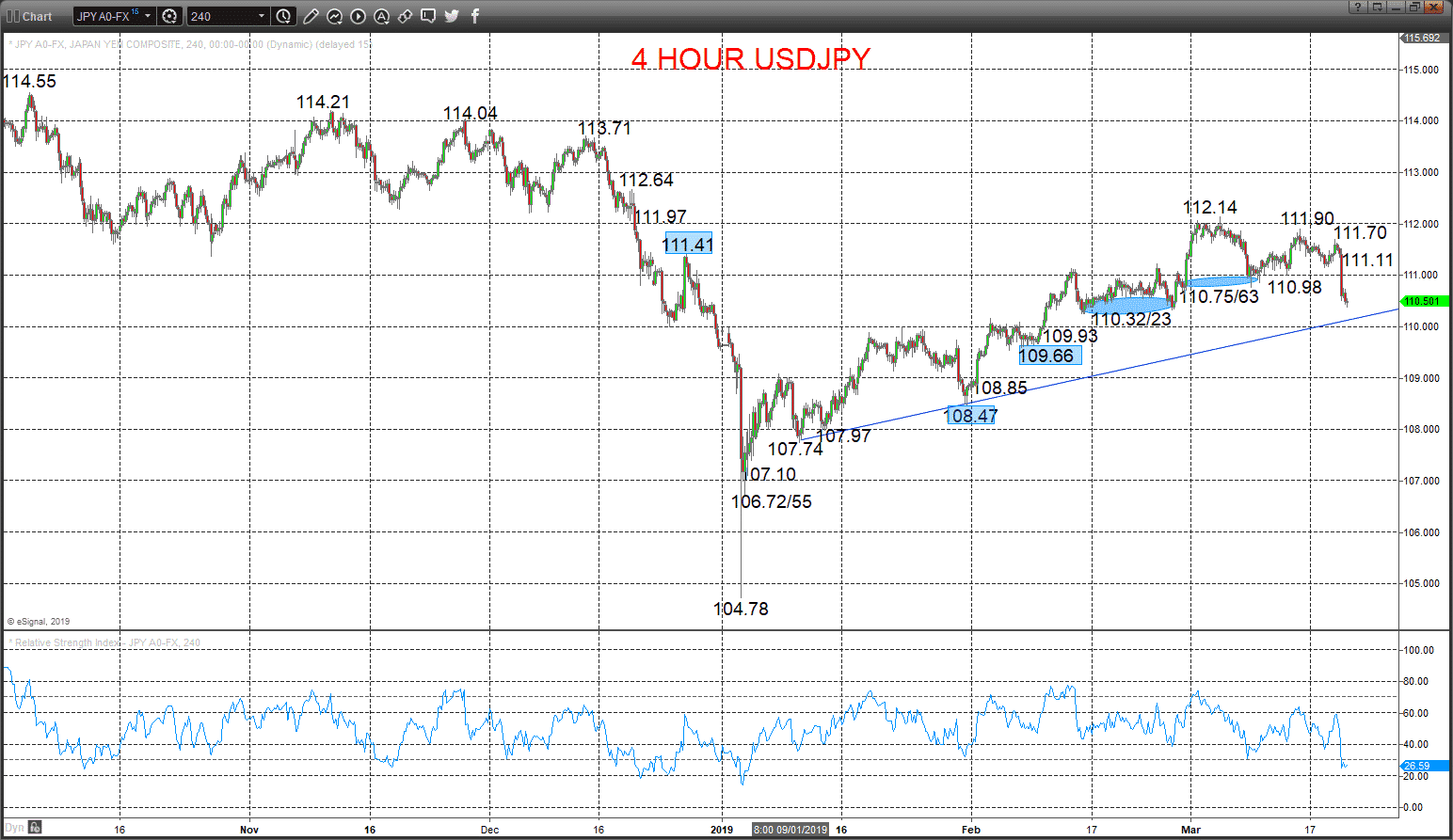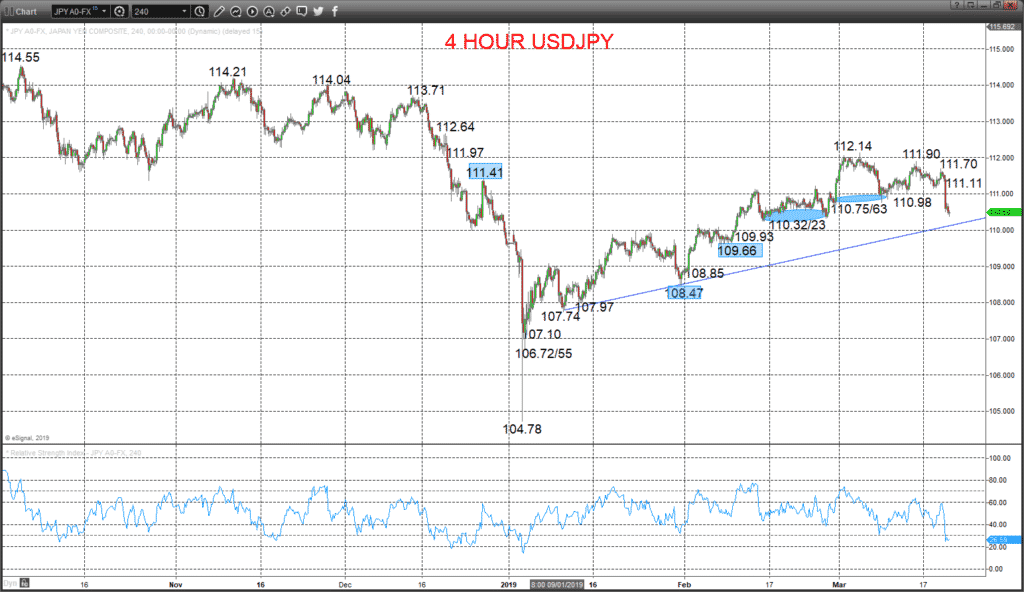 EURUSD intermediate-term shift back to a range; upside risks
We have stressed in our recent reports to clients that "we see an intermediate-term bear trend, BUT above 1.1420 would see a neutral theme again" and Wednesday's post-Fed Meeting surge above here sets a broader range we see as 1.1509 to 1.1175, with risks skewed towards an intermediate-term bullish shift through 1.1509.
Furthermore, the subsequent resilient consolidation after the surge post-Fed, holding support at 1.1393, keep risks higher for Thursday.
For Today:
We see an upside bias for 1.1448; break here aims for 1.1488, maybe even closer to key 1.1509.
But below 1 1393 aims at 1.1355, which we would look to try to hold.
Intermediate-term Range Breakout Parameters: Range seen as 1.1509 to 1.1175.
Upside Risks: Above 1.1509 sets a bull trend to aim for 1,1570/1.1621, 1.1815/52 and 1.1996/1.2000.
Downside Risks: Below 1.1175 sees a bear trend to target 1.1119, 1.1000 and 1.0839.
4 Hour EUR USD Chart