---
General
Broker:
PrimeXBT
Company Name:
PrimeXBT Trading Services Ltd
Founded:
2018
Regulator:
SVGFSA (Saint Vincent), ASIC
Platform:
PrimeXBT
Payment Methods:
Bitcoin, Credit Cards
HQ:
St. Vincent and the Grenadines
Publicly Listed:
No
Features
Min. Deposit:
0.001 BTC
EURUSD Spread:
0.005
Average Spread:
0.4 pips
Leverage:
1:100
US Clients:
No
Active Clients:
100 000+
Dealing Desk:
No
Web Trading:
Yes
Managed Accounts:
Yes
Withdrawal Process Time:
Once a day, between 12:00 and 14:00 UTC
CFDs Offered:
Energies, Indices
Fees:
The average trading fee for forex, indices and commodities is 0.01% and 0.05% for crypto assets. Our broker also charges a withdrawal fee of 0.0005BTC.
Pros
- Up to 1:100 leverage on crypto assets
- Available in 17 languages
- 24/7 Live chat support
- 50+ assets to trade
Cons
- No MT4 or MT5 support.
- No phone support.
---
PrimeXBT Review
PrimeXBT is an interesting and quite quirky online FX/crypto/commodities/indices CFD trading destination. Unlike most other actors in this space, it does indeed bring something new and unique to the table.
It is Bitcoin-based, meaning that traders can only make deposits in BTC.
Thus, it requires no personal information from traders and it does not observe a KYC policy.
It offers a unique, proprietary trading platform.
Besides its well-defined and attractive main selling point, PrimeXBT has other strengths like its reputation. Thus far, the overwhelming majority of the user feedback concerning the operation is positive.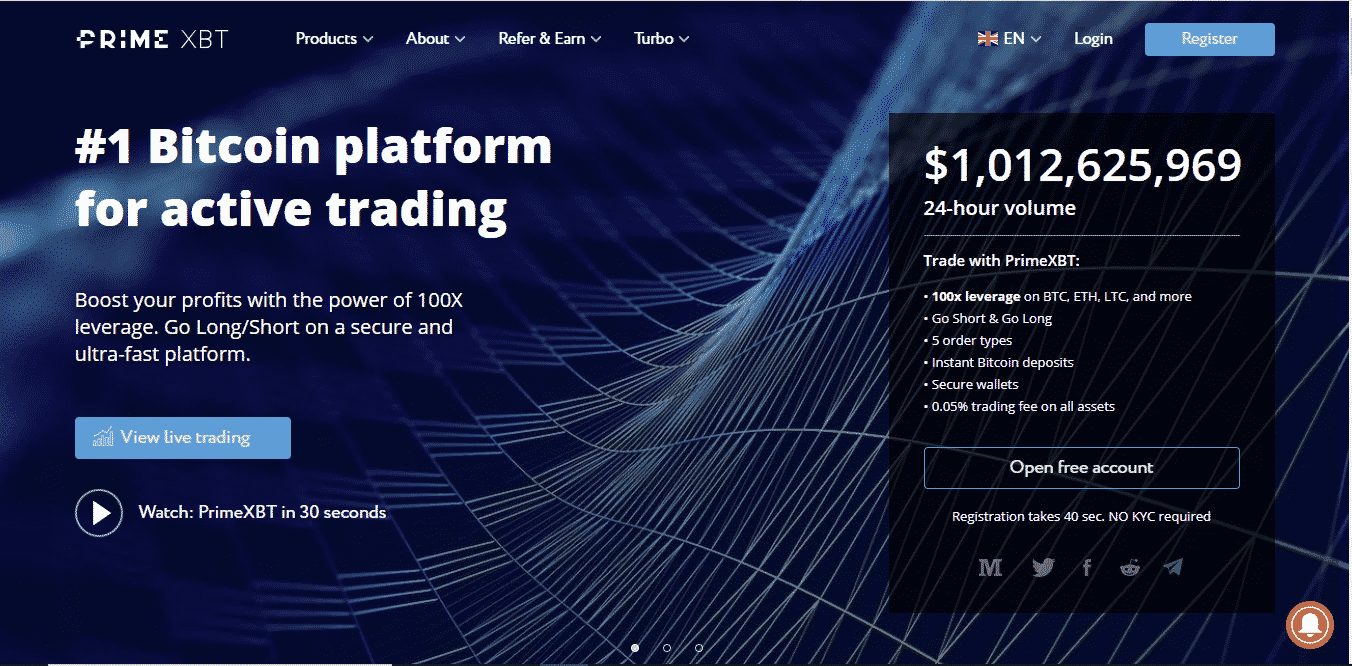 Most users appreciate the uniqueness of PrimeXBT's offer. What they like most about the brokerage is:
The functionality of its trading platform. The Turbo and the Covesting features are very popular.
The fact that cryptocurrencies do not represent the only focus of the brokerage. The broker has made other, more 'conventional' markets available for trading as well.
Transactions that are settled in bitcoin.
The customer support.
The user interface, which some traders find attractive and very easy on the eyes.
Some feedback providers have simply stated that they like everything about the brokerage.
As mentioned, the majority of PrimeXBT's user feedback is positive. There are a few complaints, however, as one might expect.
Some users do not like the trading platform. It has been called simple and slow. Some have derided the iPhone app as being less than ideal as well.
As always, some users have called the broker a scammer. At least one such user did not understand how leverage worked, which is why he/she lost some minute funds.
Some of the complaints refer to delays in the release of the Covesting module. That module is not live yet.
Some traders consider PrimeXBT to be less than ideal for the trading of 'conventional' assets, such as stocks.
The team behind PrimeXBT seems very keen on addressing all complaints as well as positive feedback. They are indeed on top of the situation in that regard.
Who are behind PrimeXBT? Is the broker regulated?
The company behind the PrimeXBT brand is PrimeXBT Trading Services Ltd. Founded in 2018, this corporate entity is registered in the Seychelles. Its company registration number is 206865.
Another company also belonging to the PrimeXBT fold is Prime Technologies Ltd. This too is a registered corporate entity. Based in St Vincent and the Grenadines, the registration number of this corporate branch is 25369BC2019.
The headquarters of the operation are located at First floor, First St. Vincent Bank Ltd Building, James Street, Kingstown, St. Vincent and the Grenadines.
PrimeXBT maintains three physical offices and it currently has more than 40 employees. The operation relies on more than 12 liquidity providers and it processes more than 500 million dollars worth of trading every day.
The brokerage is regulated by the local SVGFSA of St. Vincent and the Grenadines. As of July 5th 2020 they have a acquired a ASIC regulation.
What this means is that the brokerage is not MiFID compliant. Since it observes no KYC policy, this is hardly surprising. According to the official site of the broker, PrimeXBT does not accept clients from countries that require special licenses, accreditation, or regulation.
The brokerage aims to harness the privacy features, censorship resistance and permissionless nature of bitcoin to conduct its business.
PrimeXBT is not a dealing desk broker.
Platform and Tools
| Feature | PrimeXBT |
| --- | --- |
| Virtual Trading(Demo) | |
| Desktop Platform (Windows) | |
| Desktop Platform (Mac) | |
| Web Platform | |
| Social Trading / Copy Trading | |
| Proprietary | |
| MetaTrader 4 (MT4) | |
| MetaTrader 5 (MT5) | |
| cTrader | |
| Currenex | |
| ZuluTrade | |
| MirrorTrader | |
| Charting - Drawing Tools(Total) | |
| Charting - Indicators / Studies (Total) | |
| Watchlists | |
| Order Type - Trailing Stop | |
As mentioned, PrimeXBT relies solely on its proprietary trading platform. It does not currently support MT4 or MT5.
The PrimeXBT platform is attractive, its functionality is good, and its features are sufficient. Charting-wise, it is surprisingly comprehensive and powerful.
PrimeXBT's platform supports scores of time frames, drawing tools, and chart types. It offers an impressive number of technical indicators, as well as the possibility for traders to keep their eyes on several charts simultaneously. Users can customize their chart layouts while analyzing their trading history and tracking their activity.
Users are free to set up custom workspaces. The platform allows for regular trading, one-click trading, and double-click trading.
Regular trading opens up an order window and requires order confirmation before trade execution.
One-click trading is all about speed. It lets traders create new orders, cancel working orders, and close positions without confirmation, at a single click.
Double-click trading lets users accomplish the same, at two clicks. A single click in this trading mode opens the order window or a confirmation window before closing a position.
In addition to all the trading-related features and widgets, the app also offers two quirky and popular trading tools.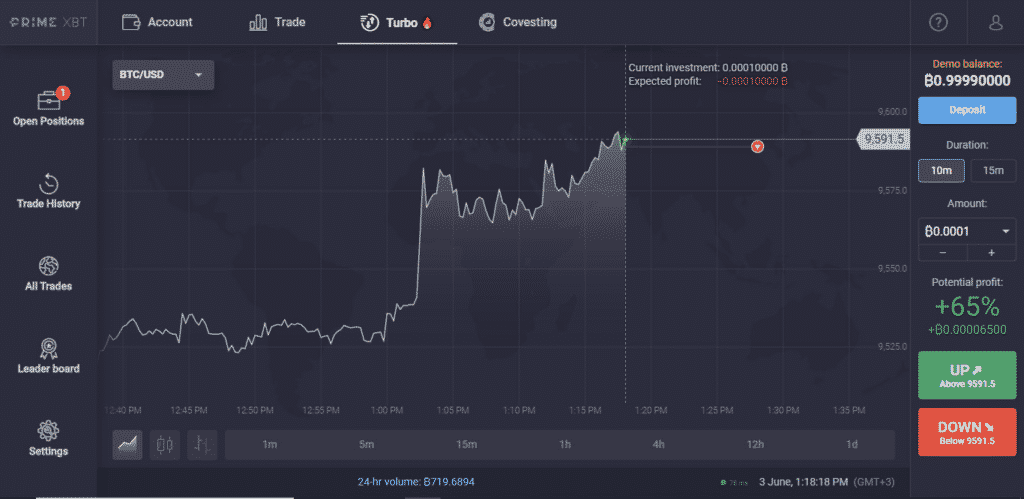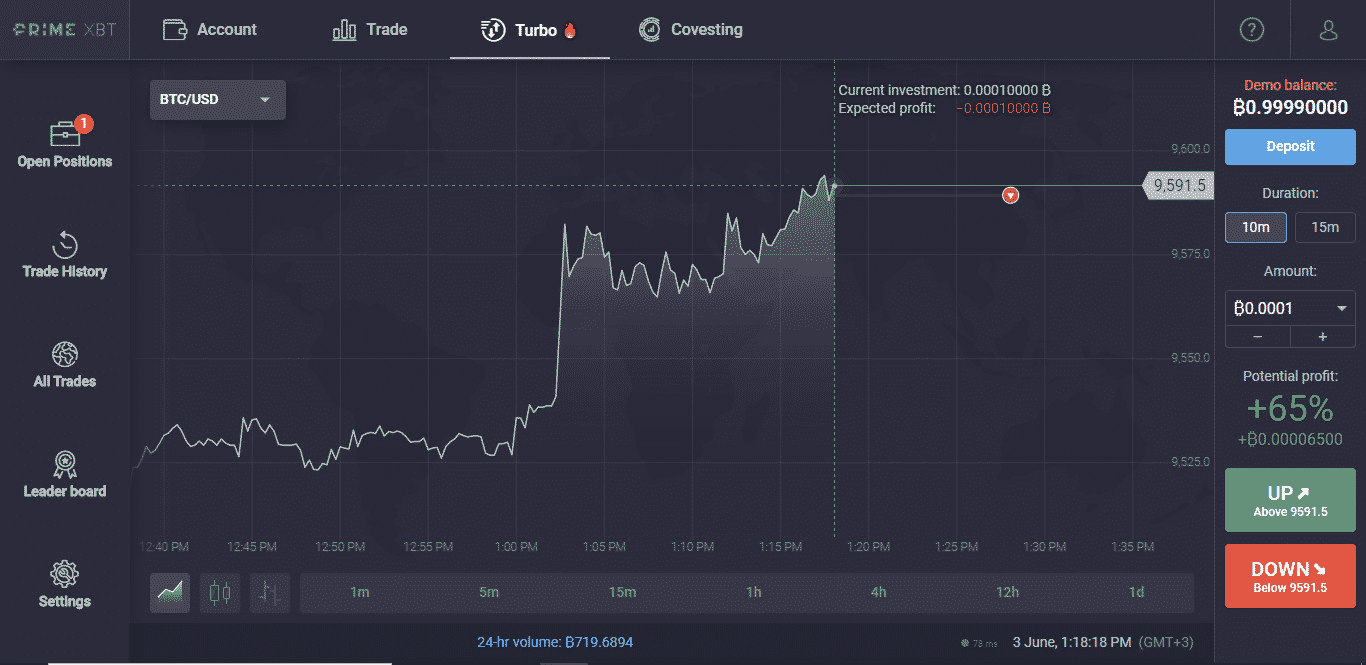 The Turbo feature lets traders bet on the direction of the price movement, with 1-minute and 5-minute expiries. This is lightning-fast trading, featuring attractive charting, as well as a Demo option. We have to point out that the main trading section does not currently support Demo trading. In Turbo mode, traders get a virtual balance of 1BTC.
Covesting is PrimeXBT's social trading feature. It is not live yet, although it is already available in what one could call a preview mode. Traders can select from scores of experts, whom they can then follow and benefit from their winning moves. The platform offers detailed statistics on these experts, complete with a chart of their performance.
Asset Classes
Given its crypto-focused nature, the broker supports an impressive number of tradable assets, covering Fx, stocks, indices, and some commodities.
As far as the crypto selection is concerned, users can trade BTC, ETH, EOS, LTC, and XRP in various combinations. The crypto/USD pair of each of these assets is available, together with a combination of crypto/crypto pairs.
The maximum leverage on crypto assets is 1:100.
The Fx selection is fairly run-of-the-mill. You can find most majors, minors, and exotic pairs you may want to trade. The trading conditions on these assets are also reasonable.
The CFD offer of the broker is limited to energies and indices. Of these, crude- and Brent oil, and natural gas are the most prominent.
Gold and silver are available for trading as well.
Commission and Fees
PrimeXTB's average spread on its supported assets is 0.4 pips. The broker charges two types of fees based on what assets its users trade.
Crypto assets carry a 0.05% trading fee.
This fee is 0.01% for indices, commodities, and Forex pairs.
The broker calculates its fees on a per-trade basis. All fees are flat.
In addition to the above, the broker also charges a withdrawal fee of 0.0005 BTC. Withdrawal is possible once per day.
Research and Education
| Feature | PrimeXBT |
| --- | --- |
| Daily Market Commentary | |
| Forex News | |
| AutoChartist | |
| Trading Central (Recognia) | |
| Delkos Research | |
| Acuity Trading | |
| Social Sentiment - Currency Pairs | |
| Client Webinars | |
| Client Webinars (Archived) | |
| Videos - Beginner Trading Videos | |
| Economic Calendar | |
| Calendar Includes Forexcasts | |
| Economic News Sentiment | |
| Trade Ideas - Backtesting | |
Education-wise, PrimeXBT is in a class with the best online brokerages. It supports a wide range of research and education tools.
Forex news from top-tier sources.
Daily market commentary.
Trading Central.
Delkos research.
Social sentiment analysis.
Webinars.
Videos.
An economic calendar including forecasts.
Trade ideas as well as strategy back-testing.
Customer Service
The easiest way to get support at PrimeXBT is through the live chat feature of the trading platform. While logged into your trading account, go to the top right corner, select the question mark, and then chat.
The Help Center of the brokerage does not seem to be online.
In addition to the Chat feature, you can request information on PrimeXBT through info@primexbt.com. The technical support email address is support@help.primexbt.com.
Mobile
| Feature | PrimeXBT |
| --- | --- |
| Android App | |
| Apple App | |
| Charting - Draw Trend Lines | |
| Charting - Can Turn Horizontally | |
| Charting - Technical Studies/Indicators | |
| Watchlist - Syncing | |
| Trading - Forex | |
| Trading - CFDs | |
| Alerts - Basic Fields | |
The PrimeXBT platform is available in mobile versions for Android as well as iOS devices.
Graphically, the mobile apps look the same as their web-based counterpart. They also offer the same features. The Android app carries a rating of 3.5 stars out of 5 in the Play Store. The rating of the iOS app is 3 stars out of 5. The overwhelming majority of mobile PrimeXBT users like the apps.
Conclusion
PrimeXBT offers some truly unique selling points. By leveraging the features of bitcoin, it gives traders a chance to trade without KYC, while creating an attractive use-case for blockchain technology.
The fees and trading conditions at PrimeXBT are reasonable. The platform is great. The more familiar you get with it, the more you learn to appreciate it. The broker is regulated. It does not accept traders from the US and a host of other countries where online trading is illegal.
PrimeXBTs Turbo feature offers a great way to gamble on the price swings of underlying assets.
Comments on PrimeXBT