---
General
Broker:
StormGain
Company Name:
Stormgain
Founded:
2019
Regulator:
-
Payment Methods:
Credit Cards, Cryptocurrencies
HQ:
St. Vincent and the Grenadines
Publicly Listed:
No
Features
Min. Deposit:
$0
Leverage:
Up to 300
US Clients:
No
Dealing Desk:
Yes
Managed Accounts:
No
Pros
- All in 1 platform - Trading platform, Crypto wallet and Exchange
- Up to 300 leverage
Cons
- No Metatrader 5 support
---
StormGain Review
StormGain is a well-regarded, cryptocurrency-focused online trading and learning destination that acts as a portal for cryptocurrency investments. Through StormGain, users can buy cryptocurrencies, store them in their online wallets, exchange them, trade them, and mine them through a cloud-mining option.
If you do not know the StormGain brand, you will be surprised to learn how popular and appreciated it is among traders. The operation has entered some high-profile promotional partnerships as well, one of these being with prestigious Italian football club S.S. Lazio.
Unlike most CFD-based online brokers, StormGain allows its users to profit off the price-movements of various crypto/crypto pairs, as well as long-term investments by buying and holding actual crypto coins.
The company behind the platform is Stormgain LLC, registered in St. Vincent and the Grenadines, under company number 312 LLC 2020. The headquarters of the company are at Hinds Building, Kingstown, St. Vincent, and the Grenadines.
The CEO of StormGain is Alex Althausen. Other people involved with the platform are Paulius Slazys, Jose Ignacio Veliz, Vera Beliavsky, and Richard Veljkovic.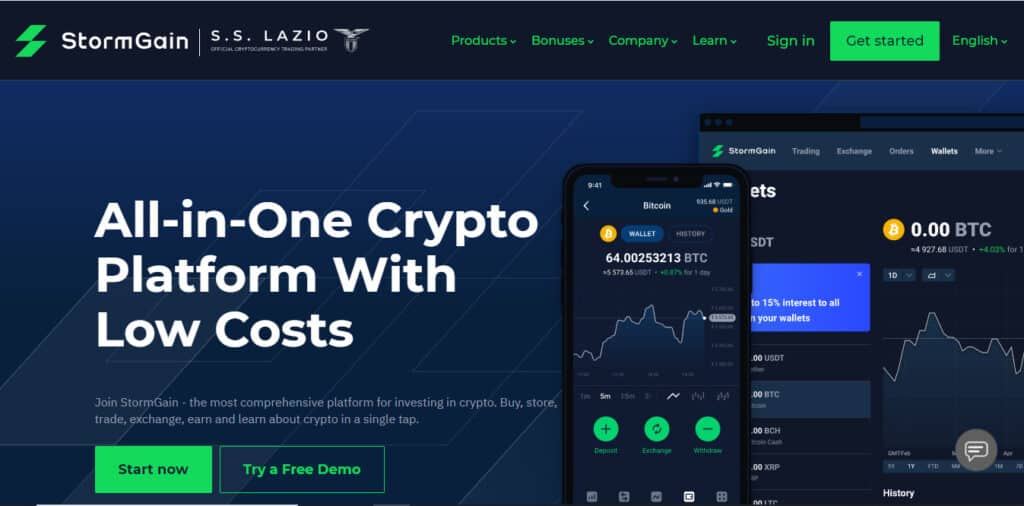 The regulatory status of the operation is unclear. According to the legal documents presented on its website, it observes an AML policy in-line with domestic and international regulations. This policy covers the proper identification of its users, record-keeping, and the identification/monitoring of suspicious transactions.
With the above in mind, would-be StormGain users should be aware that the company may require various documents from them to prove their existence as a real natural/legal person.
The refund policy of the platform states that by the nature of its operation, StormGain does not make any refunds. Users are, however, free to get funds from their accounts through the normal withdrawal procedures.
What do users like about StormGain?
The overwhelming majority of those who have used StormGain for one purpose or another, like the operation.
Many users appreciate the cloud-mining feature of the platform. The feature may not be particularly lucrative, but most users perceive it as an educational tool, and in that role, it does indeed excel.
The platform intends to educate its users about cryptocurrencies and the technology that underlies them. Scores of users say they have learned the basics of digital ledger technology through StormGain.
Others love the exchange and how simple it is to operate.
The mining income, as meager as it may be, is free. Thus it makes a superb perk for those looking to buy/trade cryptocurrencies.
Other users have pointed out the affordability and the beginner-friendly nature of the operation.
What do users dislike about StormGain?
Going against the overwhelmingly positive user sentiment, there are some dissenting voices.
Some users have complained about the tedious nature of the StormGain cryptocurrency cloud mining option. It is hardly a surprise, however, that cryptocurrency mining is so tedious and stingy with its rewards. Bitcoin mining has long ceased to be profitable for anyone but the biggest miners with the most powerful ASICS. Other popular cryptocurrencies have since had mining difficulty increases as well. Legitimate mining is painstakingly slow and only marginally profitable. Anything the promises you attractive returns on mining is likely a scam. In StormGain's case, the mining feature is intended as a perk for users who want to earn some change. It is a curiosity that ushers beginners into the world of crypto on the right foot, and not much more.
Other users have complained about the platform locking up their funds pending "Account Verification". Such incidents may be in line with the platform's AML policies.
Some users have failed to transfer various crypto coins to the exchange and have allegedly received no assistance from StormGain support.
According to some traders, the trading signals the platform offered them were of poor quality, resulting in losses.
Some complaints concern the allegedly arbitrary blocking of accounts that have accumulated some profits from mining.
StormGain is currently present in over 100 countries and serves more than 120,000 clients worldwide.
Why should you become a StormGain client?
The platform is a one-stop-shop for crypto. It offers beginners a simple and attractive way into the realm of cryptocurrencies, teaching the basics as well as trading, and providing trading signals.
StormGain is popular with traders. Its 24h volume is an impressive $152 million.
It offers traders leverage of 200x, opening the way for fabulous profits.
While it does charge commissions for everything its users do, StormGain's pricing is fair, and its trading conditions are attractive.
The mobile app allows users to take StormGain's services with them wherever they go.
The crypto storage of the platform is secure, withdrawals are fast, and user privacy is guaranteed.
The broker offers a 12 percent annual interest on crypto deposits.

Popular tokenized instruments are available in the StormGain platform. From now on StormGain clients are able to trade with popular Robinhood tokenised stocks. New "Tokenize" promo materials are already available in your personal account.
The StormGain Platform and Tools
StormGain's platform is a proprietary, browser-based solution, offering access to a wide range of trading instruments and advanced trading tools.
The compatibility of the platform is outstanding. It works with all major browsers, and users can access it through mobile device-based browsers as well.
The StormGain trading interface is simple, highly functional, and it looks good. The site covers a selection of crypto/trading news to help with fundamental analysis. The platform supports advanced charting, complete with technical indicators, to cover technical analysis. Under the chart section, the interface features a squawk box-like news ticker that also helps with the fundamentals.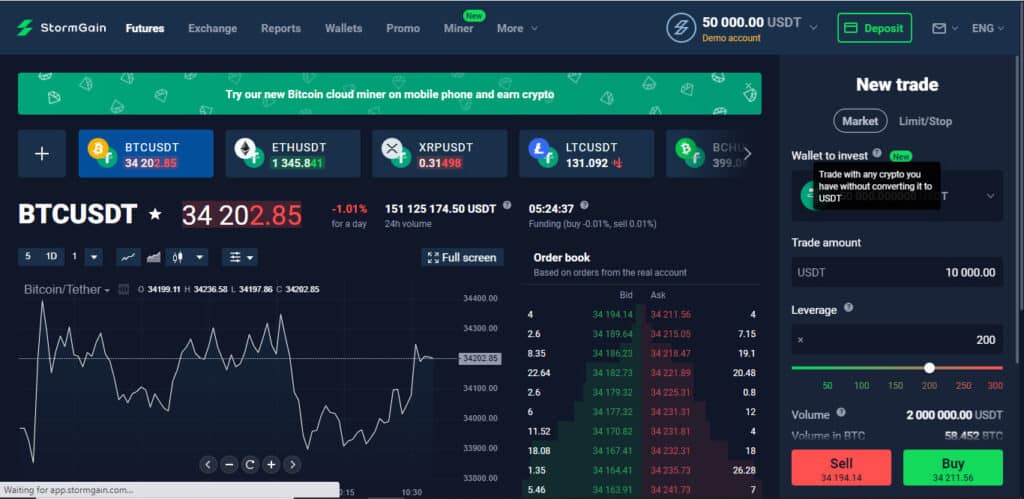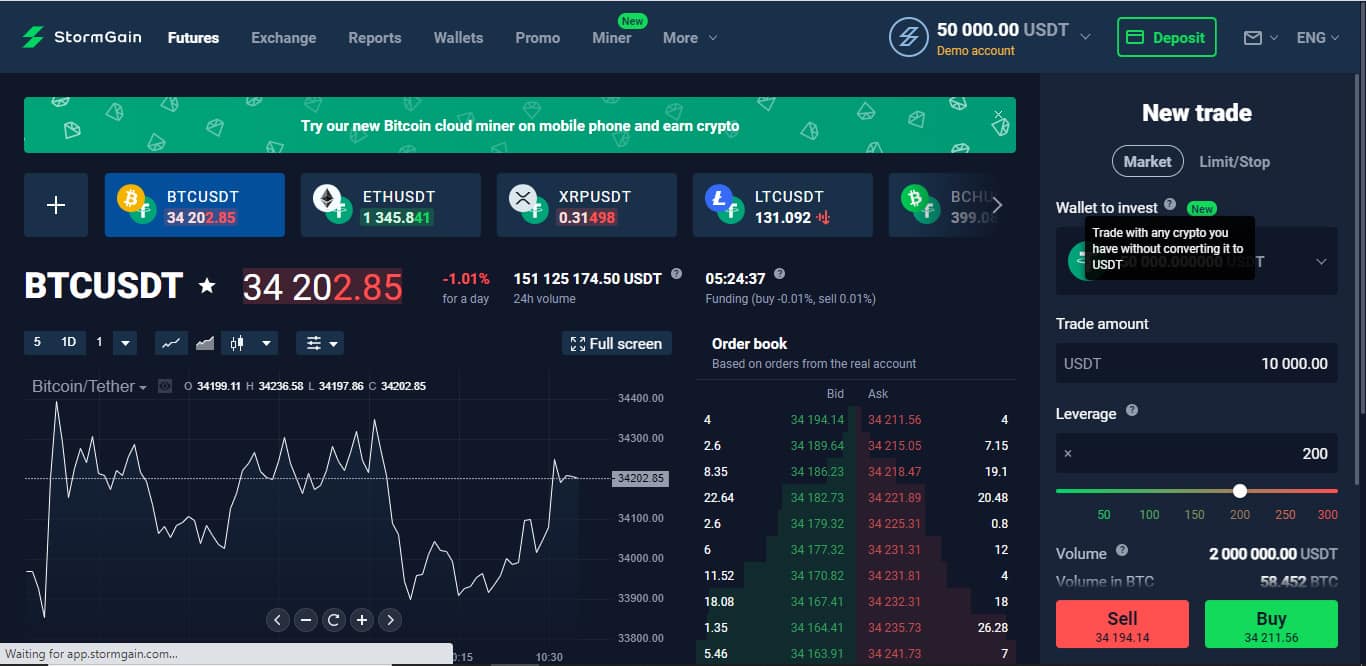 Charting is available in futures trading as well as exchange mode.
The selection of available time frames ranges from one minute to one month. Traders can set several graph types, from lines to candlesticks, hollow candlesticks, and bars.
StormGain's selection of technical indicators features three categories: trend indicators, oscillators, and volatility indicators. In the context of cryptocurrency trading, we have found this categorization handy and relevant.
Traders who rely on technical analysis will be pleased to learn that the platform supports full-screen charting. In this mode, scores of drawing tools pop up, while the news ticker remains active at the bottom.
Through the main dashboard of the platform, traders can access every available StormGain service at a click.
The order books are available in exchange and futures mode, showing data from real accounts, even in the Demo version.
Opening a position in futures mode is as easy as clicking a Buy/Sell button. Setting the leverage is easy through a slider. The interface also allows the setting of Take Profits and Stop Losses to protect trades.
The StormGains wallet is another useful feature. Connected directly to the exchange, it supports an impressive number of crypto coins. Buying and selling coins through the exchange is as simple as clicking a button.
The trading interface also offers quick access to the miner, allowing users to keep track of their earnings.
Asset Classes
StormGain is an operation focused on crypto trading. As such, its asset selection consists of crypto/crypto pairs. Of these, the crypto/USDT pairs are the most numerous and popular.
In addition to these assets, the broker also covers a handful of crypto indexes that include three, five, or ten crypto pairs. Trading these baskets makes sense for those looking for wider exposure to diverse crypto markets.
Commissions and Fees
StormGain earns its money off the commissions it charges on trades and exchange transactions. On its Fees and Limits page, the website of the broker offers detailed information in this regard, covering every available asset.
If you exchange the BTC/USDT pair, the minimum exchange size is 0.00001 BTC. And the commission is 0.095 percent. On the same pair, the average trading commission is 0.04 percent.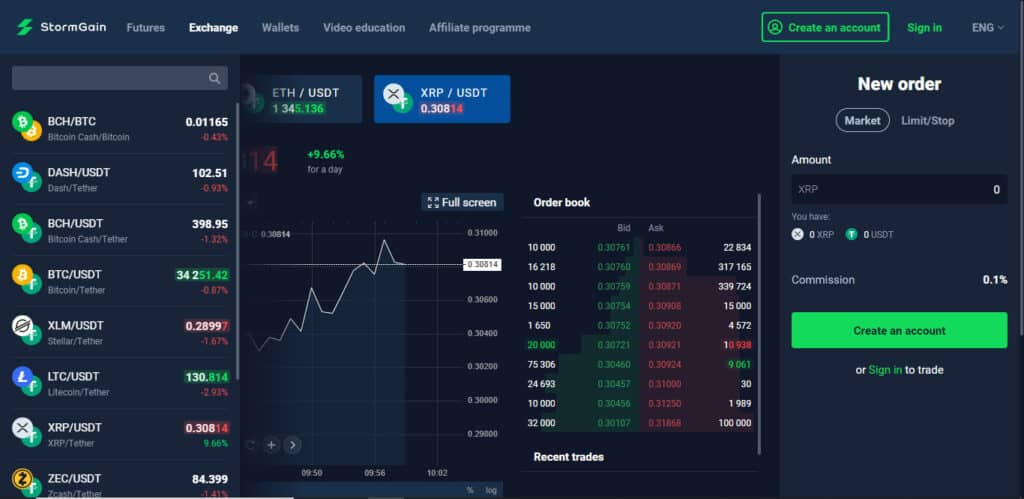 Traders also pay commissions on credit/debit card deposits. With USD, the minimum deposit amount is $50, and the minimum commission is $10. Users cannot deposit more than $20,000.
Research and Education
In addition to basic education on buying and withdrawing cryptocurrencies, StormGain also offers a video education section, where it discusses its trading tools, market insights, and advanced technical analysis lessons, among other perks.
Customer Service
The handiest way to contact StormGain support is through the live chat feature and a dedicated Telegram group. Clients or would-be clients can also contact the broker through email (support@stormgain.com) and telephone (+248 467 19 57).
Mobile
StormGain offers Android as well as iOS mobile apps. The apps feature the same tools and functionalities as the desktop platform.
Downloading the apps is quick and easy. Setting up a Demo account is perhaps easier through the mobile app than the desktop platform.
Conclusion
StormGain is certainly an interesting crypto service provider. It covers wallets, exchange services, trading, as well as cloud mining, and deposits. The 12 percent annual interest on crypto deposits is a unique feature that makes the operation stand out.
Other than that, the broker features a solid trading platform, a decent selection of tradable crypto-assets, and good support.
The regulatory profile of the broker is unclear at this point.
The crypto mining feature is an interesting touch, but traders should not expect to generate significant profits through it.
Comments on StormGain