There is too much volatility in cryptocurrencies
They fail the test of being "money" as there is no source of final accountability
Delaying SegWitz2X is not progressive
It is correct to call Bitcoin a commodity
A lack of volatility can destroy a market. If an asset just goes up, or just goes down, there is no incentive to trade and the market place begins to resemble a hushed library as against a tide of ebb and flow. The market loses its purpose, dealing is diminished and market breadth is curtailed.
In contrast, too much volatility can create such a sense of confusion and extremes of joy and despair that the market becomes equally difficult to get to grips with. It is like catching a falling knife.
That appears to be the case with the leading cryptocurrency, Bitcoin, at the current time. Over the last month the market metrics read as follows:
Highest: 7,895.00 Lowest: 4,815.10 Range: 3,079.90 Average: 6,245.88
Total Days 31 % Gain: +63.48%
Days Up: 18 Avg % Up: +3.84% Highest: +12.51%
Days Down: 11 Avg % down: -2.12% Lowest: -8.21%
Certainly, the performance over the past 12-months has been nothing short of a wild and at times crazy ride.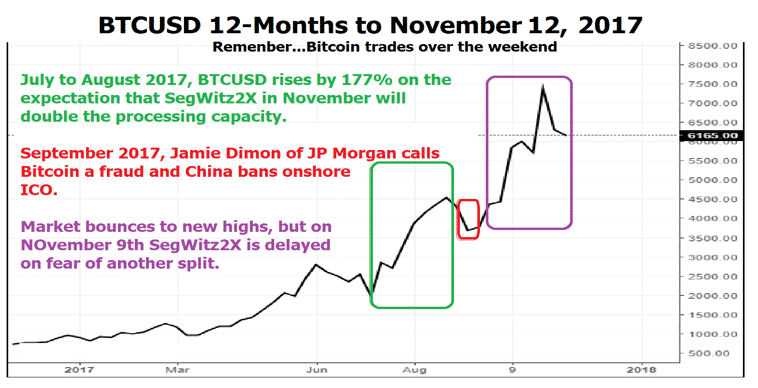 Source: Spotlight Ideas
An odd few days
Given that investors…or should we simply say, "speculators" can trade Bitcoin over the weekend the hours straddling Saturday and Sunday has seen the price of Bitcoin US Dollar, i.e. BTCUSD demonstrate extreme volatility, declining to $5,500 at one point. Since hitting a new weekly low, it has recovered to $6,165 as at 14:00 GMT on November 12th, 2017.
I feel somewhat vindicated as in a presentation I gave in London on Thursday, I suggested that if the price rallied in July and August because the new gateway, SegWit2X would open on greater volume then why should it rally for long when the gateway was delayed? Certainly, one could understand a minor move higher as a potential third split in the currency would be avoided…however, this was not sustainable.
Therefore, I see the recent decline in the price of Bitcoin being a direct result of the realisation that for now, at least, miners of Bitcoin will have to be content with a block speed of just 1.0Mb/7-minute period.
One unexpected side effect has been that whilst a new split has been avoided the original spinoff currency, Bitcoin Cash has surged and then fallen again. It appears the movement of SegWit2x supporting investors, and speculators are looking toward Bitcoin Cash with one unified vision.
Consequently, the price level of Bitcoin Cash has increased from $600 to $1,500 in the past week, reaching $2,800 earlier on Sunday. However, volatility is in the DNA of these currencies for as the price of Bitcoin Cash plunged from $2,800 to $1,500, the price of bitcoin recovered, from $5,700 to $6,165.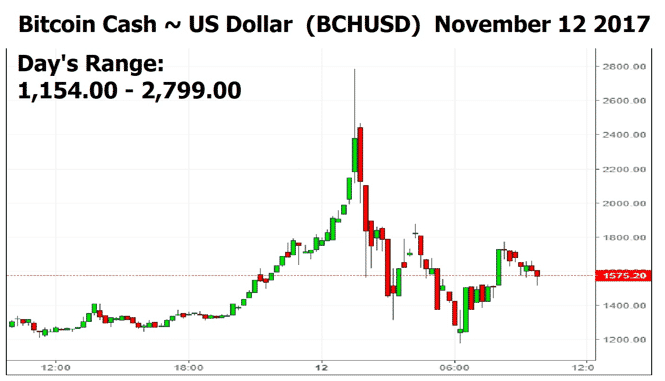 Source: www.investing.com
Such volatility has rarely been seen in currencies, perhaps only when there has been a developing country currency crisis or maybe when Sterling was pitched out of the European Exchange Rate Mechanism on September 16, 1992.
Bitcoin as a commodity, not a currency
On October 31st, the CME Group, the world's largest derivatives trading house by volume announced that it would launch trading for Bitcoin futures contracts before the end of the year. This is subject to the approval of U.S. Commodity Futures Trading Commission (CFTC).
Bitcoin's price has seen a steady bull trend since the announcement, rising more than 10% the following day. It continued to hit all-time highs throughout that week. Ironic in that a futures contract would make playing the short-side more accessible.
However, one reason for the rally was that a Bitcoin futures contract will greatly increase the probability that a Bitcoin exchange-traded fund (ETF) will be approved. The U.S. Securities and Exchange Commission (SEC) previously requested fund managers to withdraw their registration statements for Bitcoin ETFs, since they would be an unregulated investment, The SEC requested they wait until regulated derivatives for Bitcoins became available.
This would reinforce the view that Bitcoin cannot be considered a currency. Mohamed El-Erian, Chief Economic Advisor at the German financial institution Allianz said that currencies normally serve as a store of value, but that they must be predictable and stable to work as a medium of exchange.
El-Erian is not the first major figure in mainstream finance to view Bitcoin as more of a commodity than a currency. The Governors of the Bank of Mexico and the Bank of Korea both gave similar assessments this year, as did the U.S. Commodity Futures Trading Commission in 2015.
Tighter regulation expected
Regulation for crypto or virtual currencies is seen by many financial authorities as appropriate and necessary simply because they should be regarded as a commodity. With legal identity such as central bank behind them they do not operate at the level of legal currency.
It appears that work in this area has already advanced in some form as in August there were calls in several nations for tightened regulations to apply to cryptocurrency exchanges given the sharp swings in direction and the almost unbearable volatility.
One of the real ironies is to be seen in that it is the world's oldest central bank, in Sweden that has led the way in conducting virtual currency research and sought to control the spinning top of free ranging cryptocurrencies by being a long way along the path toward introducing an "eKrona" to run alongside the main currency.
Whatever the future may bring, the wild and free, unbridled days of the crazy crypto casino are numbered.
Read more macroeconomic analysis