Bitcoin and other cryptocurrencies suffered a woeful week
The potential for much tighter regulation grows each day
The diehard believers think this is the right time to buy
Is the risk that it is all a Ponzi Pyramid worth it…probably not
Bitcoin has been under pressure in the past week like never before. Just as a hot knife cuts a swathe through butter, so the price chart seemed to melt before one's eyes as the most famous of the cryptocurrencies collapsed to a year to date low.
The market, has in the last fortnight, been battered on all sides as negative news from India regarding taxation on gains and Netherlands in the form of an outright ban piled the pressure on it. It is no surprise to hear that the cryptocurrency recorded its worst monthly performance in January.
Bitcoin fell to its lowest level this year on February 2, touching BTCUSD 7974.14 at 12:00 GMT. This was the lowest point since November 24, 2017, when it was in the middle of an impressive rally that surprised investors.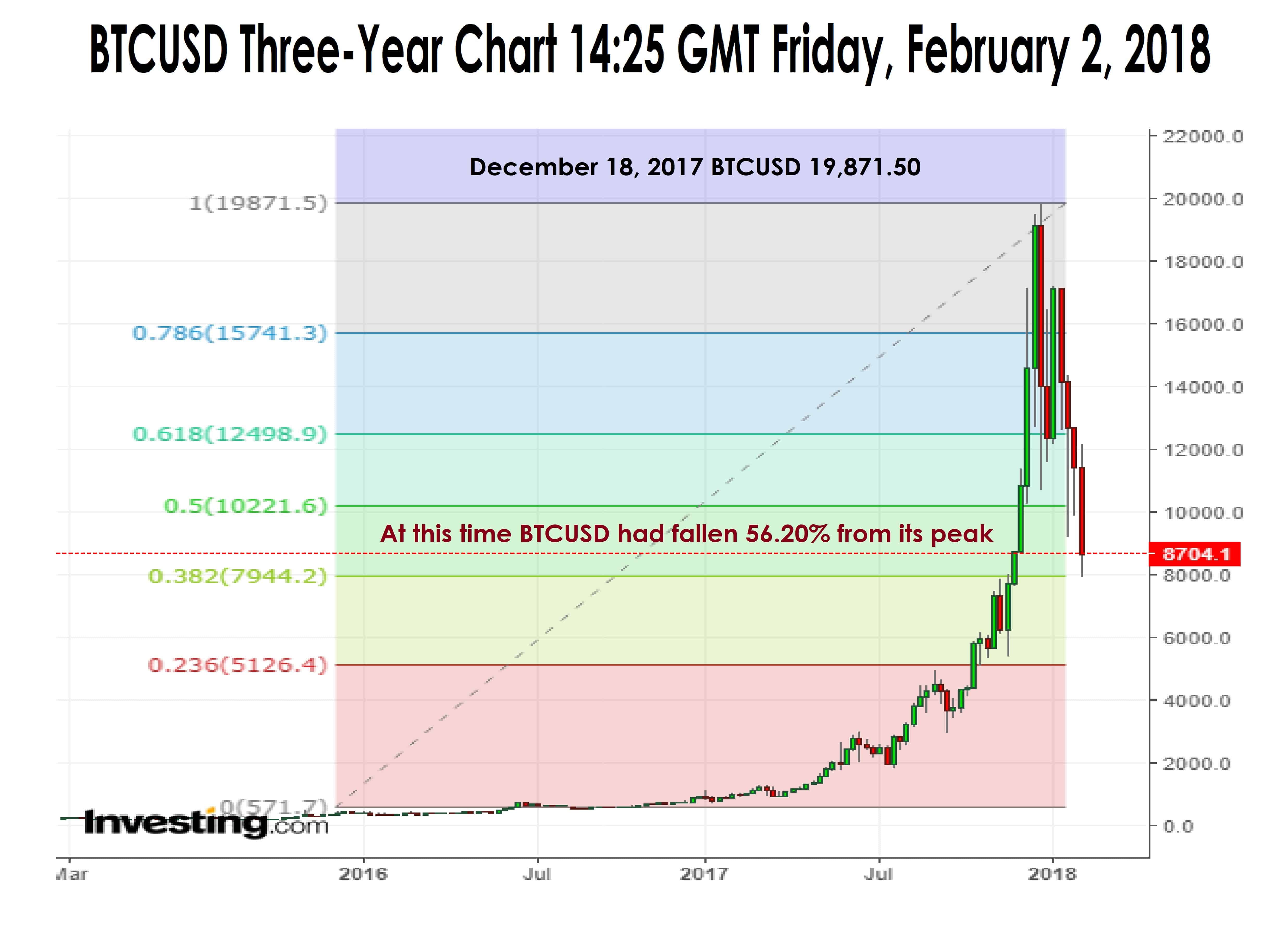 Source: www.investing.com, Spotlight Ideas
Breaking down the pressure points:
India's Finance Ministry has pledged that it is seeking to eliminate the use of digital currencies by criminals. That follows their plan to tax crypto capital gains and echoes similar warnings from politicians in the UK, US and South Korea. Lawmakers, on a global basis see a need to stop clandestine earning being laundered through the anonymity of crypto currencies.
On top of this there is the investigation into Bitfinex (a leading digital currency exchange), and the cryptocurrency Tether.
Tether (USDT) is a cryptocurrency that its creators claim is pegged to the U.S. Dollar, the pair is marked as USDTUSD. The idea is that it's much more stable than most digital coins that have huge price swings.
This much is true as in the past 12-months the statistics read as:
Hi: 1.0779 Lo: 0.8900 Average: 0.99286
 = 0.02157 and 2 = 0.04310 [Standard Deviation ()]
So, USDTUSD volatility is minimal with:
Hi less Average = 0.06796 = 1.85 and Average less Lo = 0.1083 = 2.5
The low was printed on April 24, 2017 and was an excessive downward movement as prices quickly returned to trade at less than one  from the average.
As we all know such analysis is nonsensical when it comes to Bitcoin. It is almost impossible on a chart whose rise was parabolic and it collapse akin to a sheer cliff face.
Regulators are questioning whether Tether, whose coins are used to trade digital currency, are fully backed by US Dollars as it claims. Currently, there are 2.2 Billion Tether in circulation, according to data from Coinmarketcap.com. So, unless the parties behind Tether has set aide a sum of $2.2 Billion…or the US Treasury or Federal Reserve have a new announcement to make ne would imagine USDT is not as good as a Dollar.
While Tether has said all of its coins are backed by U.S. dollars held in reserve, the company has yet to provide conclusive evidence of its holdings to the public or have its accounts audited. I am with the sceptics and question if the money is there?
As the wheels come off, Roubini says Bitcoin is the "biggest Ponzi scheme
It feels like this was the week when the wheels came off the Cryptocurrency carriage as the rocky road of regulation, the traffic controls of taxation and the limits of legitimacy are placing the entire crypto domain under intense pressure.
Roubini claims that "…charlatans and swindlers…" drove digital currencies to record levels last year, before cashing their profits. The victim id the ordinary investor that bought into the hype of Bitcoin when it was trading around BTCUSD20,000. They have lost between 50% and 60%.
Former Wells Fargo Chairman and CEO Dick Kovacevich told CNBC in January that he believes bitcoin is a scam.
"…I think it's a pyramid scheme. It makes no sense. …"
However, when Nigeria's lawmakers think Bitcoin is one big financial scam then one really has to be scared!
The Senate has asked Nigeria's central bank and other regulators to investigate the proliferation of Bitcoin and do more to educate citizens about the dangers of the cryptocurrency.
Their concern is driven by recent events after Mavrodi Mundial Moneybox (MMM), a Russian Ponzi scheme, became popular in Nigeria snapping up over two million users. After a strong run, during which the scheme returned investors with 30% interest rates per month, it collapsed in December 2016. Nigeria's central bank estimates that users lost $50 million!
We just wonder how "Mr Changeyourmind" Jamie Dimon at J.P. Morgan Chase is feeling?
Fraud or fatigue?
Bitcoin looks like it was broken last week as it could not hold the BTCUSD 10,000 or 9,000 levels that it had defended so valiantly in early January. The fact that the loss of value was not just in Bitcoin but in Bitcoin Cash, Ripple, Cardano and Litecoin as well starts to make one think that the market is beset with fatigue.
Is this just a deep market shakeout, an inflection point where there is a distressed investor capitulation? Or could this be a sign that the craze has peaked and many investors who are just highly speculative have lost faith and are looking elsewhere.
However, there are the hard core investors who were early adopters and who may have sunk plenty of money into mining technology and are the die-hards who believe in "HODL" …hold on for dear life!
They will cling to the view that that there is a lot of "FUD" … i.e. fear, uncertainty and doubt that has penetrated the market because of the daily threats of restrictive practice regulation.
The true believers are suggesting that now, is in fact the precise moment to be bullish as they point to reduced transaction fees and the network growth of trading hubs.
The age-old lesson of market watching is that when "Lose Hand" investors or speculators exit then their offloaded assets are accumulated by the "HODL" advocates which has in the past augured well for price appreciation.
In contrast, no other asset has received such scrutiny and threatened legislative restriction. You buy Bitcoin et al if you want to…I will stick to assets that make sense. I may not get rich quick, but I sleep at night and not lose my shirt.
Read all macroeconomic articles here.