Macroeconomic/ geopolitical developments
A regulatory crackdown by Chinese authorities on large internet stocks saw Chinese share indices plunge and also saw some delayed and limited contagion effect on global stock averages.
We got the Fed decision on Wednesday last week, with a slightly more hawkish tone in the statement, but a slightly more dovish tone from Chairman Powell, stating the economy is still "a ways off" from "substantial further progress". Overall, this buoyed the broader "risk on" theme across financial markets.
Amazon earnings were worse than expected, seeing the stock plunge lower, but broader market indices weathered the Amazon storm.
The ongoing global spread of the COVID-19 Delta variant has left markets somewhat vulnerable to sporadic, "risk off" moves.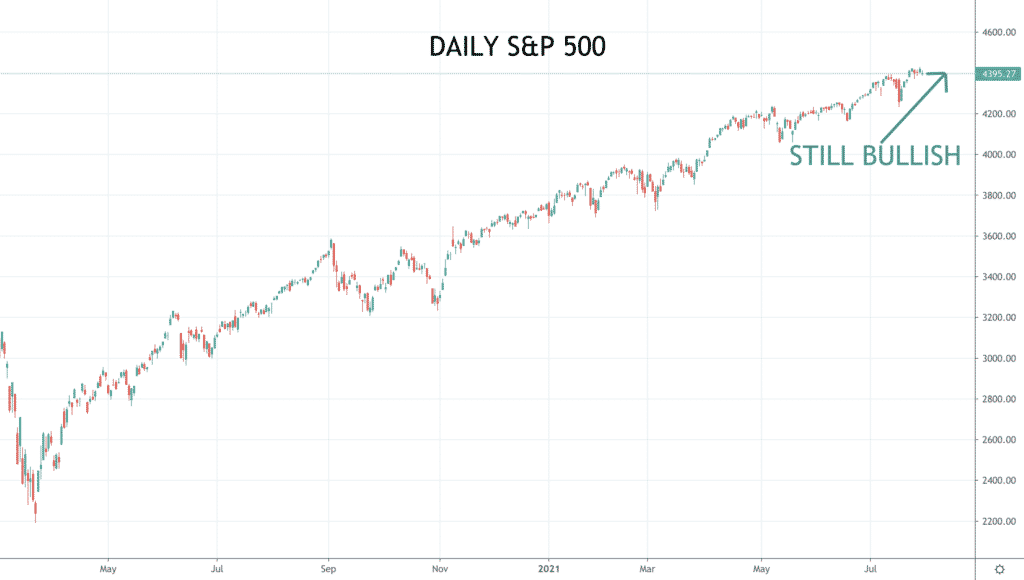 Global financial market developments
Global stock averages were erratic, selling off and rebounding through the week, but stayed broadly firm with the US indices making new record highs.
Global bond markets pushed towards lower yields, helped by the slightly more dovish tone than expected from Fed Chairman Powell.
The lowering of yields saw the US Dollar Index sell off.
EURUSD rebounded, but the underlying tone remains negative.
GBPUSD surged, easing the prior bear tone
Gold has rallied with the US Dollar weakening.
Oil has rebounded after its sell off from an early July extension to a new multi-year high.
Copper has based and is still trying to bounce.
Key this week
Geopolitics:

Monitoring the global spread of the COVID-19 Delta variant.

Watching for further global lockdown easings.

Central Bank Watch: We get the Reserve Bank of Australia (RBA) interest rate decision and statement on Tuesday and the Bank of England (BoE) interest rate decision and statement is on Thursday.
Macroeconomic data: Data standouts this week are the global Markit Manufacturing PMI and US ISM Manufacturing PMI on Monday and Wednesday respectively, then the US Employment report on Friday.
| | |
| --- | --- |
| Date | Key Macroeconomic Events |
| 02/08/21 | China Caixin Manufacturing PMI; German Retail Sales; global Markit Manufacturing PMI; US ISM Manufacturing PMI |
| 03/08/21 | RBA interest rate decisions and statement; New Zealand Employment report |
| 04/08/21 | Australian Retail Sales; China Caixin Services PMI; global Markit Services PMI; US ISM Services PMI |
| 05/08/21 | BoE interest rate decision and statement |
| 06/08/21 | EU Industrial Production; US and Canadian Employment reports |