EUR/GBP is up for the third consecutive day
The pair is resuming its main bull trend
Market is trading above its key moving averages
The target to the upside is located above and beyond 0.9000
Eurozone annual inflation rate was confirmed at 2.1% in July 2018, up from 2.0% in the previous month and the highest since December 2012. The main upward pressure came from energy and services, while food prices rose at a softer pace.
With the latter point in mind, Eurozone annual core inflation, which excludes the volatile prices of energy, food, alcohol and tobacco and at which the ECB looks in its policy decisions, was booked at 1.1% in July, above the previous month's final reading of 0.9%.
This confirmation encouraged the Euro Sterling (EURGBP) exchange rate to push higher as shown in the small channel in the chart below.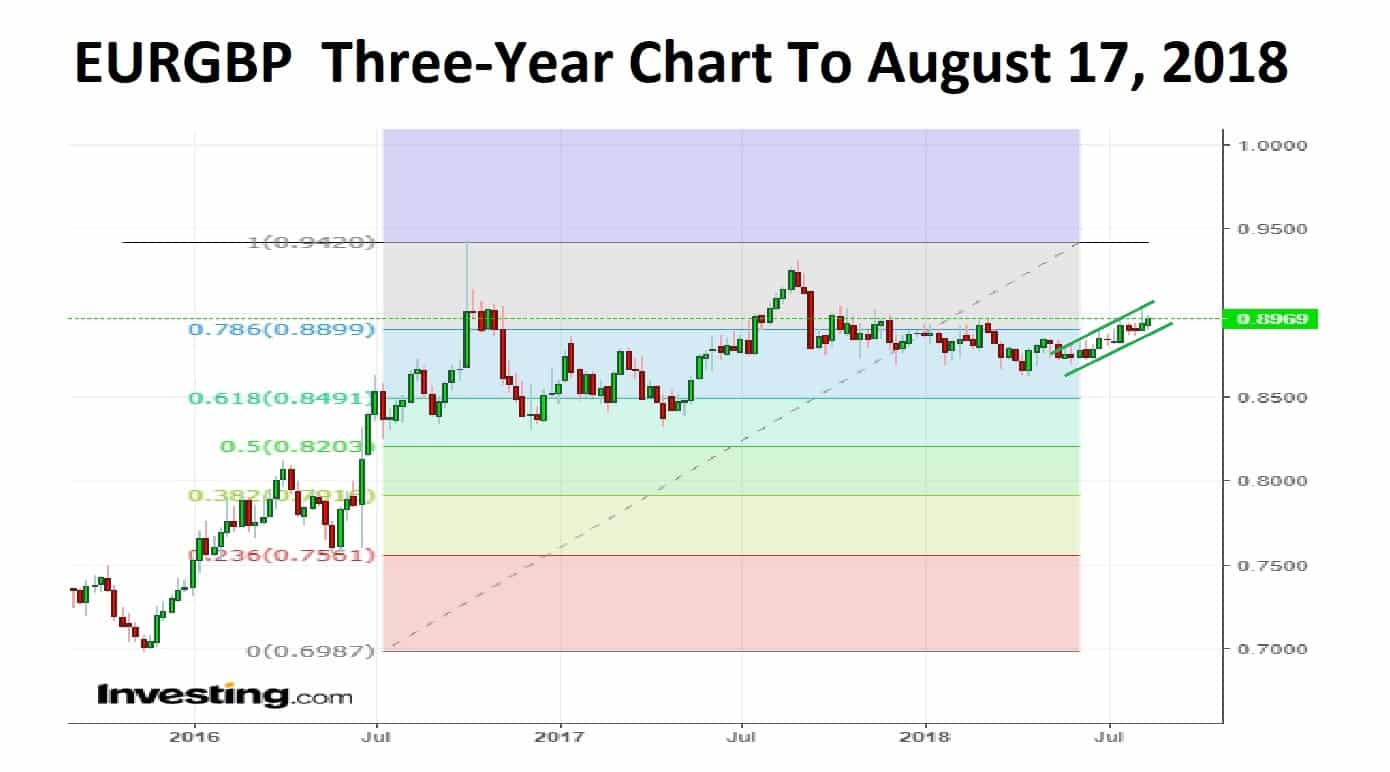 Source: www.investing.com, spotlight Ideas
The chart illustrates the decline of Sterling post the 2016 decision for the UK to leave the EU. However, for the past year the range has been quite stable with 0.8899 proving, until now to be a reliable resistance point. This still leaves Sterling 17.18% lower than it was before the referendum.
With inflation now above the European Central Bank's (ECB) 2.0% target rate the odds of further policy tightening have risen. Therefore, it is no surprise to see renewed energy to lift the Euro ahead of the weekend, helping to reverse the weakness brought on by the Turkish financial crisis. So, the question now is where will the Euro move to next?
Source: www.investing.com, spotlight Ideas
Our second chart shows that the targets one should be looking for are 0.9156 and depending on how the Brexit situation as well as the UK domestic political situation develops one could target 0.9430.
A note of caution
Of course, one must add a dash of caution as following the sad events in Genoa (Morandi Bridge) and the somewhat strident tone from Matteo Salvini (Deputy PM and Interior Minister) toward the EU one could see any Italian led fallout impacting the Euro.
The past week has fed back into a steady sell-off of 2-year Italian debt that exceeds a mild decline in the German 2-year. There is also some evidence that it was the 5 Star Movement that blocked expenditure on
(1) a tunnel to replace the bridge (2) maintenance of the bridge
A 5 Star website/open blog forum had also apparently said there was no risk of the Morandi Bridge collapsing. Could this lead to strains within the coalition? Italy does not need any more uncertainty now. The spread has widened to Italy Over Germany now standing at +195.8 bps from +133 at the end of July.