GBPUSD can be trading in an EW ending diagonal within higher degree wave C, with recent turn down representing corrective sub-wave 4), that looks to have found support at the lower EW trend line. Current rally that we see is part of wave 5) which must be structured by three sub-waves in order to complete an EW ending diagonal. A possible top and reversal zone for the pair can be found around the 1.340/1.350 area.
GBPUSD, 4h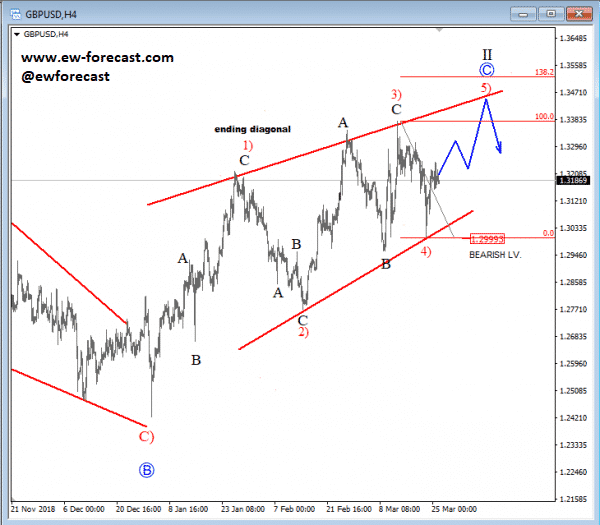 Now let's take a look at the intra-day structure on the GBPUSD.
Cable is heading higher to 1.3382 after the three wave drop to 1.300 followed by a five-wave rally away from that psychological level. Also, as we said above, on the 4h time frame we see an ongoing and incomplete ending diagonal, currently with wave 5) underway which should be made by three legs so more upside is in view after a wave B set-back. Intraday support is at 1.3140 area from where new leg up may occur.
GBPUSD, 1h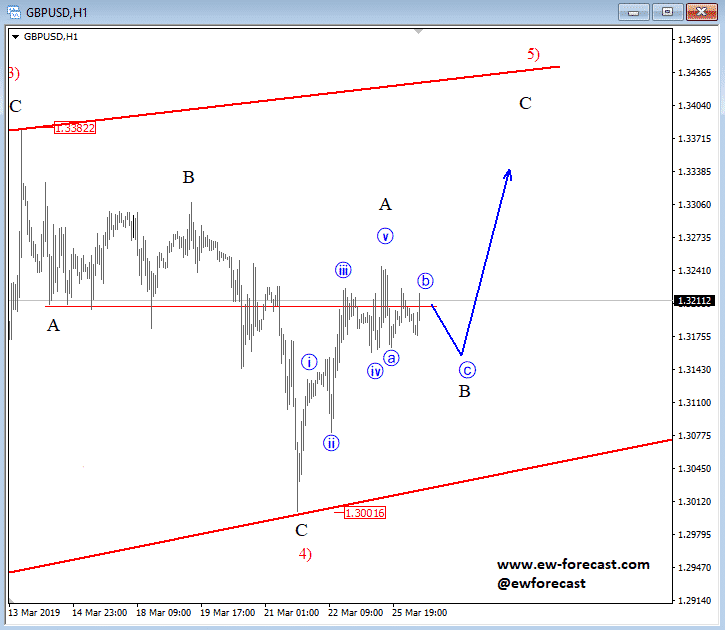 An ending diagonal is a special type of pattern that occurs at times when the preceding move has gone too far too fast, as Elliott put it. A very small percentage of ending diagonals appear in the C wave position of A-B- C formations. In double or triple threes, they appear only as the final "C" wave. In all cases, they are found at the termination points of larger patterns, indicating exhaustion of the larger movement.