GBP USD

Latest GBP USD Analysis and Forecast
Updated May 16th, 2021
US Dollar weakens in "risk on" environment, Pound mixed
The US Dollar has weakened across the board into mid-May, as global equity markets retain a "risk on" tone.
The Pound has renewed its strength against the US Dollar after a strong performance by the Conservative Party in May local elections.
However, the benefits from the impressive UK vaccine rollout are mostly priced in.
Rebound, still looking for a downside correction bias 
Day trade update and view
A rebound Friday after Thursday's plunge just below 1.4015 support to 1.4005, but whilst below 1.4111 we hang onto negative pressures from the mid-May breakdown  below 1.4104 and 1.4053 supports for a small topping pattern, leaving risks lower for Monday.
Day trade setup
We see a downside bias for 1.4005 and 1.3952; a break here maybe aims for 1.3918.
But above 1.4111 opens risk up to 1.4166 and 1.4182.
Intermediate-term outlook
The early May surge above key 1.4005/26 resistances signalled an intermediate-term shift to a bull trend.
Upside risks: We see an intermediate-term bull trend to aim for 1.4377 and maybe towards 1.5000/19.
What changes this? Below the 1.3801 shifts the intermediate-term bull trend straight to an intermediate-term bear trend.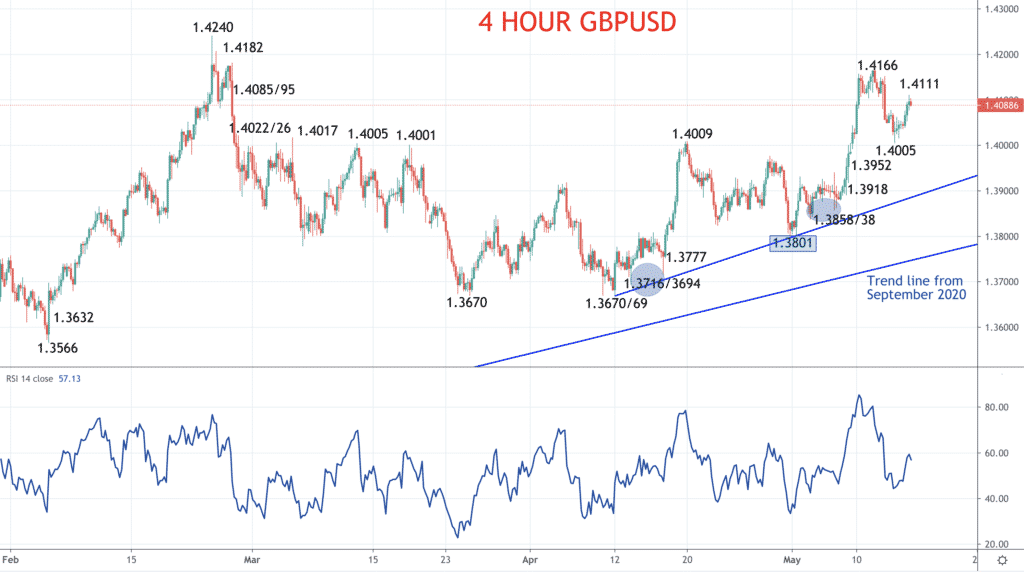 GBP USD Calendar
17/05/21 China Industrial Production & Retail Sales
18/05/21 Japanese GDP; UK Employment report; EU GDP; ECB's President Lagarde speaks
19/05/21 UK CPI; Canadian CPI; FOMC Minutes
20/05/21 Australian Employment report; ECB's President Lagarde speaks
21/05/21 Japanese CPI; Australian Retail Sales; UK Retail Sales; Canadian Retail Sales; global Markit Flash Manufacturing and Services PMI
View Full Calendar
---
Please join the GBP USD discussion
Pound to USD Currency Converter
Other major currency pairs
---
BUY - rate is expected to increase, i.e. the first currency gains value against the second currency.
SELL - rate is expected to go down, i.e. the first currency is expected to lose value against the second currency.