The deal for LVMH to fully acquire Tiffany was completed in January
The market for luxury goods was under pressure throughout 2020
The sentiment over sales performance in 2021 is much improved
LVMH SE has enjoyed a good run; there is more to come
Looking back to January, the decision by LVMH SE, the world's leading luxury products group, to finally complete the acquisition of iconic jeweller Tiffany & Co may be seen as a stroke of genius.
In a press statement released at the time LVMH said:
"…The acquisition of this iconic US jeweller will deeply transform LVMH's Watches & Jewellery division and complement LVMH's 75 distinguished maisons. …"
The purchase of Tiffany & Co was an addition to the stable of prestige brands within the LVMH family alongside Bulgari, Chaumet, Dior Watches, Fred, Hublot, TAG Heuer and Zenith.
LVMH, which had walked away from the deal at one stage paid USD15.8 Billion; a small reduction cf. its original offer of USD16.2 Billion
Luxury Goods Sales Recovering To 2019 Levels In 2021
The consultancy firm Bain & Company, reported in January, just as the acquisition mentioned above was concluded, that it believed there was a 30% probability that the luxury market could meet or exceed USD340 Billion in sales in 2021 so matching the level seen in 2019.
https://www.bain.com/insights/the-future-of-luxury-bouncing-back-from-covid-19/
This was an upbeat report that improved on their earlier forecast that such a recovery in sales volume would not be felt until 2022.
The Boston-based group said it was changing its forecast because of improving economic optimism in both the U.S and China and the rapid distribution of COVID-19 vaccines in the developed world.
Figure 1 shows why there are some sector observers that question this level of optimism as sales overall booked a 22% decline YoY for 2020 over 2019 due to pandemic-related lockdowns and financial uncertainty.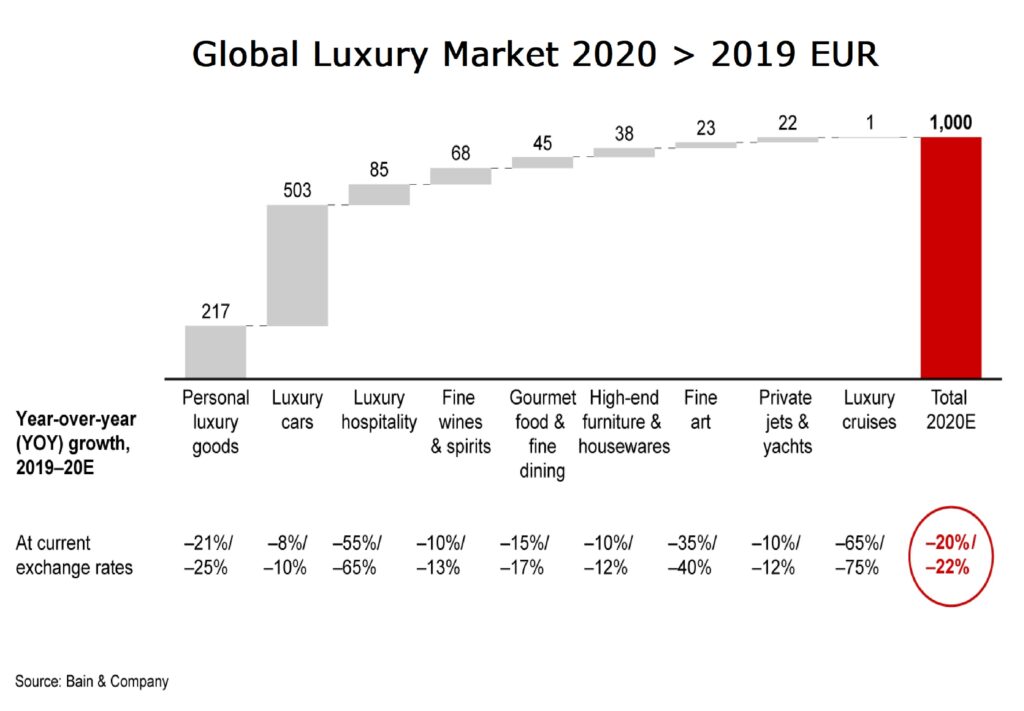 Figure 1: Sales Performance In Luxury Goods 2020 cf. 2019 Percentage Performance (Euro) Source: Bain & Co.
Shiny Success
One company that is looking good is the aforementioned luxury giant LVMH Moet Hennessy. Louis Vuitton announced in April that it had returned to growth in Q1 2021, with USD16.75 Billion in sales across its more than 70 brands. Fashion and leather goods especially stood out as enjoying an excellent start to the year, with revenue of USD6.7 Billion which is an impressive 37% gain over the same period in 2019.
An area that could drive LVMH's financial performance is found in that its Tiffany brand has announced that it is to start selling men's engagement rings. It has recognised that there is a growing number globally of same sex marriages among well healed individulas. This represents a so far untapped market and so is offering a range of rings with diamonds of up to five carats. The design of the men's ring is a departure from the traditional wedding band, since it features a striking center diamond.
With the new offering, Tiffany hopes it can find another solid stream of revenue growth for LVMH. The company booked over USD4 Billion in jewellery sales in 2020… (and that was a bad year?!) … with women's engagement rings representing about 26% of total revenue.
The men's rings have been available online for a while now but became available in Tiffany stores this month.
When LVMH reported its Q1 financial results earlier this month, it said its watches and jewellery division's sales rose by 138%, benefiting from the consolidation of Tiffany. LVMH SE is a component of the Spotlight Indices Consumer Cyclical sector that in the past week has been the best performing sector.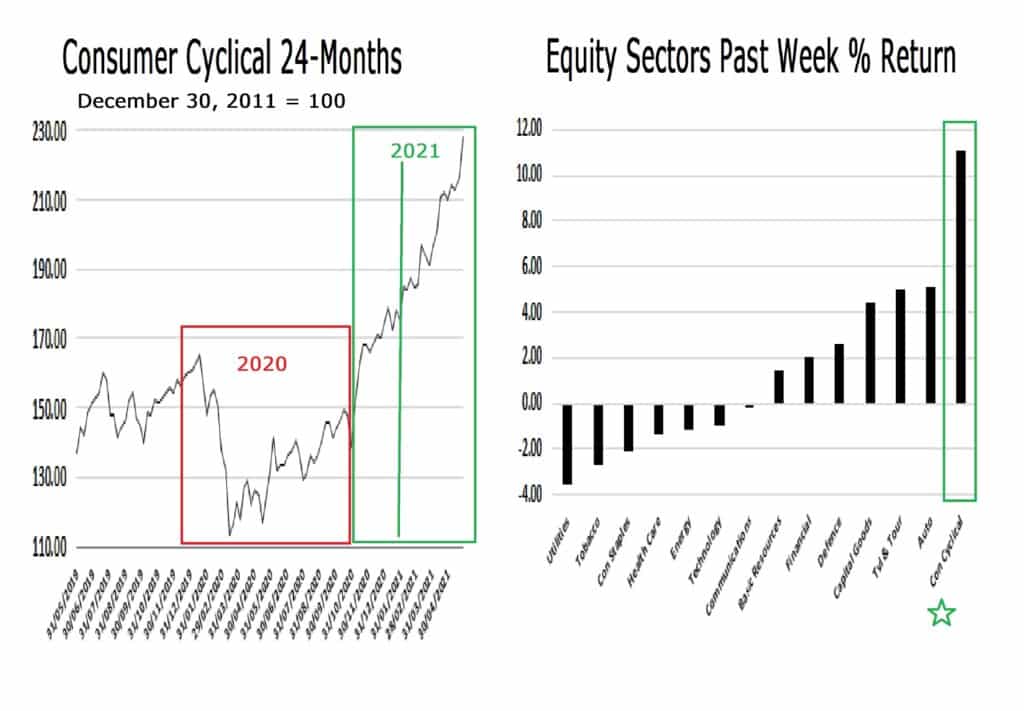 Figure 2 :Consumer Cyclicals 24-Months and Performance Over Pat Week                                                                                   Source: Spotlight Indices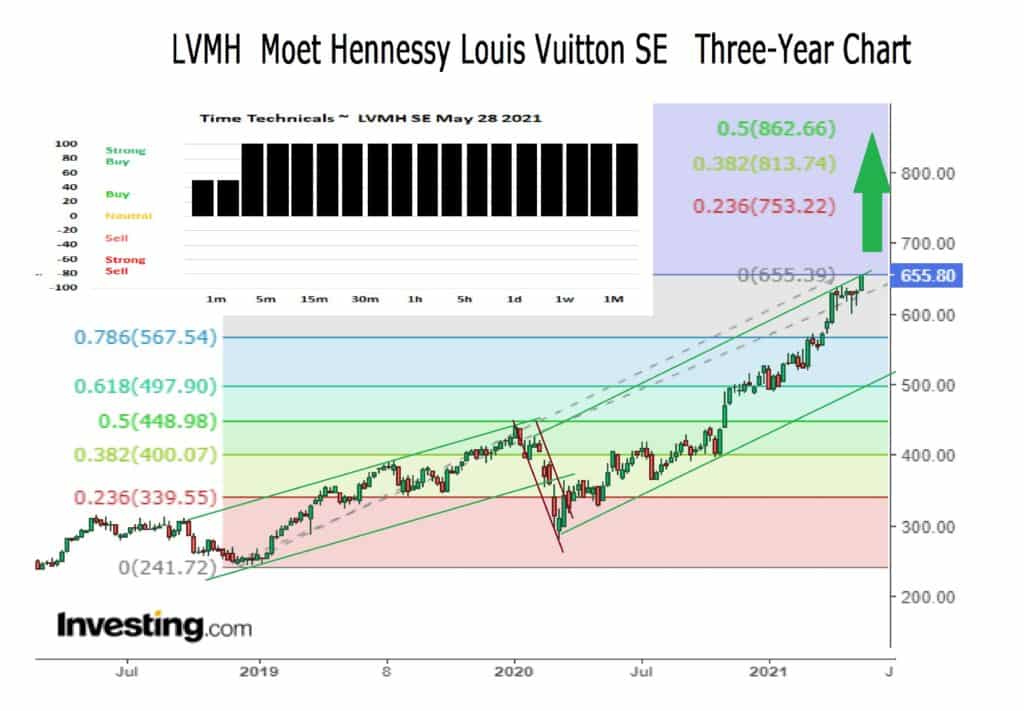 Figure 3: LVMH SE Three-Year Chart, Technicals and Sentiment                                                                                   Source: www.investing,com and Spotlight Ideas
The current impulsive channel for LVMH SE has been in place since mid-2020, however, the first part of that never saw the price move over 450. Since then, the price has stretched higher and has added over EUR200.
One could contend that there is a lot in the price already. I disagree and think that whilst the earnings per share at 4.14 are lower that at Hermès International S.A. at 5.00 it is a sign that there is room to grow as over the past month Hermès International S.A is up by 8.44% cf. LVMH SE at +4.00%.
The sentiment is nothing but positive and I target a move over the rest if the year to the mid or upper 700's. Buy at the opening of trade and buy more on dips with a stop loss at 497.