Macroeconomic/ geopolitical developments
COVID-19 cases continue to surge across Europe and in the U.K. with both regional and national and lockdown measures at their most stringent in many places since the first wave of the pandemic in March/ April.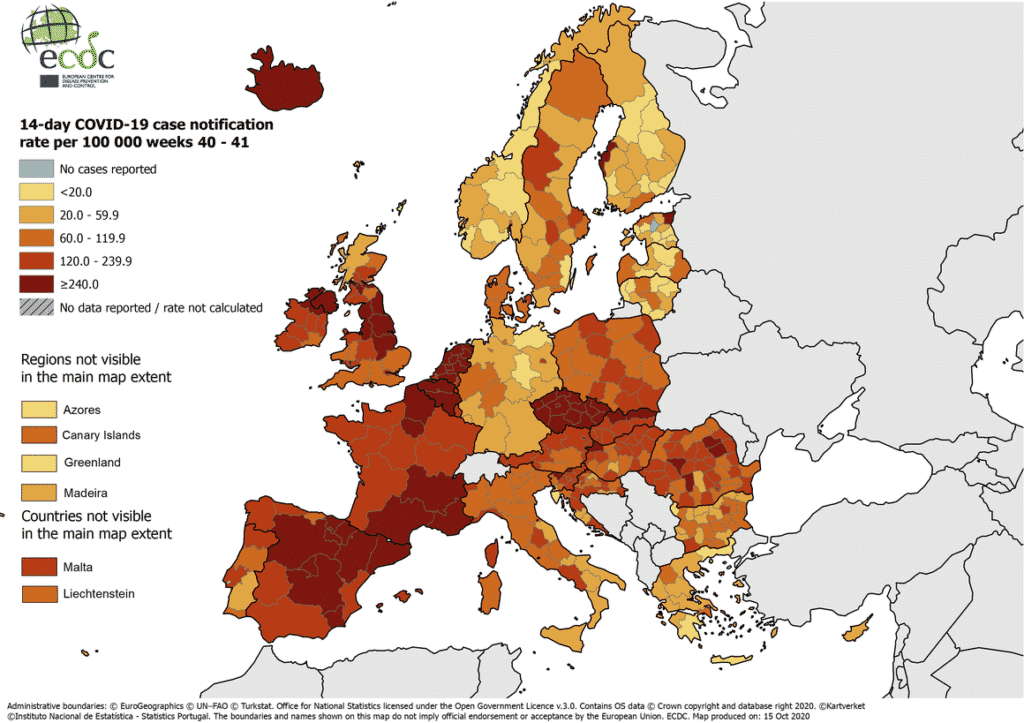 With insufficient progress between the EU and UK in their trade talks, Boris Johnson has told the EU that the talks are over with fishing rights still a major sticking point. The U.K. government will only resume talks if there is a significant change from the EU side.
Republicans and Democrats have still been unable to come to an agreement on a new economic relief package, with now fading hopes of an agreement before the US election in just over two weeks.
Joe Biden continues to perform well in the Presidential polls with financial markets seemingly at ease with a Biden victory and even for a clean sweep for the Democrats across the Presidency and both Houses of Congress at the November vote.
A strong Biden victory is seen as easing the threat of a difficult transition of power, although this stays a significant risk into November/ December.
A strong majority for the New Zealand Labour Party in the election this weekend could be a short-term positive for the New Zealand Dollar.
Global financial market developments
Global stock markets sold off from midweek, with European averages leading the more negative price action in reaction to new lockdown measures across the continent.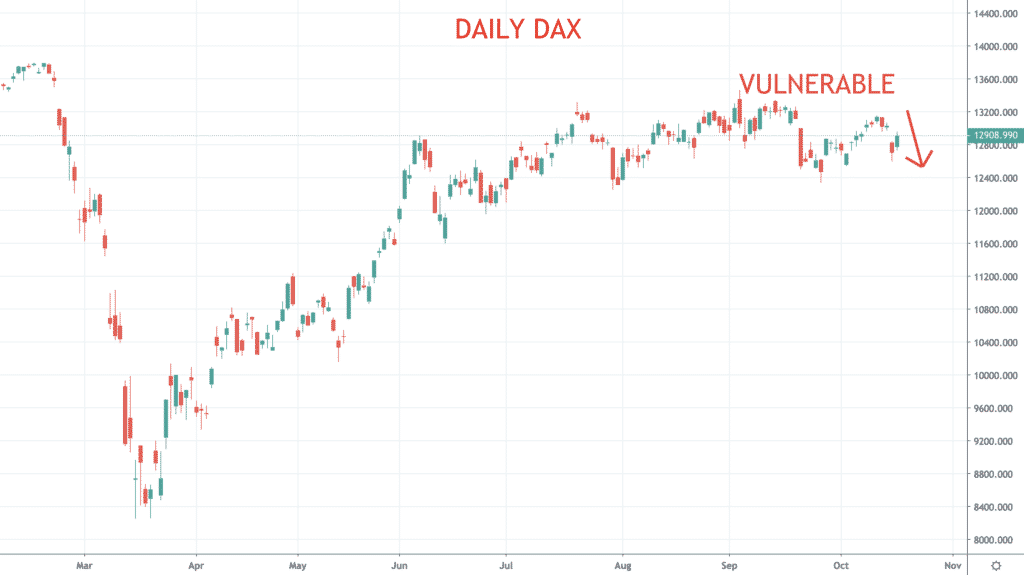 Although stock indices did stage a rebound Friday, the damage inflicted leaves global share averages and risk assets vulnerable into this week.
In the Forex markets, the theme has shifted to "risk off" with the Japanese Yen and US Dollar strengthening against most major currencies
The "risk currencies", notably the Australian Dollar has been a particular casualty of the "risk off" move.
GBPUSD has been very erratic in the wake of the fading hopes and indecision surrounding an EU-UK trade deal.
In the commodity world, Oil and Copper have stayed resilient but sideways, whilst Gold has been even more indecisive.
Key this week
Geopolitical: COVID-19 cases and hospitalisations in Europe will be key to watch, alongside any further lockdown measures imposed.
Central Bank Watch: A quiet week for Central Bank activity. We get Fed Chairman Powell speaking on Monday and a slew of other Central Bank speakers through the week; the Reserve Bank of Australia Meeting Minutes are released Tuesday and we also get the Peoples Bank of China interest rate decision too.
Macroeconomic data: The standout data for the week is the Markit global Flash PMI releases on Friday.
Earnings season: Earnings season continues this week, with IBM, Proctor & Gamble, Netflix, Tesla, Verizon, Intel, Coca Cola, Microsoft and Amazon all reporting.
| | |
| --- | --- |
| Date | Key Macroeconomic Events |
| 19/10/20 | Chinese GDP, Industrial Production and Retail Sales; Fed Chair Powell speaks |
| 20/10/20 | RBA Meeting Minutes; PBoC interest rate decision |
| 21/10/20 | Australian Retail Sales; UK inflation report (including CPI); Canada CPI |
| 22/10/20 | US Jobless Claims |
| 23/10/20 | New Zealand CPI; Markit global Flash PMI |