---
General
Broker:
CMTrading
Company Name:
CM Trading
Founded:
2013
Regulator:
FSCA
Platform:
Sirix, MetaTrader 4
Payment Methods:
Credit Cards, Bank Transfer, Neteller, FasaPay, UPay Card
HQ:
South Africa
Phone Support:
+442033182176
Features
Min. Deposit:
$250
EURUSD Spread:
0.9 pips
Leverage:
1:200
US Clients:
No
Web Trading:
Yes
Withdrawal Process Time:
24 hours
Pros
- CopyKat copy trading is available
- Good Educational Tools
- Cryptocurrency trading is available
Cons
- No FCA regulation
---
CMTrading
Advertised as "your local international broker" CMTrading is an FX/CFD broker based in South Africa. The true reputation of this operator is difficult to establish. On the one hand, affiliated reviewers have posted scores of positive feedback on it. On the other hand, there are some rather heavy scam allegations floating around the search results in regards to CMTrading.
Overall, CMTrading is a safe and fair trading destination – based on actual user feedback. Everything involving leverage is highly risky, however. As such, this broker has accrued its fair share of user complaints, much like its peers.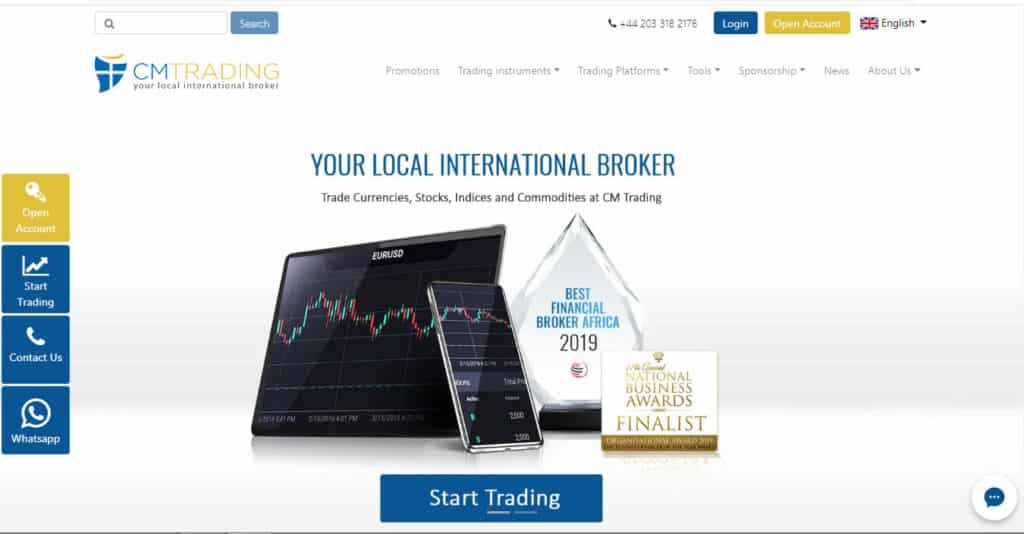 What do traders like about CMTrading?
Some people like the trading account options.
Others appreciate the charts offered by CMTrading's Sirix Web platform.
MT4 is always a welcome addition to any trading platform selection.
The asset selection of the broker covers a decent range of cryptocurrencies.
There are scores of money transfer methods accepted for deposits as well as withdrawals.
South Africa's FSCA regulates the activity of the brokerage.
What do they dislike about the broker?
Some people allege that the broker has scammed them. Such allegations cover withdrawal issues, the usual Stop-loss hunting, etc.
The spreads featured by CMTrading are above average. On the EUR/USD pair, the spread can be as high as 1.5 pips. 
As mentioned, CMTrading is a regulated online FX/CFD brokerage. The corporate entity behind the CMTrading brand is a certain Blackstone Marketing SA (Pty) Ltd. The FSCA registration number of the operation is 2010/010099/07. According to the official site of the regulator (fsca.co.za), the company gained authorization on 07/04/2009. According to the broker's website, however, the brokerage has been FSCA-authorized since 2012.
The physical address of the brokerage is 14th Floor, Sandton City Towers, 153, 5th Street, Sandton, 2196P.
According to the official site of the broker, CMTrading is a brand name of Global Capital Markets Trading. Furthermore, the entity operating the official site of the broker is a certain CMT Processing Limited.
Why would you, a trader, want to join this brokerage?
The broker uses segregated accounts to store its funds. What this means is that the operating costs of the brokerage are kept separately from traders' monies.
CMTrading is regulated – as pointed out.
CMTrading users can use a massive array of free trading tools.
The broker provides proper education regarding its trading platforms and trading tools.
Platform & Tools
| Feature | CMTrading |
| --- | --- |
| Virtual Trading(Demo) | |
| Desktop Platform (Windows) | |
| Desktop Platform (Mac) | |
| Web Platform | |
| Social Trading / Copy Trading | |
| Proprietary | |
| MetaTrader 4 (MT4) | |
| MetaTrader 5 (MT5) | |
| cTrader | |
| Currenex | |
| ZuluTrade | |
| MirrorTrader | |
| Charting - Drawing Tools(Total) | |
| Charting - Indicators / Studies (Total) | |
| Watchlists | |
| Order Type - Trailing Stop | |
The backbone of the CMTrading platform offer is MetaQuotes' MT4. MT4 is the most popular trading platform, and it does not belie its pedigree in CMTrading's version either.
MT4's charting capabilities are legendary. The platform supports scores of graph types, drawing tools, and technical indicators. Some of these indicators are preinstalled. The platform allows traders to create and install their technical indicators. Expert Advisors (auto traders) are also in the package.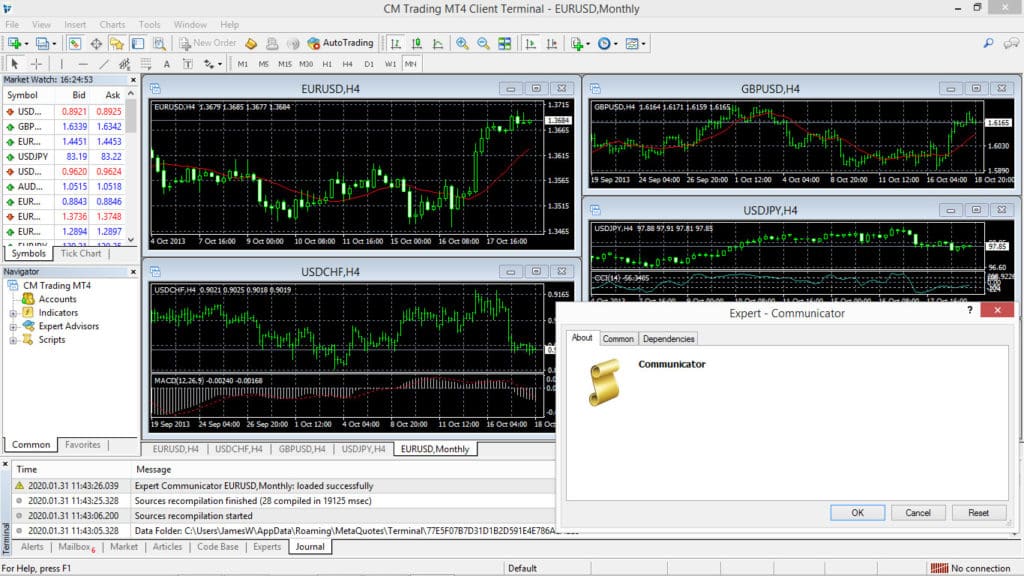 In a nutshell, CMTrading's MT4 offers the following:
Live technical analysis
Scores of timeframes and charts
One-click execution directly off the chart.
Real-time quotes.
A simple, attractive, and well-known user interface.
The Sirix WebTrader is a very interesting platform option. It delivers many features that MT4 does not.
Sirix is a browser-based trading platform. As such, it does not require downloading. It is compatible with most modern browsers. The platform is available in 18 languages. It boasts several special features such as:
Its trading cubes. Users can configure these trading cubes to reflect the trades and the lots they use most often.
Social trading. This fully integrated feature allows traders to keep an eye on the trades of their more experienced peers. They can also copy these trades if they so wish.
Social trading is a dud without a vibrant, active community. This is not the case with CMTrading's social trading offer.
In addition to the social trading feature, Sirix also features integrated economic calendars and a news stream.
The broker has gone to great lengths to provide its clients with as many trading tools as possible.
Sirix CopyKat is the mentioned integrated social trading feature. To use it, you need to create a separate account for it. Once done, you can search for the trader you want to copy, by name.
You can also use the filters to gain a glimpse of the top traders. You can then choose someone to follow, based on trading performance.
To see detailed performance statistics, all you need to do is to click on the user's profile.
You can follow or copy the trader. If you follow, you will not be putting any funds on the line. If you copy, however, you will. Once you copy a trader, your account will automatically execute his/her trades.
The broker lets you follow these trades through Sirix or MT4. You can "uncopy" a trader any time if you are not satisfied with his/her performance.
Another interesting trading tool is the Guardian Angel communication tool. This feature feeds you direct trading signals from the broker. It also keeps an eye on your trading performance and gives you feedback. The tool includes a volatility indicator and a handy calculator for Stop Losses.
In addition to all the above, CMTrading also delivers FX trading signals to traders.
Asset Classes
The trading instruments that CMTrading offers cover five main categories: FX, commodities, indices, metals, and CFDs.
The broker features the usual selection of currency pairs, covering majors, minors, and exotics.
The indices section gives traders exposure to various nooks and crannies of the global markets. Indices such as the S&P 500, Nasdaq, Nikkei, DAX, and Dow 30 are all included.
As far as commodities go, the broker's offer is rather limited. It covers the usual gold and oil. In addition to that, it also offers sugar, coffee, some metals, and natural gas. The trading conditions for commodities are very attractive.
CFDs cover just about all the other tradable assets offered by the broker. Even commodities are traded via CFDs. You would not expect to gain possession of barrels of oil or containers full of natural gas.
Commission & Fees
The broker supports four account types. Trading conditions vary from one account type to the other.
CMTrading features over market spreads. Standard spreads on FX pairs are always the same, under normal market conditions. There are floating spreads that will vary, based on market conditions. On commodities, even the standard spreads can vary, depending on the time of day/week.
The margin requirements are variable as well. They can change based on position size. The official site of the broker details the spreads on every supported trading instrument. It does not mention commissions anywhere.
Traders who opt for the Bronze account get spreads that the broker calls "regular".
On the Silver account, the spread on the EUR/USD pair can be as low as 1.2 pips.
On a Gold account, the same spread is just 0.9 pips.
The Premium account is the top-tier account. As such, it is fully customized. Traders get to negotiate their spreads.
Research & Education
| Feature | CMTrading |
| --- | --- |
| Daily Market Commentary | |
| Forex News | |
| AutoChartist | |
| Trading Central (Recognia) | |
| Delkos Research | |
| Acuity Trading | |
| Social Sentiment - Currency Pairs | |
| Client Webinars | |
| Client Webinars (Archived) | |
| Videos - Beginner Trading Videos | |
| Economic Calendar | |
| Calendar Includes Forexcasts | |
| Economic News Sentiment | |
| Trade Ideas - Backtesting | |
The trading tools' selection of the broker is impressive. In addition to several trading signal services, it also offers exhaustive education for beginners and advanced traders alike.
The training videos come in the shape of several Vimeo-hosted educational videos.
The webinars section employs the services of scores of professional traders. Check the CMTrading website for a proper schedule.
Also helping out with trader education are a daily Forex news stream, an ebook, and an economic calendar.
The CMTrading website also features a special Education section. This section consists of two sub-sections: "Currency Trading" and "Make Me a Trader".
Customer Service
The broker offers scores of communication channels through its website. Of these, the handiest is the live chat feature.
The Contact Us page also features an email form, several email addresses (support@cmtrading.com), and country-specific phone numbers in 12 languages.
CMTrading support seems responsive and helpful. Some users have complained about its inefficiency, however.
Mobile Trading
| Feature | CMTrading |
| --- | --- |
| Android App | |
| Apple App | |
| Charting - Draw Trend Lines | |
| Charting - Can Turn Horizontally | |
| Charting - Technical Studies/Indicators | |
| Watchlist - Syncing | |
| Trading - Forex | |
| Trading - CFDs | |
| Alerts - Basic Fields | |
CMTrading's Mobile solution is the Sirix Mobile Trader. Available for Android and iOS, the app offers functions similar to the mentioned web trader.
The charting of the mobile app is superb. It is easy on the eyes as well. Some users have complained about crashes, however.
Conclusion
CMTrading enjoys a decent reputation among its traders. At a major feedback site, users have rated it 3.2 stars out of 5.
The Bronze account requires a minimum deposit of just $250. Even the Silver account is relatively cheap at $1,000, though. Accessibility is therefore not a problem.
Overall, CMTrading is a decent FX/CFD trading destination. It is regulated, but it is impossible to tell whether it restricts any jurisdictions at all.
Comments on CMTrading