---
General
Broker:
Khwezi Trade
Pros
Cons
---
Khwezi Trade Review
Khwezi Trade is a South Africa-focused online FX and CFD brokerage. It is an STP broker using the MT4 platform as the backbone of its operation.
Khwezi Trade is a "division of Khwezi Financial Services."
Khwezi Financial Services is a company registered and licensed in South Africa, founded in 2013. The website of the company claims that it has a category one license for advice and a category two license from the local FSCA. Its license number is 44816, and a quick FSCA search will confirm that the company is indeed legitimate and its license is valid.
The regulatory profile of the brokerage is not international. It is only valid for South Africa. That said, Khwezi Trade seems to target SA-based traders only, so its regulatory coverage is satisfactory.
Sean Coetzee and Mark Wurr are the two executives behind Khwezi Financial Services.
The physical address of the company is 1020 Manhattan Place, 130 Bree Street Cape Town, 8001. The physical offices it maintains in its license jurisdiction means that clients and regulators can visit/audit the operation whenever they please. Khwezi Trade runs a completely transparent business.
The Khwezi Trade website boasts two industry awards for "the best broker SA" in 2019 and 2020. The issuer of the awards is Global Brands Magazine.
What do users say about Khwezi Trade? It is difficult to glean relevant user feedback on Khwezi Trade, as South African traders do not seem eager to share their experiences.
Given that Khwezi Trading's services target only South Africa, it is just as difficult to come by complaints as it is to find real, relevant positive feedback.
That said, the overall user feedback impression on Khwezi Trade is a positive one. People seem to like what Khwezi serves up trading-wise.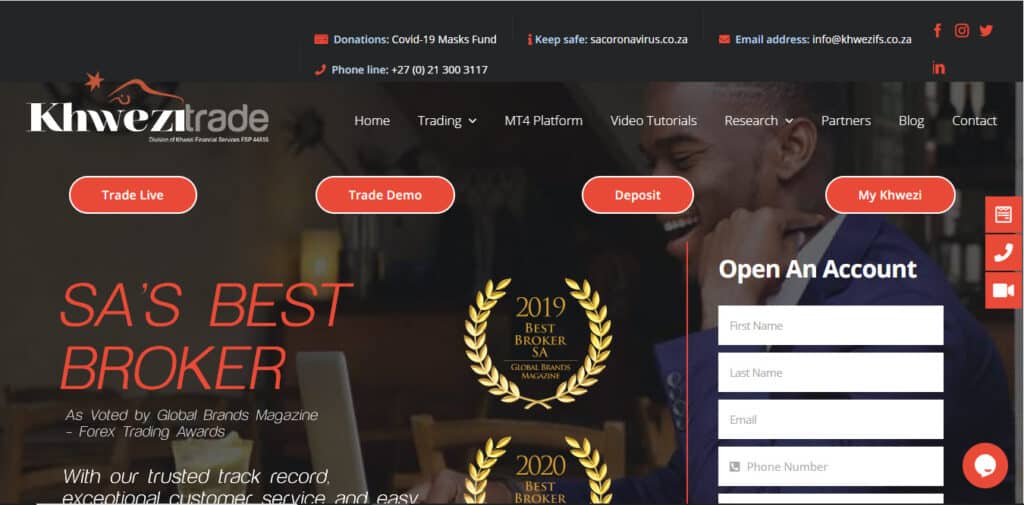 Why would you want to trade at Khwezi Trade instead of one of the broker's competitors?
If you are in South Africa, Khwezi Trade is a local, locally regulated brokerage with its focus on clients like you. If you are not in South Africa, Khwezi Trade is not an option for you.
Why would you want to trade with this broker instead of its South African competitors? Khwezi Trade is well regulated, and it has adopted a no-nonsense approach to trading.
It only features one trading platform, the best in the business: MT4. This platform is available in desktop versions as well as mobile app versions for Android and iOS devices.
Khwezi Trade features some outstanding trading conditions. Its spreads are low, and it charges no commission on trading.
Despite the lack of international regulation, the broker keeps its clients' funds in segregated accounts to ensure their safety.
The broker says that it processes withdrawals daily, so South African traders should receive their monies quickly.
Khwezi Trade also boasts a stellar track record, and some user feedback does indeed support this claim.
The broker features a Demo account with 100,000 units of base currency to allow traders to run a risk-free test of the trading platform. The Demo account is valid for 14 days.
Khwezi Trade offers STP execution, meaning that it posts trades directly to the market and does not engage in market-making.
Khwezi Trade Platform and Tools
The only trading platform Khwezi Trade supports is MT4. The industry standard in trading platforms, MT4 is a fully customizable trading environment supporting automated trading through Expert Advisors and custom technical indicators. In addition to these perks, the platform comes with an impressive number of preinstalled technical indicators.
Traders should be aware that Khwezi Trade's MT4 platform runs entirely on their computers, which means that it does not support offline trailing stops. If you want to use trailing stops, you need to make sure that MT4 is running on your computer.
The same goes for EAs. Expert Advisors are usually at their best when the broker gives you access to a VPS. With a VPS, you can run your automated traders without the need to keep your computer and the MT4 platform running.
Khwezi Trade does not support VPS. Therefore, if you want to run Expert Advisors, you need to keep your computer and trading platform online.
Traders are free to create their custom technical indicators through the MQL 4 programming language. If you are a skilled programmer, you can create such indicators for yourself. You can also buy the creations of other traders/MQL4 programmers.
Khwezi Trade supports margin warnings via email. The broker will contact clients individually if it deems such a course of action will avert margin-related problems.
Khwezi Trade's MT4 version supports all order types.
Among the trading tools Khwezi Trade offers, Flexi Analysis stands out. The service covers technical analysis, fundamental analysis, chart pattern analysis, and trading signal generation. All clients with funded accounts get free access to Flexi Analysis.
The Dynamic Outcomes feature offers predictions for the major ZAR-based markets. It delivers its information twice a week via an online portal.
The Open Market Positions tool is a sort of trader sentiment indicator. It draws conclusions from the positions other market participants take, trying to make heads and tails of the trends.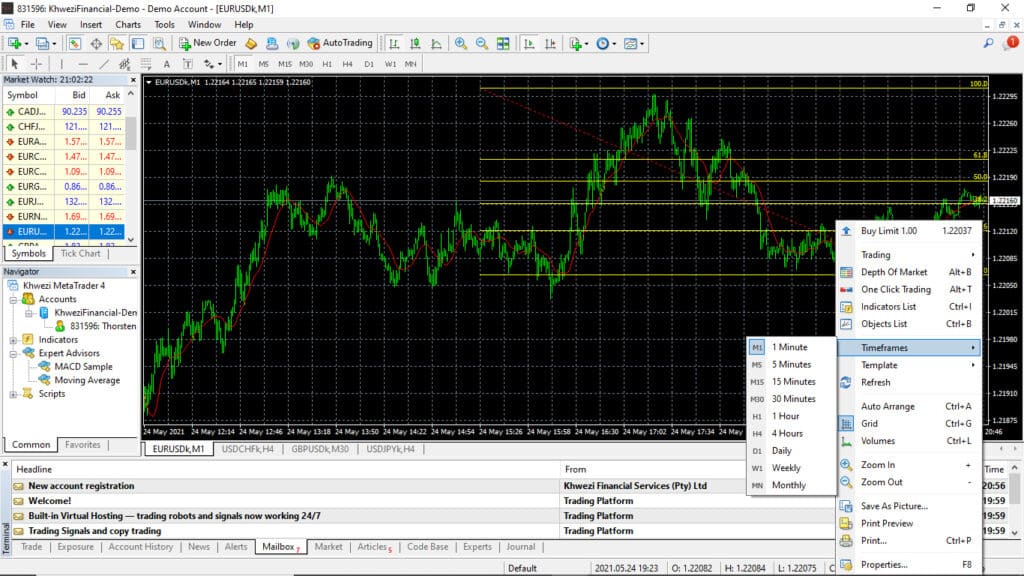 Commissions and Fees
The broker makes its money through the spreads. The minimum spread on the USD/EUR pair is 0.6 pips. On other, less popular currency pairs, it is wider. The trading conditions depend on the account type for which you register.
If you make the minimum deposit of ZAR 2,000, you get the Basic account. This account type offers "normal" spreads. Like the other accounts, it charges no commissions and offers maximum leverage of 1:200.
The Standard account requires a minimum deposit of ZAR 15,000. Its spreads are "competitive."
To access the Premier account, you need to make a minimum deposit of ZAR 30,000. The spreads on this account type are "tight."
To get "institutional" spreads, you need to deposit at least ZAR 50,000. For that money, you get a VIP account.
Research and Education
Nowadays, Khwezi Trade's blog section features fresh content. Most of the articles deal with issues that are highly relevant for beginners and advanced traders alike.
The broker's official website features a few video tutorials focusing on the registration requirements and the MT4 platform. Some of the YouTube-hosted videos deal with technical analysis as well.
As far as written educational material goes, the site explains the basics of Forex trading, and it details some of the available trading instruments.
Customer Service
The Khwezi Trade support staff seems to be knowledgeable and relatively quick to reply. Traders can use the live chat feature on the main website to request help. They can also request a callback.
Contacting the Khwezi Trade support staff is also possible through email and phone. The email address is info@khwezifs.co.za.
The broker maintains two physical offices, one in Cape Town and another in Johannesburg. The Cape Town phone number is +27 (0) 21 300 3117. The Johannesburg address is 5th Street, Sandton. The phone number is +27 (0) 10 312 5194.
Mobile
The broker supports the Android and iOS-based mobile versions of the MT4 trading platform.
The mobile platforms support most of the functionalities and charting capabilities of the desktop variant.
Conclusion
Khwezi Trade looks like an attractive STP trading destination for South African traders. It features a transparent background and its regulatory profile is satisfactory for the markets where it operates.
Being a local operation working in close physical proximity with its clients, it cannot afford a single slip-up, and thus far it has not had any.
The MT4 trading platform is solid, and the STP execution is a feature that not many other brokers can boast.
Comments on Khwezi Trade