---
General
Broker:
Oanda
Company Name:
Oanda
Founded:
1996
Regulator:
IIROC, FSC, CFTC, FCA, MAS, ASIC, IFFA, MFSA, BVI
Platform:
Oanda, MT4, MT5
Payment Methods:
Visa, Mastercard, Skrill, Neteller and various Alternate Payment Methods
HQ:
Canada
Publicly Listed:
No
Features
Min. Deposit:
$0
EURUSD Spread:
0.6
Average Spread:
0.9
Leverage:
1:200
US Clients:
No
Active Clients:
100 000+
Dealing Desk:
No
Web Trading:
Web MT4 only
Managed Accounts:
No
Pros
- Trusted trading partner established since 1996
- Intuitive proprietary platform
- Fractional CFDs (trade from one 0.01 unit of CFD)
- Tight Spread across major FX pairs
Cons
---
Oanda Review
Founded in 1996, Oanda is way more than a run-of-the-mill online CFD brokerage. The operation advertises that it does "all things currency". What this means in practical terms is that its services cover the following.
FX and exchange rate data services.
A currency converter that major corporations, tax authorities, and auditing firms use around the world.
A historical currency converter featuring 38,000 FX pairs and data going back to 1990.
Online CFD trading and spread betting services.
A currency exchange rate API covering some 200 pairs.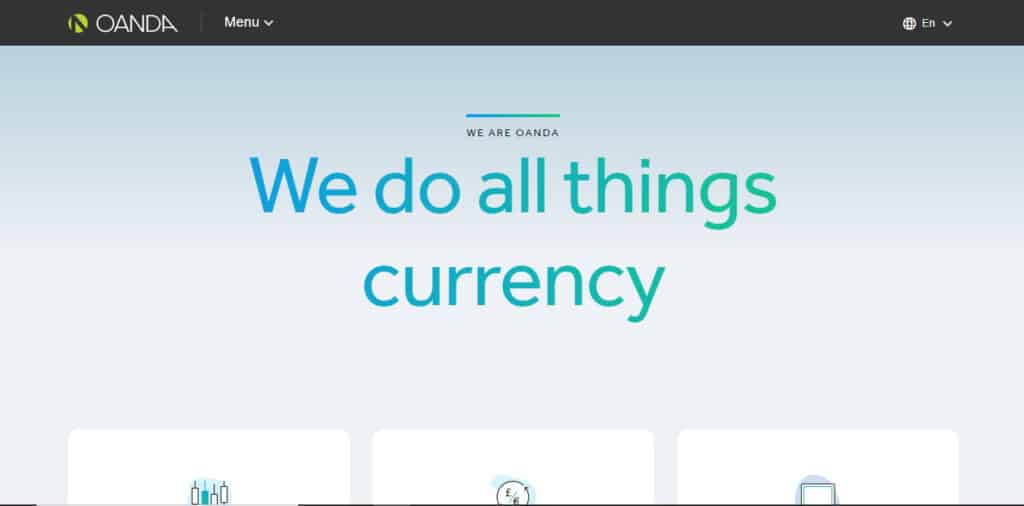 One of the pioneers of the online trading scene, Oanda has been at the forefront of innovation for several decades. Its partners include well-known corporate entities like Deloitte, Twitter, Google, FedEx, Expedia, and Airbnb.
The online trading branch of the operation has been live since 2001. The broker offers an exhaustive selection of trading platforms and tools, including the popular MT4 platform and MT5 platform, as well as proprietary desktop and web solutions.
Oanda is the recipient of many industry awards. Its Forex trading technology picked up an award in 2017 from UK Forex Awards. Various online trading and FX-focused organizations have praised and awarded other aspects of its services, such as its mobile apps, retail FX platform, etc.
Oanda's regulatory standing is unparalleled. It maintains physical offices in eight countries. In Asia, Singapore, Australia, and Japan all host Oanda offices. In Europe, the company is present in Malta, the UK, Germany, and Poland. In North America, New York, and Toronto host Oanda offices.
With such a global reach, the company has created a regulatory profile to match its ambitions. Theoretically, everyone in the world can use some of Oanda's services in a regulated manner.
The brokerage currently enjoys the regulatory coverage of:
The US' CFTC
Canada's IIROC
The UK's FCA
Singapore's Monetary Authority
Australia's ASIC
Japan's Kanto Local Financial Bureau
Malta's Financial Services Authority
The British Virgin Islands Financial Services Commission
What do users have to say about the quality of Oanda's services? On the one hand, mobile app users leaving feedback on the Play Store or App Store pages of the brokerage are overwhelmingly pleased with Oanda's services. On the other, feedback from other sources is much less stellar.
Most traders love the charting features Oanda offers. Many who left positive reviews have expressed surprise at all the negative reviews the broker gets.
Many users appreciate the Oanda customer service.
The trading platforms of the broker are also popular with users.
Oanda's account managers enjoy the respect and appreciation of many traders.
The mobile apps work as advertised and are wildly popular.
Many of the negative reviews people have left of Oanda are malicious, fake, or pushing a shady agenda. That said, some of the complaints about the broker's services are legitimate.
A user has noticed that the EMA technical indicator works differently in the desktop app than the Android one.
Some people do not like the trading interface
Others allege spread manipulation on the part of the broker.
Some traders have found the application process overcomplicated and discriminatory. Because it offers trading services in the US, Oanda needs to be very strict with its KYC and AML policies.
Other traders say that while the broker allowed them to withdraw their deposits, it made them jump through too many hoops to withdraw any profits.
Why would you want to trade with Oanda and not another broker?
The desktop trading experience the broker offers is outstanding. It suits experienced traders better, but it also offers a way for beginners to gain valuable experience.
The broker is wildly popular in the US. US traders have deposited enough money with it to make it the second-biggest broker in the country in this respect.
If you are looking for a broker that accepts US-based traders, offering them a regulated environment for trading, Oanda is your answer.
Oanda offers superb research, giving traders potent tools to help them become profitable. It features real-time news feeds, economic analysis, and data analytics of a quality no other retail platform can match.
Oanda Platform and Tools
The broker offers a superb range of desktop and mobile trading solutions.
Its WebTrader is the easiest to access. It does a great job at delivering most of the functionality of the desktop platform. It features Tradingview charting, allowing clients to trade directly from the chart. The web-based platform supports API access, news feeds, as well as customizable watch lists.
A feature that you will likely not find anywhere else is the ability to create trade defaults for various trading instruments.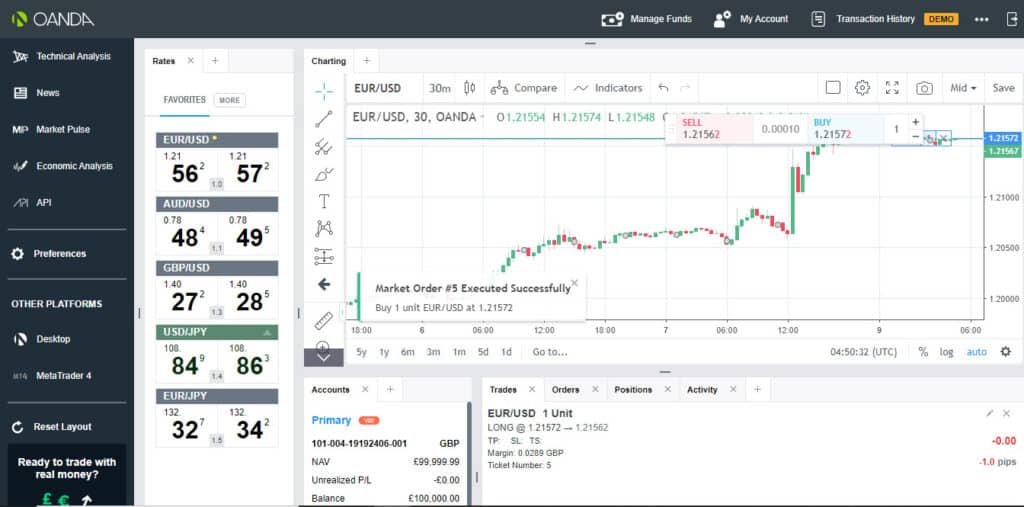 Oanda's proprietary fxTrade is the centerpiece of its trading platform offering. It comes with all the bells and whistles the company has to offer, including technical analysis, state-of-the-art charting, and economic analysis available at the click of a button. MarketPulse integration is also part of the fxTrade package.
The platform supports four order types: market, limit, stop and stop limit. Traders can attach Take Profits or Stop Losses to these orders, as well as a trailing stop option.
In addition to the mentioned platform options, Oanda has also included MetaTrader 4 in its platform package. Having built a custom bridge with the world's most popular trading platform, Oanda has made its pricing and execution available through MT4 and MT5
MT4 is a fully customizable trading environment with unparalleled charting capabilities, a superb package of technical indicators, and Expert Advisor support.
MT4's EAs work best with a VPS, and Oanda makes it possible for traders to use their EAs with a VPS.
MT5 is a 64-bit, multi-threaded platform, while MT4 is a 32-bit, mono-threaded platform. Which makes it a lot fast.
The technical analysis package of the broker plugs directly into MT4, so traders can use it to recognize chart patterns automatically, scan the intraday markets and execute trades directly from the interface.
As far as tools go, Oanda offers a premium upgrade for MT4, an open order indicator, a trading performance portal, and AutoChartist technical analysis.
Commissions and Fees
One of the trader complaints about Oanda services is that the broker charges too many fees and commissions. The fees include the spread, overnight costs, commissions, inactivity fees, and withdrawal fees, and various fees on credit cards, bank transfers, and ACH transactions. The broker does not charge any fees on deposits.
Overnight financing costs depend on the traded asset and many other variables such as weekends, holidays, etc. The broker discusses its fees on a dedicated page on its official site.
Inactivity fees come into effect if you fail to do any trading on your account for 12 months. The fee is GBP10 per month.
Currency exchange fees may also be a drain on your account. Every time you trade in a currency different from your account currency, the broker converts the funds into your account currency. Such fees usually amount to 0.5 percent.
Research and Education
The education section of the broker is not expansive, but it is solid, covering every angle a beginner trader may want.
The Getting Started section covers the basics, such as pips, order types, and the trading platforms of the broker.
The Tools and Strategies section offers exhaustive coverage of fundamental and technical analysis elements.
Capital Management deals mostly with risk mitigation.
The broker also offers an impressive selection of webinars covering diverse trading angles, strategies, and analyses.
Customer Service
You can contact the Oanda support throughthe phone mostly. Phone numbers (some of them toll-free)are available for every one of the physical offices of the broker.
Mobile
The mobile apps of the broker have squeezed an impressive amount of fxTrade's functionalities into a pocket-sized package. According to trader feedback, the mobile apps work as they should.
Conclusion
Oanda is a serious online trading destination. Depending on where you live, you may be able to access extra trading options such as spread betting.
Trader feedback about Oanda's services is good, and the selection of trading platforms the broker offers is outstanding.
Comments on Oanda