---
General
Broker:
Pepperstone
Company Name:
Pepperstone Group Limited
Founded:
2010
Regulator:
ASIC, FCA, DFSA, SCB, CMA, CySEC, BaFin
Platform:
Metatrader4, Metatrader5 and cTrader, Mobile App
Payment Methods:
Visa, MasterCard, Neteller, Skrill, PayPal, Poli and Bank Transfer
HQ:
Australia
Phone Support:
+448000465473
Publicly Listed:
No
Features
Min. Deposit:
$100
EURUSD Spread:
Floating
Leverage:
1:30. For professionals up to 1:500
US Clients:
No
Web Trading:
Yes
Withdrawal Process Time:
2-3 business days
CFDs Offered:
CFDs on equities, indices, shares, commodities, energy, metal and cryptocurrency
Pros
- FCA, ASIC, DFSA, SCB, CMA, CySEC, BaFin regulated broker
- Segregated client funds in tier 1 banks.
- Awarding-winning client support from our team 24/5.
- Low latency, fast execution in under 30ms.
- Get consistently competitive spreads and low commissions from 0.0 pips.
Cons
- High bank withdrawal fee for clients outside the EU/Australia
---
Pepperstone Forex Broker Review
Pepperstone is a global Forex and CFD broker, which – among its standard selection of tradable assets – features cryptocurrencies as well, like Bitcoin, Litecoin, Ethereum and Dash. That's far from being Pepperstone's main selling point though. The brokerage Pepperstone offers a superb selection of trading platforms and account types that will fulfill the needs of even the most demanding retail- or institutional client.
The main corporate entity behind the brokerage is called Pepperstone Group Limited, and it is based in Australia. Founded back in 2010, Pepperstone Group Ltd. is regulated by ASIC and it offers financial services to residents of the country as well as to retail and institutional clients located in countries not covered by the other regulatory umbrella of the operation. This "other" regulatory framework is one provided by the UK's FCA, and it is aimed at the UK (obviously) as well as at the countries of the EEA (European Economic Area). The UK side of the operation was launched only in 2016 though, so it is a much younger undertaking. The company behind Pepperstone's UK branch is Pepperstone Ltd. Pepperstone Financial Services (DFIC) has secured a DFSA license in Dubai to grow even more in the Middle East. To strengthen their position in Africa Pepperstone has in October 2020 acquired a license in Kenya and is now also regulated by CMA. November 2020 Pepperstone EU Limited acquired a CySEC license. August 2020 Pepperstone GmbH was officially granted a BaFin License in Germany. Pepperstone Markest Limited hold a SCB license from Bahamas.
Why would you choose Pepperstone as your primary trading destination?
First of all, the trading conditions are excellent in some cases. According to the Pepperstone website, the spreads and liquidity on offer through the platforms of the brokerage were previously only available to institutional and high-volume retail investors. Indeed, in some cases, spreads on Forex majors such as the EUR/USD start from 0.0 pips. The execution is said to be outstanding as well, though there is some user feedback out there which begs to differ on this account.
The above depicted institutional-style trading comes with no catches: to open an account with the brokerage, all one really needs is a AUD 100 deposit.
Articles about Pepperstone
---
The trading technology brought to bear by Pepperstone is second to none as well: in addition to the proven MT4 and MT5 platforms, the operator offers a couple of very attractive web traders too, which are easy to access and which offer rather superb features and trading tools of their own.
Customer service is another major asset delivered by the operation. According to the official Pepperstone website, the customer service of the brokerage is #1 in the industry. Indeed, Pepperstone do seen to possess a number of prestigious industry awards to back up their case in this regard.
Pepperstone Regulation
From a regulatory perspective, Pepperstone is indeed in an enviable position. As said above, it is regulated by ASIC as well as the FCA.
Its ASIC license number is ACN 147 055 703. Its FCA registration number is FRN 684312. With both brokerages, user funds are kept in segregated accounts, with some of the world's top banking institutions. Investors are also protected by some sort of investor protection scheme. It has to be pointed out though that the provisions and protections set forth in the ASIC license are only valid for those residing inside Australia.
Pepperstone Trading Instruments
The trading instruments offered by Pepperstone cover a pretty decent range indeed. Their Forex selection includes some 70 currency pairs, from the majors like the EUR/USD, to minors and even exotics. According to the Pepperstone website, the brokerage was originally founded as a specialist Forex brokerage, which means that it is hardly surprising the site offers access to interbank execution rates and low spreads. The maximum leverage rate available on Forex is an impressive 1:500.
In addition to the more than 70 currency pairs mentioned above, some 13 Index CFDs are available as well. These assets are supposed to cover most of the global economy and they come with margin requirements of just 0.5%-1% of the nominal value of the contract. The maximum available leverage for this asset class ranges from 1:100 to 1:200.
The precious metals section is broken up into two categories: Gold/Silver and Platinum/Palladium. Both precious metal categories are available on the MT4 and cTrade platforms. As far as Gold and Silver are concerned, the CFDs offer traders a certain set of advantages: the commodity pairs do not carry any commission fees and hedging is available on them. The maximum leverage on these commodity pairs is 500:1. The minimum trade size has been set to $0.10 per pip. Platinum and Palladium feature similar trading conditions.
The Energy section is about Oil and Gas. The trading conditions on these commodities are similar to the above described conditions for Gold, Silver, Palladium and Platinum.
The Soft Commodities section is perhaps the most interesting one. It offers assets such as Coffee, Cotton, Sugar, Cocoa and even Orange Juice. These assets are available on the MT4 and cTrade platforms too. The spreads on these are higher than on Forex. On Cotton for instance the minimum can be as high as 35 points.
Cryptocurrencies wrap up the trading instrument selection. Like most of the above assets, the cryptos offered at Pepperstone (Bitcoin, Dash, Litecoin and Ethereum) can be traded via CFDs. What this means is that traders won't get to possess any cryptos when they trade them. They will only be trading the difference between the entry and exit prices in the contracts.
If you are trading from Australia and or part of the ASIC regulation the leverage, margin close out and negative balance protection is as follows:
30:1 for major currency pairs
20:1 for minor currency pairs, gold and major indices
10:1 for commodities other than gold and minor indices;
5:1 for individual equities
2:1 for cryptocurrencies/digital assets
Margin Close Out
A margin close out rule on a per account basis, at 50% of minimum required margin;
Negative Balance Protection
Negative balance protection on a per account basis, guaranteeing a limit on your losses so that your balance won't drop below zero.
Pepperstone Trading Platforms
Peppestone offer some 11 trading platforms to their users. MT4 is arguably the centerpiece of this offer. MT4 comes with all the bells and whistles one may expect from it, and yes, that includes support for EAs and VPS. The platform also features an impressive number of technical indicators, as well as one-click trading straight off the charts. MT4 is available in Windows- and Mac-based versions.
In addition to MT4, Pepperstone offers MT5 as well as an MT4-based web trader, which is indeed the easiest to access and to use. Despite its no-download nature, this web trader is surprisingly powerful and capable. It too offers access to technical indicators and various trading tools.
The trading platforms are all available in iPhone, iPad and Android versions.
cTrader comes in three versions as well: there's a downloadable, Windows-based version, a web trader, as well as a mobile platform.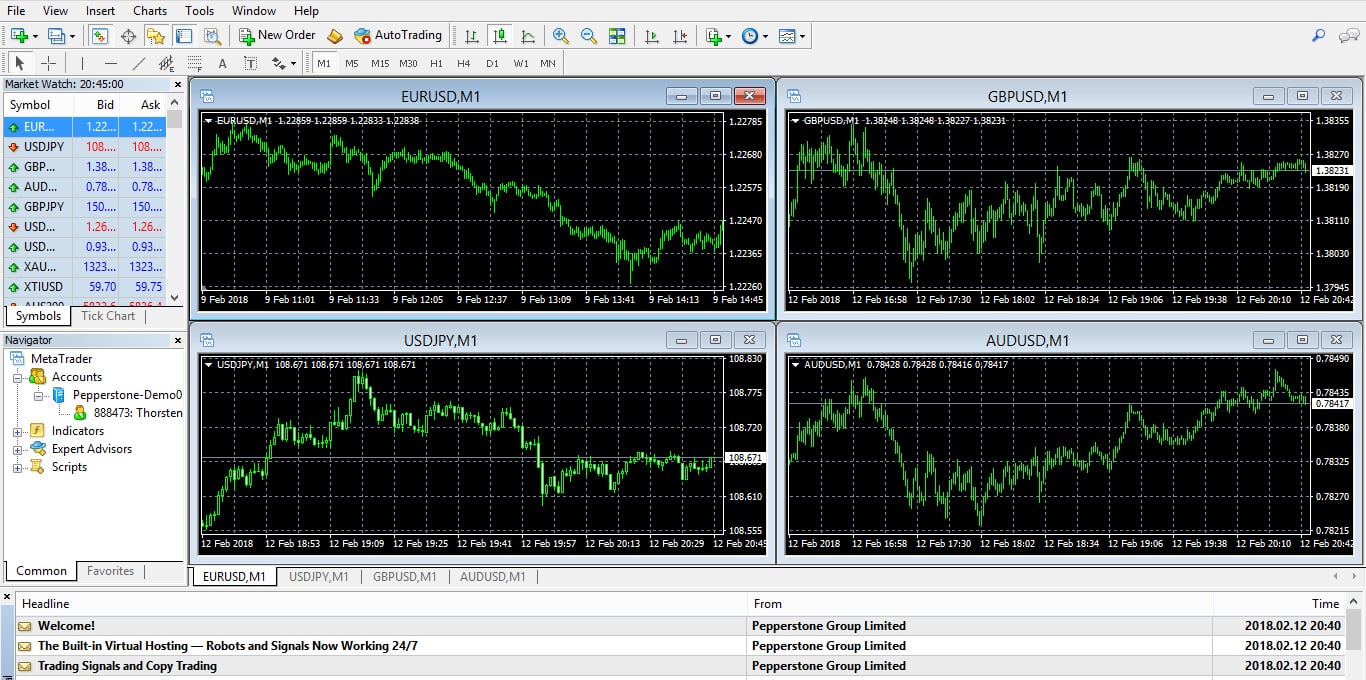 Pepperstone Account Types
Those interested in putting some of the Pepperstone trading platforms to the test, can create a demo account, which entails no financial risks whatsoever. The opening of a real money account is quite accessible as well though: it only requires a deposit of AUD 200.
The most basic real money account is the Edge Standard account, which is a zero commission account, featuring STP execution. The spreads on this one are said to be "institutional grade" and they start from 1 pip.
The Edge Razor account features commissions, but the minimums on its spreads are as low as 0.0 pips.
The Swap free account doubles as the brokerage's Islamic Account, and it too is a zero-commission account.
The Active Traders account is geared towards institutional investors and retail traders who can generate massive turnovers.
Conclusion
Everything accounted for, Pepperstone is a superb trading destination indeed. In addition to the above listed account-types, it also supports MAM/PAMM accounts for money managers. The trading platforms are indeed superb, the regulatory status of the operation is spotless and its trading instrument selection is decent.
It has to be mentioned though that there seems to be some negative user feedback out there, regarding the speed of trade execution at the brokerage.
FAQ
Is Pepperstone Legitimate?
As far as its services go, Pepperstone is a legitimate operation. It features real trading platforms and it offers real trading products. Its support staff is very real as well. Many people seem to appreciate the activity of this support staff.
The broker has received many rewards for various aspects of its activity from entities such as Investment Trends, UK Forex Awards, Deloitte, BRW, and others.
The company behind the Pepperstone brand is a certain Pepperstone Group Limited. PGL is based in Australia. This branch of the broker does not currently offer trading services to residents of the UK, the EEA, and the United States.
Pepperstone Limited is a UK-based company, peddling the Forex and CFD deals of the company in the UK and Europe.
Is Pepperstone a Good Broker?
User feedback provides the best answer to that question. Interestingly, several review/feedback portals have granted high ratings to Pepperstone, despite the mixed user feedback. Some people like the services of the broker. Others are convinced they are dealing with a scammer.
Based on the analysis of the user feedback, those who like the broker appreciate the following.
• The quality of Pepperstone support.
• Withdrawal speed. Some traders say they got their monies within 24 hours.
• The platforms.
• The trading conditions. Pepperstone is renowned for its attractive spreads.
On the other end of the spectrum, people have complained about:
• Spread manipulation.
• Delayed withdrawals.
• Abusively closed accounts.
• The abusive closing of their open positions.
Please note that despite being the best measure of a broker's performance, user feedback is also notoriously unreliable and easy to manipulate.
What is the Minimum Deposit for Pepperstone?
According to the official Pepperstone site, the minimum recommended deposit is AUD 200 or equivalent. The site also notes that users are welcome to deposit less…
Is Pepperstone Regulated?
Yes. Two companies represent the Pepperstone brand worldwide. Pepperstone Group Limited is based in Australia and it is regulated by ASIC. The ASIC license number of the broker is 414530. Pepperstone Limited is based in the UK and it is licensed by the FCA. Its UK license number is 684312. They are also regulated in Kenya by CMA and DFSA in Dubai
Where is Pepperstone Based?
Pepperstone's headquarters are in Australia. The address of the broker is Level 16, Tower One, 727 Collins Street, Melbourne, VIC, Australia, 3008.
The UK offices of the broker are at 70 Gracechurch Street, London EC3V 0HR, United Kingdom.
Comments on Pepperstone