---
General
Broker:
Skilling
Company Name:
SkillPro Malta Limited
Founded:
2016
Regulator:
CySEC, FSA
Platform:
Skilling Trader, MetaTrader 4, cTrader
Payment Methods:
Visa, Mastercard, Neteller, Skrill, Klarna, Trustly, Swish, Bank Wire
HQ:
Cyprus
Phone Support:
+35722276710
Publicly Listed:
No
Features
Min. Deposit:
£100
EURUSD Spread:
Standard Acc: 0.5 - Premium Acc: 0.1
Average Spread:
Standard Acc: 0.7 - Premium Acc: 0.2
Leverage:
Varies
US Clients:
No
Dealing Desk:
Hybrid
Web Trading:
Yes
Managed Accounts:
No
Withdrawal Process Time:
1 working day
CFDs Offered:
21 Indices & Commodities + stocks CFDs +CFDs on cryptos
Pros
- Excellent Proprietary Platform
- Over 3,000 financial instruments to trade
- Transparent Trading Fees
- Great customer support
- Access to Skilling Trade Assistant
Cons
- No MT5 support(yet)
---
Skilling Review
Skilling is an online FX/CFD brokerage of Scandinavian pedigree. Launched in 2016, it is a relatively new broker. At first glance, its main selling point seems to be transparency. Unlike some of its shadier peers, it lays all of its cards on the table from the very beginning.
Its founders do not attempt to hide behind various corporate entities either. Henrik Persson Ekdahl, Mikael Rises Harstad, and Andre Lavold of Optimizer Invest fame are the people behind the brokerage.
They opened the first physical office for Skilling in Malta, in June 2016. By January 2017, the management team had been put together.
Currently, the company maintains offices in Malta, Cyprus, Seychelles, and Spain. The official website of the broker lists the management team with names and pictures.
The lack of user reviews and feedback regarding the operation is a little disconcerting. For an operation founded almost four years ago, there should be user reviews available. That is not the case for Skilling. There are scores of skilling reviews out there all published by various affiliate portals and professional review sites. No users have thus far chimed in with their opinions.
Why would a trader pick Skilling over other brokers peddling similar deals?
In Skilling, we are dealing with a licensed online brokerage. Its main license is a CySEC one, though it does possess licenses and approvals from other regulatory authorities, covering other jurisdictions.
The tradable asset coverage of the broker is superb. It features more than 700 shares, more than 70 FX pairs, and a host of other assets, such as indices, commodities, and cryptocurrencies.
Skilling boasts the highest standards of security.
The brokerage is accessible both costs- and platforms-wise. The trading platforms Skilling supports cover all types of operating systems and devices.
In addition to staple platforms like MT4 and cTrader, Skilling also offers a fully-featured proprietary trading platform.
As mentioned, Skilling is a licensed operation. Skilling Ltd. is the corporate entity representing the brand in Cyprus. It is a registered investment company in the country. The address of its physical offices is 62 Athalassas Avenue, Strovolos, CY-2012 Nicosia, Cyprus. The regulatory entity behind this side of the operation is CySEC. The license number of the broker is 357/18. That makes it clear that Skilling has only operated as a CySEC-licensed entity since 2018.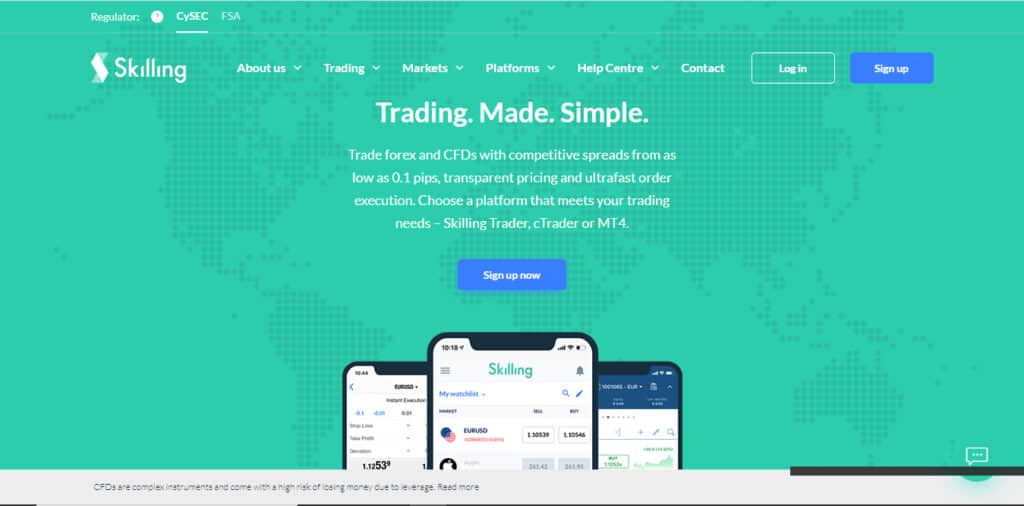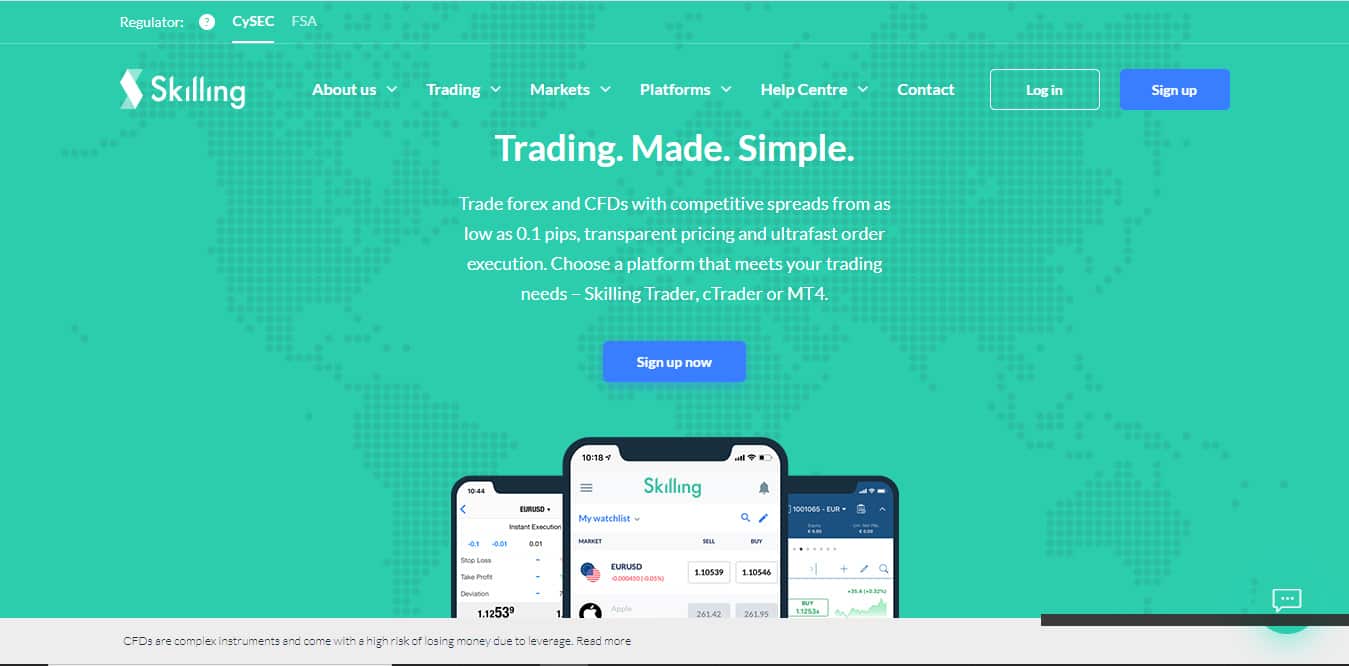 A CySEC license theoretically makes the broker a MiFID-compliant operation. This means that – unless otherwise specified – it is free to operate throughout the EEA.
In addition to its CySEC license, the broker also boasts a UK FCA registration number. This reference number from the FCA means that the authority has acknowledged the presence of the operation in the UK market and that it has authorized it.
Skilling Seychelles Ltd. is the corporate entity representing the brand in Seychelles. The role of this branch of the operation is to offer legal coverage to users residing in jurisdictions that neither CySEC nor the FCA covers.
The Seychelles address of the company is Suite 3, Global Village, Jivan's Complex, Mont Fleuri, Mahe, Seychelles.
The FSA license number of the broker is SD042.
Platform and Tools
| Feature | Skilling |
| --- | --- |
| Virtual Trading(Demo) | |
| Desktop Platform (Windows) | |
| Desktop Platform (Mac) | |
| Web Platform | |
| Social Trading / Copy Trading | |
| Proprietary | |
| MetaTrader 4 (MT4) | |
| MetaTrader 5 (MT5) | |
| cTrader | |
| Currenex | |
| ZuluTrade | |
| MirrorTrader | |
| Charting - Drawing Tools(Total) | |
| Charting - Indicators / Studies (Total) | |
| Watchlists | |
| Order Type - Trailing Stop | |
Platform-wise, the brokersupports three radically different options. Of these, its proprietary Skilling Trader is perhaps the most interesting.
Skilling Trader is a web-based platform, the only Skilling platform that features a Demo account. As such, Skilling Trader is accessible at a single mouse-click, provided you have already set up an account with the broker.
The Skilling Trader dashboard consists of a watch list, a charting window, and a section at the bottom tracking your open positions, pending orders, and trading history.
The watch list covers all tradable assets, providing information on them such as the buy/sell prices, the spreads, the current change in price, and the day's high and low.
The charting window looks and acts like a TradingView app. It offers the same functionalities and if you have ever used TradingView, you will likely not have any problems with it. It is surprisingly powerful. You can maximize it so it takes up the entire screen. The chart supports 10 timeframes, as well as several different chart types and a wide range of drawing tools.
You can use the chart to compare the price evolutions of several assets. Tens of the best-known technical indicators are available through Skilling Trader. All windows are resizable and traders can arrange them any way they want to.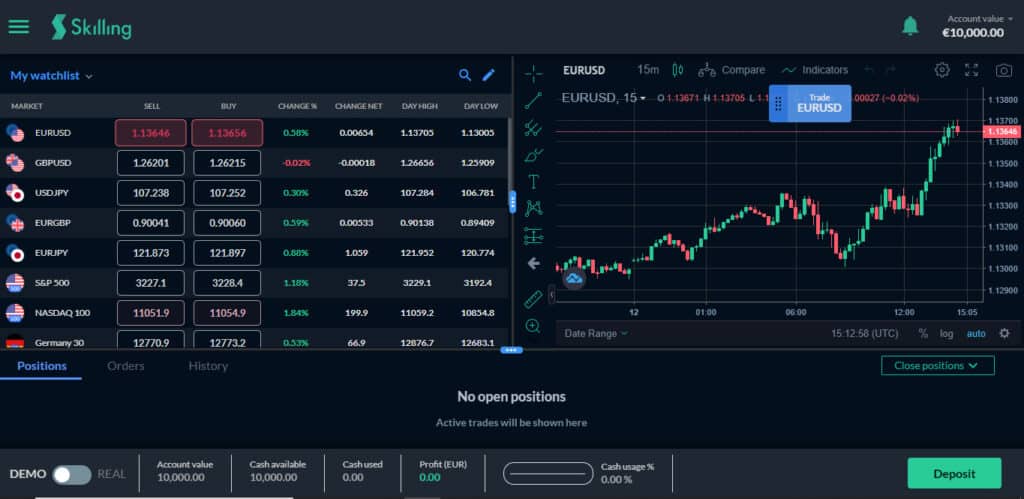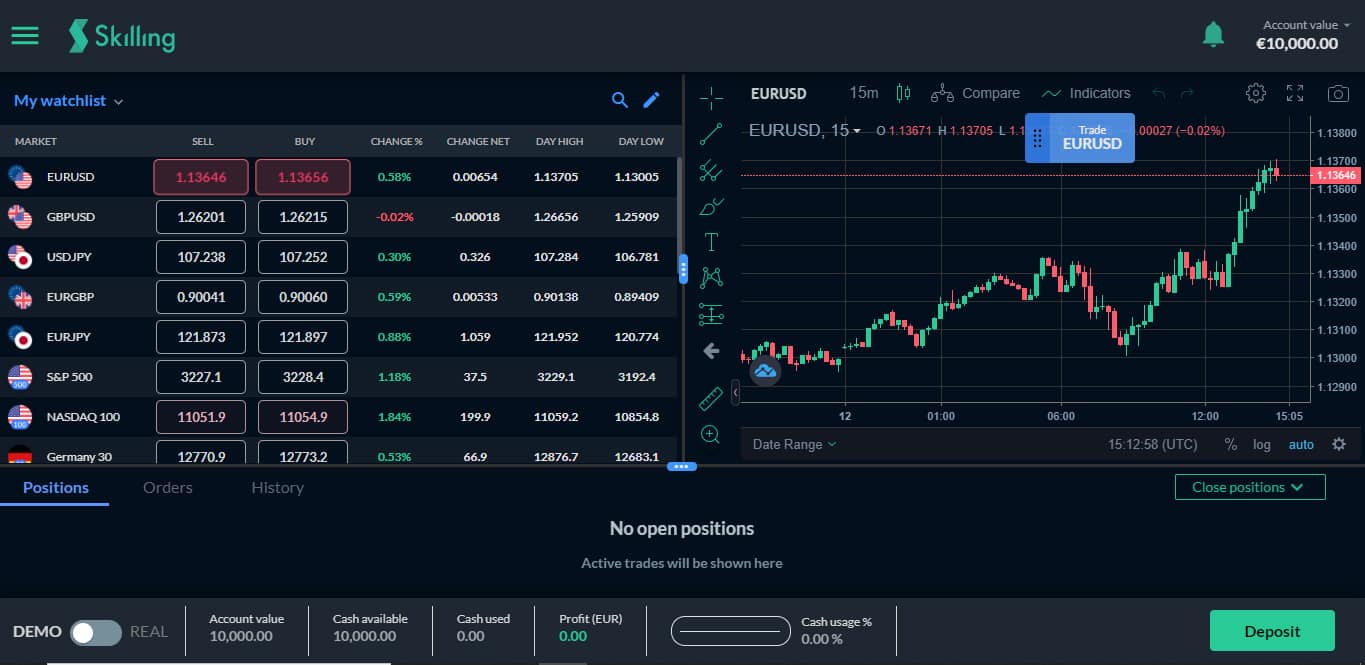 The Skilling cTrader is the broker's version of the popular premium charting and manual trading platform. It comes with all its best-known and liked features, such as:
Advanced order types.
Level II pricing.
Lighting-fast execution.
Superb charting tools.
cTrader is available in a browser-based version for all Windows, Mac, and Linux devices. It also comes in the form of an app for iOS and Android mobile devices.
In addition to the mentioned perks, cTrader also offers a wide range of technical indicators, the possibility to display multiple charts, algorithm-based auto-trading, price alerts, trailing stop loss, etc.
MT4 is the cherry on top of the Skilling platform-cake. As the most popular and perhaps most powerful trading platform, it needs no introduction to beginners or experienced traders. It is a fully customizable trading environment that can handle anything the markets may throw at it and users may want from it.
Customization is one of the main strengths of the platform. Users can customize anything on it, from its visual layout to advanced charting options. The platform supports an almost limitless number of plugins.
MT4's other strength is its EA support, which makes algorithmic auto-trading not just a possibility but a reasonable approach. Traders can import any EA they wish to, and they can even create their own, provided they master the MQL programming language.
Skilling's MT4 is available in 22 languages. It supports multiple charts, price alerts, and trailing stop losses.
Asset Classes
Assets-wise, Skilling's offer spans five distinct categories: Forex, shares, indices, commodities, and cryptocurrencies.
The FX selection comprises 73 currency pairs, from majors to minors and exotics.
The broker offers 715 shares, covering various nooks and crannies of the global economy. You can trade such shares via CFDs, so you will not gain ownership of any at any time.
Skilling also supports 17 indices.
The five tradable commodities are gold, silver, oil WTI, oil BRENT, and natural gas.
The available cryptocurrencies are Bitcoin, Bitcoin Cash, Ethereum, Litecoin, and XRP.
Commissions and Fees
The fees traders pay come in the form of commissions and swap charges. Commissions on FX pairs are fixed and are $50/million on most pairs. The EUR/USD pair is an exception. Its commission is $35/million. GBP/USD is an exception as well, at $40/million.
The commission is $60/million on gold and $120/million on silver.
Every day, at 22:00 GMT, the broker rolls over open positions in your account. The broker determines swap charges based on a formula available at its official site. Swap charges differ from one tradable asset category to another.
Research and Education
| Feature | Skilling |
| --- | --- |
| Daily Market Commentary | |
| Forex News | |
| AutoChartist | |
| Trading Central (Recognia) | |
| Delkos Research | |
| Acuity Trading | |
| Social Sentiment - Currency Pairs | |
| Client Webinars | |
| Client Webinars (Archived) | |
| Videos - Beginner Trading Videos | |
| Economic Calendar | |
| Calendar Includes Forexcasts | |
| Economic News Sentiment | |
| Trade Ideas - Backtesting | |
The broker does not seem keen on educating its traders. It does not have an exhaustive education section like some of its peers.
The only section that is educational, is the one explaining CFDs and the available account types.
The Help Centre, on the other hand, offers useful information on leverage, trading hours, fees and commissions, and payment methods.
The Skilling Trade Assistant and the Skilling Academy, available through the proprietary platform, offer some education as well.
Customer Service
Skilling features live chat support, with instant response times. The quality of the support is outstanding as well. The staff seems to genuinely care about sorting out problems.
You can request email support through support@skilling.com. Email response times are decent.
As far as phone support goes, Skilling offers several regional toll-free numbers as well as a main support number. This main number is +357 22276710.
The regional phone numbers available in local languages are:
+46 40 6450022 for Sweden.
+47 2195 0300 for Norway.
+49 800 000 8400 for Germany.
+44 208 080 6555 for the UK.
Mobile
| Feature | Skilling |
| --- | --- |
| Android App | |
| Apple App | |
| Charting - Draw Trend Lines | |
| Charting - Can Turn Horizontally | |
| Charting - Technical Studies/Indicators | |
| Watchlist - Syncing | |
| Trading - Forex | |
| Trading - CFDs | |
| Alerts - Basic Fields | |
The proprietary platform of the broker is available for mobile phones. The same goes for MT4.
The newest version of the Skilling mobile trader has racked up some raving user reviews, although there are some complaints about it as well.
Conclusion
Skilling is an online FX/CFD brokerage that seems focused on transparency and regulation.
The broker offers only two account types, the Standard and the Premium account.
The former features spreads starting from 0.7 pips, while the latter features spreads from 0.1 pips. The Standard account is commission-free, while the Premium charges commissions as detailed above.
The maximum available leverage on both account types is 1:500. Both accounts allow scalping and feature negative balance protection.
The minimum deposit is £100 for both accounts. The broker is fully transparent about all fees and charges applied to trader accounts.
Comments on Skilling