---
General
Broker:
Trade Nation
Company Name:
Trade Nation Ltd
Founded:
2020
Regulator:
FCA, FSCA, SCB, ASIC
Platform:
MetaTrader 4, CloudTrade
Payment Methods:
Credit card, debit card, bank transfer, Skrill, Neteller, PayPal, Local Payment Options
HQ:
UK
Phone Support:
+442031805952
Publicly Listed:
No
Features
Min. Deposit:
$0
EURUSD Spread:
0.6
Average Spread:
0.6
Leverage:
200:1
US Clients:
No
Active Clients:
8500
Dealing Desk:
Yes
Web Trading:
Yes
Managed Accounts:
No
Withdrawal Process Time:
2-5 business days
CFDs Offered:
Yes
Fees:
Overnight financing, spread costs, commission (on ASX stocks), dividend adjustments
Pros
- Tight, fixed spreads (CoreTrader2 only)
- Regulated by FCA, ASIC, FSCA and SCB
- Loyalty Scheme
- Easy-to-use trading platform
- Customer Charter
Cons
- No MetaTrader 5 support
- No Live Chat
---
Trade Nation Review
At first glance, Trade Nation may seem like a brand new online brokerage, launched in 2020. There are few reviews of it and no user feedback through any of the regular channels. That said, the operation has been around for quite a while under a different name. Between 2014 and 2019, Trade Nation used to be known as Core Spreads Australia.
The brand change did not occur as a result of the old brokerage having worn out its welcome. The user feedback on Core Spreads is mostly positive, and traders seem to have appreciated the services of the broker.
Based on user feedback, Core Spreads offered traders prompt withdrawals to bank accounts, outstanding support, and an easy-to-use, simple platform. Traders used to appreciate its Android trading platform as well.
While Core Spreads was an Australia-focused brokerage, Trade Nation has taken the operation onto the global scene, setting up offices in several countries and securing licenses in several legal jurisdictions.
The regulatory standing of the brokerage is solid.
n the UK, Finsa Europe Ltd is the regulated entity behind the brand. It is a registered financial services company, with its headquarters at 9th Floor, 30 Crown Place, London, EC2A 4ES, United Kingdom. The activity of the company is regulated by the Financial Conduct Authority, under registration number 525164.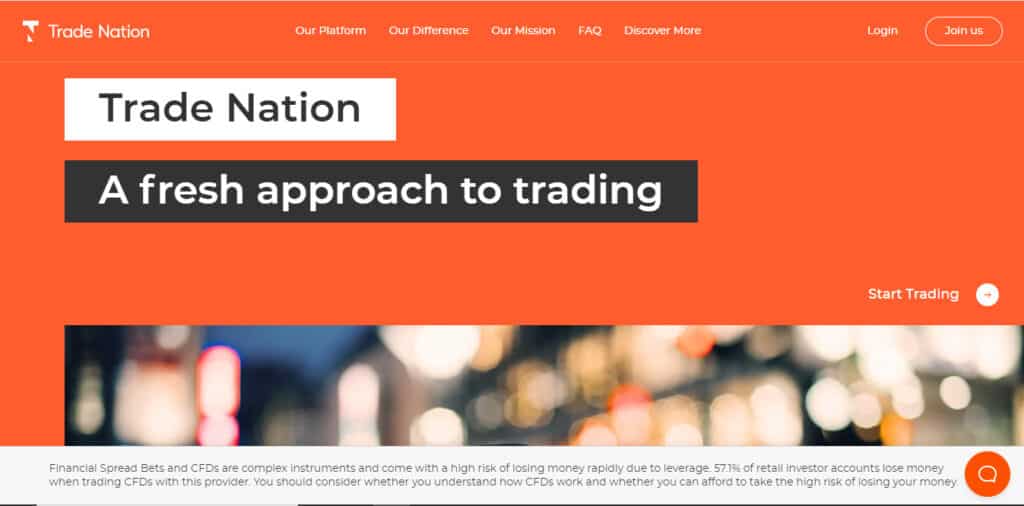 The Australian branch of the brokerage is a company called Finsa Pty Ltd. The firm is a registered Australian financial services company, regulated and licensed by ASIC (Australian Securities and Investment Commission). The company number is ACN 158 065 635. The AFSL number is 422661.
In the Bahamas, Trade Nation operates under the company name Trade Nation Limited. Its local headquarters are at 1st floor, Bay View House, 308 East Bay St, Nassau, Bahamas. The company number is 203 493B. The authority regulating the operation is the Securities Commission of the Bahamas. The license number of the broker is SIA-F216.
In addition to the above, Trade Nation Financial Pty Limited is regulated and licensed by the Financial Sector Conduct Authority (FSCA) of South Africa. The license number of the brokerage is FSP 49846.
It is unclear whether its current regulatory status makes Trade Nation MiFID – compliant, although the official site of the broker mentions that wherever its clients may be located, it can provide a satisfactory regulatory umbrella.
However, the site also says that the broker does not accept traders from the US, and its offers are not directed toward any of the countries where the operation does not have regulatory approval.
Why should you join Trade Nation? What are the selling points of the operation?
The broker aims to transform and simplify trading, getting beginner traders acquainted with the world of financial markets more quickly and smoothly.
The broker supports trading through insights acquired from alternative, independent sources. Experts of the broker use social media as an alternative data source and cross-referencing to link data derived from social media to real-world events.
Online trading can be an exciting experience for those who master its tricks, but it is far from being an even playing field. Lack of transparency has always resulted in friction between traders and service providers, leading to poor reviews, complaints, and even lawsuits. To break with the traditional MO, Trade Nation offers low fixed spreads, a streamlined trading platform, and a jargon buster that eliminates the hurdle specialist jargon poses for beginners.
The broker promotes transparency and fairness by inviting traders to take a second look at the variables describing their trades. The goal is to make certain that everyone understands all the costs involved.
Trade Nation aims to offer its traders real, honest insights while busting the myths and exposing the lies surrounding trading.
Platform and Tools
| Feature | Trade Nation |
| --- | --- |
| Virtual Trading(Demo) | |
| Desktop Platform (Windows) | |
| Desktop Platform (Mac) | |
| Web Platform | |
| Social Trading / Copy Trading | |
| Proprietary | |
| MetaTrader 4 (MT4) | |
| MetaTrader 5 (MT5) | |
| cTrader | |
| Currenex | |
| ZuluTrade | |
| MirrorTrader | |
| Charting - Drawing Tools(Total) | |
| Charting - Indicators / Studies (Total) | |
| Watchlists | |
| Order Type - Trailing Stop | |
Trade Nation's bespoke trading platform is the embodiment of simplicity. According to the broker, it features everything traders need and nothing they do not.
Signing up for a practice account takes a few seconds. On a computer, the app launches through a browser, presenting a simple, almost barren trading interface.
On the left, there is a section presenting the tradable asset categories. Using the search tool, traders can look for their preferred tradable assets. The main section taking up most of the interface features a wide range of information on the listed assets. Using this interface, traders can gain a quick idea about the price of the asset, the direction of the price change, and the daily lows and highs. Users can open trades and orders directly from this interface.
They can also:
Check additional information on trading hours, margin requirements, commissions, spreads, market expiry, etc.
Set trading alerts with just a couple of clicks.
View charts.
Create watch lists and add assets to them.
Charting is surprisingly powerful. As traders click on the chart icon of their preferred asset, the platform opens a new window. This window can then be maximized.
The chart supports scores of technical indicators and time frames. An impressive number of drawing tools are also available. Launching trades is possible directly from the charts.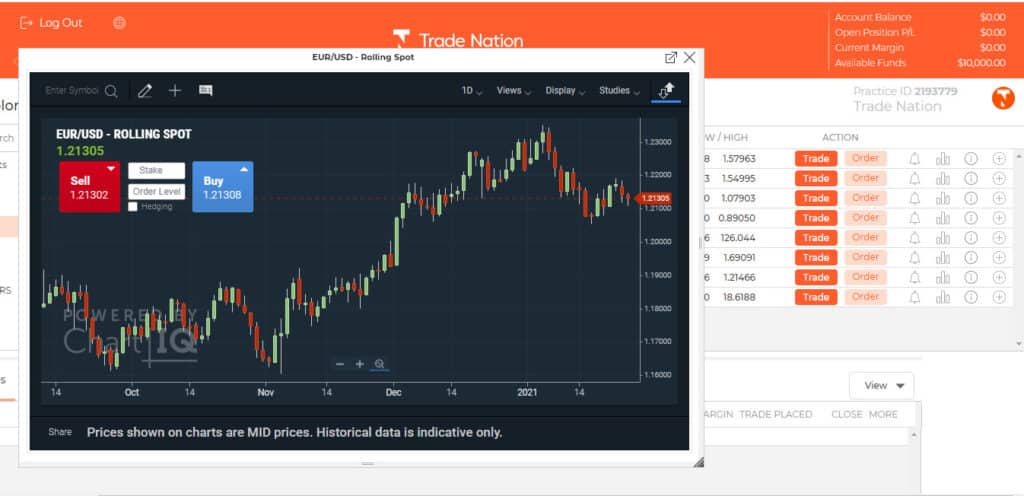 Asset Classes
Trade Nation supports an impressive selection of tradable assets categorized and displayed in an easy-to-comprehend manner.
The Popular Markets section covers the assets that the broker's clients most often trade.
The indices section offers an exhaustive selection of US, European, Asian, and world indices, as well as differentials.
The FX section highlights EURXXX, USDXXX, and GBPXXX pairs, as well as a decent number of minors and exotics.
As far as shares go, the selection is staggering. There are UK, European, and US shares, together with US minis and FAANGS. Hundreds of shares are available for trading.
In addition to the above, the broker also covers a fair range of bonds, energies, and metals. Even this section is more generous than usual, covering assets such as aluminum, zinc, lead, and nickel, in addition to the usual gold and silver.
Commissions and Fees
| Feature | Trade Nation |
| --- | --- |
| Android App | |
| Apple App | |
| Charting - Draw Trend Lines | |
| Charting - Can Turn Horizontally | |
| Charting - Technical Studies/Indicators | |
| Watchlist - Syncing | |
| Trading - Forex | |
| Trading - CFDs | |
| Alerts - Basic Fields | |
The broker does not charge commissions on most of its assets and its spreads are fixed. Trade Nation makes money through the spread, which is the difference between the buying and selling price of an asset.
The spread can be fixed or variable. Most brokers use variable spreads meaning that they increase or lower their spreads on the go in response to various fundamental or technical factors that affect the price. The breaking of big news, a sudden rush on the part of traders can all be such spread-altering factors.
The problem with variable spreads is that by the time you get to trade an asset, they may deviate radically from the advertised spreads. This way, traders do not have a clear image of what it costs them to place a certain trade.
Fixed spreads remain fixed regardless of the influencing factors. As such, they give the trader a transparent picture of the costs and possible profits.
Research and Education
| Feature | Trade Nation |
| --- | --- |
| Daily Market Commentary | |
| Forex News | |
| AutoChartist | |
| Trading Central (Recognia) | |
| Delkos Research | |
| Acuity Trading | |
| Social Sentiment - Currency Pairs | |
| Client Webinars | |
| Client Webinars (Archived) | |
| Videos - Beginner Trading Videos | |
| Economic Calendar | |
| Calendar Includes Forexcasts | |
| Economic News Sentiment | |
| Trade Ideas - Backtesting | |
As far as education goes, the broker does not seem to have anything special set up for its traders. While it does not have a trading academy, it has an article section that looks to cover the basic and advanced trading concepts as well as news. It may explain the way dividends work and why there is slippage in online trading, as well as discuss the implications of Joe Biden's presidency.
Customer Service
Trade Nation features a messaging service that allows users to ask questions directly on the site. Answers to these questions typically arrive within a few hours.
Traders can also contact the Trade Nation support staff through email (support@tradenation.com) and phone (+44 (0) 203 180 5952). Bear in mind that support is active 24/5.
Mobile
The mobile app of the broker is very new. It has hardly accrued downloads and ratings yet. It is just as simple and straightforward as the desktop-based variant, however, so traders will probably like it just as much.
Conclusion
Trade Nation brings a fresh perspective to online trading. Its simplicity and focus on accessibility are impressive. Its asset coverage is great and its trading platform works well on mobile and desktop devices.
What else should you know about Trade Nation?
It is a dealing desk broker.
The maximum leverage it features is 200:1.
It charges commissions on ASX stocks and fees on overnight financing.
Its average spread on FX majors is 0.6
Comments on Trade Nation