Macroeconomic/ geopolitical developments
As expected, the European Central Bank (ECB) pivoted to a more hawkish stance on Thursday, signaling a rate hike in July and maybe more aggressive rate hikes than anticipated thereafter.
In addition, they announced the end to their Quantative Easing (QE) program, the Asset Purchase Program (APP)
Friday's US CPI data showed inflation is still running hot, with Core CPI for May expected at 0.5% MoM and 5.9% YoY, which came in at 0.6% and 6.0% respectively, higher than consensus. Headline CPI data consensus was 0.7% MoM and 8.3% YoY, with data posting at 1.0% and 8.6%, again above forecasts.
Markets shifted to a more aggressive "risk off" stance across financial asset classes, with US tech stocks leading global markets lower, European, then US bond markets plunging on price to higher yields, the US Dollar rallying, with the Euro weakening, and Gold and Oil pushing to higher prices.
Global financial market developments
The major US stock averages led by tech stocks led global equity markets lower.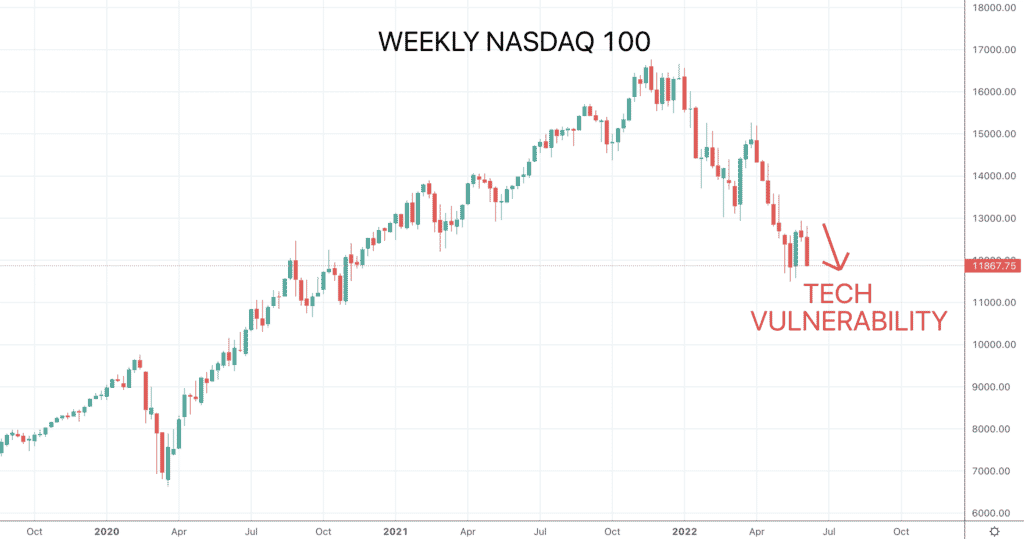 US 10yr yields surged backed to May high yield peaks on Friday after the CPI data release, but earlier in the week European bond markets led the way to higher yields.
The US Dollar Index posted a strong rebound erasing much of the latter May weakness.
EURUSD plunged lower, threatening a move towards recent lows and maybe parity.
Gold rebounded, despite the USD bounce, reinforcing a positive tone.
Oil moved higher again, for a still bullish outlook.
Copper setback with the US Dollar gains but retains a base.
Key this week
Geopolitical focus: Still closely monitoring the war in Ukraine
Central Bank Watch: For Central Banks, we get the FOMC interest rate decision, statement and press conference on Wednesday and the same from the Bank of England (BoE) and Bank of Japan on Thursday and Friday respectively.
Macroeconomic data: UK GDP and Employment are out Monday and Tuesday respectively, China and US Retails Sales are both out Wednesday.
| | |
| --- | --- |
| Date | Key Macroeconomic Events |
| 13/06/22 | UK GDP, Manufacturing and Industrial Production |
| 14/06/22 | UK Employment report; German CPI; German ZEW Survey; US PPI |
| 15/06/22 | China Retail Sales; EU Industrial Production; US Retail Sales; FOMC interest rate decision, statement and press conference |
| 16/06/22 | BoE interest rate decision, statement and press conference |
| 17/06/22 | BoJ interest rate decision, statement and press conference |