A resilient consolidation tone for the major European equity averages over the past 24 hours, digesting solid gains to new 2019 cycle highs earlier this week, whilst the US benchmark average, the S&P 500, has stayed solid after soaring close to the record high from 2018. 
The current "risk on" phase for equities has been accompanied by US Dollar strength against major global currencies (though not against the Yen), echoing a still strong US economy with ongoing concerns for the global recovery.
This robust US$ tone, alongside still weakening data in Europe has put downside pressures on EURUSD, which produced a negative technical signal Wednesday with a break below 1.1175 to a multi-year low.
S&P 500 E-Mini upside breakout reignites bull trend
A Wednesday strong breakout to the upside Tuesday from the sideways consolidation that has dominated from mid-April, having held above 2885.25 support at 2889.5, to hit another new 2019 high at 2939.75 through our 2924/25 resistance area and 2932.75, to keep risks higher for Thursday.
The late January push above 2690.5 shifted the intermediate-term outlook to bullish.
For Today:
We see an upside bias for 2939.75; break here aims for 2946.5, 2950, the continuation chart record high at 2955.5, then maybe towards 2966.0.
But below 2924/23 targets 2910.25 and maybe aims for the 2889.5/85.25 area.
Intermediate-term Outlook – Upside Risks: We see an upside risk for 2955.5/61.25 and 3000.0
What Changes This? Below 2726.5 shifts the outlook back to neutral; through 2686.0 is needed for a bear theme.
4 Hour S&P 500 Chart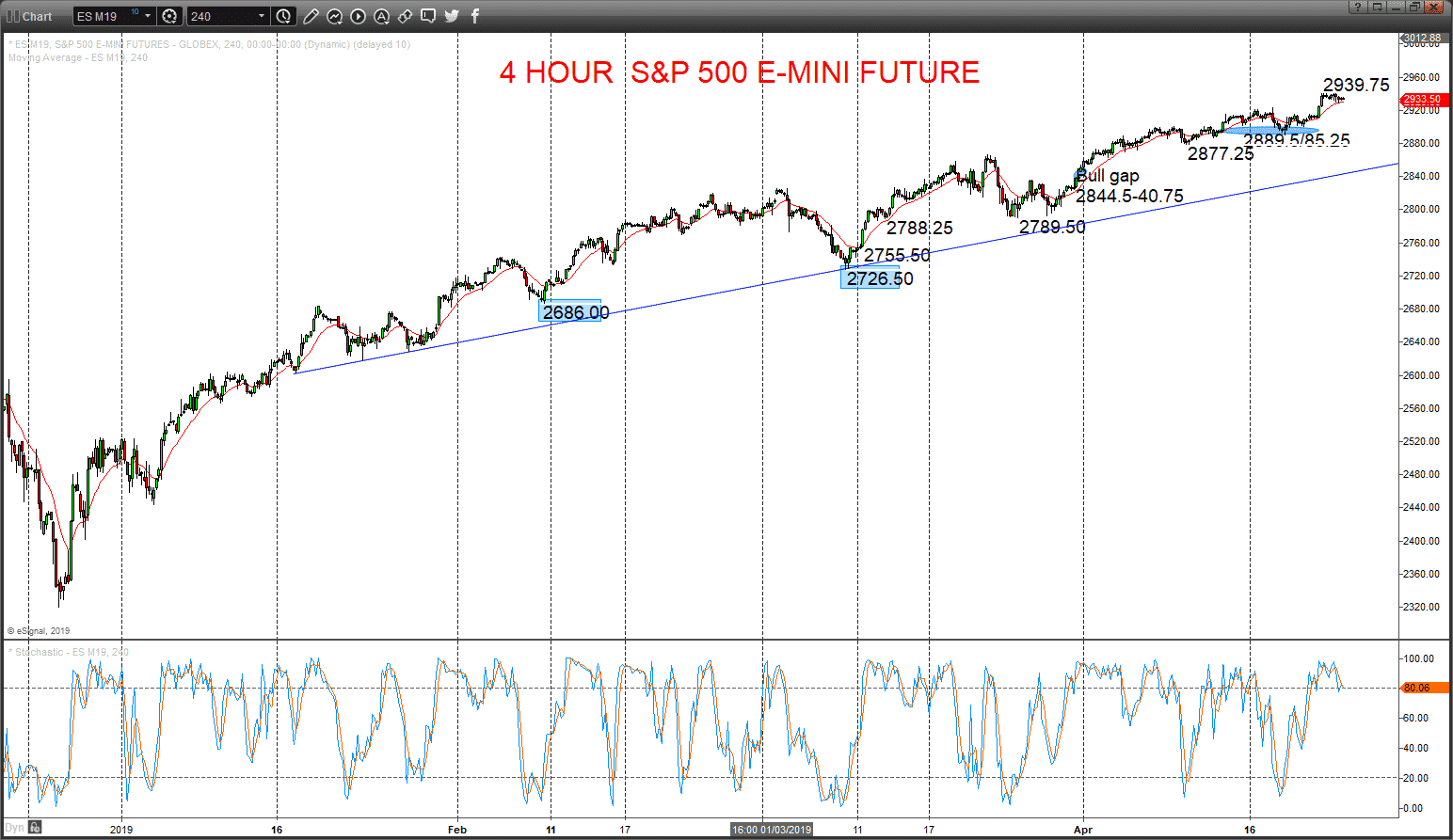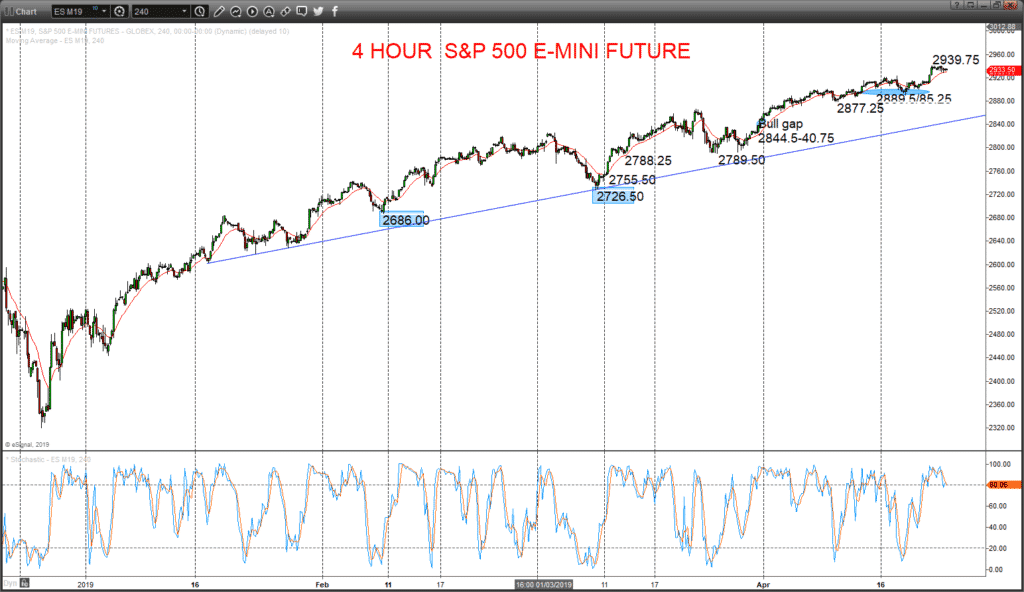 EURUSD intermediate-term bear shift below key 1.1175
We have stressed in recent reports here and to our clients that "we see a broader, intermediate-term range as 1.1448 to 1.1175, BUT now with strong risks for an intermediate-term bear shift below 1.1175" and Wednesday's plunge through here sets an intermediate-term bear trend.
Furthermore, this negative price action through 1.1175 has reinforced last Thursday's significant selloff through various supports, to keep risks lower for Thursday.
For Today:
We see a downside bias for 1.1139; break here aims for 1.1119 and 1.1081.
But above 1.1192 opens risk up to 1.1229.
Intermediate-term Outlook – Downside Risks: We see a downside risk for 1.1119.
Lower targets would be 1.1000 and 1.0839.
What Changes This? Above 1.1324 shifts the intermediate-term outlook straight to a bull theme.
4 Hour EURUSD Chart