Global equity indices have posted solid, sideways consolidation activity over the past week, defending support levels from the recent early 2019 recovery rallies.
The strong advances so far this year have been driven by both a more dovish tone from the Federal Reserve in the US and a perception of positive progress on trade talks between the US and China.
The consolidations that have been seen into mid-January should provide platforms from which to launch higher, to challenge more significant resistance levels and turn the intermediate-term outlooks for equity indices from bearish to neutral and even to bullish.
Below we focus on the US broad benchmark average, the S&P 500 E-mini and the German benchmark, the DAX.
S&P 500 E-Mini risks still higher
Another sideways consolidation Monday (as also seen Friday) after a dip and a rebound Thursday from within our 2561/60 support area (from 2360.5) to then hit a new recovery high, sustaining upside forces from the earlier January push through key 2592.0 resistance (see below), and an overnight advance to leave risks still higher Tuesday.
The early January push above 2592.0 set an intermediate-term range, we see as 2690.5 to 2438.5, BUT with skewed risks for an intermediate-term bullish shift above 2690.5.
For Today:
We see an upside bias for 2599.5/2600.0; break here aims for 2620/21 and 2639.75, maybe towards 2665.75.
But below 2561/60 aims for 2547.5 and maybe opens risk down to 2523.25.
Intermediate-term Range Breakout Parameters: Range seen as 2690.5 to 2438.5.
Upside Risks: Above 5 sets a bull trend to aim for 2819.0/31.25 and 2953.25.
Downside Risks: Below 5 sees a bear trend to target 2397.0, 2316.75 and 2228.0.
4 Hour Chart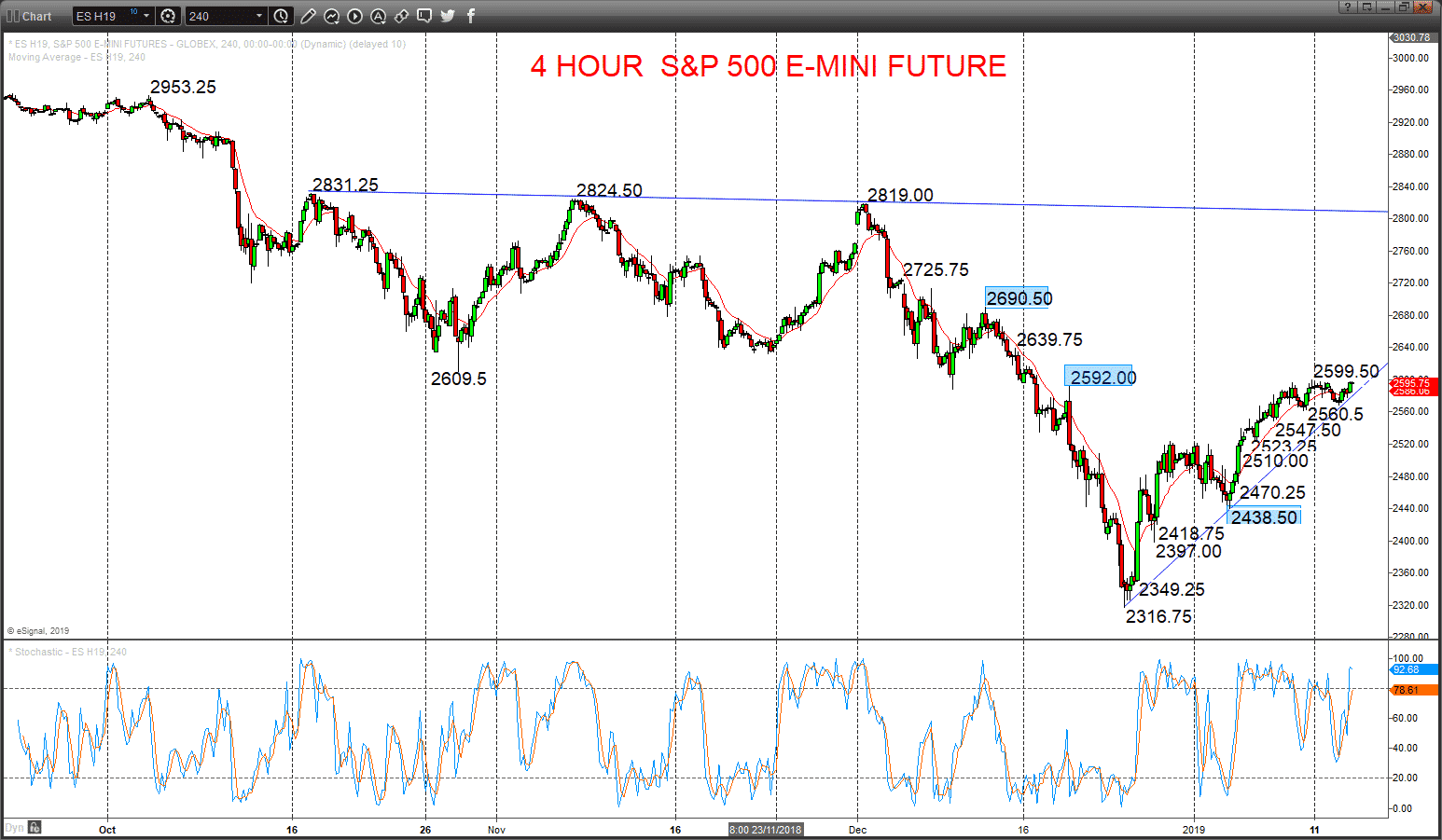 DAX bias still to the upside 
A Monday dip and a rebound almost exactly from Friday our 10778.5 support (off of 10779), sustaining a positive tone from the earlier January rebound from above 10597 support (off of 10673) to a new recovery high at 10967, and an overnight advance leaving risks to the upside Tuesday.
The early December plunge below 11000 set an intermediate-term bear trend, BUT risk is growing for an intermediate-term shift back to neutral above 10975.5.
For Today:
We see an upside bias for 10967; break here quickly aims for key 10975.5 and 11000, possibly even 11077.5.
But below 10779/778.5 aims for 10738.5 and opens risk down to 10673.
Intermediate-term Outlook – Downside Risks: We see a downside risk for 10268.5 and 10000/994.5.
What Changes This? Above 10975.5 shifts the outlook back to neutral; above 11245 is needed for a bull theme.
4 Hour Chart