Macroeconomic/ geopolitical developments
Positive soundings on the US debt ceiling talks have helped riskier assets (such as stocks/ equities) in early October.
The "risk off" theme that struck global financial markets in September has started to reverse back to a "risk on" theme, despite the extension to higher yields across global bond markets (led by the US).
Global stock indices have firmly rebounded, technically looking far less vulnerable.
OPEC+ met on Monday but failed to deliver production boosts.
This sent Oil even higher, touching $80 on Friday, its highest level since 2014.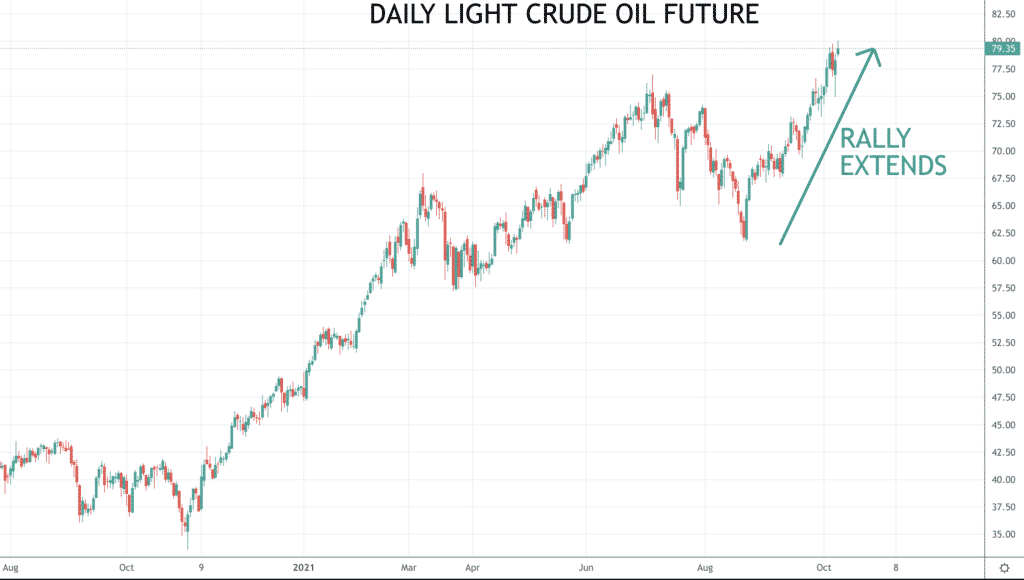 Friday's US Jobs report was worse than expected (although past data was revised higher), but overall, this has little impact on financial markets (though US yields did move higher).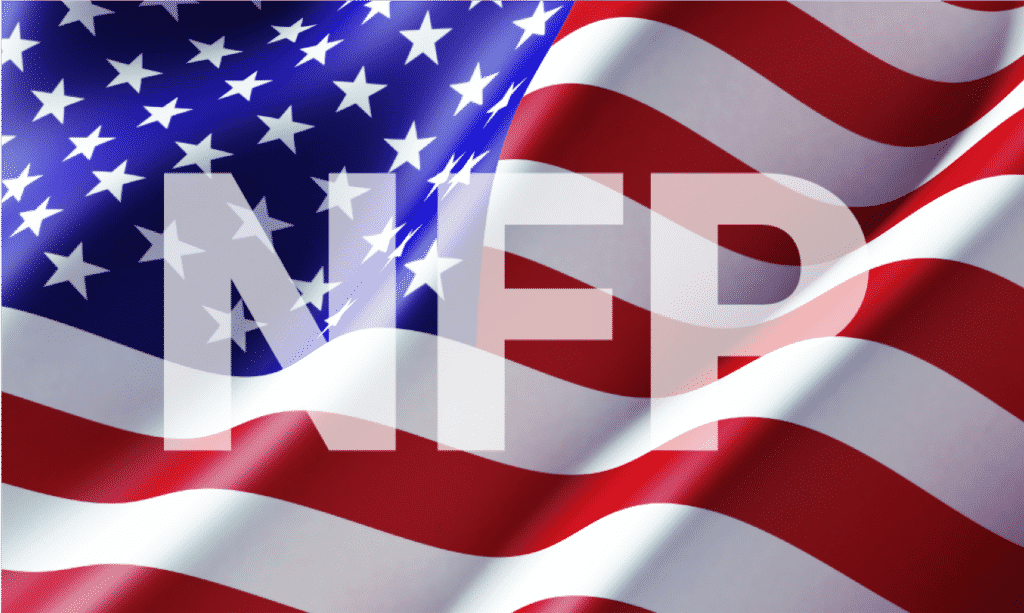 Global financial market developments
Global shares indices rebounded to start October to start to reverse the significant September sell off that saw the S&P 500 posting its worse month since March 2020 during the COVID-19 rout.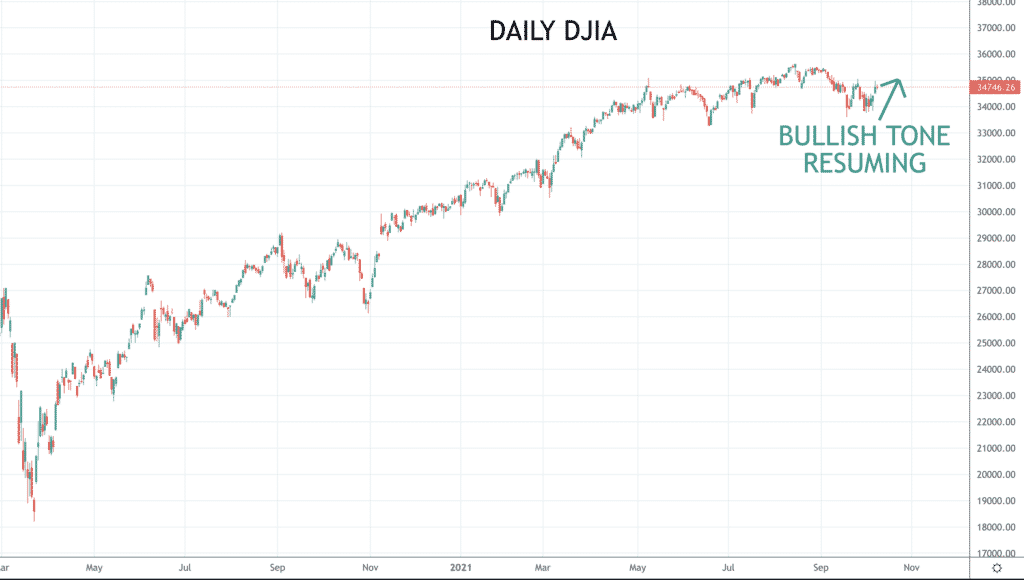 US yields have marched higher again, extending moves since the September Federal Open Market Committee (FOMC) meeting where the Fed indicated that tapering of Bond purchases is on the agenda with a first interest rate hike now anticipated in 2022.
The US Dollar consolidated but stays firm after recent gains seen with rising US yields.
With the higher US yields and higher Oil price, USDJPY surged to its highest level since April 2019.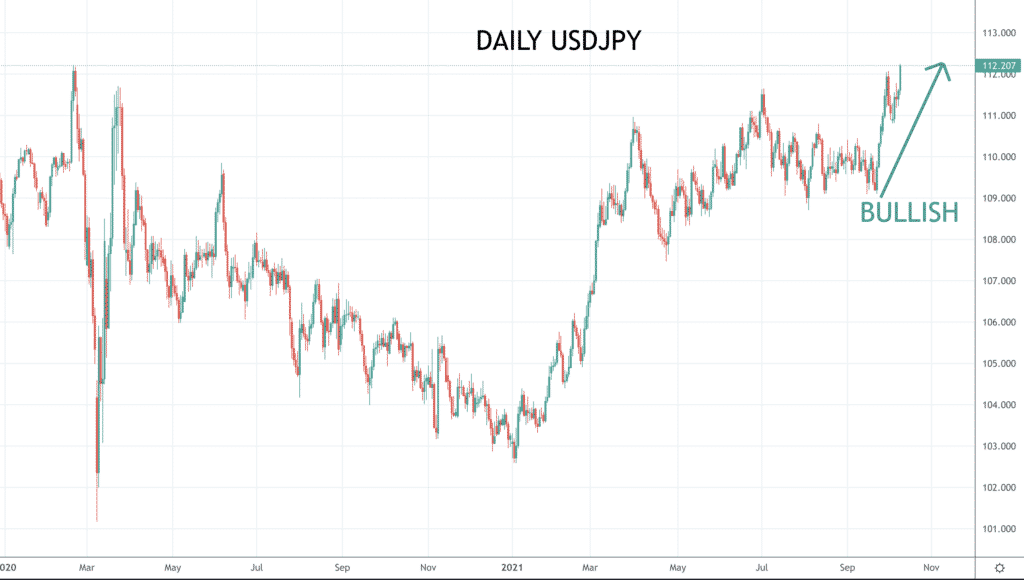 GBPUSD remains weak, increased vulnerability due to inflation and supply chain concerns.
Gold posted a recovery effort failure Friday and stays vulnerable (particularly with possible further US Dollar strength).
Oil extended its strong advance from August still further to its highest level since 2014, touching $80 on Friday.
Copper is still caught in a sideways range.
Key this week
Geopolitics: Monitoring Congressional discussions regarding raising the federal debt limit.
Central Bank Watch: No Central Bank meetings or decisions of note. Federal Open Market Committee (FOMC) meeting minutes are released on Wednesday.
Macroeconomic data: The data standouts this week are the global Services PMIs released on Tuesday and the US Employment report on Friday.
Microeconomic data: Earnings season kicks off in the US, really from Wednesday with the financial sector. Wednesday-Friday brings JP Morgan, Bank of America, Wells Fargo, Morgan Stanley, Citigroup, and Goldman Sachs.
| | |
| --- | --- |
| Date | Key Macroeconomic Events |
| 11/10/21 | No data of note; Canadian Thanksgiving holiday |
| 12/10/21 | UK Employment report; German ZEW Survey |
| 13/10/21 | China trade data; UK GDP, Manufacturing and Industrial Production; German CPI; US CPI; FOMC Meeting Minutes |
| 14/10/21 | Australian Employment report; China CPI; US PPI |
| 15/10/21 | China Retail Sales; US Retail Sales |