A much-hyped speech from US President Trump on the US-China trade talks Tuesday had muted impact as the major US equity averages probed higher hitting new all-time highs ahead of the speech.
There was nothing particularly new from President Trump highlighting a phase one deal was close, but also stating that if an agreement was not reached there would be further tariffs.
The US markets shrugged this off, but Asian equities have reacted slightly negatively overnight, tugging European and US stock futures down with them. Ongoing tension in Hong Kong have assisted in the more negative tone seen across stock averages during the Asian session.
However, both the short- and intermediate-term outlooks for stocks remain positive and we see risks for global stock averages higher today and into November.
FTSE 100: Risks higher, building on Monday's Hammer candlestick
A Tuesday rally up through resistances at 7332 and 73563, to reinforce Monday's intraday rebound from just above key 7217 support (from 7237) for a strong recovery and bullish Hammer candlestick, and despite a dip lower overnight to leave risks higher for Wednesday.
We see an upside bias for 7357/58; break here aims for 7371.5, maybe 7382 and even 7415.
But below 7303.5/00 opens risk down to 7281, then maybe 7259.
4 Hour FTSE 100 Chart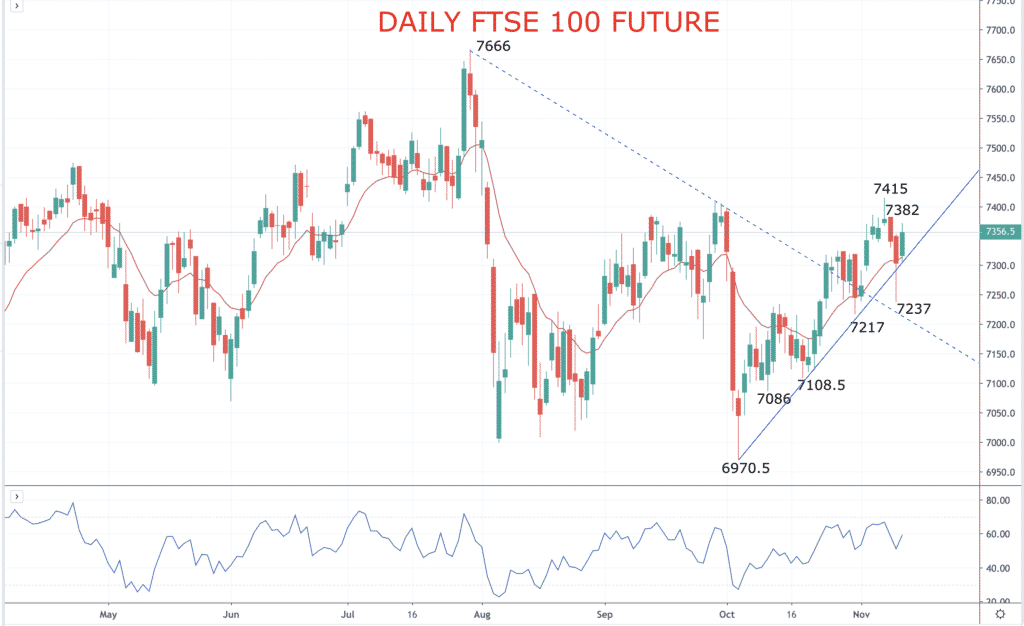 DAX: Still aiming higher
A rally to another new cycle high through 13298 to 13306.5 on Tuesday, to build on the Monday and Friday dips and bounces from above 13103.5 support (from 13133.5), to affirm bullish forces from the early November surge through multiple resistances, and despite a dip overnight to keep risks to the upside on Wednesday.
We see an upside bias for 13279; break here aims for 13306.5/333.5, even 13405/10.
But below 13207/13194 aims for 13175/170 and opens risk down to 13133.5.
4 Hour DAX Chart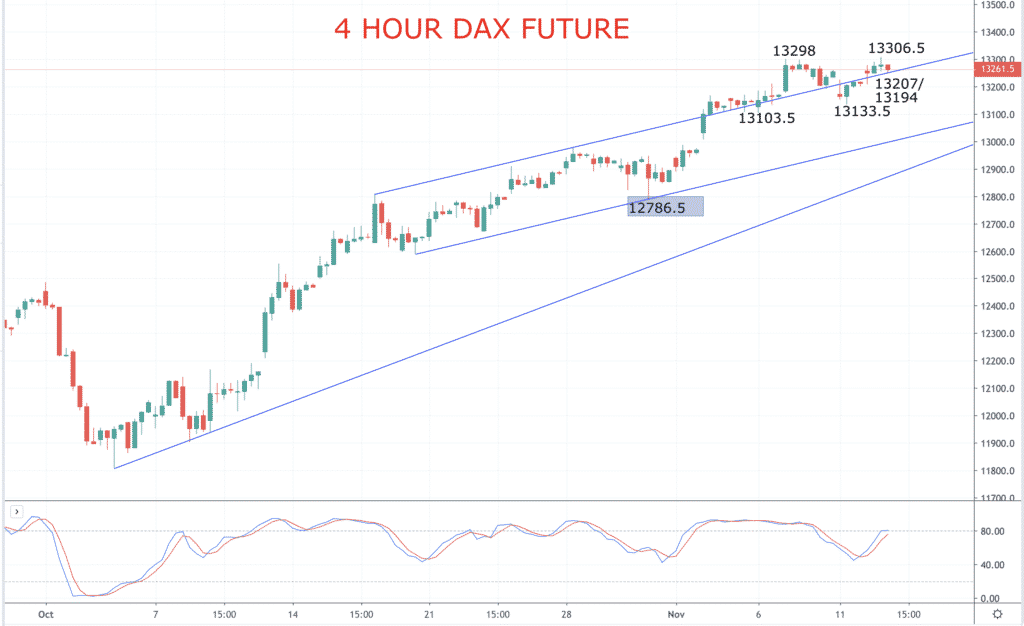 Day trade outlook: New record peak
A Tuesday probe higher to another new record high, above the 3100.0 option/ psychological target to 3102.0, to build on the bull pressures from last Friday's dip and recovery from just above our 3072.25 support (from 3072.5), and despite a dip overnight keeping the bias higher for this Wednesday.
We see an upside bias for 3091/92 and 3102.0; break here aims for 3110/11 and maybe 3117.75.
But below 3081.25/81.0 targets 3072.5 and then maybe opens risk down 3063.0.
4 Hour S&P 500 Chart